Where to find the new Recycler in Fortnite Season 6
The Recycler is the first new item added to Fortnite Season 6. Here's everything you need to know about where to find it.
The Recycler has finally come to Fortnite Season 6. Here's everything you need to know about the newest weapon in the game, including the stats and how to find it.
In the most recent content update, Epic added the first new weapon to Fortnite Season 6: the Recycler. Like most weapons, you can find it in floor loot and chests. The Recycler spawns in Rare, Epic, and Legendary rarity.
The Recycler is an interesting weapon, as it doesn't take any normal ammo to use. Instead, you suck up materials and structures and use that for ammo. The maximum magazine size is 3, but there is a virtually unlimited pool of ammo all around you at all times.
As expected, the damage of the Recycler scales based on its rarity. Here's a breakdown of the statistics:
Rare: 75 damage
Epic: 79 damage
Legendary: 83 damage
This weapon probably isn't worth upgrading if you find a blue one, as the damage difference doesn't justify spending gold on an upgrade.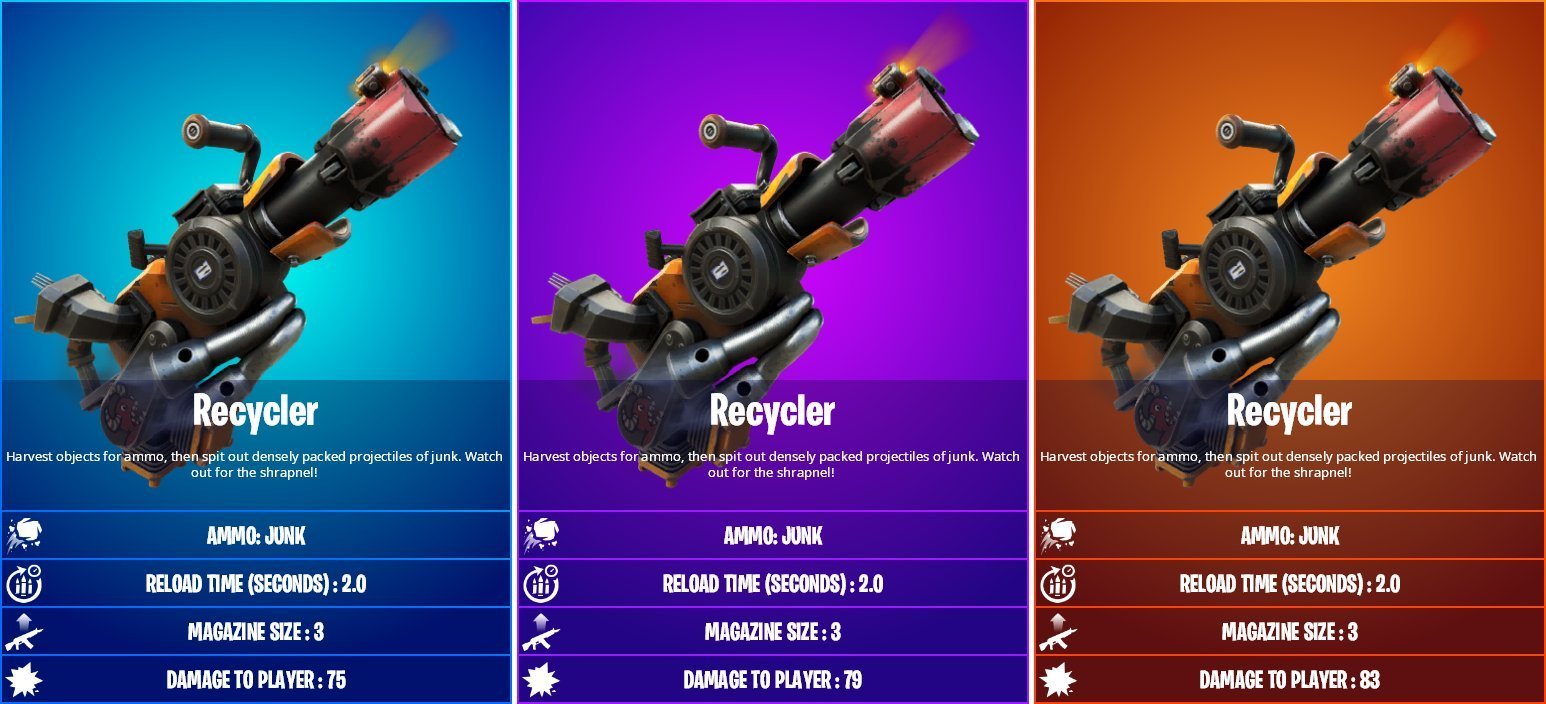 The Recycler works a lot like a Grenade Launcher does, but without the splash damage. You need to hit a player directly for it to deal any damage to them. It also isn't too proficient at breaking walls with its primary fire.
With the limited use of the new weapon, we think it could be a tad underpowered. Right now, we don't see much of a reason for someone to pick it up over an SMG, modded Bow, Shockwave Grenade, or additional healing item.
Despite this, it's exciting to see Epic take new directions when creating Fortnite weapons. We're excited to see what this means for the future of the game.
Image Credit: Epic Games, Hypex
How to raid an artifact from Stealthy Stronghold & Coral Castle in Fortnite
The last set of weekly challenges for Fortnite Season 6 requires players to raid an artifact from Stealthy Stronghold and Coral Castle.
The last round of weekly Fortnite challenges have been released, one of which requires players to raid an artifact from two of the game's largest POIs.
It's the last week of Fortnite Season 6 which means the last set of weekly challenges have been released. This also means that players only have a few days left to level up enough to get the enlightened skins. One of the best ways to level up is by completing each of the weekly challenges.
Some challenges are much easier than other, and some of the worst are the ones that require players to fetch specific items. One of the last weekly challenges this season requires players to raid an artifact from Stealthy Stronghold and Coral Castle. There are three artifacts at each POI, but players need only collect one from each.
Artifact locations at Stealthy Stronghold & Coral Castle
Below are two enlarged images of Stealthy Stronghold and Coral Castle. These are two of the largest POIs on the map, and they are also close to one another. If a player drops and starts at Coral Castle, they can quickly swim over to Stealthy Stronghold and complete this quest in one match.
These artifacts that players have to find can be a bit tricky to pinpoint. However, each one is surrounded by a glowing blue aura which makes them easier to see. They also emit a mysterious noise when nearby. If a player goes to the points marked on the maps below, they will find the artifacts in no time.
In order to raid an artifact, players will need to approach the artifact and press the action button/key. Once they've raided an artifact from each location, the quest will be complete. Completing this quest will reward the player with 24k experience points.
Those looking to unlock the gold enlightened skins or the Battle Pass skin variants will want to complete as many challenges as they can. Season 6 of Fortnite ends in just a few days on June 7th. Once the season ends, these skins will be gone forever.
How to get abducted by UFOs in Fortnite
An alien invasion is starting to take place on The Island, and here is how players can get abducted by UFOs in Fortnite.
The Alien Invasion has started, and here is how players can get abducted by UFOs in Fortnite.
Since the patch notes for v16.50 were revealed, we knew Aliens were on their way to Fortnite. We just didn't know when they would arrive. Players suspected they would appear on Tuesday, June 1, as new content usually goes live on Tuesdays. However, it wouldn't be until later that evening that the first players would be abducted.
Since then, various players have claimed they have been abducted by aliens. Many people are posting footage on Reddit and Twitter of their abductions. These extraterrestrial encounters have left many players wondering, how can we get abducted as well?
Getting abducted by Fortnite UFOs
While the stories and clips of players getting abducted are flooding social media, they aren't as prevalent in-game. Right now, getting abducted by UFOs in Fortnite is a rare occurrence. There is speculation that the frequency of alien abductions will increase as we get closer to the end of the season. However, that has yet to be seen.
Abductions will occur randomly during a match, and can happen at any time and at any location. There is no way for a player to trigger an abduction. In short, players just have to play normally and hope they occur.
There are a few ways to make getting abducted easier. First off, abductions won't happen in competitive playlists so players will need to play normal game modes. Instead of hopping into public lobbies, players can use the Battle Labs mode. Alien abductions can happen in Battle Labs which allows you to play without the fear of getting eliminated by other players.
When an abduction is about to happen, a bright green beam of light will target a nearby player or players. It will take a few moments after the light appears, but then the targeted players will lift from the ground. They will then vanish and be teleported to another point on the map with their health restored. It may take a while for a player to get abducted, but let us know down below if you've been lucky enough to be chosen.
How to get the Street Shadows Challenge Pack for free in Fortnite
Epic Games is giving away the Street Shadows Challenge Pack for free which comes with the Ruby Shadow cosmetic set.
As a part of the Epic Games Mega Sale, PC players are able to claim a free Street Shadows Challenge Pack. This pack comes with challenges that unlock the Ruby Shadows skin, pickaxe, back bling, and glider for free.
Epic Games announced the start of its MEGA Sale today. Epic Games store users will receive four free games over the next four weeks starting with NBA 2K21. There are also a number of games discounted as low as 75% off and a bonus $10 coupon is given to all shoppers.
However, the most exciting part of the MEGA sale is the free Street Shadows Challenge Pack. This pack is usually sold to Fortnite players through a real-money transaction. Now, players can claim this free pack for a limited time and complete challenges to unlock cosmetics.
Free Street Shadows Challenge Pack
Claiming the pack is simple, but it is only available to PC players. In the Fortnite Item Shop, PC players will see the free challenge pack in the Limited-Time offers section. Players will need to check out as normal, but won't have to pay any money or V-Bucks for the pack.
The Street Shadows Challenge Pack comes with the four challenges listed below. Players will earn a new cosmetic for each challenge they complete. Once they have completed all three Ruby Shadows Quests, they will unlock the Ruby Shadow skin. Here are the four challenges.
| | | |
| --- | --- | --- |
| Quest | Amount | Reward |
| Play with Friends | 5 | Ruby Shadow Back Bling |
| Outlast opponents | 500 | Ruby Shadow Glider |
| Deal Damage to Opponents | 1,000 | Ruby Shadow Pickaxe |
| Complete Ruby Shadow Quests | 3 | Ruby Shadow Skin |
These challenges aren't difficult, but they will take some time to complete. Even for the most skilled players, these challenges will take five rounds or more. However, a free cosmetic set as sick as the Ruby Shadow set is worth the effort.
The Epic MEGA Sale ends on June 17 which may also be the window players have to unlock the Ruby Shadow set. If that is the case, players will want to hop in as soon as possible to grind these few challenges. As well, they might want to visit the Epic Games store to see what games are on sale.