Where to find the new Recycler in Fortnite Season 6
The Recycler is the first new item added to Fortnite Season 6. Here's everything you need to know about where to find it.
The Recycler has finally come to Fortnite Season 6. Here's everything you need to know about the newest weapon in the game, including the stats and how to find it.
In the most recent content update, Epic added the first new weapon to Fortnite Season 6: the Recycler. Like most weapons, you can find it in floor loot and chests. The Recycler spawns in Rare, Epic, and Legendary rarity.
The Recycler is an interesting weapon, as it doesn't take any normal ammo to use. Instead, you suck up materials and structures and use that for ammo. The maximum magazine size is 3, but there is a virtually unlimited pool of ammo all around you at all times.
As expected, the damage of the Recycler scales based on its rarity. Here's a breakdown of the statistics:
Rare: 75 damage
Epic: 79 damage
Legendary: 83 damage
This weapon probably isn't worth upgrading if you find a blue one, as the damage difference doesn't justify spending gold on an upgrade.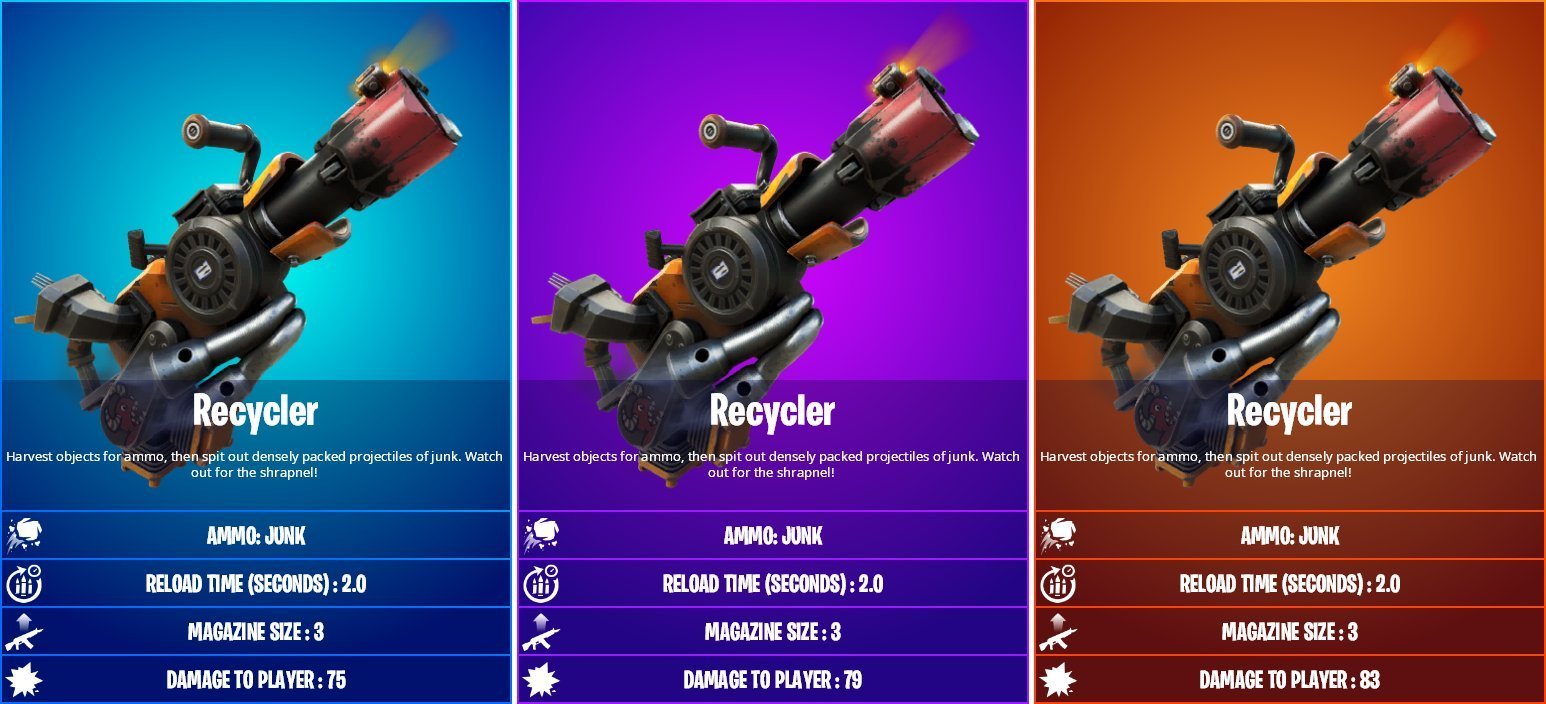 The Recycler works a lot like a Grenade Launcher does, but without the splash damage. You need to hit a player directly for it to deal any damage to them. It also isn't too proficient at breaking walls with its primary fire.
With the limited use of the new weapon, we think it could be a tad underpowered. Right now, we don't see much of a reason for someone to pick it up over an SMG, modded Bow, Shockwave Grenade, or additional healing item.
Despite this, it's exciting to see Epic take new directions when creating Fortnite weapons. We're excited to see what this means for the future of the game.
Image Credit: Epic Games, Hypex
How to see how much money you've spent in Fortnite
A new feature from Fortnite.GG allows players to show off their lockers and see how many V-Bucks they've spent on Fortnite skins.
A new feature from Fortnite companion website, Fortnite.GG, now allows players to show off their locker and see how many V-Bucks they've spent in Fortnite.
Fortnite Battle Royale has been out for almost three and a half years. Over that time, Epic have released thousands of cosmetic items for players to unlock, purchase, or otherwise add to their lockers.
We're now into the 15th Battle Pass and 16th season of the game. If you've been playing Fortnite for a long time, then you've probably spent tens if not hundreds of thousands of V-Bucks on your locker collection.
Until now, there hasn't been a way to see exactly how many V-Bucks you've spent. Fortnite.GG changed that with a recent update.
How much is your Fortnite locker worth?
Fortnite.GG is mainly known for creating interactive maps for Fortnite players. With their website, you can take a look at the spawn locations of all NPCs, Exotic weapons, wildlife, chests, and anything else in the game.
Now, with the addition of a recent feature, Fortnite.GG allows you to show off your locker and see just how many V-Bucks you've spent in the shop and on Battle Passes. All you need to do is:
Go to Fortnite.GG
Hit the drop-down menu in the top-left corner
Navigate to "My Locker"
Sign in with your Epic Games account
Shockingly, we learned that we've spent 118,200 V-Bucks since we started playing Fortnite when it released.
Of course, this doesn't equate to real-world money. We have the Save the World version, which gives us free V-Bucks, and have taken advantage of several events and promotions. Still, that's a lot of money on a video game.
Send us your lockers on Twitter @FortniteINTEL. We'll retweet some of the big spenders in the community.
Image Credit: Epic Games, Fortnite.GG
How to get free Fortnite rewards with Reboot-A-Friend event
The Fortnite Reboot-A-Friend promotion returns for Season 6. Here's how to earn free skins and cosmetics by playing with firends.
The popular Fortnite Reboot-A-Friend event has returned. Players can now earn free in-game cosmetics by bringing their friends back to Fortnite Season 6. Here's how.
Epic Games have reintroduced the popular Reboot-A-Friend promotion to Fortnite Season 6. This event rewards players for bringing their friends back to the game. Playing with friends who haven't been on Fortnite in over 30 days will net you some exclusive rewards.
We saw the same promotion run last year, but Epic revamped it for 2021 – this time offering players some substantial rewards for rebooting their buddies.
Reboot-A-Friend Rewards
Unlike the first Reboot-A-Friend system, which ended in January 2021, players will earn points towards cosmetic rewards rather than rewards for each game they play. Players who reboot a friend will earn 100 points for their first game and 10 points for every game after that.
To unlock all of the rewards, you'll need to earn 400 points. Here are the requirements for all of the Reboot-A-Friend rewards.
100 points: Reboot a Friend Spray
200 points: Heartbeat Wrap
300 points: Toxic Flash Glider
400 points: Plasma Carrot Pickaxe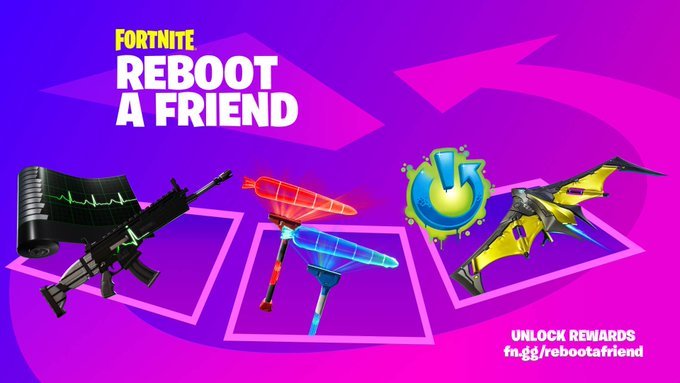 You don't need to rely on inactive players to receive your rewards, either. You need to Reboot someone to earn the 100-point bonus, but you can earn 10 points for every match you play with any friend.
If you reboot four friends, you can easily get 100 points per match and unlock all of the rewards in a single play session.
There's no end date on the Reboot-A-Friend event as of now, but we assume Epic will change the prizes in the future. We'll make sure to update you if they change any rewards or requirements.
How to transform into a prop in Fortnite Season 6
You can disguise yourself as a prop in Fortnite Season 6 if you know where to go. Here's where you need to visit.
Fortnite Season 6 allows players to disguise themselves as a prop to fake-out opponents. Here's how you can turn into a prop, yourself.
The newest Fortnite season introduced a host of new mechanics to the game. The crafting system is the most obvious of the many changes, but there is a handful of others to explore.
One of these new mechanics reworks an old, controversial element from Chapter 1. Longtime players will remember the update in Season X, where crouching in Moisty Palms turned you into a prop.
Players were split on this change, with some using it for fun and others growing frustrated with late-game crouching. Now, in Chapter 2 Season 6, the feature is back and has greatly improved.
Fortnite Season 6 prop locations
Instead of allowing players to accidentally turn into a prop, Epic made it a lot more intentional. You'll need to purchase this feature from NPCs in Season 6, and only a handful of them offer the upgrade.
This season, you can turn into anything from a mailbox to a trashcan to a Slurp Barrel – drawing opponents toward you. It can be a useful feature, and will undoubtedly make for some funny clips.
Only five NPCs offer this upgrade, however. These NPCs are:
Bushranger in Pleasant Park
Raz in Coral Crops
Crustina in The Orchard/Tomato Town
Jekyll in Steamy Stacks
Snow Sniper east of Retail Row
The upgrade will only cost 75 gold – making it one of the more affordable options available.
Of course, it's best to use this feature close to the center of the storm circle. Otherwise, you'll need to rotate dressed as a prop – unable to farm or shoot at enemies without breaking your disguise.
We don't doubt that disguising yourself as a prop will be a part of a future Fortnite Season 6 challenge. We'll update this guide if/when Epic add more NPCs that offer prop disguises.