Top 5 must-see Fortnite community creations – July 18
Fortnite has millions of fans across the world who love to share their concept ideas on what new cosmetics or items should be added to the game, and we have created a list of our favorites.
YouTube, Twitter, and Reddit are full of concept creations submitted by Fortnite fans of all ages.
Some people enjoy showing off their artistic abilities with hand drawings while others share their cosmetics ideas that would look awesome in-game.
Epic Games staff often browses the FortniteBR subreddit and has even chosen a young fan's creation to be added into the game.
Here are our favorite Fortnite concepts:
'Seven Nation Army' emote recreation
You ask and you shall receive; 'Seven Nation Army' but only using Fortnite emote sounds! from r/FortNiteBR
Jachael's musical recreations have been a hot topic across the FortniteBR subreddit, but this 'Seven Nation Army' recreation is our favorite.
The creator was able to combine the sounds from over five different emotes in order to produce a "Fortnited" rock classic.
Almost every music lover is familiar with 'The White Stripes' classic song, but the definitive bass-line played out of Fortnite audio clips is certainly a funny touch.
Marshmello hand drawing
Fortnite Drawing – Marshmello | please Comment your views about my Art from r/FortNiteBR
Some people are born with natural artistic abilities, and we feel that is the case with IndianArtMascot.
They posted a hand drawing of the popular DJ Marshmello which includes a dark purple gradient background.
The video is only 53 seconds long, but we are sure this piece of art took several hours. Color us impressed!
Area 51 loading screen
Loading Screens are included in the Fortnite Battle Pass as a reward for earning a certain level or completing all the weekly challenges.
One of the latest memes to float around the internet is the "Raid of Area 51" where hundreds of thousands of civilians are supposedly planning to bombard the facility looking for aliens.
Ta5tyy decided to take the joke to the next level by putting a bunch of Fortnite characters on a golf cart with an alien-like creature while the police chase them from behind.
This artistic creation is certainly a unique one, but it got a chuckle out of us.
Viper skin concept
Fortnite has hundreds of skins that have rotated through the daily Item Shop, and fans are still coming up with new, unique ideas.
Nollobandz posted their concept which is inspired by the Beach Bomber and Sidewinder skins with a touch of Greek mythology.
The character's head is covered in serpent-like figures like Medusa, which would definitely creep us out in a match.
Included in the concept are a set of duel-wielding pickaxes named "TwinFangs", with the left blade dripping in a green liquid.
Tactical AR breakdown
How the Tactical AR works! Hope you guys like it 😀 from r/FortNiteBR
Invy's weapon breakdown animation videos are intriguing to watch for those who enjoy highly edited videos.
The creator's animations take dozens of hours, but the end product is certainly a piece of art.
Throughout the video, the animation breaks down the weapon to show it's internal design and structure.
Since posting, the video has gone on to earn one platinum, four gold, and five silver awards!
Do you have a concept or artistic creation you would like to share that is Fortnite-themed? Send them to our official Twitter @FortniteINTEL to be put into consideration.
Fortnite leaks point to underwater swimming coming in Season 3
Swimming underwater may be a permanent feature coming to Fortnite Season 3.
Early leaks of underwater swimming in Fortnite came to the game files several patches ago. Naturally, this led to the assumption that we'd be able to dive underwater in future Fortnite seasons.
These hopes were dashed when the Astronomical event happened. We swam underwater during this event, and most fans assumed that this would be the bulk of our undersea travel.
A couple of updates later, in v12.61, we saw the ability to swim underwater updated, yet again. When you combine this with the unconfirmed leaks covering Season 3, all signs are pointing to the ability to swim underwater in the next Fortnite Season.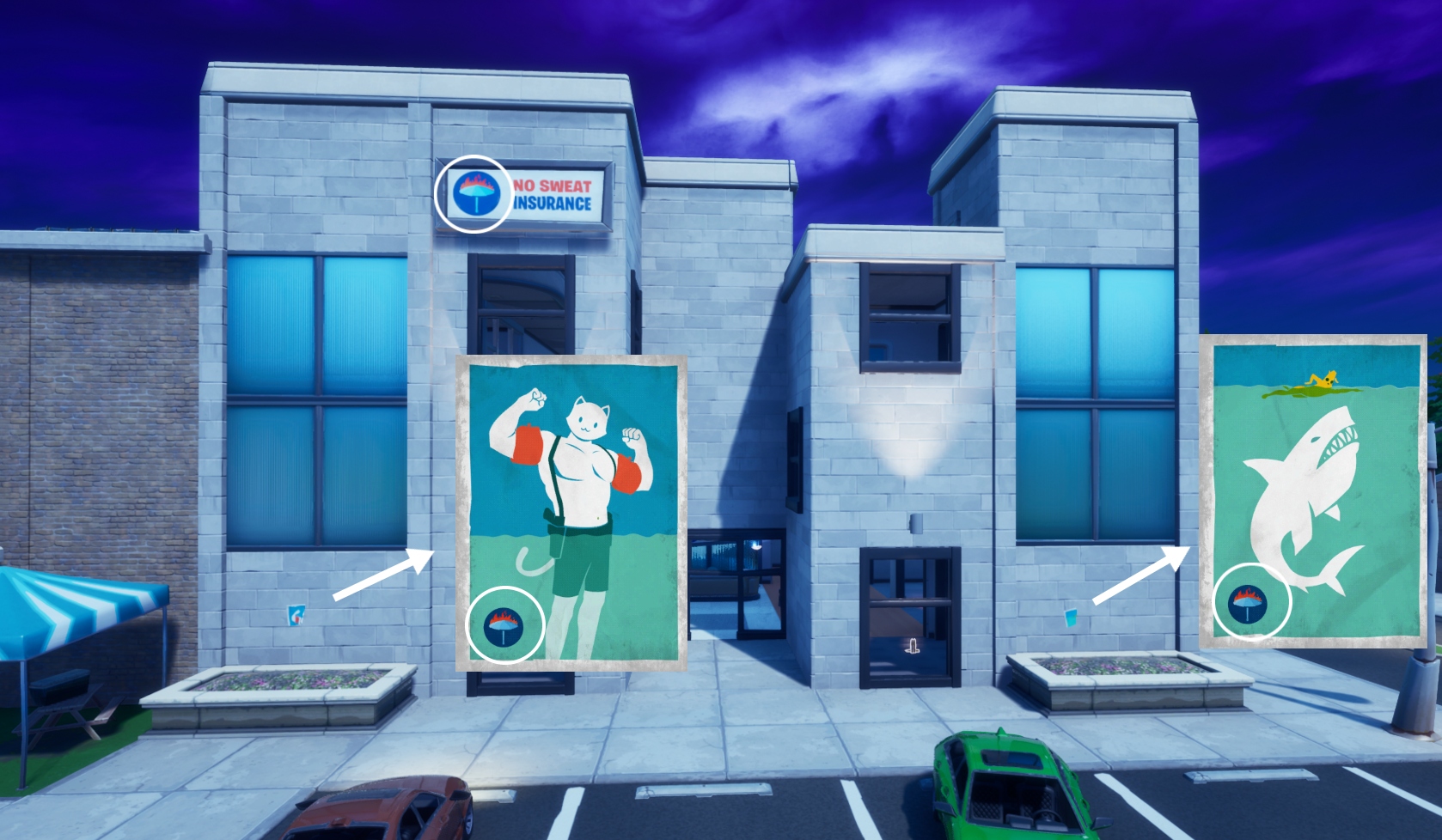 Several data miners covered the new strings in the game files. After a bit of digging, they came up with the animation, itself.
As you can see from FortTory's tweet, this animation is different from the normal swimming animation. You can dive, swim, and float in place while underwater.
There are still a ton of questions to be answered on this front. Will we able to swim underwater indefinitely or will we have an oxygen meter? Will this only be allowed on certain areas of the map? Does this mean we're getting an underwater POI?
Underwater swimming has always been a difficult concept in gaming. Unfortunately, it could lead to a host of bugs and issues if there are some blind spots in development. Let's hope for the best, though, and trust Epic to get it right.
Fortnite v12.61 patch notes: aim assist changes, bug fixes & more
Take a look at everything that changed in the Fortnite v12.61 patch notes.
The Fortnite v12.61 content update released this morning, which marks the final update of Fortnite Season 2. It was a small patch and one that was largely geared toward preparing the game for the rumored Doomsday event.
Most of the interesting parts of v12.61 came in the form of leaks, which we'll cover in some separate articles. There were a few above-board changes, though. We'll delve into them here.
Aim assist changes
The most noteworthy change was to controller aim assist on all platforms. This one is tricky since we need to rely on community reporting to tell exactly what's different.
Early reports had it that close-range aim assist was lowered by 20%, mid-range aim assist was lowered a bit, and long-range aim assist was buffed. Our early testing shows very little difference from the old system, however. Casual players probably won't notice a difference, but we'll have to wait and see.
Storm the Agency Challenges
Storm the Agency will, almost certainly, be the last batch of challenges before Season 3. We aren't getting any Overtime Challenges, so these will have to do.
The new challenge set has not been released at the time of writing but should be available later today or this week. They may be released as late as Thursday, ahead of the Doomsday event. We'll cover the challenge tutorial in a separate guide.
Storm Circles
Epic appear to have changed storm circles in the v12.61 update, as well – at least in public matches. The first phase of the storm closes much more quickly – but on a larger circle. The circle then gets much smaller, causing some players to have to rotate, quite quickly.
The circles aren't perfect, either. Just take a look at this tweet from broadcaster AussieAntics. We'll have to wait and see how this shakes out.
Bug Fixes
There weren't too many bug fixes in this patch. The biggest issue that was addressed was the inability to refund the Dragacorn Glider for some players. Here's everything that was fixed in v12.61:
Numbers not changing on sports-themed Outfits
Unable to refund Dragacorn Glider
iOS players hitching at high rate
We'll update this post with any additional changes that surface as more players get their hands on the new patch. This was a small one, though, and largely focused on adding the Doomsday Device to the game.
Leaked Fortnite v12.61 update skins and cosmetic items
Fortnite update v12.61 has arrived, and while Epic Games didn't add many new skins or cosmetic items to the game, data miners and leakers have been sifting through the files and given us a look at what's to come before the end of Chapter 2, Season 2.
Season 2 is rapidly coming to its conclusion, with the highly anticipated Doomsday event set to rock the game to its foundations as Epic Games moves to Season 3.
With the current season drawing to a close, the game's developers have released the v12.61 Update on May 26 which includes a number of leaks as to what the event will entail.
For those who are looking a new skin or some new dances moves, though, Epic have added some new additions to the files which will be released over the next week or so.
Cyclo Doomsday skin and Windshear Cloak
There's only one new skin in the game this week, but it appears to have major links to the end of Season 2, with the mysterious and imposing skin added to the files under the name "Hurricane," prompting many to wonder if he is set to unleash the natural disaster onto the island.
On top of that, there is also a brand-new cloak that goes with Cyclo Doomsday, which appears to have been battered by winds and torn in places at the bottom. You can view the skin and back bling below courtesy of @Lucas7yoshi.
Drake's Toosie Slide comes to Fortnite
Definitely the most surprising addition to the game, global megastar Drake has made his first appearance in Fortnite, with a brand-new emote appearing in-game based on a dance from the music video for his latest single, Toosie Slide.
The track debuted on April 3, and was then eventually released as part of his new mixtape Dark Lane Demo Tapes. It immediately became a hit on TikTok, with creators dancing along to the instructions featured in the song, and now Fortnite players can do the same. You can watch the Toosie Slide emote in action below, thanks to @HYPEX.
On top of that, Epic have actually licensed the song, so when you're sliding in front of your downed enemies, they'll hear October's Very Own singing along.
Fortnite's v12.61 patch is expected to be the final patch before Chapter 2, Season 3 kicks off, so it was always likely that new cosmetics would be in short supply this week. Data miners are still sifting through the files though, so if any more are discovered we'll be sure to update this article.