Top Fortnite community members react to Epic Games Vaulting the Infinity Blade – Ft. Ninja, CouRage, Ali-A, and more!
Some top community members had a lot to say following the announcement that Epic Games will remove the Infinity Blade from Fortnite.
After being added on Tuesday, December 11, the Infinity Blade generated a massive amount of discussion among Fortnite fans.
Many believed that the sword was 'too overpowered' and left little room for any counters, which eventually led Epic Games to announce that the item will be removed from the game entirely.
Now that it is confirmed that the Infinity Blade will no longer be in the game, content creators and players alike took to social media to express their happiness with the developer.
You can view a collection of responses below from a number of personalites from the Fortnite community.
coL Hogman
They vaulted the sword?? Holy crap.

— coL Hogman (@Hogmanlolz) December 14, 2018
CLG Wish
WE STAN EPIC GAMES pic.twitter.com/ZLlQs1WHGj

— CLG Wish (@WishYaLuckk) December 14, 2018
Dixion
Literally just woke up and I see this beauty! Thank you Epic. That was all we needed for this Season to continue on being one of the best seasons we've had. https://t.co/amf06UYhfJ

— Dixon (@WhosDixon) December 14, 2018
Thank you guys for listening and showing us that you guys do care on what happens to this game. I know you guys probably had major plans for these mythic items, but maybe figure out plans to make them SPECIFIC for an LTM that can be unlocked through challenges as customizations.

— Dixon (@WhosDixon) December 14, 2018
CouRage
Weapon balance, building, and movement around the map all are incredible right now in Fortnite

With the sword now gone they just need to make planes get destroyed if they fly into builds

Once they tweak planes I'm confident Fortnite Season 7 will be the most balanced season yet

— Jack "CouRage" Dunlop (@CouRageJD) December 14, 2018
Couldn't be more relieved to see the sword vaulted in Fortnite.

In games, it's super key to balance around things that are not only fun to play with but also play against.

It wasn't ever fun to fight the sword.
Grateful to Epic for admitting they messed up. Wonderful news.

— Jack "CouRage" Dunlop (@CouRageJD) December 14, 2018
WizKay
Myself and many others have been very critical of @FortniteGame and @EpicGames lately. But for them to just come out and straight up say they screwed up and remove something they put in the game is incredible. I've never seen a development team ever do that. We are blessed.

— WizKay (@WizKayTV) December 14, 2018
Muselk
SWORD REMOVED.
❤ U EPIC.
They make mistakes. But the apologize and fix it. Can't ask for more. pic.twitter.com/sl1e16gLXd

— Muselk (@MrMuselk) December 14, 2018
Ninja
omg lol LETS GO! https://t.co/Ie2y3m7aDY

— Ninja (@Ninja) December 14, 2018
Ali-A
RIP Infinity Blade 🗡

— Ali-A (@OMGitsAliA) December 14, 2018
NICKMERCS
— 100T Nickmercs (@NICKMERCS) December 14, 2018
x
Dakotaz
We all seen it coming.

— dakotaz (@dakotaz) December 14, 2018
More to come.
All Fortnite Season 5 Exotic Weapon locations
Fortnite Season 5 brought Exotic weapons to the game to replace Mythics. Here's where to find all of them.
Fortnite Season 5 introduced Exotic weapons to the game instead of Mythics, giving more players access to them. Here's where you can find them.
There's no shortage of new mechanics in Fortnite Season 5, with the addition of NPCs, quests, and a whole lot more.
Mythics have returned to the game in Season 5 but in a limited capacity. The only classic Mythic items in Fortnite Season 5 include The Mandalorian's Jetpack and sniper rifle, both available from the bounty hunter himself.
The other items in the game are classified as Exotics. There's only one of each Mythic item in each game, but can be multiple Exotic weapons.
You can purchase these Exotic weapons from specific NPCs across the map. Of course, this means you'll need to save up your Gold Bars to afford them.
Twitter user @MikeDulaimi created an easy-to-follow guide on how to locate all of the Exotic weapons in Fortnite. You can purchase them from NPCs in the areas surrounding Hunter's Haven, The Zero Point, Dirty Docks, Craggy Cliffs, and Stealthy Stronghold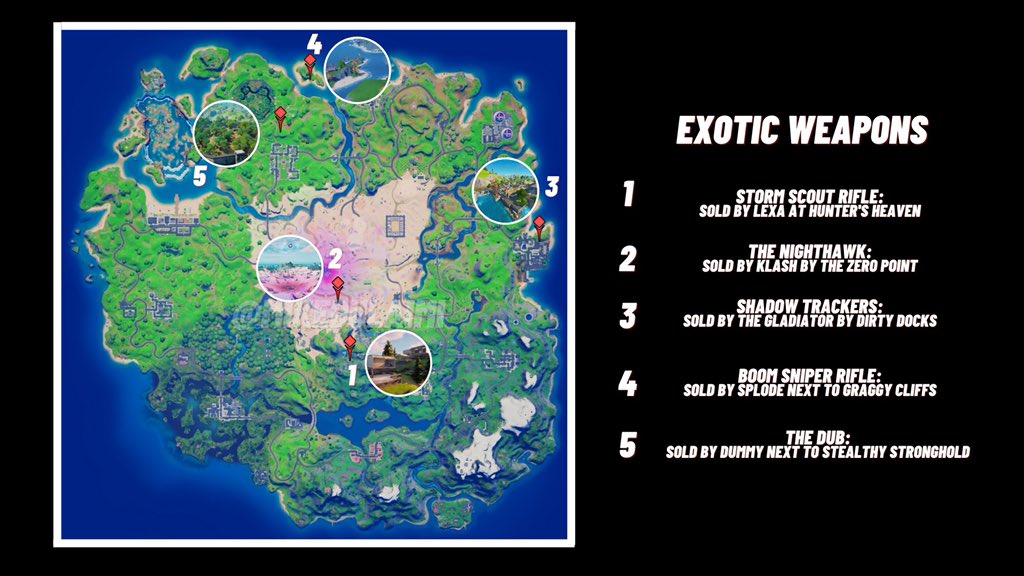 Mythic items were relatively controversial for the past few seasons of Fortnite – especially in competitive modes. Doom's Mystical Bomb and Kit's Shockwave Launcher dominated tournament play for the past two seasons, and the competitive community largely called for them to be removed.
We're curious to see how this community treats Exotic weapons. They're more widely available and aren't as powerful as Mythics, making them more balanced than the latter – that is, until a player eliminates the NPC selling them.
Newly-added Exotics (Update)
February 24 Exotic Shuffle (Update)
On February 24, Epic shuffled some of the original and new Exotic weapon locations, giving them to new NPCs across the Fortnite map. The Storm Scout Sniper, Nighthawk Revolver, and Hop Rock Dualies now have new homes. You can view them on the map, below.
We wouldn't be surprised to see Epic shuffle the locations once again, so we'll update this map and article if we see any more changes.
Image Credit: Epic Games, Fortnite.GG
All love potion locations for Fortnite Season 5 Week 11 challenges
Here are all locations of Grimbles' love potion from Fort Crumpet, Coral Cove, or Stealthy Stronghold for the Fortnite Season 5 challenges.
One Fortnite Season 5 Week 11 challenge requires players to collect Grimbles' love potion from Fort Crumpet, Coral Cove, or Stealthy Stronghold. Here's where you need to go.
This week's Fortnite challenges are a lot more difficult than ones we've seen in the recent past. We have to search several specific locations to help Fishstick find love and, more importantly, earn some XP.
Here are all of the Grimbles love potion locations in Fort Crumpet, Coral Cove, and Stealthy Stronghold. You only need to find one, so this guide should help.
Grimble's love potion locations
You can find one love potion in each Coral Cove, Stealthy Stronghold, and Fort Crumpet.
The first, in Fort Crumpet, can be found on the bottom floor of the fort in a roped-off room. The Coral Cove potion is located behind the main building of the unnamed POI.
In Stealthy Stronghold, the potion is located in the middle of the POI, next to a chest in one of the ruins. Here's a map that should help you out.
Deliver the love potion to Slurpy Swamp or Shanty Town
Once you find the love potion, you need to deliver it to Slurpy Swamp or Shanty Town. The easiest place to visit is Slurpy Swamp.
Here, you'll find the location in that boxed-room that houses slurp barrels and a Teddy bear sitting on a chair. Frequent visitors of Slurpy Swamp should know the location all too well. All you need to do is interact with the love potion and receive your XP.
This is a difficult week of challenges for Fortnite players, but the XP is well worth the grind. You can take a look at the rest of the Fortnite Season 5 Week 11 challenges here.
Image Credit: Epic Games, HarryNinetyFour
Ninja goes off on the Fortnite community after getting stream sniped
Ninja returned to Fortnite to find the same old stream snipers. As expected, he gave them a piece of his mind.
Ninja sounded off on stream snipers in the Fortnite community during one of his recent streams.
Tyler 'Ninja' Blevins is one of the primary streamers who helped Fortnite rise to the height of popularity we see it today. He's stepped away from the game of late but often comes back to play a few rounds between his Valorant streams.
Although Ninja doesn't take Fortnite as seriously as he once did, he still faces a large number of stream snipers who want to eliminate him for clout. Ninja has always been outspoken about stream snipers but went all-in during one of his recent Fortnite streams.
"The community – these little f***ing kids – It's so dumb. It really is," Ninja vented. "And the thing is, these little clout chasing losers have no idea, man. All they're doing is harming the game. Because I'm not gonna play it. I'm not gonna stream it."
(Clip begins at 3:38)
"Good for you, man. Get your f***ing clip, send it to your buddies," Ninja continued. "'We killed Ninja!' I haven't played the game in – ever. I don't play it anymore. I come back and I still almost kill all of you idiots."
Ninja went on to say that it must be far worse for players like Bugha, who won the Fortnite World Cup. If stream sniping is bad for someone like Ninja, then it must be far worse for an actual top competitive Fortnite player.
Ninja has done a lot of good for the Fortnite community, helping it become one of the biggest games of all time. Stream snipers may be a part of the reason he doesn't play as much as he once did.
We don't think Ninja will completely stop playing Fortnite, but the constant stream sniping is clearly getting to him. Hopefully, this doesn't dissuade Ninja from continuing to experience the fun side of Fortnite.