This Fortnite concept would give remote access to the Item Shop
Let's face it, sometimes we don't have the time to get on and check out the Item Shop every single day. This concept would give the busy-bees a way to buy content from the Fortnite Item Shop.
The modern world is a busy place and we all have constant errands and jobs to do. Whether it's our 9-5 job or chores after school, we always have something blocking us from doing what we really want.
For us gamers, what we want to do is play our games. More specifically, we want to play Fortnite.
Well, this new concept does not eliminate your daily schedule, but it would give you access to the Item Shop straight through its own dedicated app.
The current Item Shop works so that you must get on your Fortnite device of choice in order to shop for items. Mobile versions can't run on nearly every device and console/PC players have no choice, but jump on the game client.
Reddit user "easkate" has drawn up a concept art for a dedicated Item Shop app. Introducing the Retail Row App.
Fortnite: Retail Row App! A UI Concept for a portable locker & shop! from r/FortNiteBR
The app would be free for download through the Google Play store or the Apple App store on any modern smartphone.
The app would only have the simply display of items along with the preview of the item.
In order to have the app run on almost any device, Epic could even change the preview into a video format rather an actively rendered Fortnite model to save processing power and battery life.
The concept suggests that V-Bucks could be purchased to spend on items and the in-game Locker would also be brought in to allow you to view/show-off your Fortnite items.
The current mobile versions of Fortnite do include the Item Shop, but many players do not want to link their accounts/download the massive app onto their phones. Besides, many phones can barely run the game and start-up takes a long time.
A clean, user-friendly app could increase skin sales and provide fans an easy way to access Item Shop when they can't be at their console or PC. It's kind of wild that Epic hasn't already implemented such a system.
Subway Surfers officially reacts to crazy Fortnite collab concept
A handful of notable franchises are yet to collaborate with Fortnite including Subway Surfers. Here's why this could finally happen.
Fortnite players love coming up with concepts, especially related to crossovers. A Subway Surfers concept went viral recently and it was good enough to catch the attention of the developers.
It wouldn't be an overstatement to say that Subway Surfers is one of the most ground-breaking games in history. It popularized the endless runner genre and has been downloaded by literally billions of players.
Crossovers now define Fortnite, and here's why a collaboration with Subway Surfers could be closer than ever.
Subway Surfers' concept imagines Tricky as a Fortnite skin
Subway Surfers has introduced a wide range of characters since its launch, and fans love them all for unique reasons. As it turns out, Fortnite artist Anhel admires Tricky and accordingly, he turned her into a skin.
Anhel's Fortnite x Subway Surfers bundle included these items:
Tricky's outfit
Subway Surfers spray
1500 V-Bucks
Subway Surfers' Jetpack back bling
Subway Surfers' theme song album
To be fair, this is a flawless bundle for any Subway Surfers fan. The mobile game has many elements that can be incorporated into Fortnite, and an official crossover is almost guaranteed to be a massive hit.
Subway Surfers' official Twitter account reacted to the aforementioned concept and even tagged Fortnite asking about a collaboration. Naturally, this was enough to ignite the hopes of countless fans who love both franchises.
Subway Surfers' policeman catches Jake with Fortnite's builds in fan-made clip
It is evident that the Fortnite community is eagerly awaiting a Subway Surfers' collab. Popular modder Brux uploaded a clip on YouTube that perfectly blended both the games and it already has over 250k views.
Brux somehow gave the policeman building and editing abilities who then used them to catch Jake within 10 seconds. To say the least, it was the perfect representation of a Fortnite sweat.
Brux is clearly one of the most talented modders out there. It is safe to assume that such content will become more common with Creative 2.0 which should be available before 2023.
Now that Subway Surfers has officially reacted to concepts, it wouldn't be a surprise if the collaboration with Fortnite takes place soon. As of now, the Fall Guys collaboration has been leaked and loopers can look forward to completing Crown Clash challenges for free rewards.
Fortnite concept art reveals amazing scrapped ideas for Sanctuary, Mothership UFO, and more
Fortnite confirms the design of map locations after inspecting a ton of concepts, and here are some brilliant ones that didn't make the cut.
Fortnite could have been an entirely different game if Epic Games had approved some awe-inspiring concepts by Gervasio Canda for POIs like Sanctuary, Zero Point desert, Primal Village, and Coliseum, among others.
Artstation is a platform that lets users view countless artworks by some of the most talented artists in the world. Fortnite concept artist Gervasio Canda, who is a senior concept artist at Epic Games, is also a part of the Artstation community.
Over the years, Canda has submitted several brilliant concepts on the platform, and Fortnite players have been admiring them all.
Fortnite players feel robbed after witnessing the unreleased concepts for prominent locations
Fortnite is known for its unique cartoonish design. The island has a vibrant color theme, and there are several goofy elements that help the game stand out.
Players around the world haven't really complained about the existing Chapter 3 map. In fact, the majority of the community considers the Artemis map to be much better than Apollo (Chapter 2 map).
However, players are also feeling a little disappointed that some of Gervasio Canda's concepts didn't make the final cut. For example, Sanctuary wasn't just a forest with scattered buildings. Instead, the Foundation's statue had a high-tech research lab inside it and a massive rusty ship rested on the shore.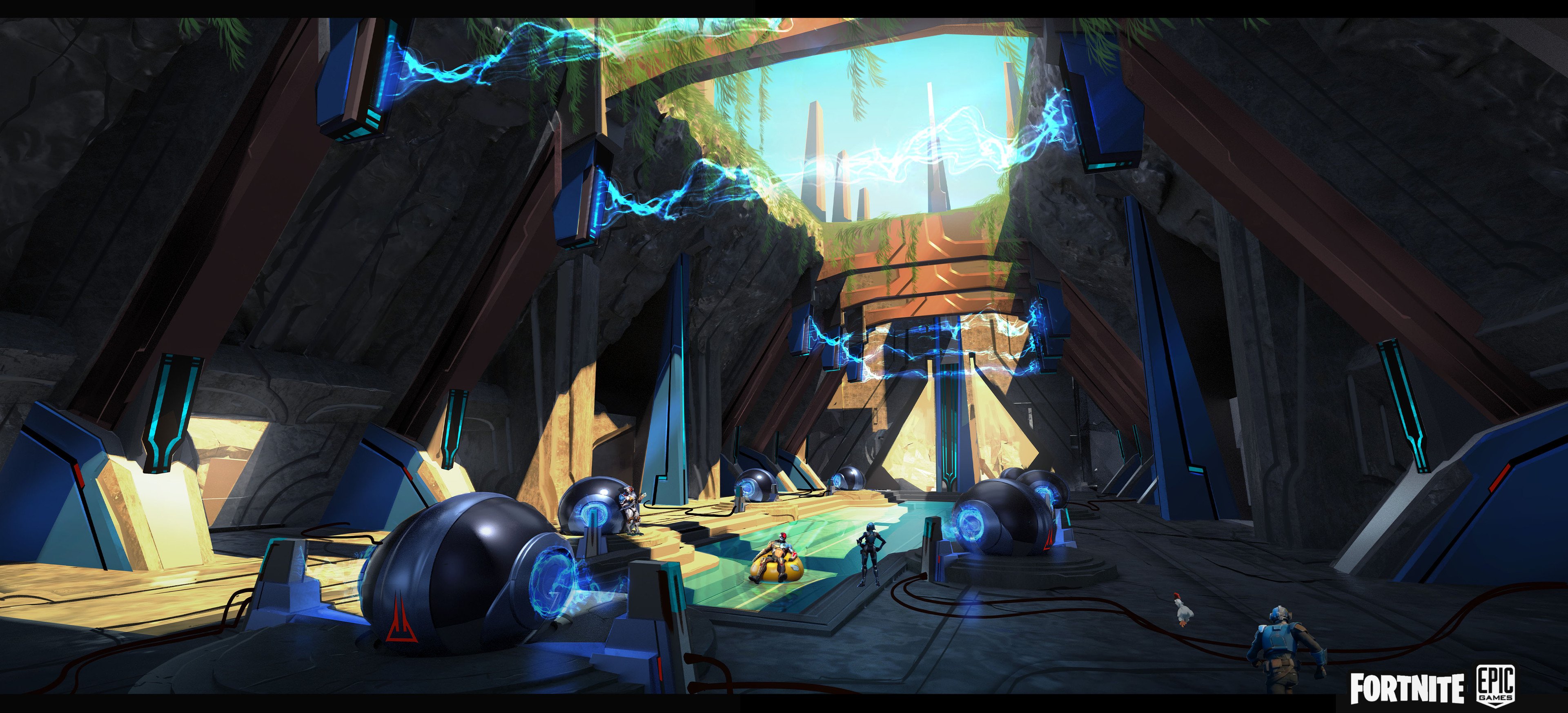 We currently have an empty beach near Sanctuary but in the concepts, there's a well-planned village with several shacks near the shore.

The concepts have not only revealed the Chapter 3 POIs but also major Chapter 2 locations like the Primal Village from Season 6, the Zero Point desert, and Coliseum from Season 5.
The concepts are full of details and loopers are perplexed over the fact that Epic Games rejected them. They believe that the Zero Point desert in Chapter 2 Season 5 was rather bland, and Sanctuary and The Joneses in Chapter 3 can certainly have more details.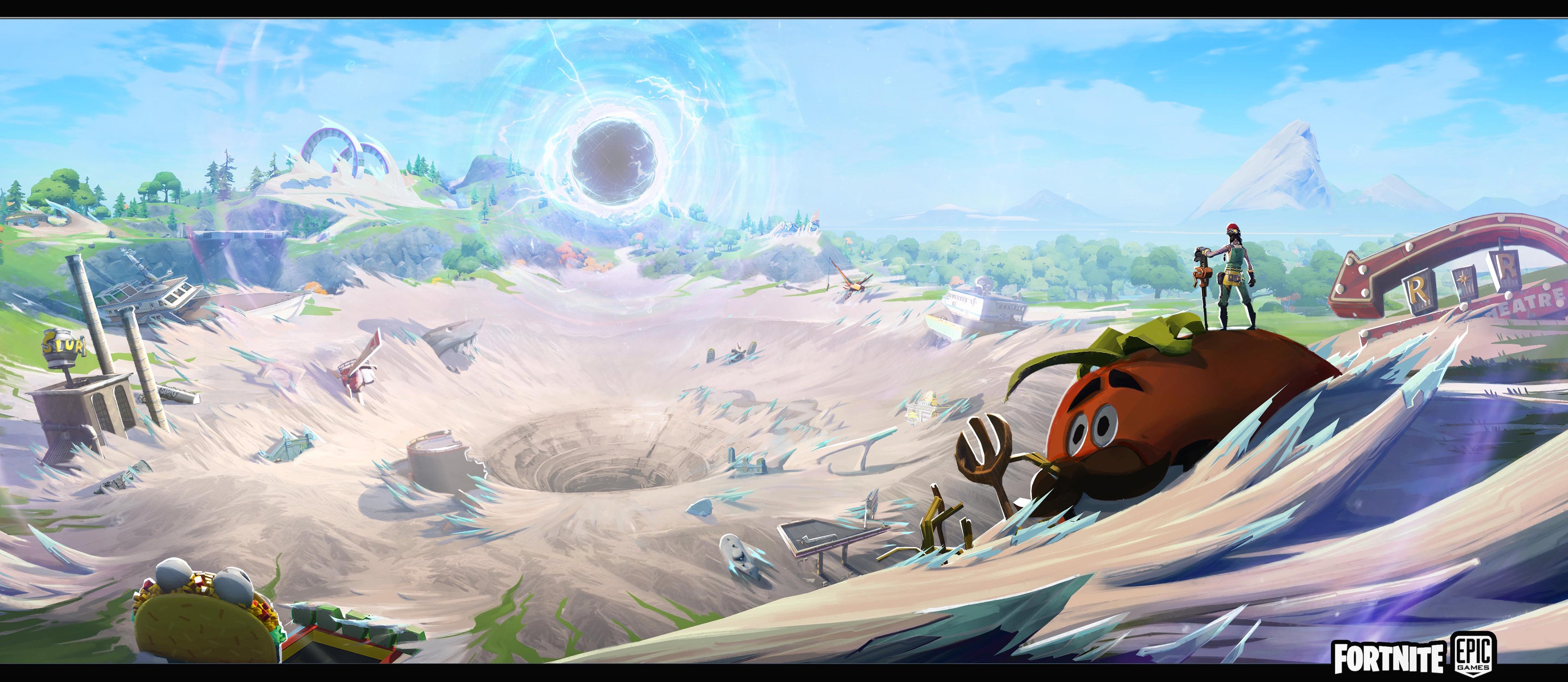 Why did Epic Games scrap the most breathtaking Fortnite concepts ever?
Aesthetically, it is hard to even compare the aforementioned concepts and the actual Fortnite POIs. A number of plausible reasons for Epic Games not finalizing them could be factors like map size, combat, storyline, and in-game mechanics.
While making a location, the developers not only have to make it look good but also place loot and other components that grant mobility. Moreover, adding heavily detailed locations could have increased the game size significantly.
Although it is impossible for loopers to ever witness the Chapter 2 concepts in reality, we can still get The Seven's high-tech labs. There's a closed bunker under The Foundation's state, and players now have sky-scraping expectations from whatever is hiding inside.
How to use Reality Seeds in Fortnite Season 3
Reality Seeds in Fortnite Chapter 3 Season 3 brings loopers an entirely new concept of claiming loot from the island. Here's how you can find them.
The latest Fortnite season has introduced loopers to exciting new POIs and concepts that were not seen before in the game. Reality Seeds are one such addition that function as interdimensional objects just like tents, but in an entirely different manner.
With the Zero Point submerged underwater, it is finally serving its purpose by adding life and colors to the island that loopers have missed in the past. One such addition to the map that might be a gift to them is the Reality Tree.
The Reality Tree POI was added in the place of Camp Cuddle in the Chapter 3 Season 3 map and boasts a huge colorful tree that grants healing powers to loopers who land on top of them. Hiding amongst the huge tree are chest spawns, healing mushrooms and a strange plant bulb that glows and keeps moving in its place.
What are Reality Seeds and How to use them in Season 3?
Reality Seeds are a fragment of the Reality Tree that can be obtained upon breaking Reality Bulbs that are scattered around the POI. Once a player pickaxes the bulb and breaks it, they will see 3 floating Reality Seeds in front of them.
The levitating seeds will then slowly descend to the ground so loopers can claim it. Upon claiming a seed, it will occupy one slot in the player's loadout. At max, one player can stack 2 reality seeds at a time in a loadout slot.
Once the seeds are claimed, the player needs to equip it and throw it in front of them where a blue hologram of a plant sapling would be visible. As soon as the seed is thrown to the ground, a sapling will grow out which will then function as a Reality Sapling across matches.
However, loopers can gather and use slurp mushrooms, grown around the sapling to heal themselves with 10 health or shield units granted to them at a time.
Once the player leaves that match, they can spot the sapling icon on their mini-map right before exiting the Battle Bus.
If they choose to jump near the sapling, they will be able to see weed outgrown around the sapling that players would need to interact with, in order for the sapling to bear Reality Fruit.
Upon clearing the weed, a Fruit will appear on the sapling that offers weapon, gold bars, ammo and consumable loot to players. The loot tier begins with an Uncommon item type that loopers can claim from the fruit one at a time. Usually, there are three fruits a sapling can bear that offers loot to the player who plants it.
However, if a player chooses not to claim the fruit in corresponding matches and instead just keeps on clearing the weed, the fruit will grow and evolve the weapon tiers, up until it reaches a level where it grants Mythic weapons to the players. Although, players can see the tier that the fruit is currently in and the time frame when the weed grows out on the left side of their extended map view of the island.
As loopers continue to figure out this strange new addition to the game, some are already using Reality Saplings as their primary spawn loot regardless of the weapon tiers so that they gain combat advantage over their opponents. However, those who aren't familiar with the concepts of Reality Seeds and Saplings, a weekly quest is waiting for them where they can gather them and experience the magic of the Zero Point themselves.