These must-know Proximity Mine tricks might make them OP
Proximity Mines are now in Fortnite. These tricks might make them too powerful.
Proximity Mines are now in Fortnite. These tricks might make them too powerful.
Fortnite v12.10 is out now, bringing us a long list of expectations in the form of leaked events, LTMs, helicopters, new weapons, and a lot more.
On its surface, however, the update only did a few things: added Llamas back to Battle Royale and brought the Proximity Mine into the game.
The Proximity Mine only does 50 damage to a player, but they stack up to six. This means that you can place four of them in a particular location to, effectively, one-shot an opponent.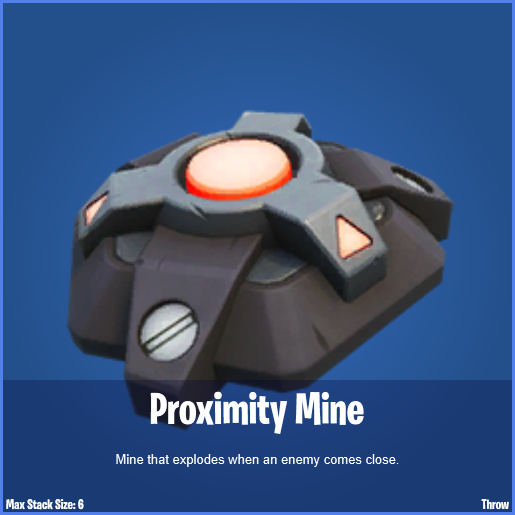 These items are still new, so we've yet to see how players will react when they expect Proximity Mines to be on the ground. For now, though, they seem pretty powerful.
The damage might not be anything breathtaking, but Proximity Mines also mark an opponent's location. Once you tag an enemy with one, you can see where they are and run to finish the kill.
This feature, alone, makes the Proximity Mines worth carrying. When you add this must-know trick to the mines, they become one of the most powerful explosives in Fortnite.
You can't throw the Proximity Mines very far, but you can get them to fly once they're on the ground. The Fortnite exploit king, Orange Guy, found a few ways to push Proximity Mines away from you and get them to explode on an enemy.
You can shoot the mines, pickaxe the mines, or do a combination of both to push them several meters away and ensure that they hit your target.
C4 will probably do a better job in these scenarios, but this ability on top of all of the inherent benefits of the mines makes the latter more powerful. You can also send the mines further than C4 will travel.
Again, we'll have to wait and see how the Proximity Mines shake out once more players have a chance to use them. Early testing shows that they might be a tad too versatile, however.
Will Fortnite be banned in the US after Tencent investigation?
Epic Games has received a letter from the Committee on Foreign Investment involving their investor, Tencent. What does this mean for Fortnite?
News has been swirling about the potential ban of TikTok in the United States, recently. Banning the biggest app in the world not only has implications for the millions of users but also for other companies that have attracted similar scrutiny from the US government. That ban has recently been put on hold, but it still could be coming later this week.
Namely, the Chinese technology company, Tencent, is under investigation by the Committee on Foreign Investment in the United States. Tencent is one of the largest gaming companies in the world and boasts ownership of Riot Games and a 40% stake in Epic Games.
A recent report from Bloomberg stated that Epic and Riot – among other companies – have received letters requesting them to turn over information about their security protocols, including how they handle the personal data of their US-based customers.
Epic Games is an American Company, but Tencent has a large stake in them. Epic may have access to the personal data of their customers, and the US government is concerned about what they're doing with it. In China, companies and the government aren't as separated as they are in the US and other countries.
So, what does this mean for Fortnite? Well, it's too soon to be 100% sure. We've seen some outlets waffling over whether or not Fortnite will face a ban, similar to what we're seeing with TikTok. We're no experts, but we don't see this happening.
Tencent has a minority stake in Fortnite. At most, we expect them to be forced to sell their stake in the developer and move on. It might be more tricky with companies like Riot Games, where Tencent owns a controlling stake. Fortnite, however, should be safe.
Upcoming Fortnite BTS emotes leaked
BTS makes their mark on Fortnite with two new emotes. Take a look at them before they come into the game.
By now, most Fortnite fans know all about the Fortnite X BTS collaboration that will be coming to Party Royale this weekend. This is, likely, the biggest collaboration that we've seen in Party Royale to date.
The official choreography video for the BTS hit song, "Dynamite," will be shown on the main stage in Party Royale on September 25 and 26. Fortnite players will be the first to watch the exclusive video.
Epic also announced that they'd be releasing two Fortnite emotes that were choreographed by BTS, themselves. These emotes will hit the Item Shop on Wednesday, September 13.
Thanks to data miner @iFireMonkey, we were able to get a closer look at these emotes before they come into the game. Here's a look at the audio and video of each of the two upcoming BTS emotes.
On top of that, Epic also released a map for Creative Mode which is, according to them, a "recreation of the world from the original 'Dynamite' music video." You can use the code 0272-4337-3889 at the Creative Hub to enter. Enjoy!
How to unlock Fortnite cosmetics in Rocket League 'Llama-Rama' event
Rocket League is celebrating going free-to-play with an in-game event and Fortnite crossover: Llama-Rama.
Rocket League fans, largely, rejoiced when they learned that Fortnite developer, Epic Games, had purchased the Rocket League development team, Psyonix. Rocket League is a brilliant game, but the monetization efforts weren't too player-friendly – especially for a game that cost $30.
Fortnite, on the other hand, has one of the most user-friendly microtransaction systems in all of gaming. You can say what you want about Fortnite and the choices of the developers, but it's hard to criticize their approach to monetization.
Epic has already been making its mark on Rocket League since its acquisition of Psyonix. They made the loot boxes transparent, made the game free-to-play, and are now bringing the first in-game event with unlockable cosmetics.
The 'Llama Rama' Fortnite crossover event will run from September 26 through October 12 and will give players the chance to unlock the Battle Bus cosmetic pack, Llama Wheels, the Loot Llama Decal, the Top Llama Topper, and the Llama Fly Antenna.
You'll need to complete some in-game challenges to earn these rewards. The challenges haven't been released at the time of writing, but we'll be sure to update this post when the event goes live this weekend.
Update: Rocket League challenges released
The challenges are now live in Rocket League, which unlocks rewards for both Rocket League and Fortnite. Here's a look at all of the challenges and rewards for the event:
CHALLENGE 1: LLAMAS, START YOUR ENGINES!

Rocket League Challenge: Play an Online Match in Any Playlist
Rocket League Reward: Llama Flyer Antenna 
Fortnite Reward: Rocket League Spray 

CHALLENGE 2 – FLAGGED FOR VICTORY

Rocket League Challenge: Win 1 Online Match in Casual with the Llama Antenna
Rocket League Reward: Top Llama Topper
Fortnite Reward: Holodata Drop Contrail

CHALLENGE 3 – TOP OF THE WORLD

Rocket League Challenge: Get 5 goals, saves, or assists with the Llama Topper
Rocket League Reward: Loot Llama Octane Decal
Fortnite Reward: Rocket Groove Music Track

CHALLENGE 4 – AN EPIC ENDEAVOR

Rocket League Challenge: Win 5 Online Matches in Any Playlist with the Llama Decal (Octane)
Rocket League Reward: Llama Wheels
Fortnite Reward: Rocket League Emoticon

CHALLENGE 5 – LLAMA LEGEND

Rocket League Challenge: Get MVP in any Online Match with the Llama Wheels
Rocket League Reward: Battle Bus + Battle Balloon Antenna, Battle Bus Wheels, and Battle Bus Engine Audio
Fortnite Reward: Octane RL Backbling + style variant
Rocket League is the kind of game that no one knew they wanted until they played it. It's incredibly fun and we strongly recommend trying it if you haven't already.
Like Fortnite, Rocket League is a simple game with a massive skill ceiling. It's easy to get the hang of but incredibly difficult to master – something that most Fortnite fans will naturally love in a game. Now, it's free, so there's no reason not to try it out.