The first in-game Fortnite Season 3 teasers are here
We may be a month away from the Fortnite Season 3 release date, but the first in-game teasers are already entered the game.
Epic have already announced that they extended Fortnite Chapter 2 Season 2 into June. This puts the release date of Season 3 on June 4 – more than a month away.
That doesn't mean that Epic aren't giving us a few crumbs to keep us interested. They added a couple of new posters to the No Sweat Insurance building in Lazy Lake with the v12.50 update. These posters show Meowscles standing in water, Peely swimming away from a shark, and a house on a floatation device.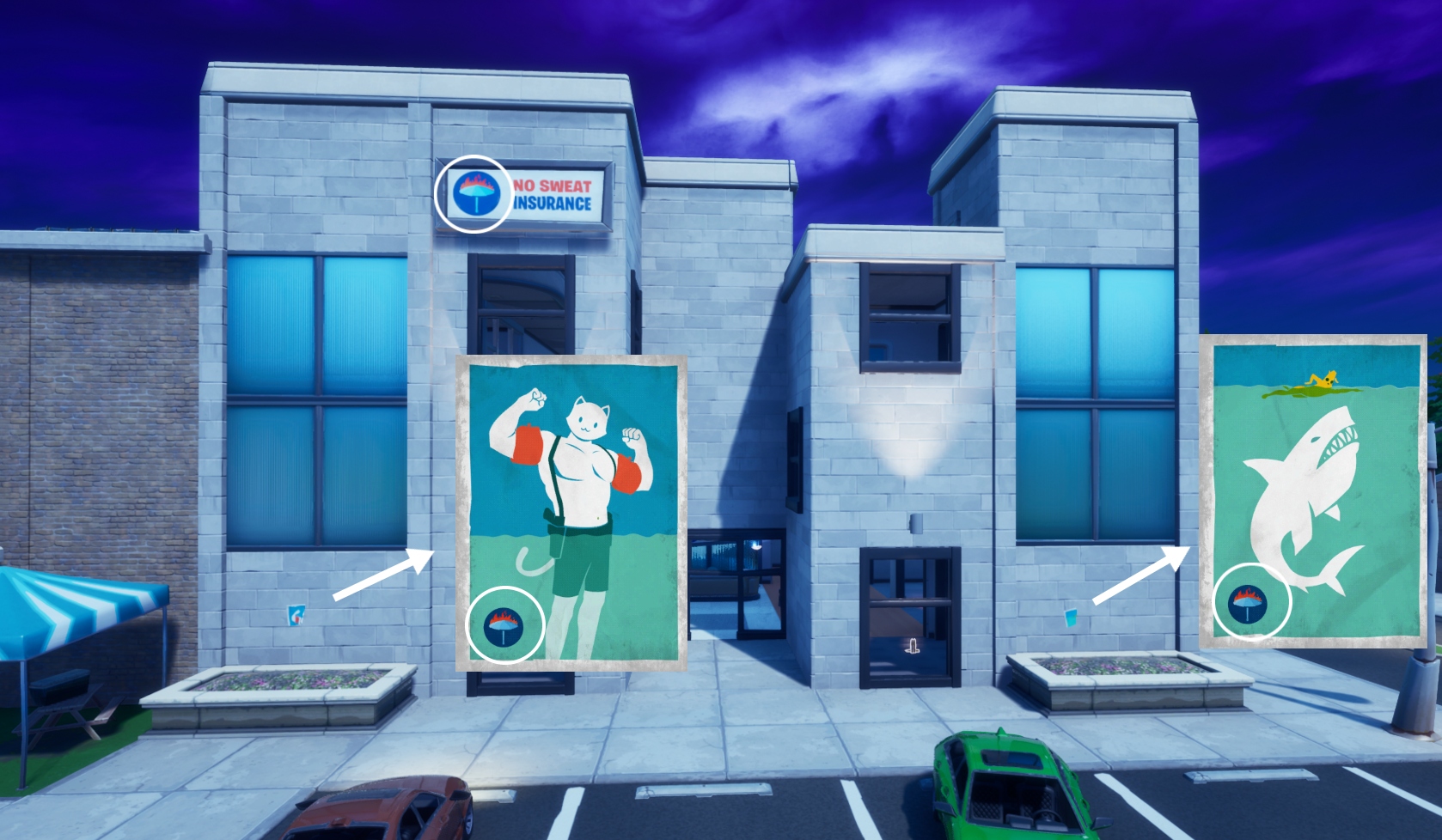 When you see these posters, by themselves, you could say that they point to anything. The reason that we know they're related to Season 3 is because of their tags in the game files.
Data Miner @FortTory revealed that these posters are listed as S_13_Poster_Teasers in the v12.50 game files. Clearly, Season 3 is going to lean into the aquatic theme.
Many fans assumed that a massive flood would be part of Chapter 2 Season 2. As it appears, however, Season 3 will be the one to bring more water to the map.
There's also been some speculation relating to the underwater swimming animation we experienced during the Travis Scott concert. We don't know if this will be a permanent part of the game, but a water-themed season would be the perfect time to add it.
There has also been a couple of leaks relating to fire in Season 3, which is corroborated by the flaming umbrella in the bottom-left corner of these posters. If these leaks are true, then we'll be able to see buildings ablaze in Season 3.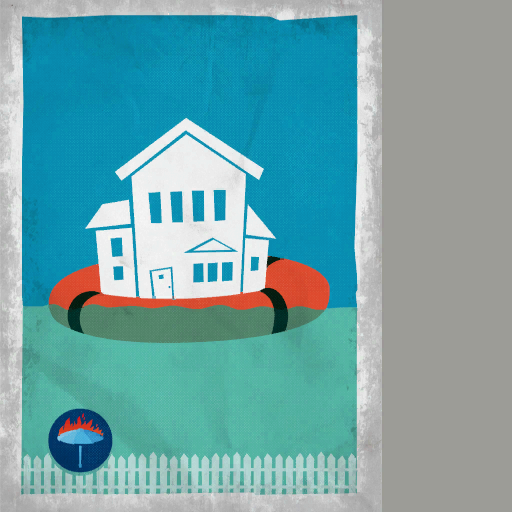 As we said, we still have to wait another month+ for Season 3 to come out. We'll likely see several more teasers before that time, which will give us more insight into what to expect.
How to make an underwater map work in Fortnite Season 3
"SpongeBob physics" might be the only way that an underwater map will work in Fortnite Season 3.
Fortnite Season 3 is just over a week away, and rumors are swirling about what it will bring. It seems to be all but confirmed that a flood will overtake the map, which has fans equally exciting and worried.
An underwater map could be amazing or it could be awful. Swimming in Fortnite is notoriously inconsistent and annoying. All-water zones are the worst, and we can't imagine a map that's entirely comprised of the water physics from Seasons 1 and 2.
A Fortnite map that's entirely underwater and forces players to swim all of the time would likely be a disaster. It would change the game far too much, and most players would probably be turned off after a couple of weeks – not to mention all of the bugs that would likely arise from this mechanic.
That's why we're predicting something different. We saw a post on Reddit from u/JjGuyy0 that perfectly illustrates what we think will happen when Season 3 comes out.
Instead of swimming and floating under the water, we're predicting what JjGuyy0 calls, "SpongeBob physics." Even if the crossover doesn't happen, his presence can be felt through the gameplay.
What we mean by this is that players won't float. Instead, the underwater part of the map will act like the normal map – as is the case in SpongeBob. Players will sink to the bottom and use new water-based vehicles to move around.
We heard rumors about a shark vehicle, but the specifics from JjGuyy0 are only speculation. The mechanics of the islands make sense, however, and we expect to see something similar to what u/JjGuyy0 has proposed.
In our opinion, "SpongeBob physics" is the only way to make an underwater Fortnite map work. It will change little other than the aesthetics of the map, which will be a perfect breath of fresh air for the community. Let's hope that we're right.
Have Epic been teasing Fortnite Chapter 2 Season 3 since last year?
Fortnite fans are looking back to potential Chapter 2 Season 3 teasers from 2019.
Today's Fortnite Season 3 leak may have been a mistake, but fans are beginning to think that it was calculated. In fact, some are going so far as to claim that Epic have been planning Chapter 2 Season 3 for over a year, down to the delayed release date of the season.
By now, many of you have seen the leaked promotional image that the PlayStation store dropped early. You can take a look at that here, as well as the rumors of a potential Fortnite X SpongeBob crossover coming in the near future.
It's funny that a single image could cause so much discussion, but it has. Some players have even looked back at Chapter 1 Season 9 for clues as to what's to come in the next season.
Jonesy has become one of the only plot devices that have come with us through the two+ year journey of Fortnite. Naturally, he's the primary character around which these theories revolve.
Popular Fortnite YouTuber Ali-A tweeted side-by-side images of the Season 9 Bunker Jonesy wall and the Chapter 2 Season 3 leaked image. The old image shows a sketch of the Battle Bus passing over an island with three trees, just like we see in the new promotional image.
Things get even spookier when you look at one of the midseason trailers that Fortnite released during Season 9. This video seemed to come out of nowhere, showing Jonesy on an island before he shoots down the Battle Bus with a flare gun.
The island on which Jonesy stands appears to be the same island from the leaked image and Bunker Jonesy sketch, suggesting that Epic had specific plans for Chapter 2 Season 3 over a year ago.
YouTuber, OrangeGuy took things a bit further. He drew a comparison to the Jonesy animation, as many have, but he noticed the numbers on the flare gun box. The series of numbers read 1106.
June 11 is the release date for Season 3. Most countries put the day before the month when writing the date. In other words, Season 3 releases on 11/06.
This might all be a giant coincidence, but it's unlikely. The most likely scenario is the Epic had a loose plan of how Chapter 2 would unfold while they were still finishing Chapter 1. They released some Easter Eggs that they planned to eventually pay off a whole year later.
This could even explain the massive delay in Season 1, as they were being true to their prediction as to when Chapter 2 Season 3 would come out: 11/06.
Is Epic playing 3D chess with Fortnite? We'll have to wait until June 11 to find out.
Fans speculate a Fortnite x SpongeBob crossover in Season 3
Fortnite fans are speculating that a Fortnite X SpongeBob crossover is coming in Season 3.
It's already been a wild day in the Fortnite leaks scene, with a leaked image coming from the PlayStation store that seems to confirm rumors of a map-wide flood in Fortnite Season 3. The image seems innocent enough, at first, until you look at the background. The Battle Bus is flying low, above the water, with a small island poking out in the background.
Console companies like Sony and Microsoft are notorious for jumping the gun, and Sony appears to have done so, yet again.
To be fair, this was likely caused by the short-notice delay of Season 3. Sony probably had their update ready to go for this week, only to miss the mark when Epic delayed the next season.
This wasn't just confirmation of previously-leaked Season 3 info, though. Fans noticed a striking similarity between the island in the back of the promotional image and the introduction to the popular cartoon, SpongeBob SquarePants.
The introduction to the show begins with a shot of an island with three palm trees, just like we see in the leaked PlayStation Store image.
Naturally, this led to speculation within the Fortnite community that Season 3 would involve a SpongeBob crossover. Epic have proven that they love to incorporate pop-culture and memes into the game. A SpongeBob crossover would tick both boxes.
In fact, this could even relate to the rumored Aquaman skin in Season 3. What if it isn't Aquaman at all? What if it's Mermaid Man?
We only have to wait a week until we know whether or not this theory is legitimate. It seems strange to make such a direct SpongeBob reference without any inclusion in the Battle Pass.
Anything short of a Squidward skin would be disappointing, now. Let's hope that we see a couple of our favorite SpongeBob characters in next season's Battle Pass.