The evolution of Tilted Towers throughout Fortnite's seasons
Tilted Towers has gone through multiple iterations throughout the Fortnite seasons and even got destroyed before the start of Season 9.
Tilted Towers isn't just a location. It's the center for much of Fortnite's lore and has received changes throughout its long history. The city has been influential in shaping how players play Fortnite as it serves as a hub for mass amounts of loot.
As Tilted Town was recently introduced, we wanted to take a nostalgic look back on everything Tilted has gone through. From Season 2 to Season X, let's go on a trip down memory lane together.
Original Tilted Towers added in Fortnite Season 2
The original Tilted Towers was added to Fortnite in Season 2 on January 18, 2018. It was part of a massive upgrade to the island which included dozens of map changes and new named locations. Before this update, most of the map was barren of any landmarks and consisted mostly on rolling green hills and mountains in between named zones.
Tilted Towers quickly became the go-to hot drop for the majority of the community. Competitive players at the time played specifically for eliminations and Tilted Towers regularly drew in over half of every lobby.
Just as more modern versions of Tilted, the location included the highest concentration of loot to date.
The tragic tale of the 3-Story building of Tilted
In the middle of Tilted Towers, there was once a 3-story building which began its life just as any other building. However, the future of the 3-story would be a dark and dangerous journey of destruction and reincarnation.
In Season 4, a meteor landed on the building and destroyed a significant portion of its structure. Demolition crews were sent in to slowly demolish the remainder in order to get a replacement building.
In Season 5, the new sporting goods store was built in the original's place. Sadly, the store was crushed as Kevin the CUBE made its way through Tilted at the end of the season.
As Season 7 rolled around, work had begun on a new building once again. This ended up being a news studio, but the architect in charge had done a poor job of it. After the snow melted from around Tilted, players began to see cracks forming on the studio. Shortly thereafter, the whole building crumbled down due to the map-wide earthquake leading into Season 8.
The last version of the 3-story came in Season 8 as the 'No Sweat Insurance' building.
Tilted Towers destroyed by Volcano
The tale of the 3-story ends with the destruction of Tilted Towers. The Unvaulting event caused the Volcano to erupt during Season 8, spewing out lava and rocks. One of these deadly projectiles hit Tilted Towers and obliterated everything except the lone 'No Sweat Insurance.'
The event was quite the spectacle and resulted in the unvaulting of the Drum Gun. It was a hard price for the community to pay.
Epic knew that Tilted Towers couldn't stay away for too long since it's always been Fortnite's most visited location. So, they'd planned something amazing well ahead of time to give the location a makeover.
Neo Tilted arrives with futuristic theme
As Season 9 began, Tilted Towers transformed from a pile of smoldering rubble to a futuristic metropolis. The zone now featured shiny roads, metal mats for days, and the same general layout everyone loved.
While nostalgia can be a powerful emotion for gamers, players welcomed Neo Tilted with open arms. We'd argue that it's still among Epic's best works due to being able to keep the same vibe alive while completely reworking the scenery. The timing came well with hype building for the upcoming Cyberpunk 2077 game which features similar styles of architecture.
The location also got its own Slipstream network ring which allowed players to fly around and launch themselves into the air. These were eventually removed in Season X with the arrival of Tilted Town.
Tilted Town brings 'no build' zones to Fortnite
The latest version of Tilted was added in the v10.0 Content Update. The location is the first of many 'Rift Zones' which will revamp the appearance (and mechanics) of favorite zones.
Tilted Town swaps the future for the past by bringing in a Wild West theme. The town includes a stable, saloon, sheriff's office, and more.
The key feature which has some players rejoicing and others raging is the removal of all building within Tilted Town. Players also cannot destroy anything within the town. This mechanical change emphasizes set map knowledge and positioning over the usual Fortnite experience.
It's not yet known when or if the location will be removed.
---
Which version of Tilted Towers is your favorite? The location has seen so many changes that it can be hard to choose a specific one above the others. Our favorite, if we had to choose, would probably be Neo Tilted due to its beautiful art style and respects paid to the original Tilted.
Subway Surfers officially reacts to crazy Fortnite collab concept
A handful of notable franchises are yet to collaborate with Fortnite including Subway Surfers. Here's why this could finally happen.
Fortnite players love coming up with concepts, especially related to crossovers. A Subway Surfers concept went viral recently and it was good enough to catch the attention of the developers.
It wouldn't be an overstatement to say that Subway Surfers is one of the most ground-breaking games in history. It popularized the endless runner genre and has been played by literally billions of players.
Crossovers now define Fortnite, and here's why a collaboration with Subway Surfers could be closer than ever.
Subway Surfers' concept imagines Tricky as a Fortnite skin
Subway Surfers has introduced a wide range of characters since its launch, and fans love them all for unique reasons. As it turns out, Fortnite artist Anhel admires Tricky and accordingly, he turned her into a skin.
Anhel's Fortnite x Subway Surfers bundle included these items:
Tricky's outfit
Subway Surfers spray
1500 V-Bucks
Subway Surfers' Jetpack back bling
Subway Surfers' theme song album
To be fair, this is a flawless bundle for any Subway Surfers fan. The mobile game has many elements that can be incorporated into Fortnite, and an official crossover is almost guaranteed to be a massive hit.
Subway Surfers' official Twitter account reacted to the aforementioned concept and even tagged Fortnite asking about a collaboration. Naturally, this was enough to ignite the hopes of countless fans who love both franchises.
Subway Surfers' policeman catches Jake with Fortnite's builds in fan-made clip
It is evident that the Fortnite community is eagerly awaiting a Subway Surfers' collab. Popular modder Brux uploaded a clip on YouTube that perfectly blended both the games and it already has over 250k views.
Brux somehow gave the policeman building and editing abilities who then used them to catch Jake within 10 seconds. To say the least, it was the perfect representation of a Fortnite sweat.
Brux is clearly one of the most talented modders out there. It is safe to assume that such content will become more common with Creative 2.0 which should be available before 2023.
Now that Subway Surfers has officially reacted to concepts, it wouldn't be a surprise if the collaboration with Fortnite takes place soon. As of now, the Fall Guys collaboration has been leaked and loopers can look forward to completing Crown Clash challenges for free rewards.
Fortnite leak reveals Temple Bloom POI coming in v21.20 update
The Reality Tree in Fortnite has affected Logjam Lotus and Butter Bloom, and it seems like its next target is the Temple Bloom landmark.
The Fortnite island is literally blooming, all thanks to the Reality Tree. Leakers have revealed that a new Temple Bloom POI will arrive in the next update with a theme similar to Logjam Lotus and Butter Bloom.
Fortnite Chapter 3 Season 3 hasn't been the best in terms of server performance and XP, but the same cannot be said for map changes. A new biome was introduced at the season's launch, and ever since, two locations have already changed significantly.
Here's what we know about the upcoming Temple Bloom/The Tower POI in Fortnite Chapter 3 Season 3.
Fortnite players spot new Reality Root in Temple Bloom landmark
Soon after Butter Barn turned into Butter Bloom, loopers discovered a new Reality Root and a small pink tree in Temple Bloom. The landmark is located west of The Joneses and interestingly, the latest quests accidentally mark it as a named location.
From the looks of it, the Temple Bloom landmark is all set to become a major location. Prominent leaker HYPEX has also talked about a file codenamed The Tower. They first assumed that The Tower will be the new named location, but it is possible that it is just one of the themes that Temple Bloom will cater to.
What to expect from Temple Bloom POI in Fortnite Chapter 3 Season 3?
It is worth noting that the latest POIs in Fortnite have alternating themes such as Roman, Atlantis, and Neo. Classic POIs like Colossal Coliseum, Coral Castle, and Neo Tilted, are the inspiration behind these themes, respectively.
Hence, it wouldn't be a surprise if Temple Bloom also has multiple themes. As of now, there's no information on these themes apart from the fact that there will be a tower.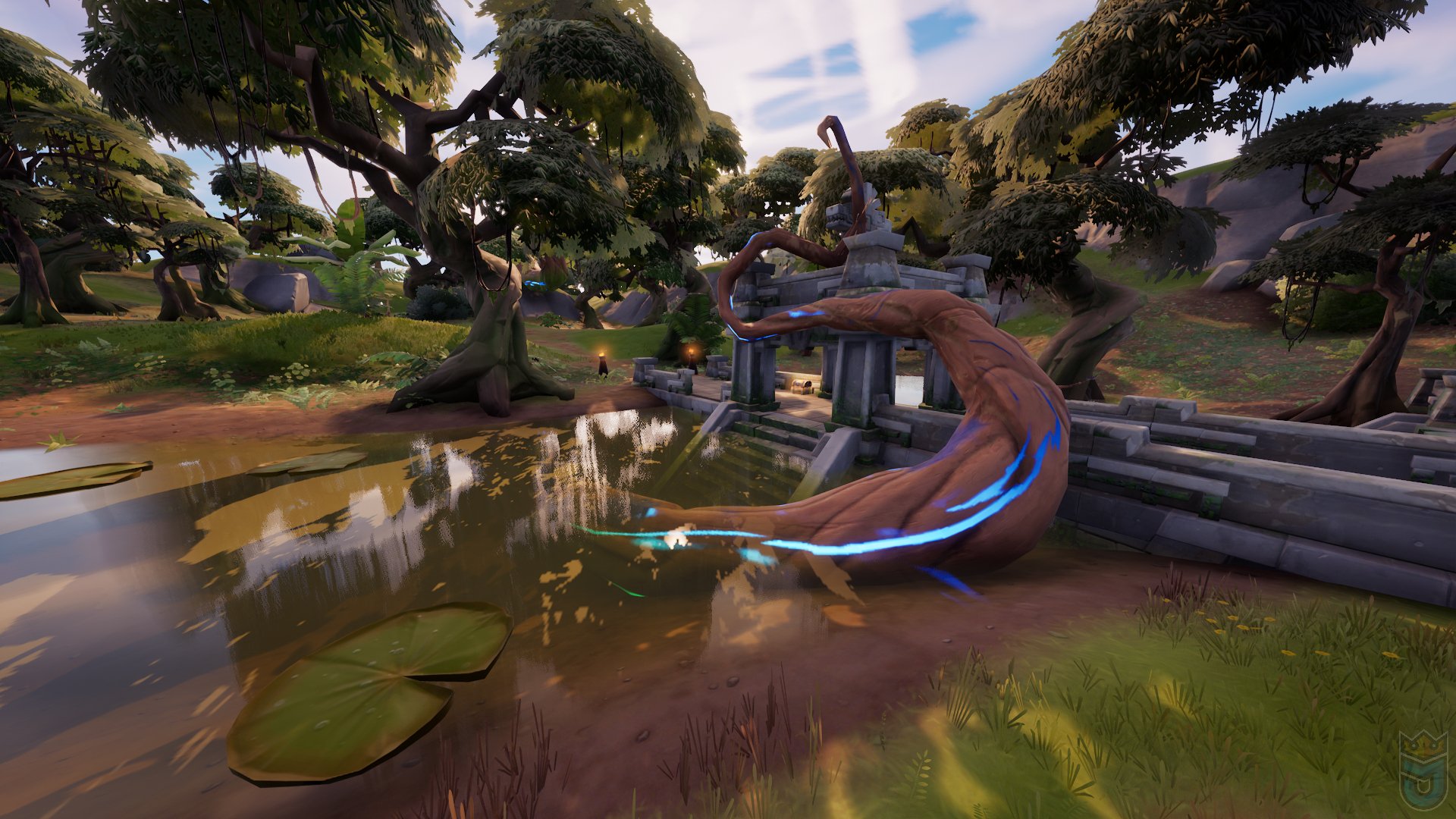 It is safe to assume that the Temple Bloom POI will become official in the v21.20 update that is expected to release on July 5, 2022.
The community, as usual, has already assumed what Temple Bloom will look like. While Fortnite veterans wish to witness the return of the OG Ranger Tower which used to be in Lonely Lodge, others are confident that the upcoming location will be tailor-made for Indiana Jones.
Indiana Jones is the secret skin in Chapter 3 Season 3 Battle Pass. The quests to unlock his cosmetics will be unlocked on July 7, 2022, and it makes sense for him to be a boss in Temple Bloom.
All in all, it is evident that Epic Games is focusing on map changes in Chapter 3 Season 3. The latest hotfix update also added the Firework Flare Gun to the loot poot, and loopers certainly have a ton of new content to explore.
Fortnite adds Firework Flare Gun in latest Hotfix update
A brand new version of the Flare Gun is here in Fortnite Chapter 3 Season 3. Here's how it is the perfect fit for the Vibin' theme.
Fortnite has added the coolest version of the classic Flare Gun in the June 28 hotfix update for Chapter 3 Season 3. From its stats to viability, here's everything to know about the new weapon.
Back when Firefly Jars and Repair Torches weren't a thing, Fortnite players used Flare Guns to cause chaos. The multi-purpose pistol is a fan favorite, and it has finally returned in a new Firework form.
How to use the Firework Flare Gun in Fortnite Chapter 3 Season 3
Just like the OG Flare Gun, the Firework Flare Gun should be available in chests, rare chests, Loot Llamas, Supply Drops, and even floor loot.
It will serve two major purposes:
Scan nearby opponents with the help of fireworks.
Cause a fire when the bullet comes in contact with structure/surfaces. The fire spreads within a fixed AoE (area of impact) that deals continued damage to opponents.
The Flare Gun has the following stats:
DPS– 34
Damage– 60
Reload Time– 1.6 seconds
Mag size– 6
However, as the name suggests, the Firework Flare Gun has a special Firework ability. When loopers shoot towards the sky, the bullet eventually turns into a beautiful firework. Interestingly, this effect also happens when the bullet touches the ground or any other surface.
We already have gameplay footage of the Firework Flare Gun in Fortnite Chapter 3 Season 3:
It is evident that the Firework Flare Gun is a lot goofier than its standard version. This is primarily because of this season's theme, Vibin'.
Fortnite community looks forward to more summer content in Chapter 3 Season 3
The Firework Flare Gun won't be a part of the loot pool permanently. According to leakers, it has been unvaulted for the No Sweat Summer event. This also explains the tropical color theme.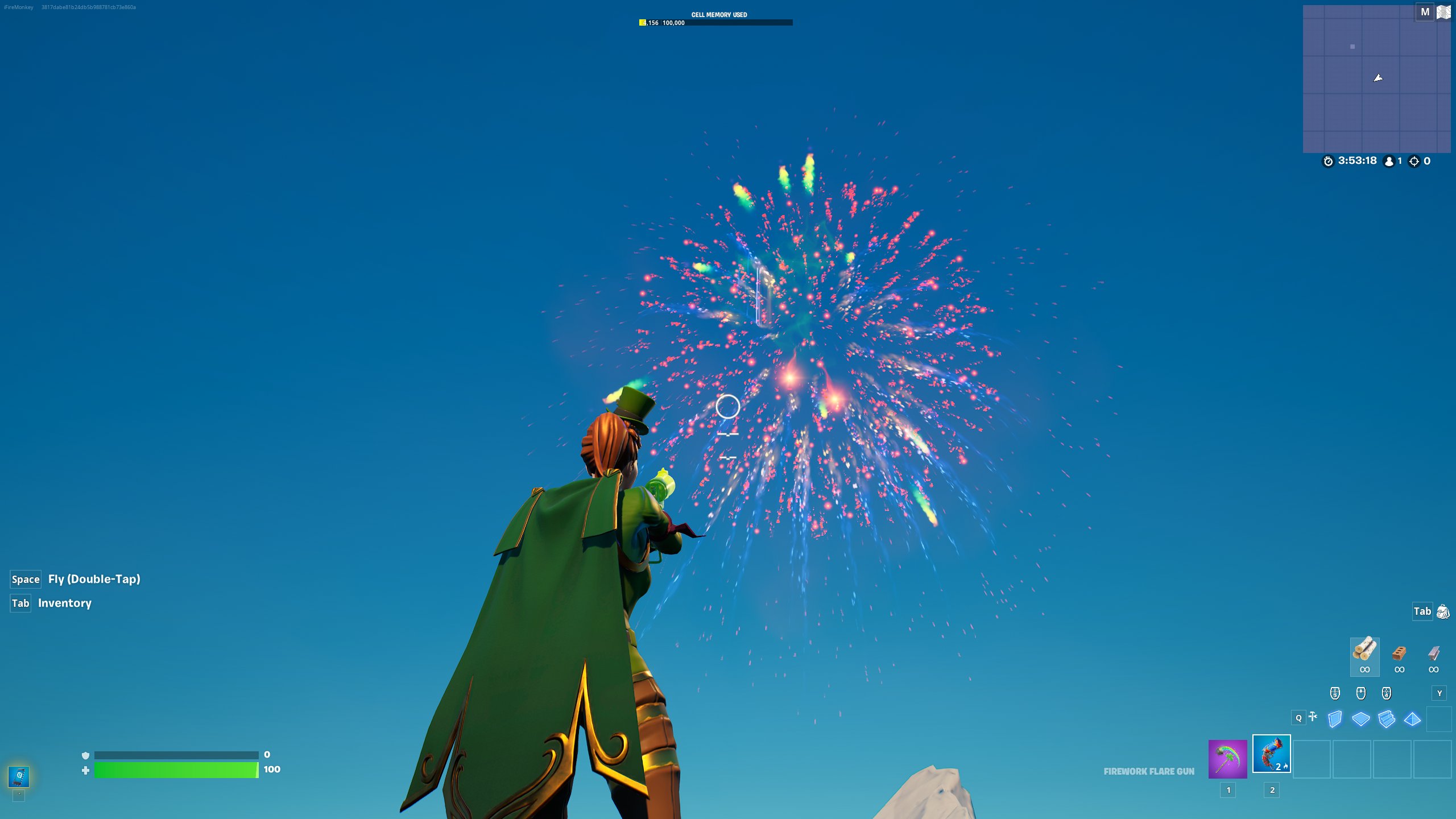 While loopers are excited to see fireworks on the island, they definitely expect more from the No Sweat Summer event. Until now, we've only received some Creative XP challenges and three free cosmetics (back bling and sprays).
Epic Games is yet to add summer-themed elements to the map like Surfboards and NPCs, among other things. The developer can certainly change this narrative with the next major update that should arrive next week.