The 5 most likely Overtime Challenge rewards for Fortnite Season 2
Here are five of the most likely Fortnite Season 2 Overtime Challenges rewards.
Fortnite Season 2 only has a few weeks left, which means that time is running out for Overtime Challenges to hit the game. We've seen some sort of Overtime Challenges for every recent season, so it would be surprising if Epic held out on us, here.
Reddit user u/TSR_Gamer posted their thoughts on Overtime Challenges to the r/FortniteBR subreddit, giving five unique ideas for what the Season 2 Overtime Challenges will be. We're ranking them, here, from least to most likely. With any luck, we won't be getting the number-five option.
5. No Overtime Challenges
While disappointing, it's possible that we don't get any Overtime Challenges for Fortnite Season 2. Epic may have thought that the gold variants were enough, along with the Location Domination challenges for extra XP.
This is, in our opinion, not likely. We've been able to unlock additional skin variants since Season X, and Epic have always given us Overtime Challenges on top of them. As the saying goes, though: expect the best. Prepare for the worst.
4. Deadpool variants
Deadpool was a central theme of Season 2, which means his reach could extend through the Overtime Challenges. Imagine a Deadpool-themed Agent Peely or Midas. That would be pretty great.
As awesome as this may be, it seems to be one of the least likely scenarios on this list. Other than a red coloring, it's unclear how Epic would make all of these skins Deadpool-themed. It's a cool idea, but probably not a practical one.
3. Opposing factions
In our opinion, allowing us to unlock the opposing skin variants would most boring option for Overtime Challenges. There was some hubbub about choosing sides at the beginning of the season, but most of that has passed. A lot of players seem to be happy with their selection, and the Team Shadow vs. Team Ghost has injected a bit of entertainment into unlocking different skin variants.
There are a few things that we'd like to have in our locker. For instance, both of the TNTina glider variants look awesome, as does Meowscle's different color options. Still, it seems too bland to offer opposing variants as a reward for Overtime Challenges.
2. FNCS poster art
The FNCS Invitational showed Agent Peely with a white and gold outfit, something we haven't seen with any of the in-game skins. Could this be hinting at the Overtime Challenge variants?
It's possible, although the first FNCS of Season 2 did not display the Battle Pass skins with this outfit. Another option is that Agent Peely receives this variant with other skins getting different colorings.
1. Platinum/Bronze/Silver/Diamond variants
This is an original and interesting concept that fits the general theme of Fortnite Season 2. Sure, it isn't gold, but using other elements would be an awesome way to set the Overtime Challenges apart from the rest of the Battle Pass.
Imagine receiving a bronze Meowscles, a silver Agent Peely, and a diamond Midas. That would satisfy a lot of Fortnite players. Also, this diamond Midas from FireMonkey is simple, yet amazing. Who wouldn't want this in their locker?
Of course, there's a strong chance that the Overtime Challenges give us rewards that we didn't mention, here. They could give us something like the Beach Meowscles that was seen in the Season 3 promotional art. A summer-themed Overtime would fit the real-world season, after all (at least, above the equator).
With an expected patch this week, we'll likely see the Overtime Challenges leaked, once and for all. Let's see if we and u/TSR_Gamer are right on some of these, or if it's something that's completely unexpected.
Fortnite 'Storm the Agency' challenge guide
Here's how to complete the Fortnite Storm the Agency challenges.
Following the Fortnite v12.61 update, Epic released a new list of challenges called, "Storm the Agency." as the name suggests, you'll be required to complete tasks in and around the Agency and similar POIs.
These challenges appear to be replacing the Overtime Challenges that typically cap-off each season. Here's what you'll have to do:
Land at The Agency (0/1)
Survive Storm Circles (0/10)
Open a faction locked chest at different Spy Bases (0/3)
Swim over hatches at The Agency (0/5)
Eliminate a Henchman at different Safe Houses (0/3)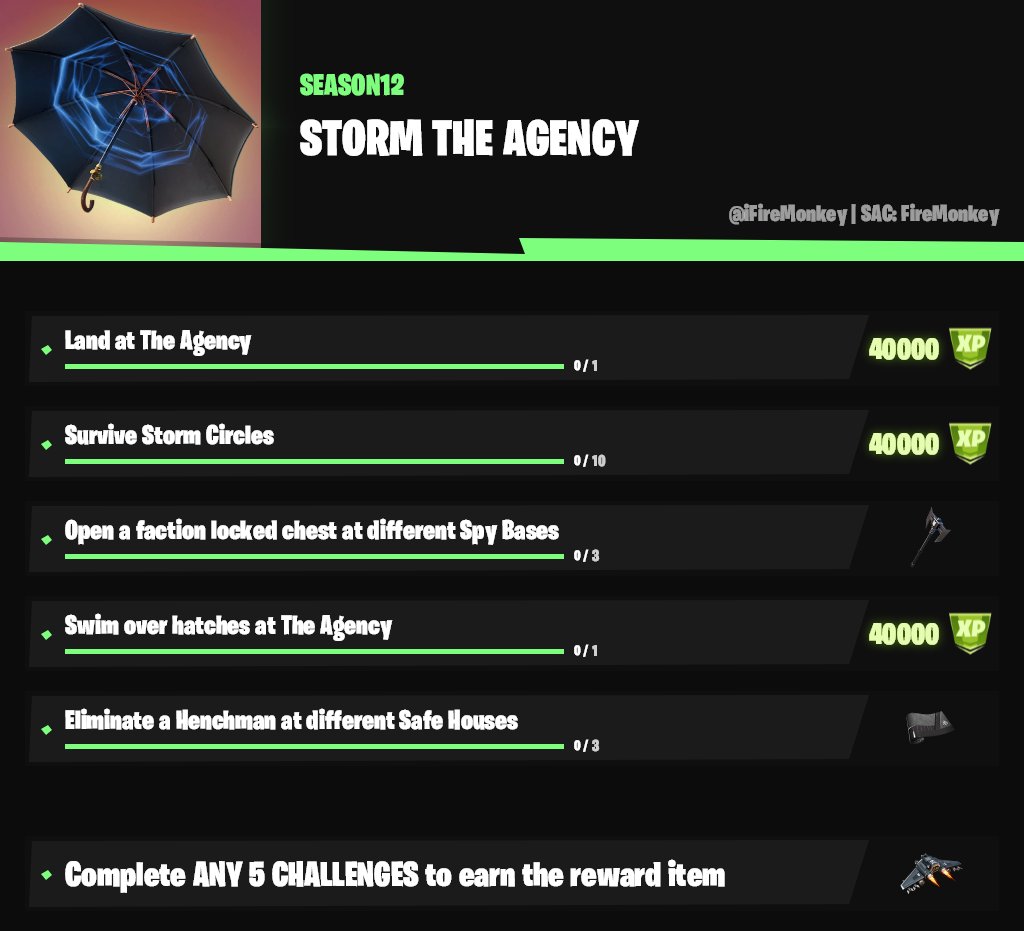 "Spy Bases" refer to the POIs that were added in Season 2: The Rig, The Shark, The Yacht, and The Grotto. Simply, put on a disguise and open one at each location.
The Safe Houses are the unnamed locations surrounding the map. You'll find them to the East of Craggy Cliffs, the east of Frenzy Farm, in Pleasant Park, north of Misty Meadows, and northeast of Holly Hedges.
The rest of these challenges are straightforward. Most of you have already seen the hatches surrounding The Agency, which will, reportedly, open up when the event begins on Saturday.
The rewards for these challenges are decent but will offer the best chance to grab the golden Agent Peely skin before the Season ends. If you're not already close, however, it might be a long shot.
Fortnite player breaks down the full story of the Bears vs. Gnomes
Want to get up to speed in the Bears vs. Gnomes feud? Take a look at this full recap.
While Midas works on his rumored Doomsday Device, a sub-plot has been brewing that involves some of the inanimate objects of the island. The Teddy Bears and Gnomes have been at it for weeks – stealing honey, imprisoning one another, and escalating their feud to an armed conflict outside of Weeping Woods.
Players who have known about this battle have been intervening for some free XP. These challenges weren't listed but offered rewards nonetheless. You can take a look at how to complete all of the Bears vs. Gnomes challenges here.
We haven't thought about the storyline of this fight very much. We've, simply, been offering challenge guides and moving on – as many other players have. One player, however, took the time to spell out exactly what's been going on with the Bears and the Gnomes.
According to Reddit user u/juances19, the Gnomes were the ones who started it. They stole pots of honey from the Bears – which we, eventually, returned to them.
We wouldn't have known where to look if the Bears hadn't kidnapped and interrogated one of the Gnomes, however. Unfortunately, this prompted a surveillance operation from the Gnomes.
As you can see, we've been playing both sides. We helped the Gnomes set up their telescopes so they could spy on the Bears, eventually leading to a hostile takeover and the imprisonment of the former group.
We came back and freed the Bears from their prison cell, but that only made matters worse. The Bears and the Gnomes were set to battle one another on the hill overlooking Weeping Woods.
This time, we decided enough was enough. We stepped in and took the weapons away from both factions. With no more firepower, both groups were forced to come to an agreement and form a truce.
Things could end there – but don't be so sure. These factions have had some bad blood for a long time. Another theory is that they could be teaming up to take on the players in Season 3.
Either that or Epic just wanted to give us a small way to earn some extra XP. Now know the entire plot of the Bears vs. Gnomes in Fortnite Season 2.
How to complete the secret finale of the Bears vs. Gnomes quests
Find out how to finish the finale of the secret Gnomes vs. Bears Fortnite quest line.
While we await the rumored season-ending Doomsday event that we expect to close-out Season 2, a sub-plot has been brewing under the surface. The bears and gnomes of the island have been going at it for weeks.
For those who don't know, there have been secret quests that reward players with 15,000 XP apiece. We've been intervening in the ongoing war between the bears and the gnomes which has, seemingly, come to an end.
If you haven't completed them already, you can take a look at the guides for the previous challenges below. They require you to point telescopes, search for honey, free the imprisoned bears, and stop the armed conflict.
The assumed final stage of the challenge is available today and will, reportedly, be live until the end of Season 2. All you have to do is celebrate the truce by dancing next to the bears and gnomes.
You can find the groups playing a game with one another to the east of Weeping Woods. They're located at the edge of the treeline. Here's a closer look from data miner @iFireMonkey.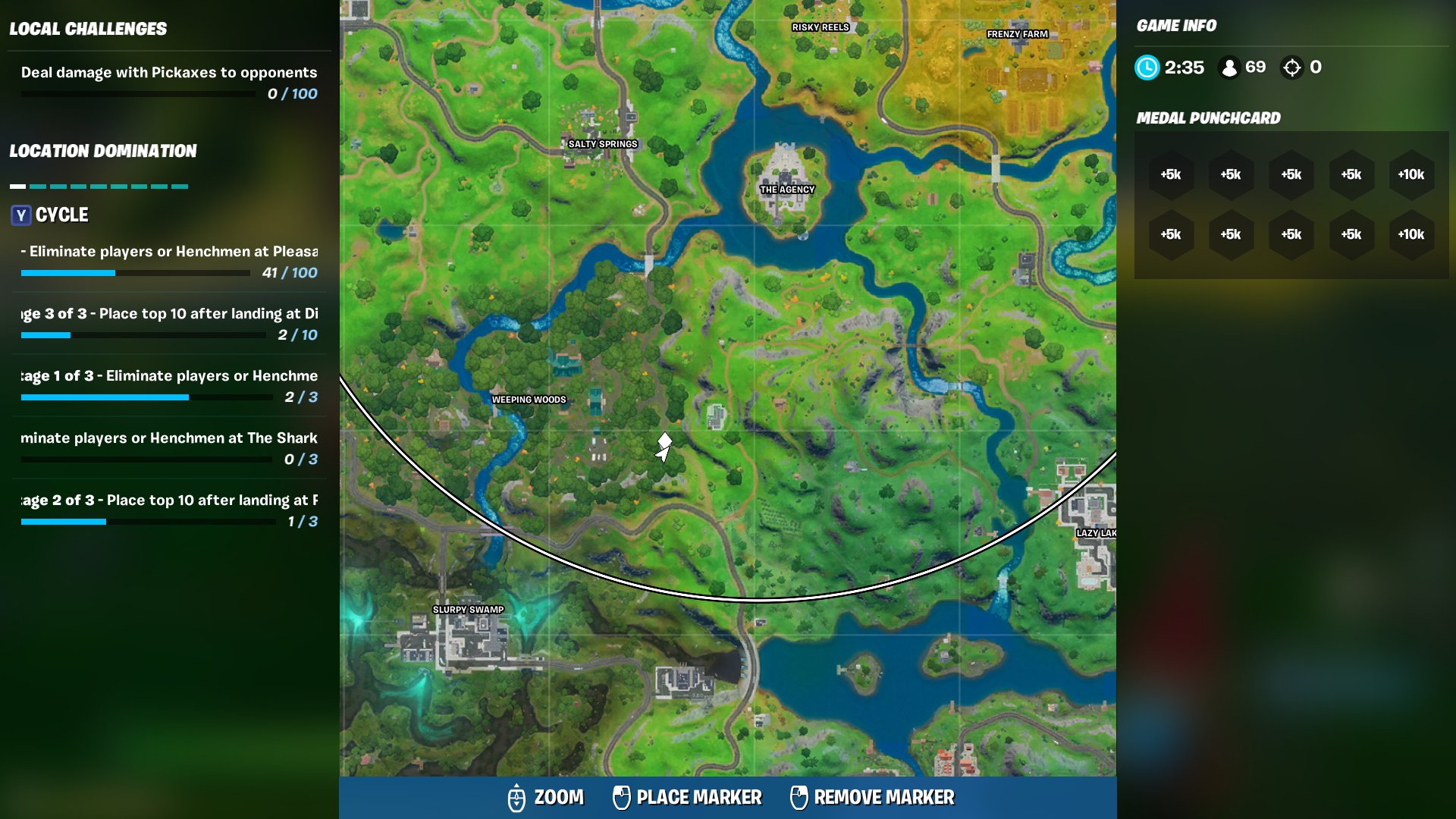 We saw some additional strings related to this questline in leaks from past patches, but this appears to be the last stage of the challenge.
With the golden Agent Peely requiring you to reach level 350, every little bit of XP counts. It's a simple challenge, so it's certainly worth completing. As always, we'll keep you posted with any updates to this secret plotline.