TSM Fortnite house gives exclusive look at setups for Myth, Daequan, and Hamlinz
We finally got an in-depth tour of Team SoloMid's Fortnite house which was hosted by Darryle 'Hamlinz' Hamlin, Daequan, and Ali 'Myth' Kabbani.
The first time we were introduced to the TSM Fortnite house was back in May 2018 when the organization released their video, "IMPORTANT TSM FORTNITE ANNOUNCEMENT!!!".
The original crew that lived in the TSM Fortnite house was Myth, Daequan, Hamlinz, and Juan 'Camills' Camilla.
Since then, the team removed Camills from the roster and only the original three TSM Fortnite guys remain.
Over a year later, we finally got an in-depth look into the house with a few additions since the original video.
TSM Fortnite House Tour 2019
On June 11, TSM finally released a full house tour video which covers the most important parts of the structure.
The beginning of the video starts off with the crew giving a tour of the garage, kitchen, and backyard where they shot a couple hoops.
Next, we were introduced to each of the guys' rooms.
First Daequan gave us a walkthrough of his room which was fully equipped with Fortnite x Nerf weapons.
His set-up included a three monitor layout, with the right-most monitor being flipped vertically.
Hamlinz's room was next in the tour, however we were awkwardly introduced to his "girlfriend".
We also got to see his surprisingly sparse closet and Christmas tree, which had hilarious background music to keep the mood.
Last but not least we got to see "Myth's Mansion" and his family of ants.
The video and the squad pick on Myth for his insect issue in his bathroom, which he has hilariously named his "ant friends" along with names for each of the critters.
TSM's production team did a great job with the tour video, and as always the Fortnite team keeps the vibes high with their witty personalities.
Fortnite Champion Series Chapter 3 Season 3 start date and prize pool revealed 
Fortnite has announced the Champion Series (FNCS) for Chapter 3 Season 3 in which pros worldwide will compete for 3 million dollars.
The Fortnite Champion Series is easily the most anticipated competitive event every season. In Chapter 3 Season 3, the likes of Bugha, Clix, and Arkhram, among others, will battle it out for a prize pool of 3 million dollars.
Epic Games has finally announced the FNCS for Chapter 3 Season 3. This time around, the logo seems to have a tropical theme that matches the 'Vibin' season. The meta has also changed significantly, and it will be interesting to see how some of the most talented esports athletes have adapted to it.
Everything to know about Fortnite Champion Series (FNCS) Chapter 3 Season 3
Fortnite Champion Series for Chapter 3 Season 3 will begin on July 6 with 3 Qualifier rounds. The top five teams (Duos) from each round will directly advance to the FNCS Finals.
The qualifiers will take place till July 18 and the Semi-Finals will begin on July 21. As per Epic Games, the key to reaching the finals is Victory Royales and consistency. In the three Semi-Finals sessions, 6 Victory Royale winners and the top six consistent teams will move ahead.
The Finals will take place between August 12-14. There are two ways for a team to win the Fortnite Champion Series in Chapter 3 Season 3:
The first team to get three Victory Royales and earn 475 points will be declared the FNCS champion. This is called the Match Point.
If no team is able to acquire a Match Point at the end of 12 Finals matches, the duo with the highest points will win.
Chapter 3 Season 3 FNCS prize pool distribution
The prize pool for the Chapter 3 Season 3 FNCS is a whopping $3 million. However, it will be divided across several regions:
EU: $1,350,000
NAE: $690,000
BR: $240,000
NAW: $240,000
ASIA: $240,000
ME: $120,000
OCE: $120,000
The prize pool is different for each region, primarily because of Fortnite's prominence there. It is evident that the viewership numbers in Europe are much higher than in the Middle East and Oceania.
It is worth noting that fans should be able to unlock some free cosmetics by watching the matches. New FNCS-themed cosmetics also arrive in the Item Shop.
All in all, it is safe to assume that the Fortnite Champion Series for Chapter 3 Season 3 will be more exciting than ever. A ton of new features and weapons have arrived recently, and even map changes have been quite frequent.
Fortnite star SypherPK quits Zero Build tournament after losing to cheaters
The Zero Build tournaments in Fortnite have been hijacked by cheaters, and streamer SypherPK eagerly wants Epic Games to fix it.
Fortnite veteran SypherPK has always been vocal about cheaters and stream snipers in the community. The streamer's latest encounter with hackers in a Zero Build tournament compelled him to quit.
Multiplayer games, especially Battle Royales, have always had trouble with cheaters. Brilliant titles like Apex Legends and Call of Duty Warzone became unplayable owing to the rise of hackers and have lost innumerable players so far.
From the looks of it, there has been a surge of hackers in Fortnite Chapter 3 Season 3 as well following the introduction of Zero Build mode.
Fortnite pros are encountering more hackers than ever in Zero Build tournaments
Fortnite caught a second wind with Zero Build as a ton of new players joined the community. Moreover, big names like Ninja, Dr. Disrespect, and Tfue returned to the game and appreciated the non-sweaty mode.
The developers then hosted Zero Build tournaments that received an overwhelmingly positive response initially. However, hackers have now plagued such tournaments.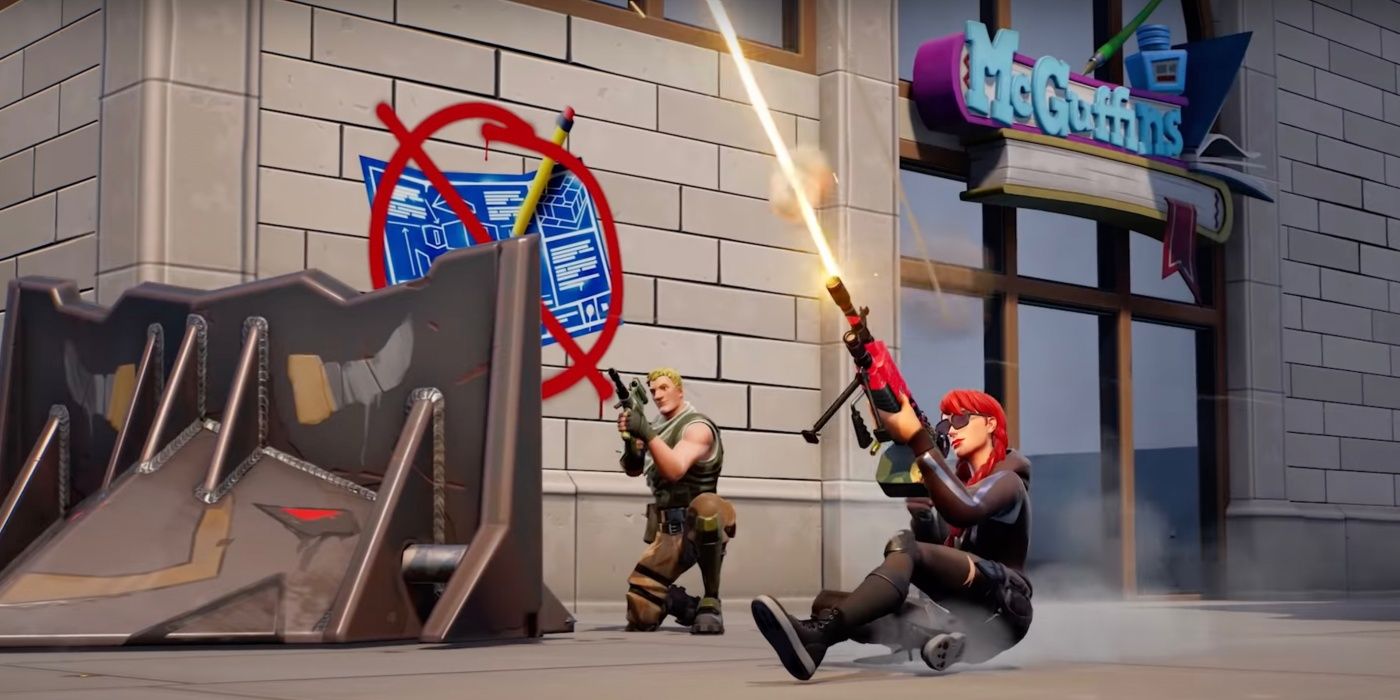 SypherPK recently took part in the NA West Zero Build finals and he was well aware of the fact that some teams are abusing aim bot and wall hacks.
Soon after, the streamer reported that hackers eliminated him in the very first game. It is no surprise that this incident led to him quitting the cup. He asked Epic Games to work on a live bans feature or atleast a new anti-cheat system that is dedicated to competitive playlists.
Zero Build mode in Fortnite has helped in exposing cheaters
Previously, Fortnite compelled players to build which significantly increased the skill gap between newcomers and veterans. On one side, there were players with the skill set to make a skyscraper within 30 seconds. On the other end of the spectrum, there were beginners who struggled in every game because the SBMM system rarely matched them with equally skilled/experienced players.
Amidst such issues, we are witnessing the growing use of cheats and devices like the Cronus Zen. This allows cheaters to win more comfortably than ever, but naturally, at the cost of the ruined experience of every player they face.
Until Chapter 3 Season 1, it was harder to track cheaters because mechanics like building and editing were an integral part of the meta.
In contrast, aim and mobility are the deciding factors of a Zero Build game. Accordingly, players can now easily identify cheaters using aim bots and wall hacks.
Countless other players, streamers, and pros have similar opinions on the current state of Fortnite and Epic Games would certainly want to come up with a solution before the Cash Cups commence in Chapter 3 Season 3.
Fortnite's Esports revenue explains why there hasn't been another World Cup
Epic Games overestimated how much money Fortnite Esports would make which could explain why there hasn't been a second World Cup.
Epic Games overestimated how much revenue Fortnite would make from Esports in 2019 by $154 million. This miscalculation could explain why there has only been one Fortnite World Cup.
In 2019, Epic Games dove headfirst into Fortnite's competitive Esports scene. Following a $100 million prize pool for the year 2018, Epic put up another $100 million in 2019. This insane amount of prize money dwarfed other competitive games in comparison.
2019 was also the year of Fortnite's first-ever World Cup. The Fortnite World Cup took place from July 26 – 28 in New York City and boasted $30 million in total prizes. One hundred of the best solo players from around the world, and 50 duo teams, competed for a massive amount of money.
Epic Games falls short of revenue goals
While the amount of money up for grabs seems quite impressive, it didn't net Epic Games with the desired results. During the trial of Epic Games vs Apple, documents were shared that outlined the revenues that Fortnite generated from 2018 to 2019. Epic Games planned to make $4.59 billion during the 2018-2019 fiscal year but actually earned $4.2 billion instead.
The documents stated that Epic Games had anticipated making $154 million more from Fortnite's Esports scene than it was actually able to generate. While Epic Games is raking in billions of dollars a year, it's unlikely that it will pour money into something that isn't as profitable.
This major discrepancy in earnings could explain why there hasn't been another Fortnite World Cup. After $100 million was awarded in 2019, 2020 saw a massive dip in prize money. The pool for the entire year was only $17 million.
Epic Games stated at the beginning of this year that it would be pledging $20 million in prize money for Fortnite's 2021 competitive scene. This is $10 million less than the total prize pool for the Fortnite World Cup. Epic also stated that it had no plans for an in-person World Cup event this year.
The lack of prize money has been apparent over the past year as competitive Fortnite players have taken to social media to express their concerns. In 2019, the FNCS qualifier prize pool was $1 million a week for three months. Now, players are competing for a $3 million prize pool over the course of an entire season of FNCS.
The Fortnite World Cup may return in some capacity, but players shouldn't expect a massive $30 million prize pool. The worldwide pandemic could be to blame for the lack of in-person tournaments, but that doesn't mean it's the sole reason there haven't been any. Epic Games might be focusing on the more profitable aspects of Fortnite to endure the game's longevity.