SypherPK petitions Epic to add a 'How to Win' Book to Fortnite
SypherPK is trying to make his mark on Fortnite with this in-game Easter egg.
One of the most popular creators in the Fortnite community, SypherPK, is trying to make his mark on the game. No, he's not petitioning Epic for a skin or any other sort of in-game cosmetics. He's asking for a small, red book in one of his favorite landing spots on the map.
This movement began when Sypher listened to Epic Games Creative Director, Donald Mustard, talk about the community's effect on Fortnite. For example, the Fortnite team decided to mess with players by having the meteor narrowly miss Tilted Towers in the first in-game event after fans began to widely assume that Tilted would be destroyed.
Mustard made it clear that the Fortnite community has had small impacts on the development of the game over the course of its three-year lifespan. Sypher decided to try to take advantage of this fact by mobilizing the Fortnite community and getting Epic to add a "How to Win" book at the Weather Station.
"How to Win" was one of Sypher's original Fortnite series, and it continues to this day – albeit less frequently, now. The Weather Station is Sypher's preferred landing spot during his educational commentaries and discussion videos.
Sypher and his fanbase aren't asking for too much, here. All they want is for Epic to add a small, red book with the "How to Win" title somewhere at the POI.
In his video, Sypher asked for tweets, hashtags, and – most importantly – memes. He needs "How to Win" to become a meme like the destruction of Tilted and Kevin the Cube. We know that Fortnite loves to incorporate memes, so "How to Win" needs to join the ranks.
Sypher's first tweet and video are only an hour old at the time of writing, so it's far too soon to tell whether or not this petition will be successful. If he pulls it off, however, it will be arguably more impressive than having an in-game skin.
So, how about it? We'll be doing our part by sharing some funny "How to Win" memes on Twitter. Let's make this happen!
All Fortnite Season 6 Exotic Weapon locations
Fortnite Season 6 is here, and only a few Exotic weapons made it. Here are all Exotic weapon locations for the new Fortnite season.
Fortnite Season 6 marked the return of Exotic weapons to Fortnite. Not all of the Season 6 weapons are there, however, and they've moved locations.
There's no shortage of new mechanics in Fortnite Season c, with the addition of crafting, the map changes, and a whole lot more.
Mythics have returned to the game in Season 6 but in a limited capacity. The only classic Mythic items in Fortnite Season 5 include the Spire Jumpboots and the Spire Assassin's Primal Shotgun.
What's more, Epic added craftable items to the game that allow players to create unique weapons out of existing parts. For instance, a Mechanical Bow and two Shockwave Grenades make the Shockwave Bow – a massive upgrade from both weapons.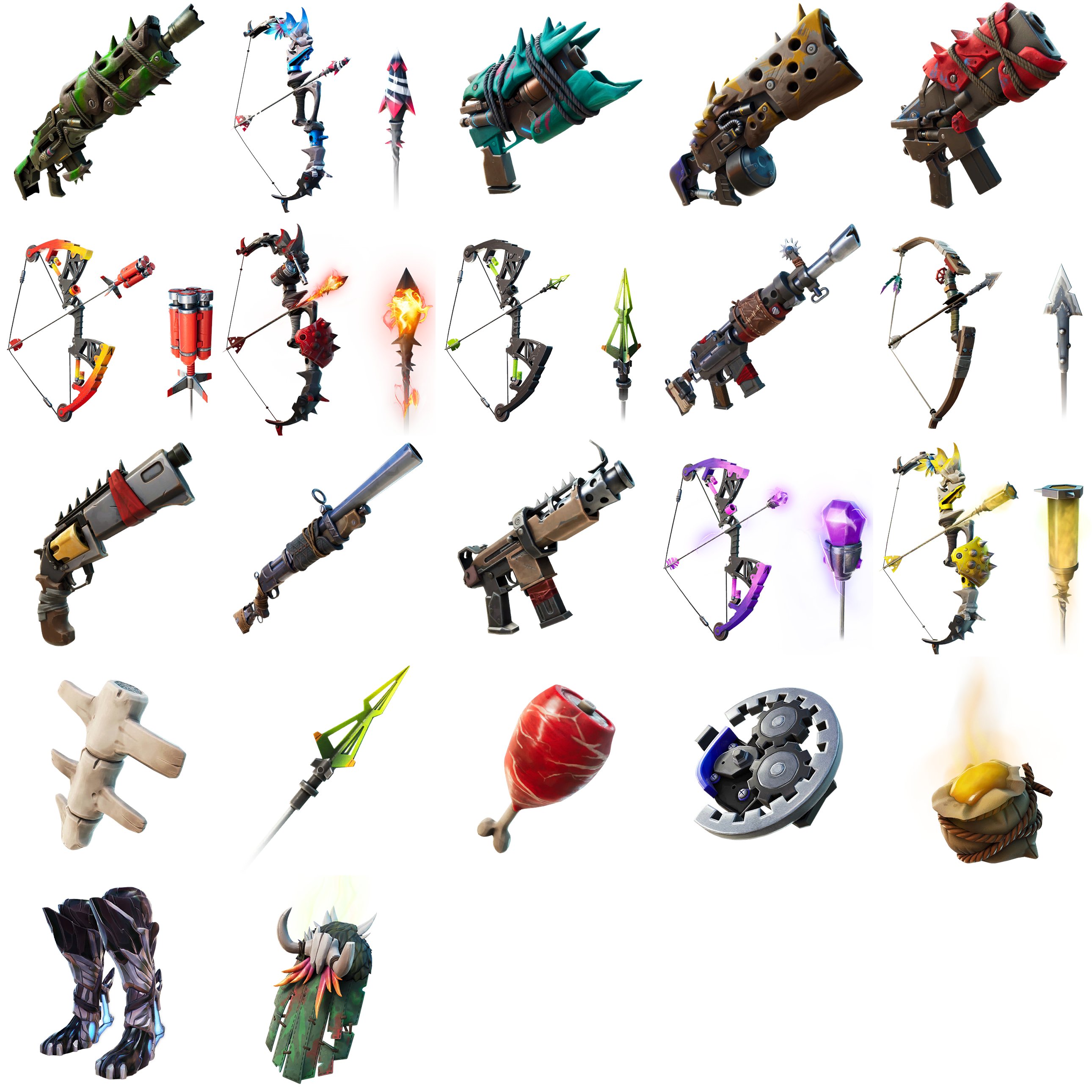 Fortnite Season 6 Exotic weapon locations
Exotic weapons have returned to Fortnite Season 6, but not as many as we had in Season 5. These will be supplementary items rather than the focus of the season, which appears to be on the new crafting mechanic.
Many of the NPCs who sold these items in Season 5 have also either moved locations or don't sell them anymore, so a new guide is needed. Here's a map of all of the Season 6 Exotic weapon locations.
As you can see, there are only four Exotic weapons and items that made it to Fortnite Season 6. These are the:
Hop Rock Dualies: sold by Gutbomb in Logjam Woodworks
Chug Cannon: sold by Slurp Jonesy in Slurpy Swamp
Shadow Tracker Pistol: sold by Power Chord in Dance Club Cabin
Dub Shotgun: sold by Burnout south of Steamy Stacks
The good news is that, unlike last season, all of the NPCs that sell Exotics only spawn in one location – at least, so far.
We'll keep this post updated as Epic add more Exotics to Fortnite Season 6. We expect to see them takes things further as the season goes on, so stay tuned to more news on Exotic weapons.
Image Credit: Epic Games, Fortnite.GG
Fortnite split-screen: how to play with friends
Epic introduced the ability to play split-screen Fortnite in Chapter 2 Season 1. Here's how to enable the setting.
Epic introduced the ability to play split-screen Fortnite back in Chapter 2 Season 1. Here's how to enable it so you can play locally with a friend.
Fortnite has always had a focus on playing with friends, but that always meant you had to play online. Even if you were in the same house as your friend or family member, the two of you had to play on two separate devices.
This changed back in the v11.30 update in Chapter 2 Season 1. Epic introduced split-screen capabilities on consoles for the first time. It wasn't perfect when it first came out, but it's since gotten a lot better.
How to use the Fortnite console split-screen feature
Initiating split-screen is simple. All you have to do is connect two controllers to your Xbox or PlayStation. Split-screen still isn't available on mobile, PC, or Nintendo Switch. Here are the steps you need to follow:
Start Fortnite
Connect a second controller to the console and turn it on
Hit 'Main Menu'
Player 1 will need to invite Player 2 with their Epic account
Player 2 will need to sign into their account
Player 2 will join and split-screen will automatically initiate
You can even save another player's information on another account on your console, making split-screen easier and quicker to complete.
The feature still isn't perfect and doesn't replace the feeling of playing online. You'll only have access to half of your screen, so you're going to miss a few things that normal players will see. Still, playing split-screen is far more preferable than switching off with your friend or family member game after game. Enjoy!
Image Credit: Epic Games/u/SmonkYT
Fortnite v16.20: what to expect
The Fortnite Season 6 v16.20 update is expected to go live this week. Here's what we expect to see in the next Fortnite update
The Fortnite v16.20 is expected to release this week. Here's what we'll see in the patch notes when the update goes live.
We're working our way through Fortnite Season 6, but Epic are continuing to give us new content to explore. We're only a week past v16.10 and are already expecting to see v16.20 go live this week.
Here's our typical patch breakdown on what to expect in the update, including some leaked items and a long list of bug fixes.
Bug fixes
Epic are consistently updating their game to fix bugs, glitches, and exploits. In the v16.20 patch, we'll see a ton of fixes – including a fix for an exploit that allowed players to gain unlimited health/shield over the course of a match.
Here are all of the bug fixes that should be addressed in the v16.20 update.
Cannot create system-level parties between PS5 and PS4 when playing Fortnite.
Code Green Wrap not appearing correctly.
Arena playlist issues.
Storm visibility is clear when using Performance Mode.
Collection Book Character #17 not appearing on the Island.
Slurpshrooms and Coconuts temporarily disabled.
(Creative) Start with 'Pickaxe' Creator setting still spawning with a Pickaxe.
(Creative) Vehicles not moving properly in Creative.
(Mobile) Cosmetics in Lobby appearing blurry on Nintendo Switch.
(Mobile) 3D resolution reset itself even if the player saved the settings.
Leaks
We've seen a few leaks about content that could be coming to Fortnite in the coming weeks. The most likely addition to Fortnite in v16.20 would be the Unstable Bow – a rumored Exotic weapon that should be coming to Season 6.
On top of that, we've seen leaks about vehicle and weapon mods, additional crafting materials, and more. We don't know if/when any of these will come to the game. We always take leaks with a grain of salt, but many of these items will likely make their way to Fortnite – possibly in the next update.
We'll keep you posted when we have official word from Epic on the v16.20 patch. We expect to see it on April 13 or 14, at the latest.
In the meantime, make sure to follow us on Twitter @FortniteINTEL so you never miss out on any of the latest Fortnite news.