Six worst Fortnite additions of all time – B.R.U.T.E., Storm Flip, and more
Fortnite's got many amazing features and items, but there are some additions that simply should never have graced the game.
Constant updates are a double-edged sword of video game design. On one hand, it allows developers to continuously offer new updates in order to keep their games fresh. On the other, they can make an already great experience into a worse overall product.
We wanted to take a look back through all that Fortnite Battle Royale has contained throughout its two years. While we're still in love with the gameplay, it's been a bumpy relationship due some of the additions listed below. Naturally, we've got to start with the B.R.U.T.E..
B.R.U.T.E. Mech – Season X – Patch v10.0
In all honesty, we just don't understand what Epic Games was thinking with introducing the BRUTE with Season X. Every major game studio has dedicated playtesters working tirelessly creating logs of every possible issue in the game before big releases.
It'd be hard to miss the BRUTE's impact on game balance and we highly doubt that nobody at Epic said anything warning of this result. They decided to release it anyway.
The mech, for those that haven't felt its wrath yet, packs enough firepower to wipe a full squad in a single button press. These behemoths can launch 10 missiles before reloading, have shotgun turrets which deal 50-75 damage a hit, and can even harvest materials by simply stomping the object out of existence.
To make things worse, the BRUTE can 'overshield' itself by using 200 mats (of any type) to gain a protective barrier. Careful and concentrated fire can bring down the mech fairly quickly, but a moderately decent player will be able to avoid destruction for a lengthy stretch.
Oh, don't forget. The mech also features a self-destruct nuclear blast which downs/eliminates anybody within range. A truly unbalanced menace to the meta.
X-4 Stormwing – Season 7 – Patch 7.00
Fortnite has always had building as a core mechanic. So, when Epic introduced the Stormwing, players were outraged at its ability to easily destroy builds without proper risk.
The X-4 Stormwing not only could ram through builds, but also gave the ability to easily gain high ground by literally flying around in a plane. You could even carry your squad on the wings. The flying tank included a turret which dealt average damage.
Battle Royale has always been about a game of survival combined with the 'thrill of the hunt.' The decision making between taking the shot or avoiding a fight is sacred to the genre. The Stormwing obliterated that concept has players simply flew around the map with 5,000 health monsters.
Epic did nerf the plane slightly to have it take more damage when ramming builds. The nerf didn't prove to very impactful and, eventually, Epic decided to completely remove the Stormwing in patch 8.00.
Storm Flip – Season 9 – Patch 9.20
The Storm Flip's a unique one for this list since it's gameplay impact has been mixed. In casual games, the Storm Flip often gets misused by getting thrown too early preventing major damage.
However, in competitive matches, the Storm Flip's power is so immense that Epic was forced into banning the item from two World Cup qualifiers and the FWC Finals.
Storm Flips scale in damage depending on the current storm damage. The idea of the storm's threat is key for Fortnite, but allowing players to control such a force takes things too far.
Competitive end-games come down to very tight 40-50 player battles in close quarters. Inexplicably, Epic Games did not think about this before releasing the Storm Flip. Top tier players ended up holding onto the Flip until end-game and then getting 5-10 eliminations by pressing a single key/button.
The Storm Flip has been nerfed somewhat, but still remains in the game. Epic Games has said that they are looking into how they'll handle its inclusion in future competitive events.
Infinity Blade – Season 7 – Patch 7.01
Everybody's heard of the Infinity Blade, the overpowered homage to another Epic Games series.
We actually loved the idea of Epic bringing in bits and pieces from other titles when the Infinity Blade was announced. The idea of seeing our favorite franchises make a small appearance intrigued us right up until we saw the Blade in-game.
Our hopes were that Epic would add a permanent or semi-permanent monument to the series, but they instead put the legendary sword into all game modes as a weapon.
You could swing at enemies for 75 damage per blow (in quick succession) and jump for miles. In addition, the sword granted the wielder 200/200 health and shields. The combination of these factors made the Blade an extreme nuisance to play against. Builds became essential death traps as the item could simply blast through them with a swing.
Thankfully, Epic realized its horrific mistake and vaulted the weapon on December 14, 2018. The fact that it only remained in-game for three days really shows its overpowering presence.
Original Boogie Bomb – Season 2 – Patch 1.11
The Boogie Bomb has been a mainstay throughout the last two years and it can still be quite bothersome in close fights. However, the original Boogie Bomb offered significantly more than the current iteration.
In the beginning of Season 2, getting hit by a Boogie Bomb essentially meant you were going to die no matter what. Duos and Squads allowed for team based counter-play, but Solos drove people mad as getting clipped meant you were going to dance and dance and dance.
The key difference is that the original Boogie Bomb's effect did not end when you took damage. Instead, you would have to bob and weave between builds or cover for a full 5 seconds. Storm and fall damage did not affect the duration either.
Epic Games patched the item within a few weeks and made damage break the effect. This is quite common in all video games that contain long 'crowd-control' effects.
The Baller – Season 8 – Patch 8.10
Lastly, we've got the Baller. Added in Season 8, the Baller offered lighting fast rotations with relative ease of use.
The Season 9 version of the Baller wasn't nearly the horror that the release version was. When it was added, the vehicle had a whopping 300 health. This made it hard to take down and allowed players of all skill levels to make effective rotations throughout the map.
Fortnite's early days emphasized timing and awareness by forcing players to be careful of the Storm and other players. Other vehicles chipped away at this concept, but the Baller blew the idea up and threw into the trash. Why would you carefully choose a landing site, time your rotations, and be mindful of other teams when you can just hop into a Baller and roll?
Casual games took a hit in quality from the vehicle, but competitive games (as usual) were most impacted. The clip shown above is from the end-game of a high tier weekend tourney Final during the early days of Season 8. Describing that chaos as a 'mess' would be an understatement.
---
Are there any other Fortnite additions that you think should've made it into the list? We had any extended list originally, but wanted to cut it down to the most brutally unbalanced items. While the Infinity Blade reigned supreme for a long time, the B.R.U.T.E. certainly makes a strong case for the worst addition ever.
Fortnite x Kaws collaboration confirmed to bring a new Peely skin
American artist Kaws has announced another collaboration with Fortnite. This time around, loopers can expect a Peely reskin in his style.
Kaws and Fortnite collaborated during the Chapter 2 Season 8 Fortnitemares event that brought four Skeleton outfits to the Item Shop. The artist has teased his return in Chapter r3 Season 3 and has most likely worked on a Peely reskin.
The first collaboration between Kaws and Fortnite was a massive hit. Fortnitemares was the perfect occasion for the artist to introduce his characters to the Battle Royale game.
Leakers were anticipating that a new crossover with a renowned artist will be announced tomorrow, but Kaws himself has confirmed it beforehand.
Kaws confirms his return to Fortnite through an Instagram post
Kaws recently posted an image with a card that says, "Dear Fortnite, see you soon". What's more interesting is the fact that a banana is placed beside the card.
It wouldn't be an overstatement to say that Peely is one of the, if not the most popular character in Fortnite. The walking banana was first introduced as a meme in Chapter 1 Season 8, and countless variants have arrived ever since. These include Unpeely, Agent Peely, Frozen Peely, and Peely Bone, among others.
A few minutes before Kaws confirmed the collaboration, leakers iFireMonkey and Shiina had these things to say about an upcoming Fortnite collaboration:
A collaboration with a prominent artist will be announced tomorrow.
A well-known Fortnite character will get a new style from the artist.
Alongside the skin, there will be a back bling, a wrap, and a glider.
The collaboration files will be decrypted tomorrow while the skins will arrive in the Item Shop 2-3 days later.
It is fairly easy to join the dots now. A Kaws x Fortnite collaboration is imminent and Peely is the 'well-known' character who will receive a skin style. Having said that, the release date of the skin is still uncertain.
Considering that Peely already has a skeleton style (Peely Bone), it will be interesting to see how Kaws has redesigned the character this time. It is worth noting that according to the lore, Peely is not a single character but a tribe.
All crashed IO Airship locations in Fortnite Chapter 3 Season 3
Fortnite Chapter 3 Season 3 Week 4 challenges are here. Here's how players search chests or ammo boxes at crashed IO Airships.
Following the war in Fortnite Chapter 3 Season 2, the map now has several crashed IO Warships with a Vibin' theme. A weekly challenge requires you to visit these Airships and search for ammo boxes or chests.
A new set of Weekly quests arrive in Fortnite every Thursday. Loopers can get 15,000 XP from each quest and there are bonus rewards for completing them all. These challenges do not leave the quests menu until the end of the season, but considering that they are quite simple, it is more convenient to complete them right away.
Where to find crashed IO Airships in Fortnite Chapter 3 Season 3
There are a total of five crashed IO Airships on the map. To complete the weekly challenge, you need to find two ammo boxes/chests. Hence, landing at any of the following locations should be worthwhile:
Northeastern Edge of the map
The first IO Airship in Fortnite is located on the northeastern edge of the island. Loopers can either land near Daily Bugle and swim towards the ship or directly land there.
It is safe to assume that this will be one of the least-contested crashed IO Airships. Even though there aren't any fixed chest/ammo box spawn locations, finding one shouldn't be a major problem.
The southeastern edge of the map
Another IO Warship can be found in the ocean at the southeastern edge of the island. Condo Canyon is the nearest named location but depending on the Battle Bus' path, you can directly land at the location marked in the image below:
Rocky Reels
A crashed IO Warship is located near Rocky Reels. You can either land in Greasy Grove and head east or land at Rocky Reels and head west. It is worth reiterating that the challenge requires players to open a chest/ammo box in the ship, and not just visit it.
Loot Lake
Towards the end of the war between the Imagined Order and The Seven, the final IO Airship crashed inside Loot Lake which is currently one of the best locations on the island in terms of loot.
It won't be a surprise if you meet a ton of other loopers when landing at this Airship as Loot Lake has an abundance of chests.
Southeast of Coney Crossroads
The fifth and final IO Airship is near Coney Crossroads which is also one of the most crowded locations in Fortnite. This airship will at least have one chest and one ammo box, and you can also expect floor loot here.
Completing this Week 4 challenge will grant you 15,000 XP which eventually helps in leveling up the Battle Pass. The Chapter 3 Season 3 Battle Pass is loaded with exciting original and crossover skins including the likes of Evie and Darth Vader.
Fortnite x Fall Guys crossover is a big disappointment and here's why
Fortnite x Fall Guys was one of the most sought-after events ever and Epic Games has managed to disappoint many players with it.
Fans naturally had sky-scraping expectations from a collaboration between Fortnite and Fall Guys, two of the biggest Battle Royale games in the world. Unfortunately, it turned out to be a damp squib for many.
Even though there hasn't been an official announcement yet, Fortnite players have started receiving the free Major Mancake skin and other cosmetics in his set. This means that the much-anticipated collaboration with Fall Guys is finally live.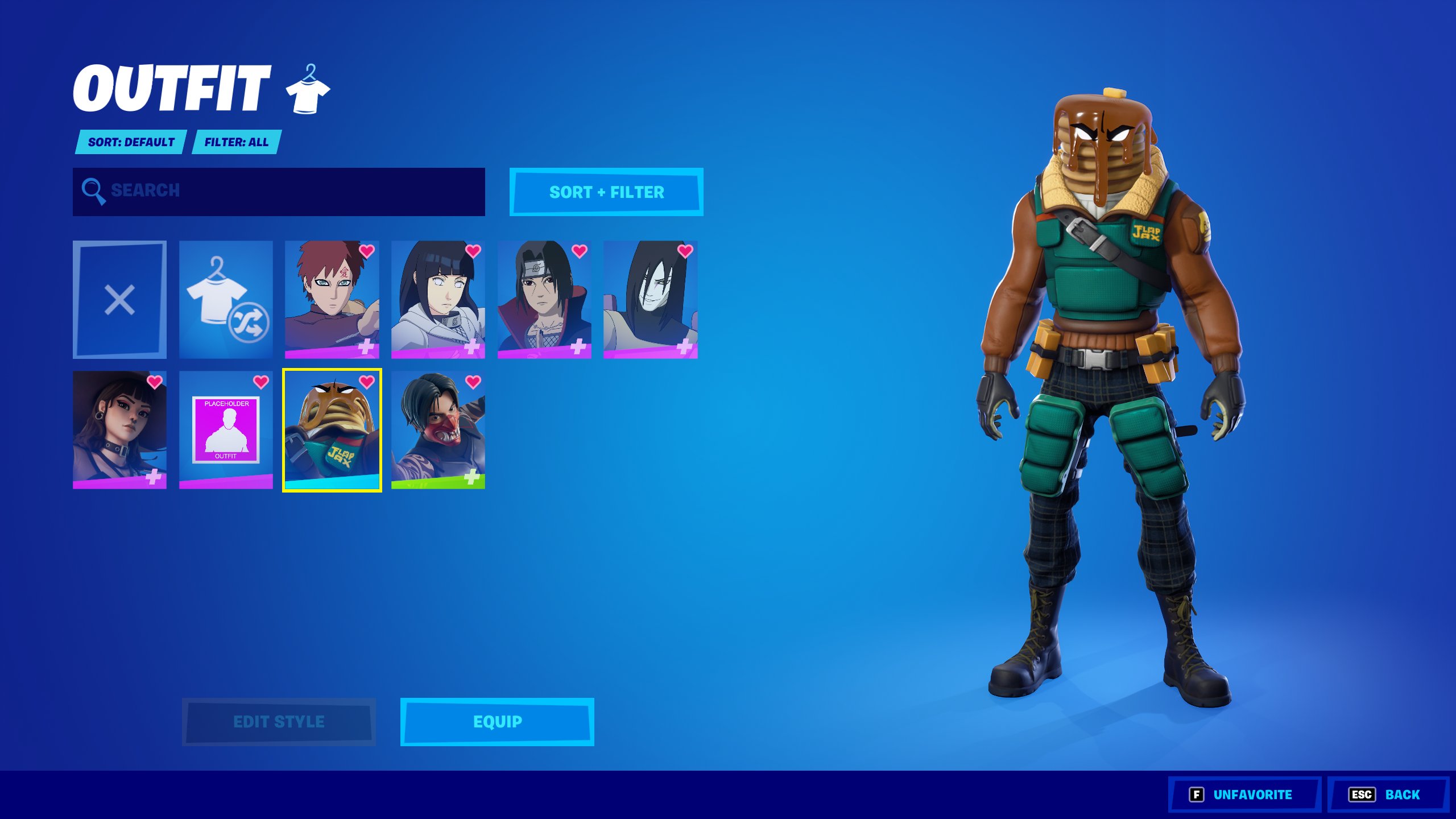 Despite having an opportunity to get a skin set for free, loopers aren't satisfied with the ongoing Fortnite crossover.
Some glaring issues with Fall Guys x Fortnite: Crown Clash event
Fall Guys x Fortnite's Crown Clash event began on June 29, 2022 although Epic Games has ignored it completely. The Galaxian emotes and return of Pac-Man have been mentioned in latest Twitter posts, but players still have no 'official' information on the free Major Mancake skin.
As of now, leakers have single-handedly promoted the entire crossover.
The spread of misinformation and confusion among loopers was inevitable, to say the least. Leakers and data miners have been flooded by messages about the free cosmetics, who obviously have no real advice to give.
Another bone of contention is the lack of a Fall Guys-themed reward. Mancake is a popular Fortnite character, but he has no relation to Mediatonic's Battle Royale title. To play 100 rounds of Fall Guys for a 'not-so-Major' Mancake skin is not worth the effort for several players.
Is the latest Fortnite x Fall Guys: Crown Clash event even a crossover?
While the critique of the Fall Guys crossover has been mentioned above, there are players that are happy with it too. They argue that Crown Clash isn't necessarily a collaboration, but a celebration.
Epic Games' goal here is to simply promote Fall Guys (as it recently went free-to-play). Getting a free skin set for a prominent character like Mancake is a great incentive for a devoted Fortnite player to try another game.
Considering that Fortnite is a free-to-play title as well, it is always great when the developers hand out free rewards. To be fair, playing 100 rounds of Fall Guys is much easier than The Nindo challenges that only grant a glider, a wrap, and some emoticons.
All in all, the mixed response towards Fortnite x Fall Guys is understandable. While Major Mancake is good enough for some players, others look forward to unlocking cosmetics that 'actually' represent a collaboration.
For now, we await Epic Games' blog post on Crown Clash event. Leakers have revealed that the event ends on July 11, 2022. It is unlikely that Major Mancake will arrive in the Item Shop later, and this could be your only opportunity to unlock it.