Ranking all secret Fortnite Battle Pass skins: 1-9
Which is your favorite Fortnite secret skin? Take a look at our rankings!
Which is your favorite Fortnite secret skin? Take a look at our rankings!
In Fortnite Chapter 1 Season 4, Epic introduced the concept of secret Battle Pass skins. These skins remained encrypted until week 7 of each Battle Pass, and they required players to complete a number of challenges to unlock them.
Some of these skins were exciting while others were disappointing. The anticipation amplified these emotions, triggering large complaints about or praise for these skins. Here's a list of all of the secret Battle Pass skins, ranked from worst to best.
9. A.I.M – Season 6
AIM is, in my opinion, the worst secret skin that Epic has released. There isn't much to say about this one, other than the fact that it's incredibly boring.
The only saving grace of this skin was the kill-counter back bling. It's an interesting idea, but no one uses it. A better-looking counter would be much more popular.
8. The Scientist – Season X
The Visitor's chunky cousin lands near the bottom of our rankings as well. The Scientist is decent enough but he's only a sized-up reskin of the original secret Battle Pass skin: The Visitor.
The Scientist fits well into the Season X plotline but doesn't jump off the page when you're scrolling through your locker. His back bling is decent but his lackluster design and cumbersome size are enough for me to put him at 8.
7. Enforcer – Season 5
The Enforcer skin begins the middle-ground of our rankings. It's not the worst secret skin in Fortnite, but it's far from the best. It's a relatively boring addition to the game, especially in retrospect.
I remember being disappointed when I first saw the skin unveiled. At the time, however, it seemed like Enforcer played a larger role in the Fortnite plot. As it turned out, he was only a red herring.
Enforcer can be outfitted with some decent back bling options to make him more attractive but isn't too enticing on his own.
6. Sorana – Chapter 2 Season 1
Sorana falls into the 'relatively boring' category as well. She doesn't seem to have anything to do with the Fortnite plot and her selectable styles are even less interesting than her base outfit.
There isn't much to say about this one, either. It's a decent enough skin but isn't one that many people regularly wear.
5. The Visitor – Season 4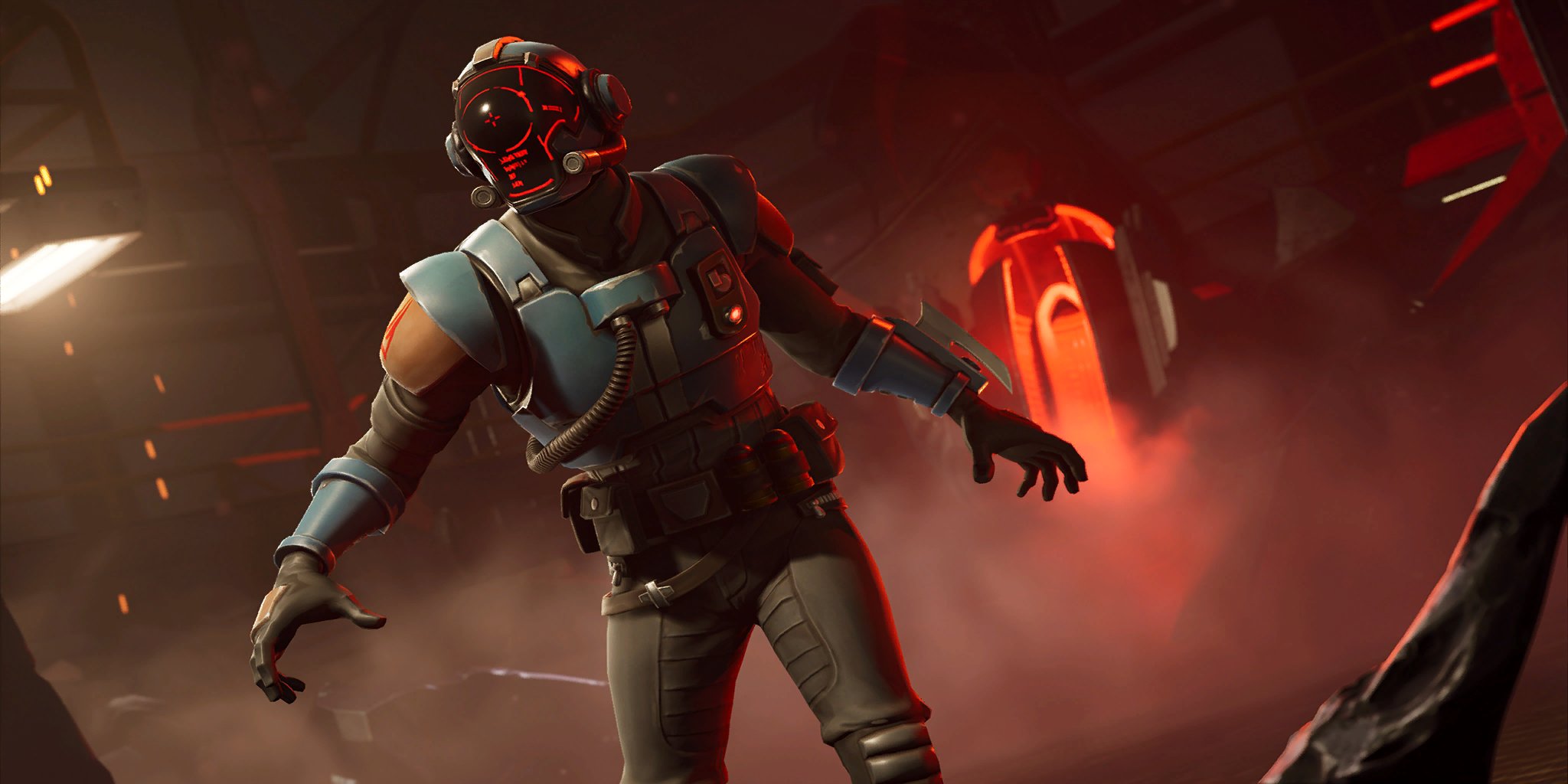 The Visitor is the OG Secret Fortnite skin, first released in Season 4. The Visitor skin is decent, but his presence is the driving force behind everything that we saw in Chapter 1.
The Visitor holds a special place in all of our hearts. His outfit is a bit basic, but fans were incredibly excited when he first came out. It's hard to rank him any lower than 5.
4. Prisoner – Season 7
The Prisoner was the first Fortnite secret skin that allowed players to unlock different styles by completing in-game challenges. Once you max-out the customizations, this skin is pretty awesome. This one makes it into the top half of our rankings.
3. Ruin – Season 8
The Ruin was my favorite secret Fortnite skin before Season 9's Singularity. He's relatively basic – there aren't any customization options to him – but he remains one of the best-looking secret skins in Fortnite.
The Ruin's back bling is pretty great as well. It fits with several other Battle Pass and Item Shop skins. I feel comfortable putting Ruin at number three. That's exactly where he belongs.
2. Singularity – Season 9
Epic knocked it out of the park with Singularity in Season 9. The Fortbytes might have been the most annoying series of challenges in any game, so Epic had to make the reward worth the grind. They did that in Singularity.
The numerous customization options look fantastic. They all look unique enough to make you wonder if a player is wearing a different skin. If it weren't for Deadpool, this would have been an easy number-one selection.
1. Deadpool – Chapter 2 Season 2
Is there any other option for number-one? Deadpool was one of the most anticipated Fortnite skins ever to be released into the game.
Epic told us that Deadpool would be coming to the game at the beginning of Chapter 2 Season 2. Since then, fans were counting down the days until the merc with the mouth finally came to Fortnite.
Deadpool has been out for a few weeks, now, and we've already seen three different customization options for him – with more that may come in the future. He's far and away the best secret skin we've ever had.
This is one writer's opinion, of course, and will likely be heavily disputed. Let us know what you think about our order in the Twitter replies. You might just change my mind!
Ninja calls for a dedicated Fortnite pro league: could it happen?
Ninja suggests an official Fortnite league as a solution to some of the biggest problems in the game. Is such a thing realistic?
Competitive Fortnite is always a topic that we discuss, here, but it's been in the crosshairs of the wider gaming and esports landscape of late. Pro Fortnite players voiced their disappointment in the Season 4 PC FNCS prize pool, comparing it to similar competitions from a year ago.
The Season 4 prize pool is significantly lower, but Epic are allocating their funds differently, now. They spread their prize pool across several regions and platforms, which lowers the amount that they can give to the most popular platform: PC. They're also hosting daily and weekly Cash Cups, which comes out of their prize pool budget as well.
You can say what you want about Epic's distribution of their prize pool; that's not the topic, here. The real problem – as esports reporter, Slasher, detailed in a tweet thread – is the lack of support that these tier-one Fortnite pros feel that they receive from Epic Games.
This feeling of now being listened to fuels some of the outrage that's common within the Fortnite community. What's more is that these high-profile pro players need to continue to prove themselves time and time again just to qualify for paid events – something that isn't the case in any other top esport.
People like Clix, Zayt, BenjyFishy, Mongraal, Bugha, and all of the other household names in Fortnite have to continue to qualify for official Fortnite tournaments. Theoretically, they have the same chance of qualifying as your cousin who has been grinding Cash Cups for the past few months.
This element is part of the allure of competitive Fortnite – that anyone could be a pro player. Several pros have come out of nowhere to win hundreds of thousands of dollars. Morgausse was a prime example of this during the Summer Skirmish. An unknown pro at the time, Morgausse left the event $225,000 richer and as the hottest free agent in Fortnite.
We've come a long way since then, however. All of the events are held online, which means everyone who has Fortnite and an internet connection can affect these games. Even players who know they can't win an event can "grief" a high-profile streamer – landing on them and ruining the streamer's chances of qualifying.
It feels like, after 2+ years of competitive play, Fortnite finally has an established esports scene. Is it time that Epic Games began working with organizations and developing a league, similar to what other esports titles have done?
During the FNCS Warmup tournament, Ninja took to Twitter to propose just that: an official Fortnite league. In his opinion, a league sanctioned by Epic Games is the only way to avoid some of the common problems we see in nearly every Fortnite tournament.
It seems like nearly every Fortnite pro and passionate viewer would be interested in seeing something like this, but would Epic Games ever back such a tournament? In our opinion, the answer is an unfortunate, no.
A large part of Epic's marketing strategy with competitive Fortnite seems to be that anyone could be a pro player. They've explicitly said this, at times, and used it as a justification as to why they don't split the competitive and casual loot pools.
After seasons of requests from pro players involving the Fortnite loot pool, Epic have finally begun to make half measures in this regard. Still, there always seem to be a few items that are fine in core modes but completely broken in competitive. If Epic won't even take the time to completely split the loot pool, would they really back a walled-off competitive Fortnite league?
Sadly, our outlook on this situation is a pessimistic one. A Fortnite league is possible, but we don't think that it's how Epic wants to handle the professional side of Fortnite. All of the evidence points to Epic wanting to keep Fortnite esports as an open platform.
There are some positives to this, but from a viewership perspective, we think the negatives outweigh the positives. Anything is possible, though, so we hope that a dedicated Fortnite league is in the cards for the future.
SypherPK showcases the best hero ability in Fortnite Season 4
SypherPK has crowned Fortnite Season 4's best Mythic hero ability: Sorm's Whirlwind Blast
Fortnite Season 4 is, in many ways, a return to form for Fortnite. We're having a lot more lighthearted fun than we had over the course of the past couple of seasons. On top of that, with the spray weapons nerfed or gone, the competitive meta is also more entertaining to watch and play.
Hero abilities are helping to keep the game fresh, as well, and offering several different playstyles that weren't there during the first portion of Chapter 2. Instead of ramped-up versions of existing weapons, the Season 4 Mythic items are entirely new.
Obviously, some Mythic abilities are more powerful than others. For instance, Silver Surfer's Re-Deploy ability has gotten a lot of attention in competitive modes, while Groot's Baller has largely been left behind.
One ability seems to stand above the rest, however – at least when it comes to the Core Fortnite game modes. Storm's Mythic Whirlwind Blast ability might be the most powerful one that Epic have added.
During a recent stream, SypherPK noticed something that a lot of players hadn't. He shot his Doctor Doom energy orb at a player, only to have it come flying back at him. As it turns out, Storm's ability reflects projectiles.
When you add this to the fact that you can avoid fall damage, launch players to their death, and reflect damage from incoming cars, it's an easy decision when you have to choose one Mythic item to carry.
SypherPK released a video that shows all of the uses for Storm's Mythic ability, including the most popular and effective one: launching players to their death. You can also reflect all of the other offensive hero abilities in Fortnite – save for Iron Man's Unibeam.
Hopefully, this item stays out of competitive Fortnite. If not, then we can be sure of what the next "Kit's Shockwave Launcher" will be during the Season 4 FNCS. Keep your head on a swivel if you run into a player using this ability in-game.
Leaked Fortnite weapon is a cross between a Minigun & Grenade Launcher
This leaked Fortnite weapon is scary…
The Fortnite community tends to be split when it comes to explosive weapons. Some enjoy the ability to break down any structure in the game, while others prefer a rocket-free experience when cranking 90's for high-ground.
We've seen all kinds of explosive weapons come and go from Fortnite. We've had the Quad Launcher, Grenade Launcher, Proximity Launcher, regular RPG, Pumpkin Launcher, and several others. Only a couple of them have remained in the loot pool for more than a season.
According to Fortnite data miner, @Mang0e_, it looks like the latest explosive weapon is on the horizon. We've only seen some statistics and mesh image of the item, but that's enough for us to be intimidated as to the destruction it could cause.
Mang0e_ described the weapon as a "cross between a Grenade Launcher and a Minigun." If that doesn't send a chill up your spine, we don't know what will. These are two of the most powerful weapons that Fortnite has ever seen. Now, we're combining them?
Of course, this is only preliminary information and we have no idea if this item will ever even come to Fortnite. The initial impression could be way off as well, so it's no time to panic.
After all, we saw Machine Pistols leaked last year and they still haven't entered the game. Just recently, we got the first piece of concrete news on the item since last November. This is all to say that it could be a long time before this strange "heavy weapon" comes to Fortnite – if it ever does.
We'll keep you posted when we learn more about the weapon, but it could be a while. Epic likely won't release the next Fortnite update for at least a week or two, and we don't expect to see this weapon when it does come out. In the meantime, make sure to follow us on Twitter, @FortniteINTEL, to be the first to know all of the breaking Fortnite news.