Ranking all secret Fortnite Battle Pass skins: 1-9
Which is your favorite Fortnite secret skin? Take a look at our rankings!
Which is your favorite Fortnite secret skin? Take a look at our rankings!
In Fortnite Chapter 1 Season 4, Epic introduced the concept of secret Battle Pass skins. These skins remained encrypted until week 7 of each Battle Pass, and they required players to complete a number of challenges to unlock them.
Some of these skins were exciting while others were disappointing. The anticipation amplified these emotions, triggering large complaints about or praise for these skins. Here's a list of all of the secret Battle Pass skins, ranked from worst to best.
9. A.I.M – Season 6
AIM is, in my opinion, the worst secret skin that Epic has released. There isn't much to say about this one, other than the fact that it's incredibly boring.
The only saving grace of this skin was the kill-counter back bling. It's an interesting idea, but no one uses it. A better-looking counter would be much more popular.
8. The Scientist – Season X
The Visitor's chunky cousin lands near the bottom of our rankings as well. The Scientist is decent enough but he's only a sized-up reskin of the original secret Battle Pass skin: The Visitor.
The Scientist fits well into the Season X plotline but doesn't jump off the page when you're scrolling through your locker. His back bling is decent but his lackluster design and cumbersome size are enough for me to put him at 8.
7. Enforcer – Season 5
The Enforcer skin begins the middle-ground of our rankings. It's not the worst secret skin in Fortnite, but it's far from the best. It's a relatively boring addition to the game, especially in retrospect.
I remember being disappointed when I first saw the skin unveiled. At the time, however, it seemed like Enforcer played a larger role in the Fortnite plot. As it turned out, he was only a red herring.
Enforcer can be outfitted with some decent back bling options to make him more attractive but isn't too enticing on his own.
6. Sorana – Chapter 2 Season 1
Sorana falls into the 'relatively boring' category as well. She doesn't seem to have anything to do with the Fortnite plot and her selectable styles are even less interesting than her base outfit.
There isn't much to say about this one, either. It's a decent enough skin but isn't one that many people regularly wear.
5. The Visitor – Season 4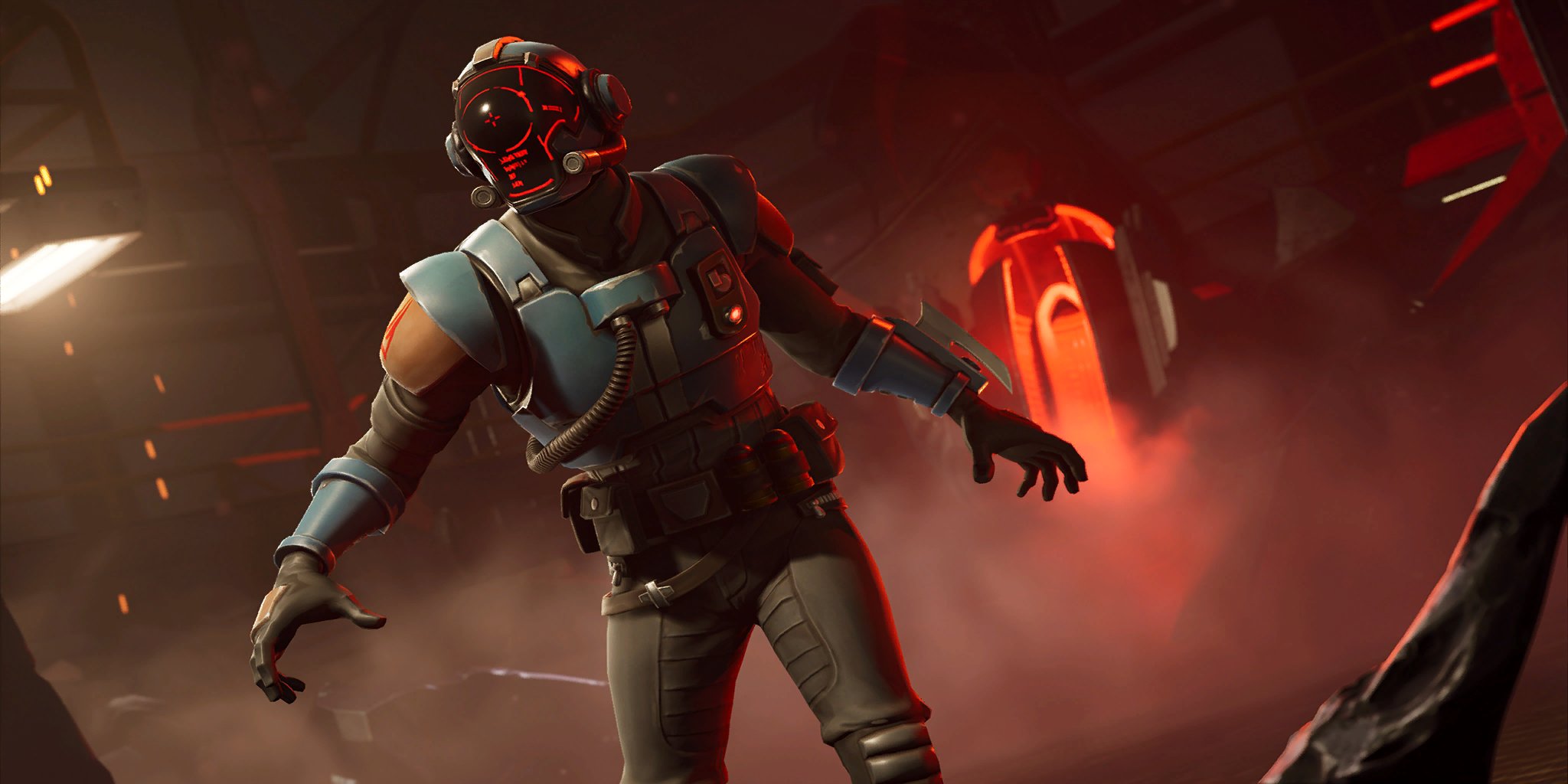 The Visitor is the OG Secret Fortnite skin, first released in Season 4. The Visitor skin is decent, but his presence is the driving force behind everything that we saw in Chapter 1.
The Visitor holds a special place in all of our hearts. His outfit is a bit basic, but fans were incredibly excited when he first came out. It's hard to rank him any lower than 5.
4. Prisoner – Season 7
The Prisoner was the first Fortnite secret skin that allowed players to unlock different styles by completing in-game challenges. Once you max-out the customizations, this skin is pretty awesome. This one makes it into the top half of our rankings.
3. Ruin – Season 8
The Ruin was my favorite secret Fortnite skin before Season 9's Singularity. He's relatively basic – there aren't any customization options to him – but he remains one of the best-looking secret skins in Fortnite.
The Ruin's back bling is pretty great as well. It fits with several other Battle Pass and Item Shop skins. I feel comfortable putting Ruin at number three. That's exactly where he belongs.
2. Singularity – Season 9
Epic knocked it out of the park with Singularity in Season 9. The Fortbytes might have been the most annoying series of challenges in any game, so Epic had to make the reward worth the grind. They did that in Singularity.
The numerous customization options look fantastic. They all look unique enough to make you wonder if a player is wearing a different skin. If it weren't for Deadpool, this would have been an easy number-one selection.
1. Deadpool – Chapter 2 Season 2
Is there any other option for number-one? Deadpool was one of the most anticipated Fortnite skins ever to be released into the game.
Epic told us that Deadpool would be coming to the game at the beginning of Chapter 2 Season 2. Since then, fans were counting down the days until the merc with the mouth finally came to Fortnite.
Deadpool has been out for a few weeks, now, and we've already seen three different customization options for him – with more that may come in the future. He's far and away the best secret skin we've ever had.
This is one writer's opinion, of course, and will likely be heavily disputed. Let us know what you think about our order in the Twitter replies. You might just change my mind!
Fortnite v15.21 update patch notes: Predator, Mythic Item, New Quests
Fortnite's v15.21 update has shaken things up again, adding Predator and a brand new Mythic Item to the mix.
Today's Fortnite v15.21 update has shaken things up again in the battle royale game, adding Predator and a brand new Mythic Item to the mix.
The game has been subject to weekly updates for a long time now, meaning content is given a slight refresh some weeks, and on others things can change a bit more dramatically.
On January 20, after the latest patch was rolled out, it's fair to say that not a lot of things have been tweaked.
In the absence of official patch notes, which have been vaulted since before Chapter 2 even began, we've rounded up the changes confirmed already by players and leaks.
Fortnite v15.21 patch notes
Predator
Predator is the latest crossover character to arrive in Fortnite, now available to fight at the Stealthy Stronghold location. The skin is also coming to the Fortnite Item Shop, along with some cosmetics – such as a pickaxe.
New Mythic Item: Predator Cloak Device
One of the biggest, and most exciting, elements of Predator's arrival is the new Mythic Item it adds to the game. The Predator Cloak Device is now active in-game, and once it's been found and activated, players can use it to turn invisible.
To get one, check out our complete guide here. It's fairly easy to achieve.
New Quests
More Quests have been added to the Battle Pass for Season 5, following the v15.21 update.
The full list of these can be seen below, courtesy of HYPEX.
Bug fixes and other changes
According to the official Fortnite Trello board, a number of things have changed – including general issues and things specifically impacting the BR mode.
General Top Issues
When playing Fortnite, players cannot create system-level parties that include players on both PS5 and PS4.
The Jumpshot Outfit is missing its facial hair.
The Banner menu may be unresponsive to controller inputs, causing players to have difficulty editing their Banner with a controller or the Banner not updating properly.
We're investigating an issue that is causing players to experience a long loading screen after completing a session on PlayStation and Xbox consoles.
The sound effect of certain actions, such as opening a Chest or hitting a Weak Point, may be delayed.
Battle Royale
In competitive playlists, players do not have access to their persistent stash of Bars. Instead, they are granted a set amount at the beginning of each match. This is intended. However, your end total of Bars in competitive playlists may appear in the Lobby in place of your persistent stash. This is a visual issue only.
The weekly Legendary Quest to 'Get Headshots' is not always visible after completing the first stage of the quest.
Players may receive damage mid-air when falling inside a car.
Players and Spectators may notice inconsistent camera behavior or stuttering after being near a Car they recently drove then exited.
Total Bars appearing as 0 in a match.
Assets appearing invisible in Performance Mode alpha.
Game freezing when going to the Compete tab on PlayStation/Xbox.
Sand Tunneling temporarily disabled.
As is the case every week with these unofficial patch notes, it's an ever changing beast. If we find something that's changed and not been included here in the Fortnite v15.21 patch notes, we'll update you as quickly as we can.
Until then, jump in and see for yourself! Remember to thank the bus driver…
How to go invisible in Fortnite with Predator Cloak Device
Predator has arrived in Fortnite just a week after the character's ship landed, and he's brought a brand new weapon.
Predator has arrived in Fortnite Battle Royale just a week after the character's ship landed on the island, and he's brought a brand new weapon – or ability – to the fight.
One of the most sought after abilities in Fortnite, pretty much since Day 1, has been finding ways to turn invisible. Out of sight for enemies, and handing yourself a huge advantage.
In the past, this has been achieved with exploits using previously added invisibility items, or just glitches that make players pretty much impossible to take down.
However, a legitimate way of doing that – for a limited time – is now in the game.
How to use Predator's Cloak device in Fortnite
The first-look footage of the Predator Cloak Device shows that the process of actually using it is quite simple.
As seen below, in a post from HYPEX, all you have to do is activate it once you have stumbled upon one and you'll instantly turn invisible.
This is not the first item to be added to Fortnite that turns players invisible, with Shadow Stones appearing in the past, though developers will be hoping the rollout of this ability doesn't turn out to be as glitchy as those that have came before it.
Cloak Device stats
Not only do we know how it works already, but also the stats for it as well. It lasts 30 seconds and requires a cooldown each time of the same amount, seen below from HYPEX again.
Players can activate this, of course, though we're now aware the NPC Predator can also do it. This is going to make the character slightly harder to defeat than others.
How to get Fortnite Predator Cloak Device
The Predator Device can be obtained by taking down Predator in-game, much like any other boss the game's added during Season 5.
After visiting Predator's location and striking the character down, it will drop the following, as well as ammo and Floppers.
That's it! Now you know how to use the Predator Cloak Device, and it looks like it's going to be quite tricky to get one in-game – especially if the NPC is using it to escape your gunfire!
Fortnite v15.21 leaked skins and cosmetics: Predator, Soccer, Crew Pack
Epic Games have added a boat load of new skins to Fortnite Battle Royale following the rollout of patch v15.21.
Epic Games have added a boat load of new skins to Fortnite Battle Royale following the rollout of patch v15.21, and finally leaks have revealed just how the Predator skin will look – as well as some cosmetics!
One of the game's biggest revenue streams is skins and cosmetics, where players can purchase a number of sets to make their in-game character look like others from famous franchises.
In a world full of crossovers, we now know for certain that Predator is joining the action. The extraterrestrial's ship was found last week, and this week the entire skin set for Predator has been revealed – coupled with a Predator Pickaxe and a leaked Cloaking Device, which turns you invisible.
So, without further ado, let's run through all of the v15.21 leaked skins and cosmetics.
Fortnite leaked skins and cosmetics: Update v15.21
Skins
After being confirmed by Epic Games to be coming soon, a number of fresh soccer skins have been decrypted from the code. These can be seen in a post from ShiinaBR, just confirming how they will look in-game.
Fans will be aware that some of these have been revealed early for the FaZe City Cup, where players will be given the chance to earn them early – and for free!
Not only that, but the whole Predator set has also been leaked – seen below from HYPEX.
Last, but not least, is what appears to be the next Crew Pack. Images have not yet been leaked here, though we do have a name by the looks of it.
Cosmetics
As seen below, from Lucas7Yoshi and VastBlast, a selection of Sprays, Emotes, and other cosmetics have been added.
If any more skins or cosmetics leak, we'll be the first to let you know and update this article.
With Predator joining the action as an NPC and a skin in the works, are you excited? Let us know which items you are setting your sights on next!