Ranking all of the vehicles in Fortnite
We've seen a lot of Fortnite vehicles come and go. How did they all stack up against one another?
We've seen a lot of Fortnite vehicles come and go. How did they all stack up against one another?
There have been a total of nine vehicles over the course of 11 Fortnite seasons. Some are more useful than others, while a few completely broke the meta of the game (looking at you, BRUTE).
Here's our rankings of all of the Fortnite vehicles from worst to best. This list is not focused on the most powerful vehicles, but rather one focused on balance and entertainment. If you disagree, leave us your list in the comments!
9. The BRUTE
We don't need to spend too much time on this one. The BRUTE was the worst. Everyone hated it. The always-overpowered mech was the bane of our existence for the entirety of Season X – especially before the nerf.
No one is disappointed to see the BRUTE leave Fortnite. Good riddance. See ya never.
8. The Shopping Cart
The Shopping Cart was the first 'vehicle' ever added to Fortnite, although it isn't really a vehicle at all. Once Epic started to add real vehicles to the game, the Shopping Cart was rendered essentially useless.
The Shopping Cart made downhill mobility a bit easier, but not much outside of that. It was good for the memes and no one really noticed when Epic vaulted it. Rest in peace, old buddy.
7. The Cannon
Like the Shopping Cart, the Cannon wasn't much of a real vehicle. You wouldn't ride it around unless you were goofing or trying to complete a challenge. You could make it fly by hitting a geyser, but it was hard to control once you got in the air.
The damage was never much of a factor with the Cannon, but it was a fantastic mobility tool. This was a relatively balanced addition to Fortnite that fit well with the pirate theme of Season 8.
6. The X-4 Stormwing
Planes were one of the more controversial additions to Fortnite. They were incredibly overpowered when Epic first introduced them but eventually received a nerf. The nerf balanced them out a bit, but they were always a menace in competitive Fortnite.
Adding planes to the game could work in a different setting. The X-4 Stormwing would be relatively balanced if it didn't have weapons or a boost mechanic that shot it through structures.
We should also mention the fact that planes were bugged and would sometimes eject you without the ability to pull your glider. That was no fun.
5. Ballers
Ballers replaced planes as the next overpowered vehicle in Fortnite. They had too much HP upon release and were difficult to counter for a long time. The HP nerf helped stifle their usefulness but there always seemed to be 15-20 of them hopping around in competitive end-games.
Here's a controversial opinion: I loved the Baller. It was a fantastic mobility tool and wasn't too much of an issue in public matches once the nerf came in. You could break them relatively easily, but they always provided some easy rotation to a distant circle.
I was a Polar Peak die-hard, so Ballers were a frequent rotational tool of mine. I'll always have a soft spot in my heart for the Baller, even though I know that they were widely hated by most of the community.
4. The Boat
The Boat is among the most balanced vehicles that Epic has ever added to Fortnite. It's a rotational item first and foremost. The rockets do next to nothing in terms of player damage and anyone standing on the back is asking to get shot.
That being said, the Boats are a bit lackluster. They aren't truly effective on land and can get tripped-up by a small hill or obstruction. Boats are great for the game – they just don't move the needle too much.
3. The Driftboard
Next up, is every trickshotter's best friend: the Driftboard. These hoverboards provided excellently mobility and even better clips. This was one of the more ambitious items that Epic added, and they really pulled it off.
I don't think anyone argued that Driftboards were overpowered. They were mobility-only vehicles when you weren't using them for high-flying trickshots.
2. The Quad Crasher
The Quad Crasher takes the cake, for me. It was one of the best vehicles in the game – especially once players started to learn how to make it fly. You could traverse the entire map if you were consistent enough, making no zone too far away to reach.
Was this the most balanced vehicle in Fortnite? Probably not. It only sat two players and the ability to fly made it a bit too strong. Still, I miss this beast of a vehicle.
1. The ATK
The ATK will take the top spot for many players, even if it isn't my personal favorite. It was an incredibly balanced vehicle that actually took a bit of skill to master. The golf cart could fit an entire squad and was a welcome sight if you needed to rotate to a distant zone.
In fact, I think the ATK would be a perfect addition to Fortnite Chapter 2. It's the balanced land vehicle that we need.
So, there you have it. What's your favorite Fortnite vehicle? What would your list look like? Leave it in the comments!
All Fortnite Season 6 Exotic Weapon locations
Fortnite Season 6 is here, and only a few Exotic weapons made it. Here are all Exotic weapon locations for the new Fortnite season.
Fortnite Season 6 marked the return of Exotic weapons to Fortnite. Not all of the Season 6 weapons are there, however, and they've moved locations.
There's no shortage of new mechanics in Fortnite Season c, with the addition of crafting, the map changes, and a whole lot more.
Mythics have returned to the game in Season 6 but in a limited capacity. The only classic Mythic items in Fortnite Season 5 include the Spire Jumpboots and the Spire Assassin's Primal Shotgun.
What's more, Epic added craftable items to the game that allow players to create unique weapons out of existing parts. For instance, a Mechanical Bow and two Shockwave Grenades make the Shockwave Bow – a massive upgrade from both weapons.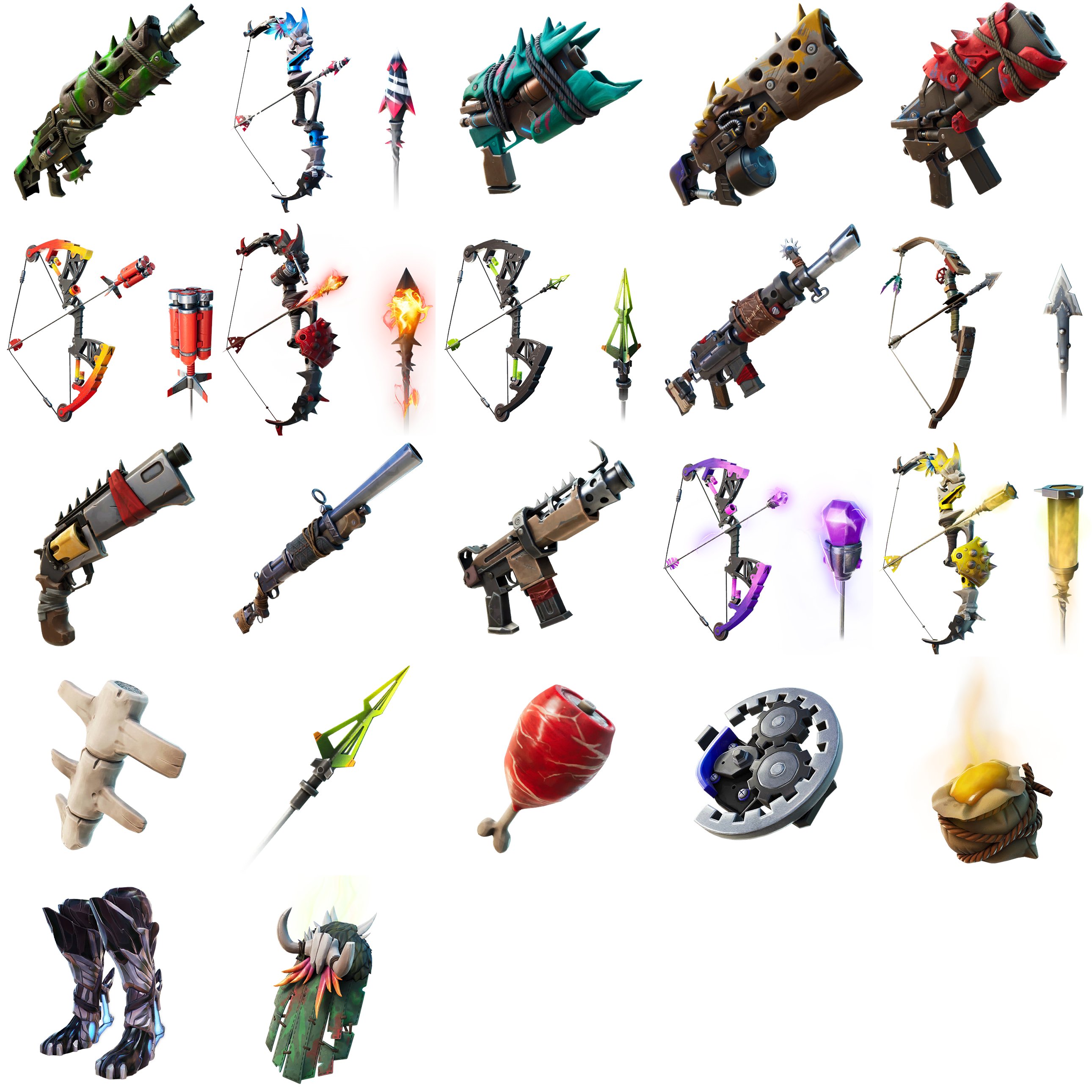 Fortnite Season 6 Exotic weapon locations
Exotic weapons have returned to Fortnite Season 6, but not as many as we had in Season 5. These will be supplementary items rather than the focus of the season, which appears to be on the new crafting mechanic.
Many of the NPCs who sold these items in Season 5 have also either moved locations or don't sell them anymore, so a new guide is needed. Here's a map of all of the Season 6 Exotic weapon locations.
As you can see, there are only four Exotic weapons and items that made it to Fortnite Season 6. These are the:
Hop Rock Dualies: sold by Gutbomb in Logjam Woodworks
Chug Cannon: sold by Slurp Jonesy in Slurpy Swamp
Shadow Tracker Pistol: sold by Power Chord in Dance Club Cabin
Dub Shotgun: sold by Burnout south of Steamy Stacks
The good news is that, unlike last season, all of the NPCs that sell Exotics only spawn in one location – at least, so far.
We'll keep this post updated as Epic add more Exotics to Fortnite Season 6. We expect to see them takes things further as the season goes on, so stay tuned to more news on Exotic weapons.
Image Credit: Epic Games, Fortnite.GG
Fortnite split-screen: how to play with friends
Epic introduced the ability to play split-screen Fortnite in Chapter 2 Season 1. Here's how to enable the setting.
Epic introduced the ability to play split-screen Fortnite back in Chapter 2 Season 1. Here's how to enable it so you can play locally with a friend.
Fortnite has always had a focus on playing with friends, but that always meant you had to play online. Even if you were in the same house as your friend or family member, the two of you had to play on two separate devices.
This changed back in the v11.30 update in Chapter 2 Season 1. Epic introduced split-screen capabilities on consoles for the first time. It wasn't perfect when it first came out, but it's since gotten a lot better.
How to use the Fortnite console split-screen feature
Initiating split-screen is simple. All you have to do is connect two controllers to your Xbox or PlayStation. Split-screen still isn't available on mobile, PC, or Nintendo Switch. Here are the steps you need to follow:
Start Fortnite
Connect a second controller to the console and turn it on
Hit 'Main Menu'
Player 1 will need to invite Player 2 with their Epic account
Player 2 will need to sign into their account
Player 2 will join and split-screen will automatically initiate
You can even save another player's information on another account on your console, making split-screen easier and quicker to complete.
The feature still isn't perfect and doesn't replace the feeling of playing online. You'll only have access to half of your screen, so you're going to miss a few things that normal players will see. Still, playing split-screen is far more preferable than switching off with your friend or family member game after game. Enjoy!
Image Credit: Epic Games/u/SmonkYT
Fortnite v16.20: what to expect
The Fortnite Season 6 v16.20 update is expected to go live this week. Here's what we expect to see in the next Fortnite update
The Fortnite v16.20 is expected to release this week. Here's what we'll see in the patch notes when the update goes live.
We're working our way through Fortnite Season 6, but Epic are continuing to give us new content to explore. We're only a week past v16.10 and are already expecting to see v16.20 go live this week.
Here's our typical patch breakdown on what to expect in the update, including some leaked items and a long list of bug fixes.
Bug fixes
Epic are consistently updating their game to fix bugs, glitches, and exploits. In the v16.20 patch, we'll see a ton of fixes – including a fix for an exploit that allowed players to gain unlimited health/shield over the course of a match.
Here are all of the bug fixes that should be addressed in the v16.20 update.
Cannot create system-level parties between PS5 and PS4 when playing Fortnite.
Code Green Wrap not appearing correctly.
Arena playlist issues.
Storm visibility is clear when using Performance Mode.
Collection Book Character #17 not appearing on the Island.
Slurpshrooms and Coconuts temporarily disabled.
(Creative) Start with 'Pickaxe' Creator setting still spawning with a Pickaxe.
(Creative) Vehicles not moving properly in Creative.
(Mobile) Cosmetics in Lobby appearing blurry on Nintendo Switch.
(Mobile) 3D resolution reset itself even if the player saved the settings.
Leaks
We've seen a few leaks about content that could be coming to Fortnite in the coming weeks. The most likely addition to Fortnite in v16.20 would be the Unstable Bow – a rumored Exotic weapon that should be coming to Season 6.
On top of that, we've seen leaks about vehicle and weapon mods, additional crafting materials, and more. We don't know if/when any of these will come to the game. We always take leaks with a grain of salt, but many of these items will likely make their way to Fortnite – possibly in the next update.
We'll keep you posted when we have official word from Epic on the v16.20 patch. We expect to see it on April 13 or 14, at the latest.
In the meantime, make sure to follow us on Twitter @FortniteINTEL so you never miss out on any of the latest Fortnite news.