Overtime Gaming releases SerpentAU after Macro allegations
Fortnite YouTuber, SerpentAU, has been dropped from his organization following accusations of using Macros to edit.
The Australian Fortnite scene has been embroiled in controversy over the past few weeks. Pro player Kquid was banned mid-tournament for using cheats, SerpentAU exposed him, and EJLad exposed SerpentAU for using Macros in his videos.
We're focusing on the latter situation, for this topic. SerpentAU has long been considered one of the fastest editors in Fortnite. EJLad published a video that accused Serpent of using Macros to achieve the editing speed that he does.
EJLad also accused SerpentAU of using an aimbot to hit some of his 360 and flick shots – the point on which Serpent mainly focused in his response video. The latter showed clips of himself hitting flicks with a keyboard camera, seemingly putting those accusations to rest.
At the end of Serpent's video, however, the YouTuber addressed the Macro accusations and tried to dispel them. He admitted to using Macros for his first 'fast editing' video but claims that he stopped using them after it blew up.
The problem with his explanation was that the clip that was supposed to prove Serpent's innocence only added to the question of whether or not he continued to use Macros. Unlike his aimbot justification – which showed his gameplay and keyboard cam on a split-screen – his Macro justification was from a phone, filming his keyboard and monitor at the same time.
Fortnite pros and streamers who watched this video, such as Tfue and SypherPK, questioned its legitimacy. It seemed fishy that Serpent would use a split-screen to prove he wasn't using aimbot and a third-person camera to "prove" he didn't use editing Macros.
"If I was a kid, and I pulled this off, and no one thought I was cheating; I'd keep doing it," Sypher told his stream after watching Serpent's response video.
(10:24 for mobile viewers)
On the evening of June 9, Serpent's organization, Overtime Gaming, tweeted a statement on the ordeal. "After further investigation within the last 12 hours, we have definite reasoning to believe that SerpentAU has committed and act of dishonesty through the use of Macros – to our staff, friends, and community," the post read.
Overtime Gaming dropped SerpentAU after their investigation. You can read their full statement, below. Serpent has yet to comment on the topic at the time of writing.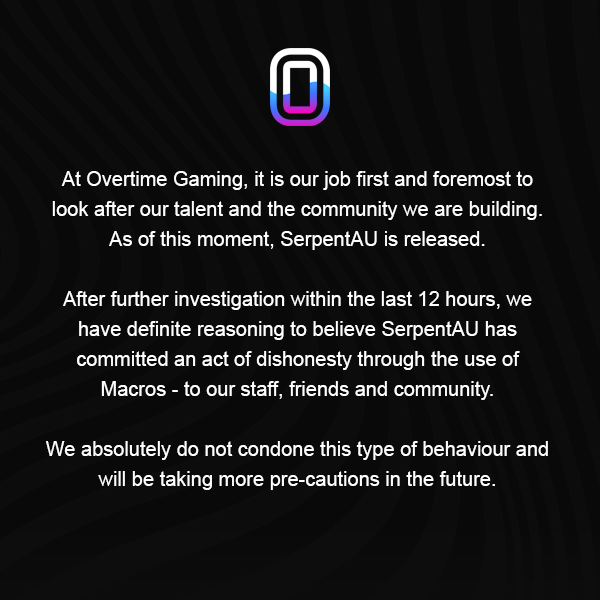 Based on their statement, it would seem that Overtime found evidence of Serpent using Macros in more than one video, but that has not been confirmed. We'll keep you posted if there are any developments on this story.
How to make a Stark Robot dance in Fortnite
Find out how to make a Stark Robot dance for your Fortnite Season 4 week 5 challenges.
Fortnite Season 4 Week 5 is here, bringing us some new challenges to complete for the week. XP is flowing this season, but don't get complacent. Unlocking the Holographic Wolverine style will require you to reach level 220 – a tall order for even the most dedicated Fortnite player.
This week, there are a few challenges that require a bit of existing Fortnite knowledge to complete. One of these is "Make a Stark Robot dance." Don't worry, though, this is easy to check off your list once you know what to do.
The first step in this process is finding a Stark Robot. Yes, you can find plenty of them at Stark Industries, but that's probably not a good place to do this challenge. It's one of the most populated places on the map and Stark Robots don't spawn in Team Rumble.
Instead, we suggest heading for one of the Quinjet landing sites on the map. You can usually find one that's devoid of players, but be careful that the Stark Robots don't take you out on their own.
The best strategy is to land somewhere near the Quinjet, get a couple of guns, and head to the landing site from there. That way, you'll be able to defend yourself from those pesky robots.
Now that you've found an untouched landing site, all you need to do is down one of the stark robots and hack them. You can do this by going up to them and pressing F on keyboard, Square on PS4, or X on Xbox. We recommend clearing out the other robots before trying to hack one.
Once you've hacked a robot and are safe, the final stage is to dance. The robot will dance with you and you'll complete the challenge. You don't even have to wait for the robot if you don't want. The challenge will complete itself as soon as you dance with a hacked robot by your side.
Hacking robots in Fortnite is sneakily an awesome tactic. They fight by your side, distract your opponents, and can sometimes even do enough damage to get a kill or two. Good luck!
Glitch King reveals Fortnite 'Infinite XP' exploit
This "grindy" XP glitch gives you infinite experience, but is it worth your time?
XP is relatively easy to come by in Fortnite Season 4. There are weekly and daily challenges, Punch Cards, in-game XP, and even secret challenge that net players some sizeable rewards.
Despite this fact, it's unlikely that most players will be able to unlock all of the foil variants in the season. Unlocking a Holographic Wolverine – the highest XP threshold of the season – requires you to reach level 220 by the end of Season 4. That's more realistic than the Golden Agent Peely from a couple of seasons ago, but it's far from a guarantee.
There is at least one working XP glitch that's in the game at the time of writing, but you'll need to act fast if you want to make the most out of it. Epic are known to quickly patch these XP glitches, and this one is tied to a secret challenge. Once you complete the challenge, you may not be able to use the glitch.
This exploit was uncovered by YouTuber Glitch King, who also showed players how to get into the Stark Industries vault without a keycard. All you need to do is visit one of the four locations listed in his video and equip a spray.
The XP exploit has to do with defusing the bomb for the Season 4 secret challenge. For some reason, spraying the barrel will trigger the 500 XP reward for defusing the bomb up to five times. Once you hit five, you need to leave the game, rinse, and repeat.
The first obvious downside to using this exploit is that it will tank your stats. If you care about your Solo win/loss and kill/death ratio, you'll probably want to find another way to earn that XP.
It's also a full-on grind. You'll have to ask yourself: do you really want that Holographic Wolverine or do you just want to play to have fun? This isn't an MMO, after all, it's a competitive battle royale.
If you do decide that this 2,500 XP per game exploit is worth it, be careful not to overdo it. We don't think that this will trigger a ban, but you need to be careful. You could see a timeout once Epic get wise to it.
Now that you know how to do it, though, the decision is yours: will you throw a bunch of games in the name of free XP or will you earn it the hard way while having more fun?
How to enter the Stark Industries Vault without a keycard
Fortnite players have found an exploit that allows them to enter the Stark Industries vault without a keycard.
The first update of Fortnite Season 4 included a massive overhaul of almost the entire northeast portion of the map. Stark Industries has now become one of the most popular places to land, with nearly a quarter of the lobby chasing Iron Man at the beginning of each match.
It's easy to understand why this location is so popular. Stark Industries offers a ton of loot, a chance for an early battle, the only place to obtain high-level Stark Rifles, the Iron Man hero abilities, and a vault.
We're focusing on the vault, for this article. It's one of only two closed vaults on the map, but that doesn't mean that you need a keycard to enter. More than a few players have eliminated Iron Man and hit the vault, only to find a squad of players already inside.
The reason for this is a video made by popular YouTuber and glitch exposer Glitch King. He offered a video tutorial on how to enter the Stark Industries vault without a keycard.
A glitch like this one has been possible in every season since vaults first came to Fortnite. The good thing was that most of these glitches took so long to complete that they were nearly impossible to pull off in a real game. You'd have to build walls and cones, get a boat, and spam buttons to enter the vault.
This one, however, is troublingly easy. All you need to do is hit the back of the vault at the proper angle with one of the many cars that spawn in the Stark Industries parking lot. Simply land, grab a car, drive it under the stairs and hop into the vault.
There's a small catch to this glitch, however. One of the requirements is a bad PC – or, at least, a friend with a bad PC. Part of the glitch requires the driver's PC to fail to render the walls of the vault, pushing you inside.
Admittedly, Glitch King makes the exploit look easier than it is. You probably won't get it on your first try, but there's nothing stopping players from practicing this glitch in Battle Lab. Once you find the right angle, you'll get in every time.
Of course, you'll be stuck inside the vault until someone else opens it, but that isn't much of a problem. The Stark Industries vault almost never goes unopened, so chances are you'll be able to loot the vault and kill whoever opens the door for you.
This is a pretty broken exploit, so we hope Epic address it in a coming update. The longer it's in the game, the more players will try it. For now, all we can advise is to be careful when opening the Stark Industries vault.