Official Fortnite Twitter account has been hacked
Update: It appears that the hacker has been effectively locked out of the Fortnite Twitter account for now. We've got the screenshots of the events saved down below. Epic Games has yet to comment on the situation.
Well, it appears that the hate for Epic Games' recent decisions has led to some individual taking inappropriate measures against the official Fortnite Twitter account.
On Wednesday, April 3, the official Fortnite Twitter got hacked by a disgruntled member of the community. Epic Games has not released a statement yet about the situation.
The account started to tweet out…interesting messages following the announcement for changes to competitive Fortnite. The hack seems to be in response also to the controversial v8.20 Fortnite patch. In short, this is a complete and utter disaster for Epic Games.
Here's the first tweet from the disaster for Epic Games:
Epic Game started to quickly and frantically delete the tweets as they flew up, but the hacker even got to shout himself out before they were closed out from the account. Truly mindblowing stuff!
The hack continued with tweets about reverting the patch, using creator codes of the hacker, and other non-sensical tweets.
It appears the hacker's real identity is @feared and is a player of Call of Duty on the Gamebattles website. Epic Games is sure to take legal action against the hacker. We'll update the story continuously as more comes out about this debacle.
The tweets continued to pour out from the hacked account with everything from haircuts, to the proclaimed best players, and pretty everything else. Take a look!
Feared, by no coincidence, a stretched res player. Epic Game announced earlier today that they will restricting usage of stretched res right before the Fortnite World Cup.
While we do not condone such illegal actions in any way, the reason behind the hacks seems to be fairly logical. The stretched res change will severely degrade the performance for pros at the World Cup and the timing was ridiculous.
That said, we do not think Epic Game will cave into the community's requests now as it would mean giving the hacker what they wanted.
Judging by the fact they were tweeting from TweetDeck, they probably got into some employees account that has access to it, as one account can have control over all others

Like me with @LucasIsYoshi

So TECHNICALLY someone hacked an employee, who had tweetdeck access. pic.twitter.com/YmiJRceqWV

— Lucas7yoshi_ // Fortnite BR Leaks & News (@lucas7yoshi_) April 3, 2019
According to leaker @lucas7yoshi, the hack might have been possible through Tweetdeck. A popular app/site used by many companies to tweet out content from several accounts.
Someone at Epic is about to get fired or at least get a very stern course of internet security. This should not be happening at a multi-billion dollar company.
This day has certainly turned out to be an exciting one to say the least. The hacker seems to have been locked out the account now, but we'll continue to update the story as Epic Games speaks out about this incident.
Twitter has yet to take down either of the hacker's own accounts. The tweets sent by the hacker have actually garnered a lot of popular support, but we must remember that even if we agree with the reasons for hacking…it is still a serious crime and cannot be condoned.
Fortnite Champion Series Chapter 3 Season 3 start date and prize pool revealed 
Fortnite has announced the Champion Series (FNCS) for Chapter 3 Season 3 in which pros worldwide will compete for 3 million dollars.
The Fortnite Champion Series is easily the most anticipated competitive event every season. In Chapter 3 Season 3, the likes of Bugha, Clix, and Arkhram, among others, will battle it out for a prize pool of 3 million dollars.
Epic Games has finally announced the FNCS for Chapter 3 Season 3. This time around, the logo seems to have a tropical theme that matches the 'Vibin' season. The meta has also changed significantly, and it will be interesting to see how some of the most talented esports athletes have adapted to it.
Everything to know about Fortnite Champion Series (FNCS) Chapter 3 Season 3
Fortnite Champion Series for Chapter 3 Season 3 will begin on July 6 with 3 Qualifier rounds. The top five teams (Duos) from each round will directly advance to the FNCS Finals.
The qualifiers will take place till July 18 and the Semi-Finals will begin on July 21. As per Epic Games, the key to reaching the finals is Victory Royales and consistency. In the three Semi-Finals sessions, 6 Victory Royale winners and the top six consistent teams will move ahead.
The Finals will take place between August 12-14. There are two ways for a team to win the Fortnite Champion Series in Chapter 3 Season 3:
The first team to get three Victory Royales and earn 475 points will be declared the FNCS champion. This is called the Match Point.
If no team is able to acquire a Match Point at the end of 12 Finals matches, the duo with the highest points will win.
Chapter 3 Season 3 FNCS prize pool distribution
The prize pool for the Chapter 3 Season 3 FNCS is a whopping $3 million. However, it will be divided across several regions:
EU: $1,350,000
NAE: $690,000
BR: $240,000
NAW: $240,000
ASIA: $240,000
ME: $120,000
OCE: $120,000
The prize pool is different for each region, primarily because of Fortnite's prominence there. It is evident that the viewership numbers in Europe are much higher than in the Middle East and Oceania.
It is worth noting that fans should be able to unlock some free cosmetics by watching the matches. New FNCS-themed cosmetics also arrive in the Item Shop.
All in all, it is safe to assume that the Fortnite Champion Series for Chapter 3 Season 3 will be more exciting than ever. A ton of new features and weapons have arrived recently, and even map changes have been quite frequent.
Football star Mesut Ozil might turn pro in Fortnite following retirement
Based on his agent's statements, it won't be a surprise if we soon find former Arsenal player Mesut Ozil 'Vibin' as a Fortnite pro.
After having a glorious run in Real Madrid, Arsenal, and Schalke 04, Mesut Ozil joined Fenerbahçe S.K. Reports claim that the footballer might take up esports as a career after retirement.
Mesut Ozil has nothing left to prove in the world of Football. He's won several trophies over the years and is easily one of the best playmakers in the history of the sport. Ozil recently unfollowed Fenerbahce on his social media and seems to be all set for retirement.
The footballer has always been an avid gamer, and his manager claims that Ozil has the potential to become a Fortnite pro.
Mesut Ozil has a long history of playing Fortnite
Ozil's admiration for Fortnite has never been a secret. He's been streaming the game on Twitch for years and it has even been a matter of controversy on several occasions.
Back in 2020, fans of Arsenal accused Fortnite of causing Ozil's back injury. They claimed that playing the battle royale title continuously with a bad posture affected his health.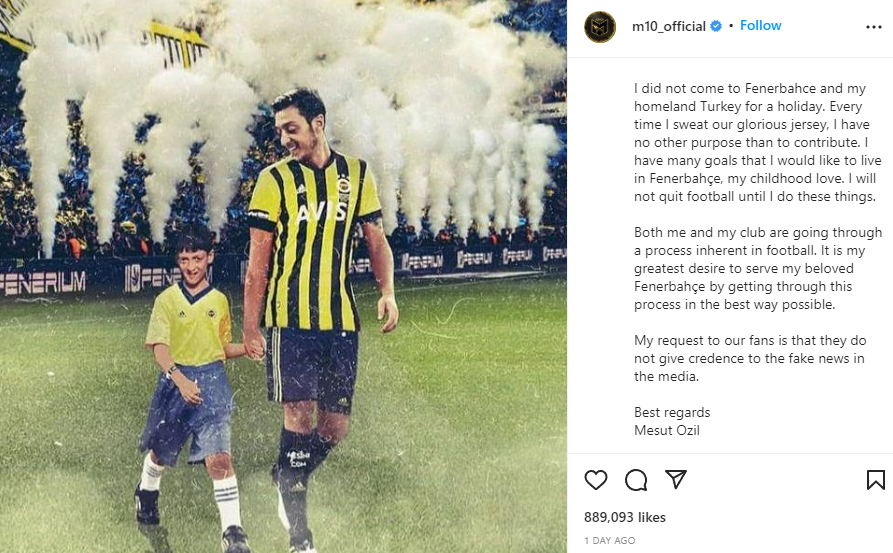 In a recent interview with The Telegraph, Ozil's manager stated:
"He will go more into esports, and maybe become an esports athlete. He's really good at Fortnite, and I think one day I wouldn't be surprised if he is competing"
The former Arsenal midfielder already owns an esports organization that competes in Fortnite and FIFA. He's definitely had success as a streamer, but it is too early to assume if this will be the case with his esports career as well.
Several sports icons like David Beckham, Michael Jordan, Ronaldo, and Shaq have invested in Esports. It is evident that the industry is growing at an unprecedented rate and now is the perfect time to capitalize on it.
How to jump off of a diving board in Fortnite Season 3
A Fortnite Chapter 3 Season 3 Week 3 challenge requires players to jump off of a diving board and here's a quick guide to completing it.
Fortnite players must search for a diving board and jump off of it this week. This will complete one of the latest Week 3 challenges and provide them with 15,000 XP.
Quests and challenges have always been the most reliable source of XP for Fortnite players. The developers release three Daily Quests every day and seven Weekly Quests every week.
Weekly quests for Week 3 of Fortnite Chapter 3 Season 3 have arrived, and here's a guide to completing the one based on jumping off a diving board.
Where to find Diving Boards in Fortnite Chapter 3 Season 3
To complete the Weekly quest, players first need to find one Diving Board. It is located near Rocky Reels and the exact location is marked (blue marker) in the image below:
The diving board is placed on the top of a massive rock in the desert region south of Rocky Reels. It basically gives players a small push and they can dive into the river flowing underneath.
The quest requires you to jump off of a diving board three times, and they don't need to be unique. This means that the challenge can be completed by jumping off of the aforementioned board repeatedly.
How to reach the diving board in Fortnite Season 3
Another thing to note is the accessibility of the diving board. There's no way to reach the top of the massive boulder in Zero Build modes owing to the lack of ziplines. Jumping while sprinting might help but it is better to take on this challenge in modes with building enabled.
Obviously, players can directly land at the diving board near Rocky Reels in Zero Build modes but this will only allow them to jump off of it once.
All in all, completing the weekly challenge will grant players 15,000 XP. Seven new quests have been added this week and there will be an additional bonus for completing them. This implies that the total XP output will be over 200,000 which is equivalent to almost three levels in the Battle Pass.