Ninja vs. Tfue rivalry comes to a head following MrBeast charity event
Tfue and Ninja got into it over the weekend following the MrBeast rock-paper-scissors charity event.
Tfue and Ninja got into it over the weekend following the MrBeast rock-paper-scissors charity event.
It's no secret that Tfue and Ninja have had their differences. The two have a rival that dates back to the pre-Fortnite days.
Ninja and Tfue have been on-again-off-again with their respect for one another. They go through stages of civility – they have even played with one another in the past – and stages of animosity.
The most recent feud began during the MrBeast rock-paper-scissors charity tournament. Ninja and Tfue were set to meet in the second round when Ninja called out Tfue for streaming during the competition.
Tfue snapped back but soon had to eat his words as he leaked his Twitter DMs and, subsequently, MrBeast's phone number. It was clear that Tfue felt bad about the slip-up, but wasn't in the mood for Ninja's criticisms.
"If MrBeast is like, 'Tfue, you're a f**kin' scumbag p***y,' … I'll take it," Tfue told his chat. "I deserve it. I'm a f**king idiot. But, like, Ninja shouldn't be talking s**t because he's a f**king p***y and needs to keep his g*****n mouth shut."
Ninja's wife, Jessica Blevins, took to Twitter to defend her husband. She claimed that Ninja only spoke out because there were rumors that he was responsible for the leak.
"Turner was live streaming that he leaked it and continued to. It was out people [sic]. His whole chat was spamming 'let's blame ninja' so yeah, we took control before those rumors popped off," Blevins wrote.
Blevins even went so far as to claim that Tfue is "desperate for money," which is why he streamed the event and continues to pressure Ninja to fight him. She responded to Tfue's brother, Jack Tenney, and referenced Tfue's legal fees from fighting his FaZe Clan contract.
The Ninja vs. Tfue fight seemed to play out in the Joog Squad and Jessica Blevins timeline. Ninja remained relatively silent and Tfue threw some jabs in the way of retweets.
This rivalry seems to be as hot as ever, which is awkward for people in the middle of it. The likes of Cloakzy, TimtheTatMan, and other streamers are friends with both Ninja and Tfue.
Because of the Fortnite connection, the two will likely squash this beef at some point and be civil to one another, although the bad blood may never fully go away.
Fortnite leaked skins & cosmetics from v15.50 update
Epic Games have rolled out their first update in a few weeks, with the arrival of Fortnite patch v15.50, and a number of skins and cosmetics have leaked as a result.
These weekly updates were never missed in times gone by, however Fortnite Chapter 2 has been a lot more inconsistent in that sense. Some weeks there is a huge update with map changes, new crossovers and challenges – while others will just make very minor bug changes.
You can always read about what to expect from the patch here on Fortnite Intel, and alongside those patch notes, let's run through some of the game's unreleased outfits.
On March 2, once the downtime began, a number of leakers started looking into the game's files to see what had changed. To their surprise, with just two weeks left in the season, not much had been tweaked in terms of content.
However, we do have some leaked skins and cosmetics to dig through – courtesy of Lucas7Yoshi and VastBlast.
Fortnite leaked skins and cosmetics from v15.50 update
Bundles
Midas female GoldenTouch bundle
Emotes
So, there you have it! Those are all of the newest unreleased skins in the Fortnite world, some of which may actually roll out following the latest update.
Keep an eye out on the Fortnite Item Shop and you never know, one or two may appear there in the near future.
All Fortnite Season 5 Exotic Weapon locations
Fortnite Season 5 brought Exotic weapons to the game to replace Mythics. Here's where to find all of them.
Fortnite Season 5 introduced Exotic weapons to the game instead of Mythics, giving more players access to them. Here's where you can find them.
There's no shortage of new mechanics in Fortnite Season 5, with the addition of NPCs, quests, and a whole lot more.
Mythics have returned to the game in Season 5 but in a limited capacity. The only classic Mythic items in Fortnite Season 5 include The Mandalorian's Jetpack and sniper rifle, both available from the bounty hunter himself.
The other items in the game are classified as Exotics. There's only one of each Mythic item in each game, but can be multiple Exotic weapons.
You can purchase these Exotic weapons from specific NPCs across the map. Of course, this means you'll need to save up your Gold Bars to afford them.
Twitter user @MikeDulaimi created an easy-to-follow guide on how to locate all of the Exotic weapons in Fortnite. You can purchase them from NPCs in the areas surrounding Hunter's Haven, The Zero Point, Dirty Docks, Craggy Cliffs, and Stealthy Stronghold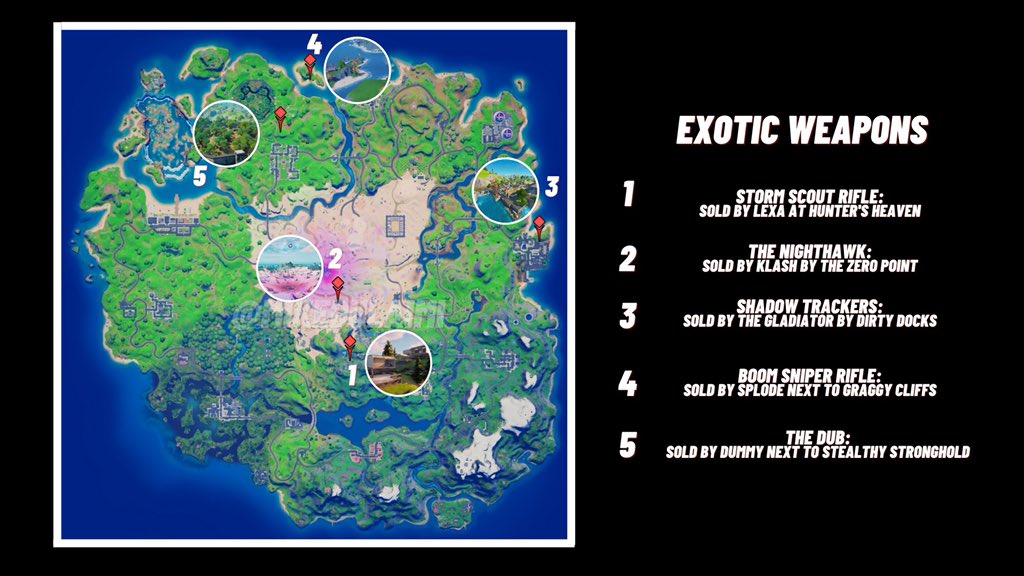 Mythic items were relatively controversial for the past few seasons of Fortnite – especially in competitive modes. Doom's Mystical Bomb and Kit's Shockwave Launcher dominated tournament play for the past two seasons, and the competitive community largely called for them to be removed.
We're curious to see how this community treats Exotic weapons. They're more widely available and aren't as powerful as Mythics, making them more balanced than the latter – that is, until a player eliminates the NPC selling them.
Newly-added Exotics (Update)
February 24 Exotic Shuffle (Update)
On February 24, Epic shuffled some of the original and new Exotic weapon locations, giving them to new NPCs across the Fortnite map. The Storm Scout Sniper, Nighthawk Revolver, and Hop Rock Dualies now have new homes. You can view them on the map, below.
We wouldn't be surprised to see Epic shuffle the locations once again, so we'll update this map and article if we see any more changes.
Image Credit: Epic Games, Fortnite.GG
All love potion locations for Fortnite Season 5 Week 11 challenges
Here are all locations of Grimbles' love potion from Fort Crumpet, Coral Cove, or Stealthy Stronghold for the Fortnite Season 5 challenges.
One Fortnite Season 5 Week 11 challenge requires players to collect Grimbles' love potion from Fort Crumpet, Coral Cove, or Stealthy Stronghold. Here's where you need to go.
This week's Fortnite challenges are a lot more difficult than ones we've seen in the recent past. We have to search several specific locations to help Fishstick find love and, more importantly, earn some XP.
Here are all of the Grimbles love potion locations in Fort Crumpet, Coral Cove, and Stealthy Stronghold. You only need to find one, so this guide should help.
Grimble's love potion locations
You can find one love potion in each Coral Cove, Stealthy Stronghold, and Fort Crumpet.
The first, in Fort Crumpet, can be found on the bottom floor of the fort in a roped-off room. The Coral Cove potion is located behind the main building of the unnamed POI.
In Stealthy Stronghold, the potion is located in the middle of the POI, next to a chest in one of the ruins. Here's a map that should help you out.
Deliver the love potion to Slurpy Swamp or Shanty Town
Once you find the love potion, you need to deliver it to Slurpy Swamp or Shanty Town. The easiest place to visit is Slurpy Swamp.
Here, you'll find the location in that boxed-room that houses slurp barrels and a Teddy bear sitting on a chair. Frequent visitors of Slurpy Swamp should know the location all too well. All you need to do is interact with the love potion and receive your XP.
This is a difficult week of challenges for Fortnite players, but the XP is well worth the grind. You can take a look at the rest of the Fortnite Season 5 Week 11 challenges here.
Image Credit: Epic Games, HarryNinetyFour