Ninja calls out Twitch for promoting porn on his old channel
The debate between Ninja and Twitch got a whole lot more interesting this weekend when a porn stream was being recommended on Ninja's channel.
Ever since the star streamer left to go over to Mixer, Twitch has replaced his channel with a new landing page. Instead of just having the channel go blank like they have done when other streamers left, they decided to promote other big streamers on his page instead.
It's a fairly logical move for Twitch. They had a page with a ton of traffic that wasn't doing anything for them, so they edited it. It all would have been fine too, except Twitch has a porn problem and now it is being played out on the biggest stage.
For no reason other than that they can, some streamers air hardcore pornography on channels. While this obviously violates Twitch's TOS, the company takes a long time to actually bring the broadcast down.
So when a porn stream in the Fortnite category was able to climb up to over 14,000 viewers, it became a "popular Fortnite channel" and was vaulted up Twitch.
Thanks to how Ninja's channel is set up, that meant it was the first recommendation for a channel to visit if you went to Ninja's page.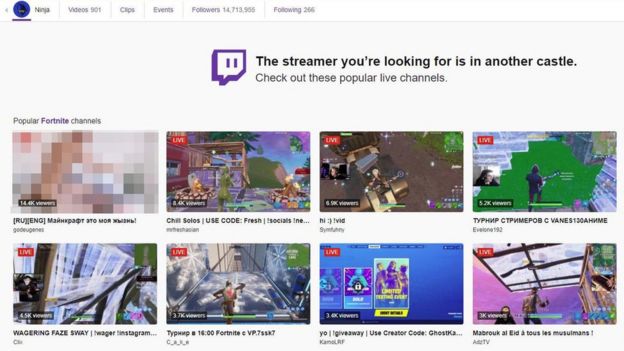 One of Ninja's main focuses throughout the Fortnite age was turning his stream into a family-friendly affair. The Fortnite audience comprises people of all ages and he wanted to make sure he was being appropriate for his entire audience.
That dedication has helped his brand immensely. The commercials with Samsung Galaxy and the NFL would be tough to pull off if they thought Ninja's image wasn't stellar.
So naturally Ninja was pissed. Twitch had already made special considerations for his page trying to keep people on Twitch instead of moving to his Mixer channel, and now they were showing graphic content just inches from his name on a channel it looks like he controls.
His response was quick:
Twitch CEO Emmett Shear tweeted out an apology to Ninja and said they have banned the account that aired the porn.
He got absolutely eviscerated in the replies. These issues for Twitch are not new and come as part of a long stream of bad press for the site. From Alinity escaping a ban to other porn channels popping up, Twitch has had plenty of issues.
These porn broadcasts are not new and banning this account will not stop them, in fact the public nature of this scandal just guarantees that more people will start streaming porn. Having one of the most popular streamers in the world leave your site, then create a unique landing page that delivers porn to viewers is the worst possible situation for Twitch.
It will be interesting to see what happens next on the platform. Odds are, it won't be good.
How to get TheGrefg skin in Fortnite
Spanish Fortnite streamer and YouTuber, TheGrefg, will finally receive a Fortnite Icon Series skin after over a year of waiting.
After over a year of anticipation, Spanish YouTuber and streamer, TheGrefg, will finally be getting his own skin in Fortnite.
Update 1/11: The skin will be available when the Fortnite Item Shop updates on January 16.
Original article: It's been a long time coming for the most popular Spanish Fortnite player on the internet, David 'TheGrefg' Martinez Canovas. He was included in the first announcement of the Fortnite Icon Series, only to be surpassed by several other content creators and celebrities.
Ninja, Loserfruit, Travis Scott, and Lachlan all received Fortnite skins before TheGrefg, with other creators like Pokimane and Jordan Fisher receiving emotes.
Now, after over a year of waiting, TheGrefg will be showcasing his upcoming Fortnite skin on Monday, January 11 at 20:00 CEST.
As is the case with most Fortnite Icon Series skins, TheGrefg and his fellow creators will have access to the skin a day or two before it hits the Item Shop. You can watch his Twitch stream for an early glimpse at the skin.
We'll update this post when we get an official model for the skin. For now, all we have is the teaser image that he provided on Twitter.
As for when TheGrefg's skin will be available, we'd guess that it will come to the shop on January 12-14. Fans of the streamer should keep their eyes peeled for more news.
SypherPK theorizes that Kevin the Cube will return in Fortnite Season 5
SypherPK has revealed his theory about when, where, and why Kevin the Cube will return before the end of Fortnite Season 5.
Fortnite Season 5 is nearly half over, with fans speculating on how the current season will play out. Streamer Ali 'SypherPK' Hassan thinks that Kevin the Cube will return before the season ends.
The Fortnite plotline is one of the most confusing, convoluted, and interesting plots in all of gaming. Unlike most other games that spell-out the story for you, Fortnite forces players to connect dots, pay attention to small clues, and create theories as to what the overall Fortnite plot includes.
We've seen so many red herrings, dead ends, and unanswered questions over the years that Fortnite has developed its story. At this point, it seems likely that Epic will never give us a concrete conclusion as to what all of this means, as each season seems to create more questions than it answeres.
One thing seems to be clear, however. The Chapter 1 and Chapter 2 seasons are connected. We had standard Season 1'a without many changes, some similar themes during Seasons 2 and 3, then the superhero skins of Season 4.
We're now in Chapter 2 Season 5. Longtime Fortnite players will remember the Chapter 1 Season 5 theme of "Worlds Collide." The same thing is happening this season, with Bounty Hunters and locations from the old map appearing in the exact same locations on the new one.
Most attentive Fortnite fans already know about this, but YouTuber and streamer SypherPK took the theory a step further. In a recent video, Sypher suggested that all of this is leading up to Kevin's return later in the season.
Kevin the Cube first appeared in Fortnite in Chapter 1 Season 5. We've already had a ton of teasers that point to Kevin's eventual return, from in-game hints to direct tweets from Creative Director, Donald Mustard.
Sypher touched on all of these points in his video, including a piece of information we hadn't heard before, regarding the massive bunker in the southeast section of the Chapter 2 map.
"Here is the catch," Sypher said when describing what ties all of this together. "If you overlay the Redacted Bunker on this map and compare it to where it was on the old map … Kevin the Cube spawned on the old map exactly where the Redacted Bunker is on the new map."
This all led to Sypher's conclusion: that Kevin will return to Fortnite by the end of Season 5 or "at the very least, at the beginning of next season."
This theory holds up better than a lot of others we've seen, and most Fortnite theorists agree that we haven't seen the last of Kevin.
With the midway point of Chapter 2 Season 5 approaching, we'll be keeping our eyes peeled for any movement around that bunker, along with Kevin's potential escape.
SypherPK gives his opinion on how to fix the Fortnite shotgun meta
Ali 'SypherPK' Hassan gave his thoughts on how Fortnite can fix the shotgun meta. Surprisingly, it doesn't involve unvaulting the Pump.
Fortnite streamer Al 'SypherPK' Hassan has an idea of how Epic can properly balance shotguns in Fortnite. Spoiler alert: it doesn't have anything to do with the Pump.
Fortnite Season 5 is truly a return to form for the game. Season 4 brought a ton of "old Fortnite" vibes back, and Season 5 brought entirely new mechanics to add to the foundation.
Of course, these massive changes meant that some fan-favorite items and mechanics had to go. The two most game-altering changes were the removal of Pumps and Upgrade Stations.
Most hardcore Fortnite players miss the Pump, but the removal of Upgrade Benches might be more significant. Now, instead of visiting any POI and trading materials for a better weapon, you need to visit specific locations and make sure you have enough Gold with you.
In Arena Mode, upgrading a weapon to Epic or Legendary is nearly impossible. You start each match with 0 Gold Bars, so farming enough gold and visiting one of the few NPCs that offer upgrades is more difficult than randomly finding a better option.
Streamer and YouTuber SypherPK touched on this issue in one of his recent videos. The title and thumbnail focused on the Pump, but Sypher's major suggestion related to weapon upgrades more than anything.
Sypher noted the discrepancy between the Green and Purple Tac, along with the extremely niche opportunities to upgrade your weapon. His solution was simple: "I think every single NPC should give you the option to upgrade your weapons."
The low availability of weapon upgrades affects the shotgun meta more than anything else. A Scar is nice to have, but an Uncommon AR will do just fine. The same is true of SMGs.
Shotguns have always been the backbone of Fortnite combat, however, and the lack of upgrades adds a huge amount of randomness to a given Fortnite match.
If Epic decide to extend the NPC system past Season 5, they need to strongly consider Sypher's suggestion of allowing all NPCs to upgrade weapons. Will they make this change or reenable Upgrade Benches? Only time will tell.