Ninja calls out Twitch for promoting porn on his old channel
The debate between Ninja and Twitch got a whole lot more interesting this weekend when a porn stream was being recommended on Ninja's channel.
Ever since the star streamer left to go over to Mixer, Twitch has replaced his channel with a new landing page. Instead of just having the channel go blank like they have done when other streamers left, they decided to promote other big streamers on his page instead.
It's a fairly logical move for Twitch. They had a page with a ton of traffic that wasn't doing anything for them, so they edited it. It all would have been fine too, except Twitch has a porn problem and now it is being played out on the biggest stage.
For no reason other than that they can, some streamers air hardcore pornography on channels. While this obviously violates Twitch's TOS, the company takes a long time to actually bring the broadcast down.
So when a porn stream in the Fortnite category was able to climb up to over 14,000 viewers, it became a "popular Fortnite channel" and was vaulted up Twitch.
Thanks to how Ninja's channel is set up, that meant it was the first recommendation for a channel to visit if you went to Ninja's page.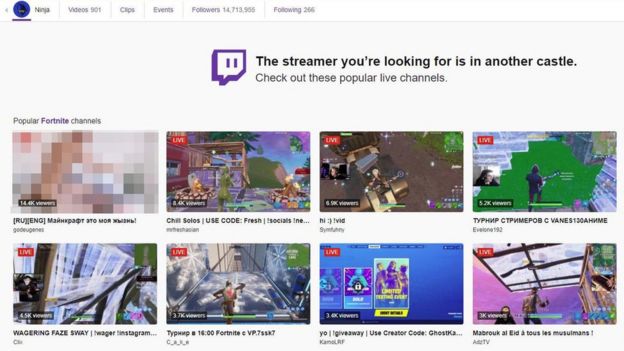 One of Ninja's main focuses throughout the Fortnite age was turning his stream into a family-friendly affair. The Fortnite audience comprises people of all ages and he wanted to make sure he was being appropriate for his entire audience.
That dedication has helped his brand immensely. The commercials with Samsung Galaxy and the NFL would be tough to pull off if they thought Ninja's image wasn't stellar.
So naturally Ninja was pissed. Twitch had already made special considerations for his page trying to keep people on Twitch instead of moving to his Mixer channel, and now they were showing graphic content just inches from his name on a channel it looks like he controls.
His response was quick:
Twitch CEO Emmett Shear tweeted out an apology to Ninja and said they have banned the account that aired the porn.
He got absolutely eviscerated in the replies. These issues for Twitch are not new and come as part of a long stream of bad press for the site. From Alinity escaping a ban to other porn channels popping up, Twitch has had plenty of issues.
These porn broadcasts are not new and banning this account will not stop them, in fact the public nature of this scandal just guarantees that more people will start streaming porn. Having one of the most popular streamers in the world leave your site, then create a unique landing page that delivers porn to viewers is the worst possible situation for Twitch.
It will be interesting to see what happens next on the platform. Odds are, it won't be good.
SypherPK gives his wish list for Fortnite Season 4
Ali 'SypherPK' Hassan is asking for Traps, action, variety, and more in Fortnite Season 4.
Ali 'SypherPK' Hassan is one of the most respected Fortnite creators on Twitch and YouTube. He's one of the only big streamers to stick with the game after the mass exit of people like DrLupo, TimtheTatMan, NickMercs, and even Ninja. He's been around the game since day one and his opinion carries a lot of weight.
On July 31, Sypher released a video entitled "What Epic NEEDS to do in Fortnite Season 4." In the video, he lists his wishes for the next Fortnite season, along with some suggestions on how to make his ideal Fortnite experience a reality. Here's a brief summary of what Sypher wants to see in Season 4:
More variety in items/weapons/shields – specifically in pubs
More action in the mid-game (player count increase LTM)
Reworking of Mythic POIs
Continue the LTM testing
Add an improved version of the Traps
Most of us can get behind the first two suggestions on Sypher's list – right off the bat. So many players loved the Unvaulted LTM when that came into the game. Hopefully, the numbers from this mode showed Epic that the player base wants to get back to those fun, interesting weapons from Chapter 1.
Likewise, the pacing of Chapter 2 needs some tweaking. Somehow, Epic need to find a way to prevent the mid-game lull that is so prevalent in most Fortnite matches – whether that includes raising the player count or not.
The LTM rotation has been great since the Season 3 Summer event – and Sypher wants more of that in Season 4. It could be an easy way to test new mechanics and keep the player base happy. The suggestion involving Mythic POIs could be a good one – but we doubt that it will come to fruition.
Epic seem pot-committed to the current Mythic POI system – which seems to have as much to do with the story as it does with the gameplay. Of course, we'll have to wait and see what they do.
Predictably, Sypher finished his list by requesting that Epic add traps back to Fortnite. Since the removal of Traps in Season 3, players have been fearlessly rushing any opponent they see.
It's getting a bit too aggressive, and 100-damage traps with Sypher's small tweak would be a perfect way to balance offense and defense. We don't know how difficult it would be to disable enemy traps once a player is eliminated, but it would be the perfect way to fix the most annoying part of the defensive item.
As of now, Fortnite Season 4 is set to release at the end of August – barring any delays. What are your wishes for Fortnite Season 4? Let us know on Twitter @FortniteINTEL.
SypherPK's brother's Twitch ban is a cautionary tale for young streamers
SypherPK's younger brother, JuniorPK, was banned on Twitch. His experience should serve as a cautionary tale to all young streamers on the platform.
Fans of the popular Fortnite streamer and YouTuber SypherPK are no stranger to his younger brother, JuniorPK. Sypher has featured Junior in several of his videos, challenges, and streams – helping the latter grow substantially on both Twitch and YouTube.
With the help of his older brother, Junior was able to cultivate his own following and amass 60,000 followers on Twitch. On July 26, JuniorPK uploaded a video to YouTube entitled "I Got Permanently Banned…" In the video, the streamer discusses why his Twitch channel got deleted out of the blue.
According to Twitch Terms of Service (TOS), anyone with an account must be at least 13 years old. When Junior applied for partnership and gave Twitch his documentation, they saw that the streamer created his account when he was 12 – meaning that it violated the Twitch TOS. The platform had no choice but to delete his entire channel – 60,000 followers and all.
This is incredibly unfortunate for Junior, but it could have been a lot worse. Yes, he's facing a substantial setback in his streaming career, but he still has an older brother with millions of followers and two massive platforms in Twitch and YouTube. Sypher even released a video, telling his fans about the situation and linking his brother's new Twitch channel: Twitch.tv/juniorPK123.
The banning should serve as a cautionary tale to all young, aspiring streamers out there. If you were using your current Twitch account before you turned 13, then you could face the same situation if your hard work pays off and you are able to apply for partnership. You too could have your entire channel deleted – and you probably don't have a brother with the amount of clout that SypherPK has.
Junior will bounce back from this. For him, it's likely a minor setback for a major comeback. According to Sypher, both of them are working with Twitch so that Junior can get his old username back.
For most young streamers, however, something like this would be devastating. It should serve as a warning to every 14 or 15-year-old who wants to get into streaming on Twitch. Make sure you check that account creation date before you get too invested in your channel.
SypherPK explains why he's no longer streaming Fortnite
Ali 'SypherPK' Hassan has announced that he is stepping away from Fortnite for the time being, instead focusing on Warzone, leaving very few top streamers still dedicated to the game.
SypherPK was one of the few remaining 'big streamers' to continue streaming Fortnite regularly in a post-Warzone 2020, with many of his counterparts like NICKMERCS, TimTheTatman, Symfuhny, CouRage, Myth, and Cloakzy all moving to Call of Duty's battle royale primarily.
Sypher had partly benefited from the reduced competition on Fortnite, especially on YouTube where the game is still booming. Twitch viewership for Fortnite is still steady, but certainly not as explosive as it has been in the past two years.
The streamer and YouTuber has spoken frequently about the problems that have led to Fortnite's decline among content creators. Chiefly, the introduction of 'skill-based matchmaking' (SBMM) made it harder for good players to have more casual matches.
That left top streamers struggling to get good gameplay on a consistent basis for videos and stream content, as every game would match them with equally skilled opponents.
However, Sypher still plans to record videos for Fortnite daily, as the game is still immensely popular on YouTube, even if Twitch has declined for it somewhat.
Another reason that has likely contributed to Sypher's decision is that many of his streaming buddies are constantly on Warzone, leaving him to play Fortnite on his own if he chose to.
He has also spoken in the past about the challenge of balancing his YouTube content with his stream content, so perhaps this transition to strictly Warzone on stream will ease these pressures.
With the delay to cars coming to Fortnite, Sypher expects new content in the game to be "minimal", and so it's the perfect time to make the switch.