New voice lines hint at Fortnite Season 5 season-ending event
The most recent Fortnite Season 5 update added new voice lines to the game, suggesting the Zero Point will have a role in the Season 5 event.
The Fortnite v15.40 update released some new and leaked NPC voice lines that hint towards a massive season-ending event to close Season 5.
Fortnite Season 4 was a standalone season, in many ways. Instead of focusing on the overarching Fortnite plot, it was a deviation while the Marvel heroes dealt with Galactus.
In Season 5, things picked back up again. We may have gotten more information in Chapter 2 Season 5 than we've had for the entirety of Fortnite's lifespan. We're at the point where we even think we've cracked the case of the Fortnite story.
In v15.40, Epic added some new NPC voice lines to the game that point to what many of us assumed: Season 5 will have a season-ending event that will relate to the Zero Point. Here's what we learned after the most recent update.
New & leaked Fortnite voice lines
Several Fortnite characters have had their voice lines either updated or leaked. Lexa now has a specific voice line attached to her brother, Orin, which isn't huge news in any way.
Some of the other leaked lines seem to relate to one of the skins that have yet to be released. Both Kondor and Ragnarok have a specific reaction to a particular skin, but that skin isn't here yet.
The most interesting voice lines come from characters that are already in the game. Mancake, Deadfire, and Bunker Jonesy all have new voice lines when you approach them. The former two are located near the Zero Point and the latter has been the catalyst of many Season 5 theories.
Hypex, who released all of these voice lines, didn't go into much detail about what these could mean for the future of Fortnite. If we had to guess, we'd say that they're preparing us for a season-ending event.
The characters around the Zero Point are taking notice of some changes. At this point, we'd be surprised if the Zero Point didn't destabilize and take us to another dimension – possibly the in-between from the Butterfly Event.
Only time will tell, but the end of Fortnite Season 5 is now a month away. Epic may be preparing us for something big
Image Credit: Epic Games
Fortnite Winter Trials event & rewards leaked
Epic Games quickly added and removed a webpage that revealed a new Fortnite event: Winter Trials. Here's everything we know so far.
Epic Games released a new website, announcing the Fortnite Winter Trials. They have since removed the site, leading fans to believe it was leaked early.
Most of the time, when we're discussing Fortnite leaks, we're talking about data miners finding files in the game that relate to certain events, skins, etc. In rare cases, Epic let something slip a bit early. That's what we have here.
On January 25, Epic released the Fortnite Winter Trials webpage, showcasing free rewards, an influencer tournament, community voting on events, and more.
The website was quickly removed after it was added, but data miner Hypex was able to record some of the contents before it went down.
The details of the event are still limited, but it appears as though players will be earning badges for logging in, voting for challenges, and playing Fortnite.
Over the course of the rest of the season, your playtime and badges will reward you with free cosmetics. Most of them are hidden, but we know about a spray, emoticon, and weapon wrap from the images on the website.
We should see an official announcement of the event soon. Since Epic were the ones who jumped the gun, we expect to see them announce the event as soon as tomorrow – if not later tonight.
We'll update this post when we learn more about the event, along with additional details on how to earn free cosmetics. Stay tuned.
Fortnite Winterfest 2020: dates, leaks & more
Fortnite Winterfest 2020 is expected to come soon. Here's everything we know about the event including dates, leaks, and more.
Fortnite Winterfest 2020 is right around the corner. Here's everything we know.
Epic Games have always celebrated the holiday season in Fortnite, bringing players content updates, challenges, and cosmetic rewards. We don't expect 2020 to be any different, as we prepare ourselves to unlock all of these new holiday-themed additions.
Ahead, we'll give you a glimpse of everything we know about Winterfest 2020 so far. Check back later for updates, as we'll be keeping this article up to date with all of the latest Winterfest leaks, rumors, and more.
When does Fortnite Winterfest 2020 start?
We don't have an exact date of when Winterfest 2020 will begin, but we do have some clues based on past seasonal content.
The original Fortnite Christmas event lasted from December 20 to January 2. Last year, Winterfest ran from December 18 to January 6. We expect something similar to the latter this year.
With updates traditionally coming on Tuesday or Thursday, we expect Winterfest 2020 to begin on December 15-17 and run until January 5-7.
Fortnite Winterfest leaks & rumors
We've already seen a ton of leaks and rumors regarding Winterfest 2020 – dating back to before Season 5 even began.
Back in October, Fortnite data miner Hypex provided some leaks of future content that may come in Season 5. One of those elements was a "Snowman NPC."
At the time, no one knew what this meant. Now, after playing Season 5, it's fair to assume that a new snowman NPC will come to Fortnite, spawn somewhere holiday-related, and offer quests, bounties, and upgrades.
ShiinaBR, another Fortnite data miner, leaked an image of an upcoming Fortnite skin that, reportedly, doesn't come with an Item Shop tag. He took this to mean that Snowmando – as the skin is named – could be a free skin for 14 Days of Fortnite like we saw last season.
Whether or not this is the case, it stands to reason that Snowmando will be the rumored Snowman NPC that will come to Fortnite this Winterfest season.
Epic Games have been focused on the Flopper loot pool in recent seasons, so it makes sense that they'll be giving this a change for Winterfest, as well.
According to LunakisLeaks, We'll be getting a "Christmas Flopper" this Winterfest season. As to what it will do: your guess is as good as ours.
Along with these leaks, we have rumors of returning items like Presents, Ice Machines, Snowball Launchers, and more.
Hopefully, Epic give us some free cosmetics as they did with the last season. The Star Wars Sith back bling is still one of the most popular cosmetic items in the game – a year later.
We'll keep you posted with everything we learn ahead of the 2020 Winterfest patch. Make sure to follow us on Twitter, so you never miss anything, @FortniteINTEL.
'Devourer of Worlds' event recap: rerun, reactions, clips & more
Galactus made his mark on the Fortnite map. Here's a replay of the event, some streamer reactions to what happened, and more.
Galactus tried to devour the Zero Point in the most recent Fortnite event. Here's everything you need to know to relive or catch up on what happened.
After all of that hype, it looks like Tony Stark was prepared for Galactus with his fleet of Battle Buses and some high-powered explosives. The 'Devourer of Worlds' event wasn't as heavy in the plot implications department as we expected, but it made up for it with stunning visuals and immersion.
If you missed the event – or want to relive what happened – we have you covered with a full replay, streamer reactions, and some community screenshots from before things kicked off.
How to watch the Galactus event
There's no shortage of YouTubers and Twitch streamers covering the Devourer of Worlds event. Several creators have already uploaded videos of their perspective. You can also go back and look at the VoDs of streamers who watched the event live.
Here's our perspective of the event, recorded without any voice communications. You can full-screen it for an immersive experience if you don't already know what happens. It was a wild one.
Streamer Reactions
Obviously, the wider Fortnite community tuned in for a glimpse of the new event. They didn't have much of an option, as it was the only playable game mode up to an hour before it began.
We saw some returning players tune into the event as well. NickMercs, CourageJD, and TimTheTatMan joined SypherPK to see what would happen when the event kicked off.
Due to recent copyright problems with Twitch, a lot of streamers disabled clips for the event. Here are some of our favorite reactions from streamers who allow viewers to clip their stream.
Community Pregame Lobbies
Our pregame lobby was relatively tame, all things considered. Most of the players were scattered around the island, but the largest percentage was at the top of the middle tower – we're sure it was the same for a lot of you guys.
We asked our Twitter followers to show us how their lobbies looked. Here are some of our favorite screenshots.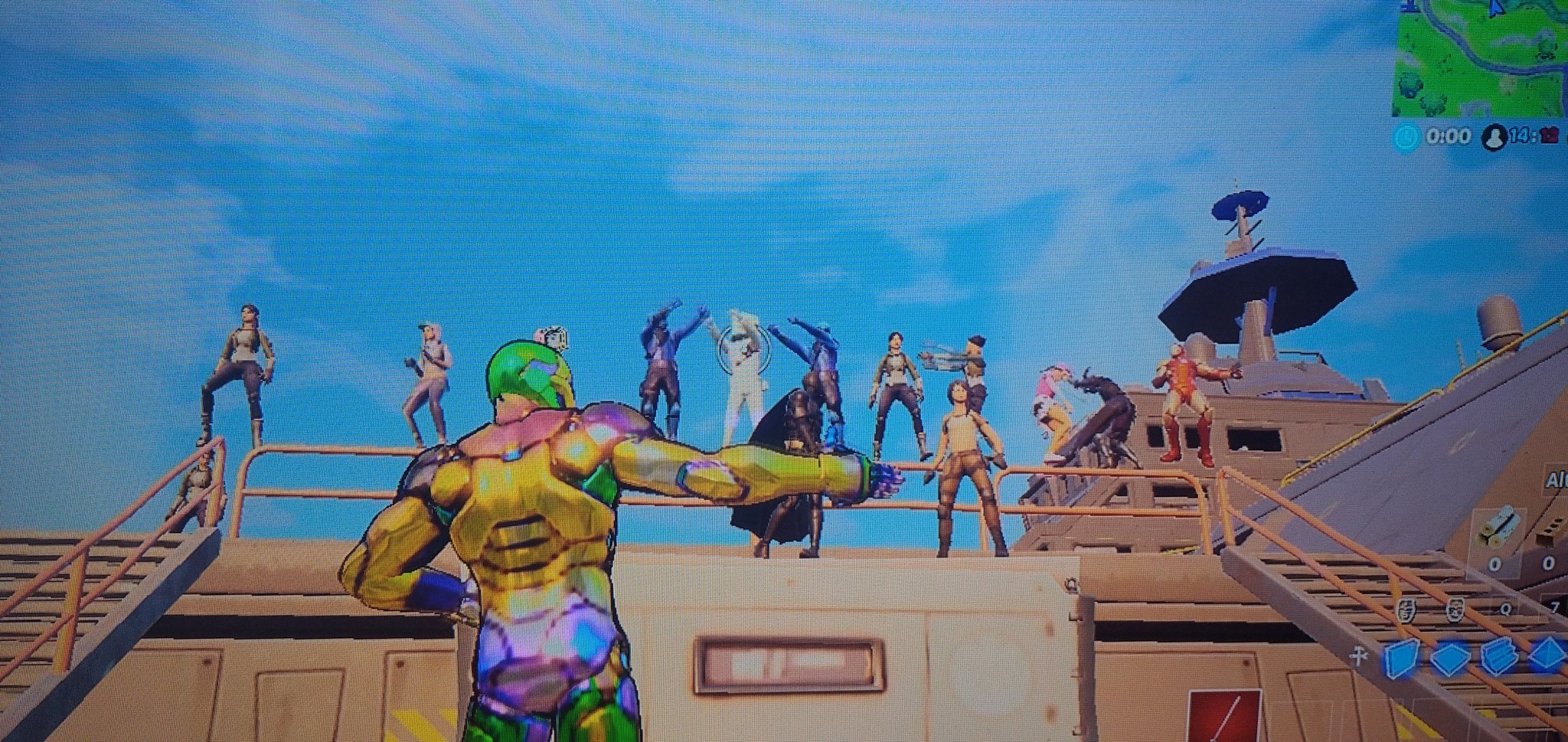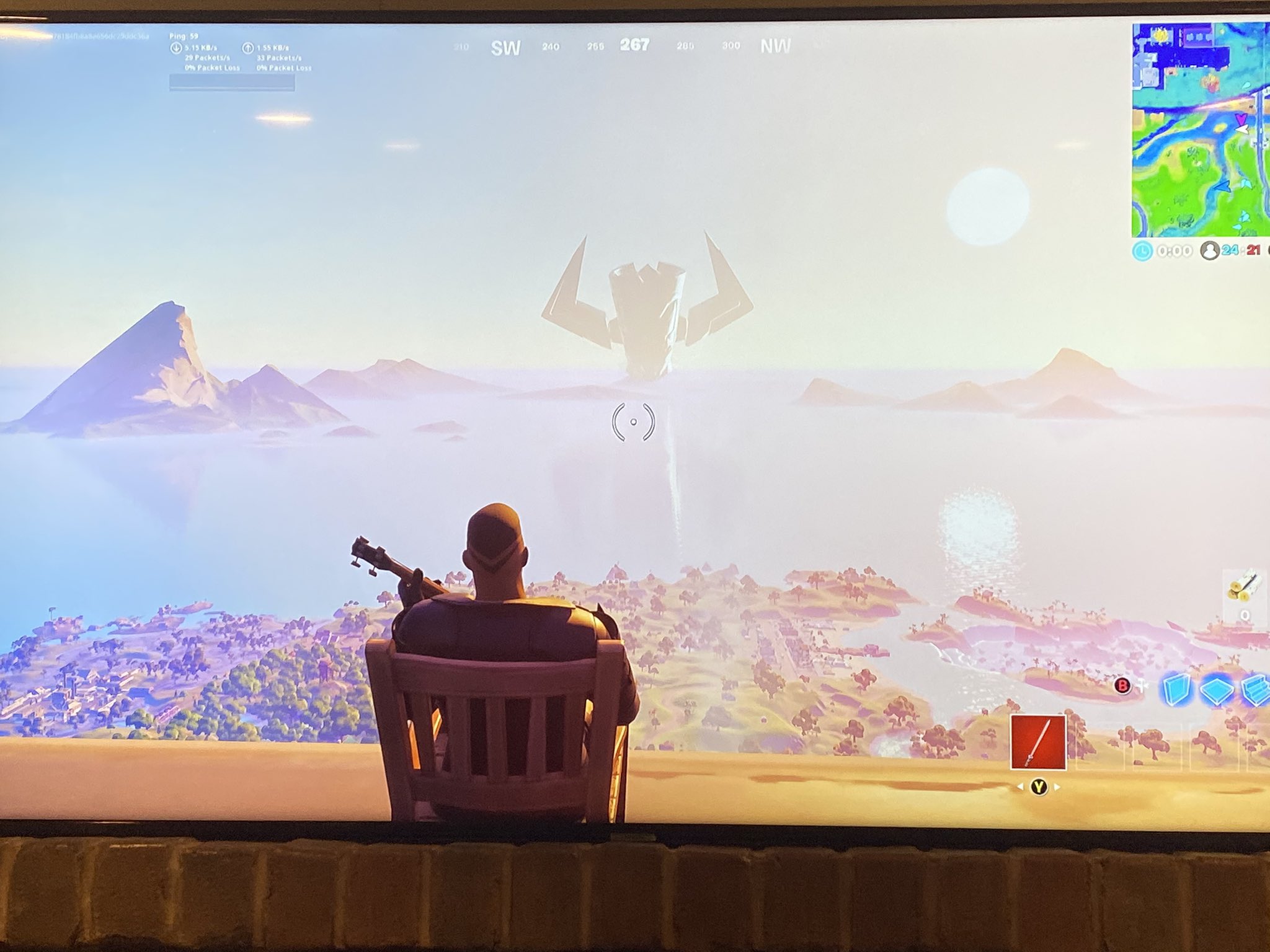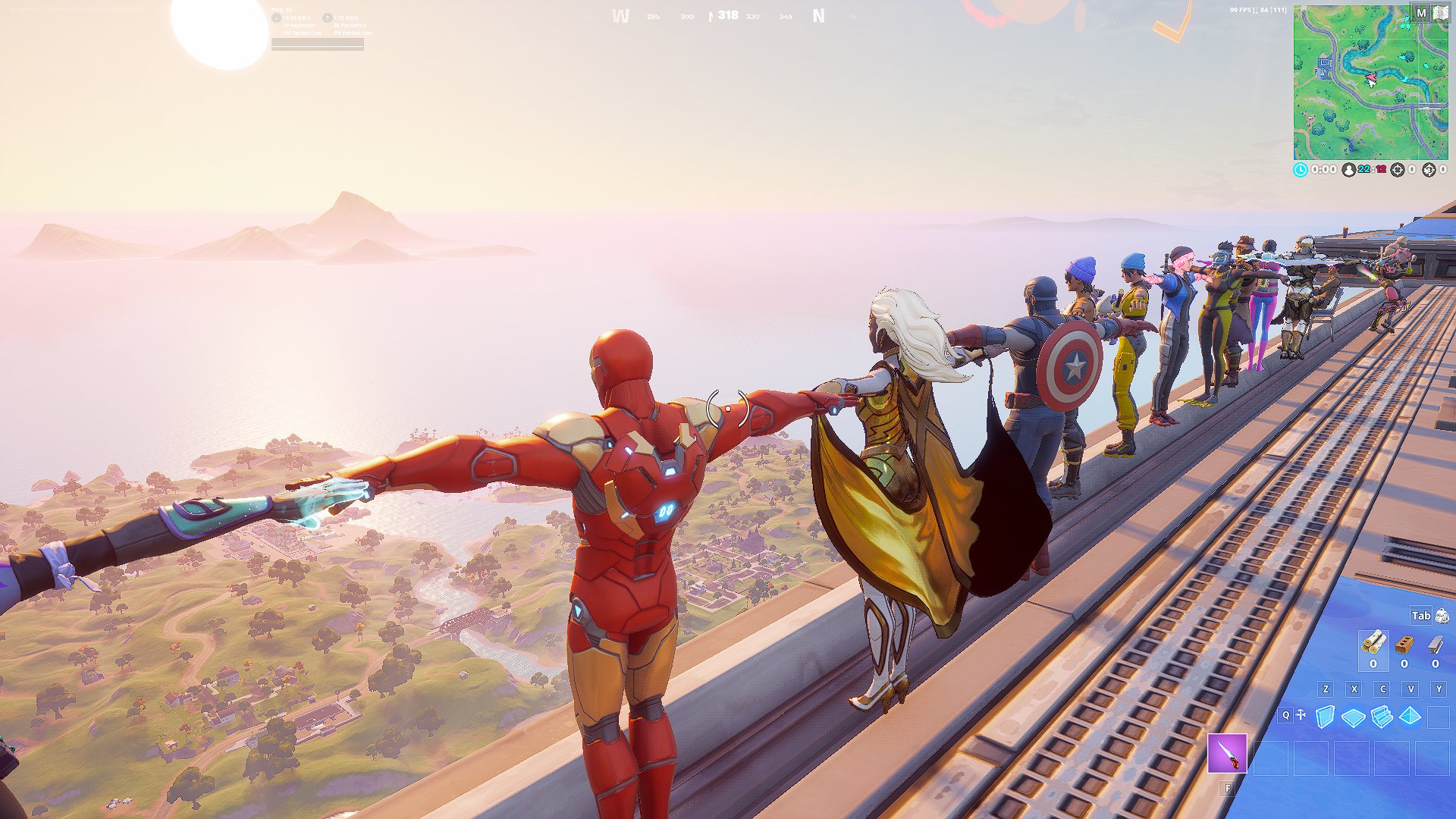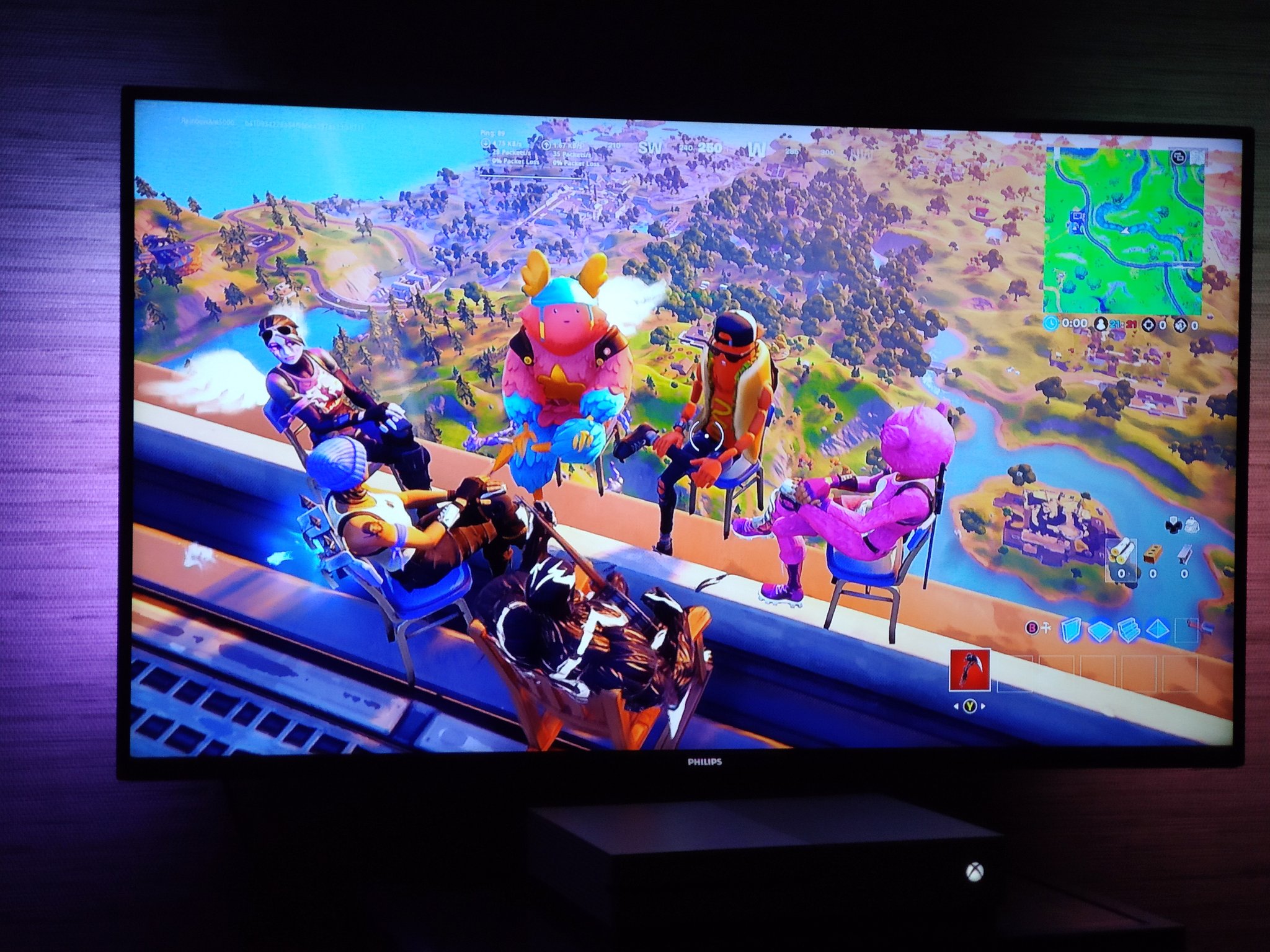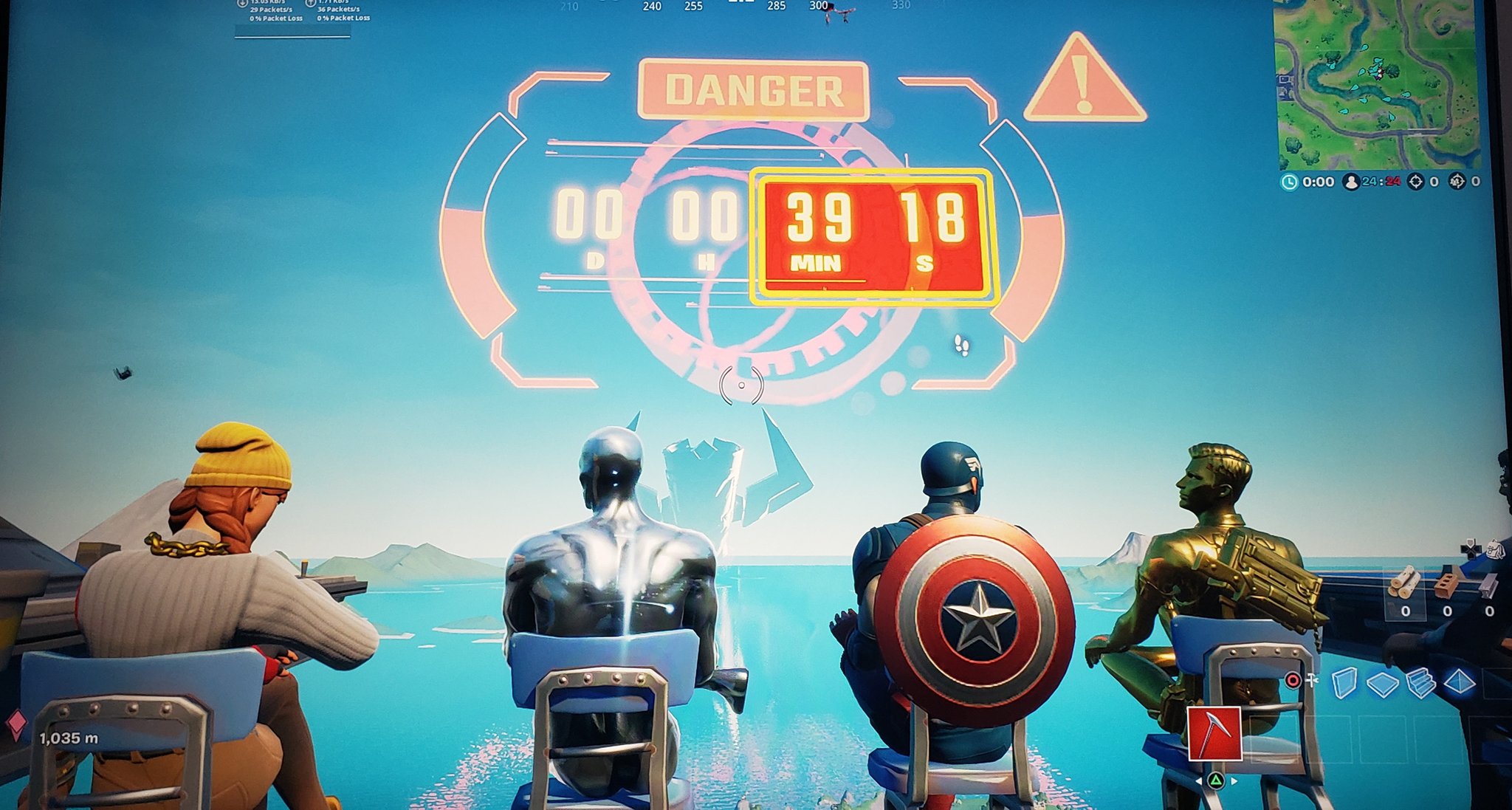 Now, all that's left is to wait until midnight and see what the new season brings us. Make sure to follow us on Twitter, @ForntiteINTEL, so you're the first to know everything about Fortnite Season 5.