New POIs enter Fortnite as the Season 4 map rapidly develops
New locations are popping up left and right in Fortnite Season 4. Which one will be next?
Fortnite Season 4 isn't even a week old and the map is already beginning to take shape. When Season 4 first released, we saw a long list of leaked POIs come with it. Based on the previous seasons, we expected the map to slowly develop over the course of several months. A few days later, however, we already have three of the leaked POIs in the game.
The first one to enter Fortnite was the most innocuous: The Trask Transport Truck. We're not sure which character this relates to – outside of Bolivar Trask, a supervillain popular in the X-Men storylines. Bolivar Trask is, largely, a normal person, however. Is there another mutant inside of this truck?
Either way, you can find this small area outside of the lighthouse in the northwestern corner of the map. Its presence helps fill-out the relatively vacant area and adds some mobility through the rifts.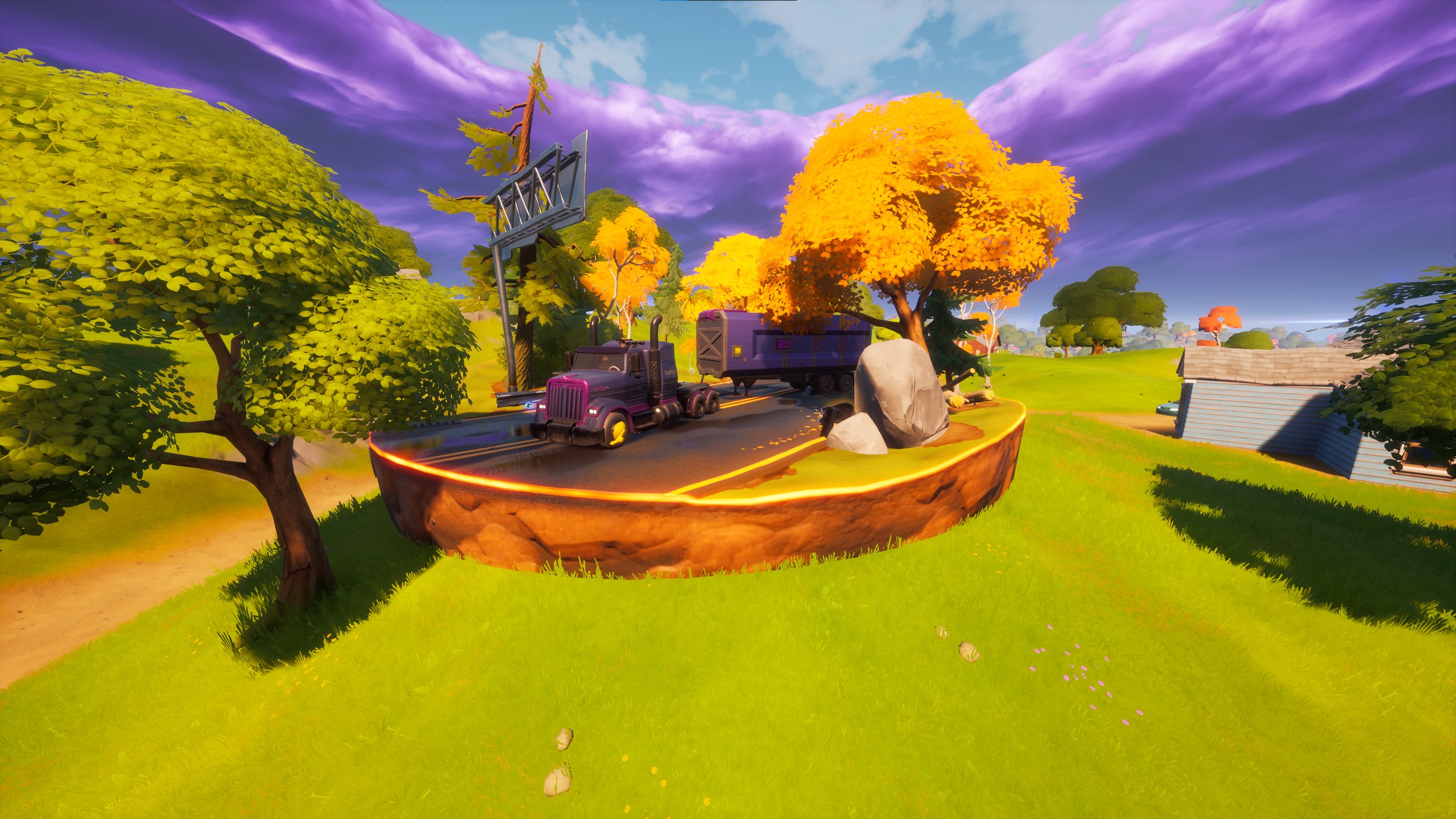 Next up, we have Ant Manor outside of Holly Hedges. As we predicted, the giant dog house replaced the old Shadow hideout from Seasons 1 and 2.
Like the Trask Transport Truck, Ant Manor is surrounded by rifts. You can find a few Easter Eggs from the Ant-Man universe as well, including literal ant eggs, and a dog bowl for one of Ant-Man's giant pet ants.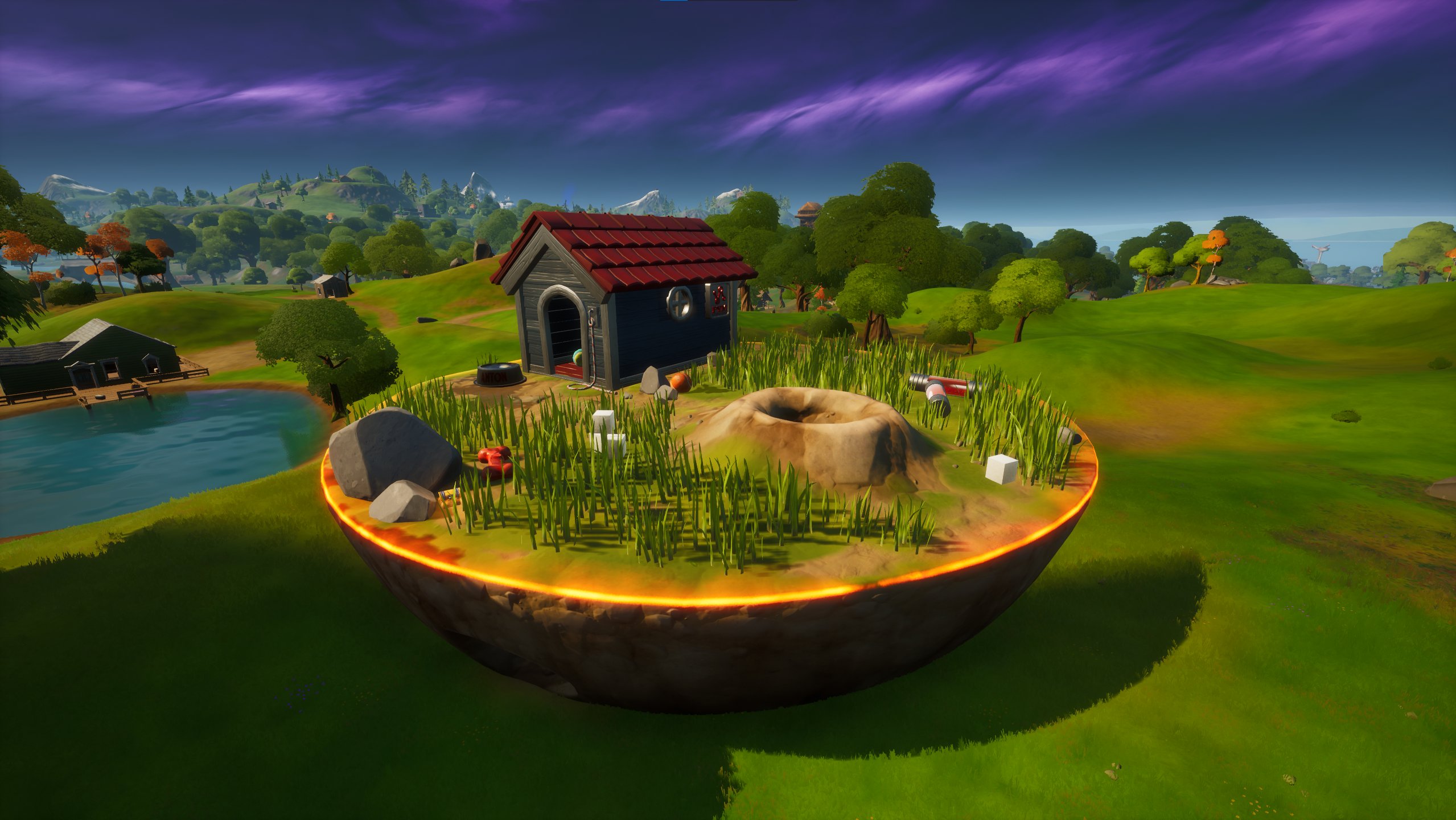 Today, September 1, Epic added yet another POI to the game: Panther's Prowl monument. As reported, this monument is set just outside of Misty Meadows. It's impossible to miss, as it's the biggest landmark that Epic have added this season.
The monument comes at the perfect time, as fans everywhere mourn the loss of Black Panther actor, Chadwick Boseman. Many expect Epic to immortalize Boseman's portrayal of Black Panther through a Fortnite skin.
These aren't the only changes that Epic have made to the map. We also have a progressive POI developing before our eyes. The Stark Tech beacons are activated, creating a shield bubble on the northeast portion of the map.
If you visit one of these beacons, you can see the bubble beginning to take shape. It's already developed quite a bit after activating this past weekend.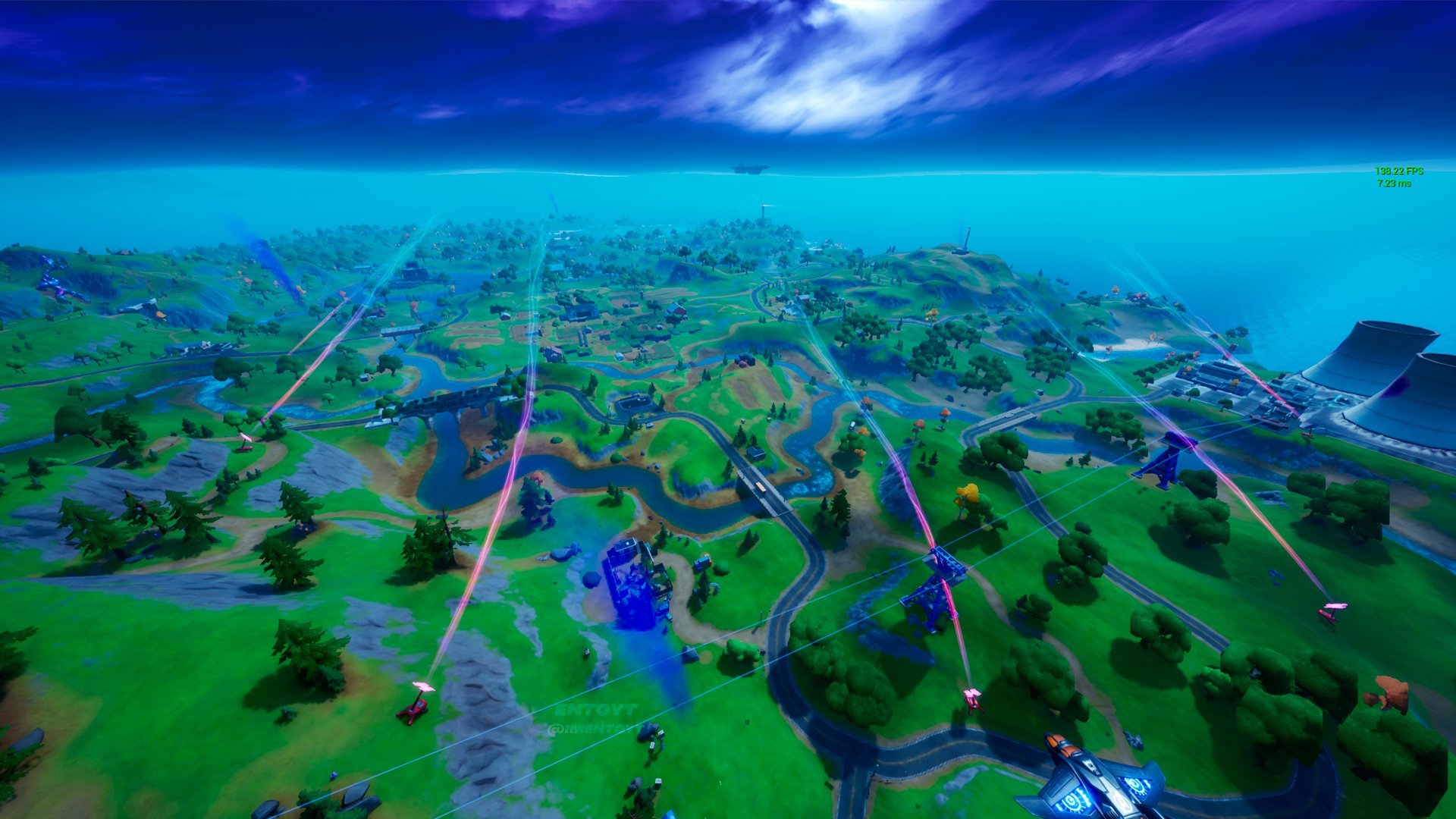 Things are heating up fast in Fortnite Season 4. We're just trying to keep up. Make sure to follow us on Twitter, @FortniteINTEL, so you never miss out on the latest Fortnite news!
Fortnite nerfs the Visualize Sound Effects range in Season 3 update
The most broken feature of Chapter 3 has now finally received a nerf and players couldn't be happier. Here's the latest on that.
After a long wait, Epic finally fixes the most broken feature of Fortnite that sweats were just tired of ever since the beginning of Chapter 3. Visualize Sound Effects was a feature which was recently nerfed in an update where players got to experience it as they jumped into a Battle Royale match.
Fortnite has had a history of broken features and glitches that have been well exploited by the player community over the last few years. From XP Glitch Maps to weapons meta, players have been using these exploits to gain a gameplay advantage that sometimes ends up getting them banned for their actions.
While some actions or exploits get them banned, others are just bugs in the game that is an error from the developer's end that they take it casual enough to fix. One such exploit that was legit in the game was Visualize Sound Effects in sound settings.
When one enables the option, they can see visual cues of chests, gunfire, footsteps, reboot vans or even if someone is healing nearby. This then aids a player in judging the direction where the activity is happening and respond to it.
Ever since Chapter 3, this option was broken as players were able to hear the sound of gunfire, footsteps or even healing from afar which was an advantage to several sweats who always love to rush their opponents and engage in close combat. But in a recent update in Season 3, Epic finally decided to nerf it for good.
Epic nerfs Visualize Audio range as it's not broken anymore
In last week's update of v21.10, Epic nerfed the range of Visualize Sound Effects option as it was one of the most broken features in the game. Players weren't informed nor were aware of this major change that took place in Fortnite until they tried it out themselves.
The update has fixed the distance and the radius of the Visual Audio cues one gets upon going near Chests, hearing footsteps or gunfire. After the update, players will only be able to see visual cues if they are approx. 100m close to the objects or their opponents which is a major relief to casual players or campers.
While casual players or noobs enjoy this news, sweats are surely unhappy and so are players who basically need these hearing aid options in-game to help them orient their gameplay. Moreover, this major change by Epic in one of the oldest Fortnite settings was not announced in any of the patch notes or their official Twitter handle, which it should have, according to the player-base.
However, players think that this fix might be a random update as Visual Audio has always been messy in-game ever since it was added. From reboot vans sounding from miles away to footsteps being heard from a long distance, Epic still needs to put in some work to fix those audio issues.
Fortnite leak shows two major POIs getting the Reality Bloom effect soon
Reality Bloom is a phenomenon that is wildly spreading across the island as it modifies several POIs. Here are a few more locations that might get that effect in the coming weeks.
Fortnite Season 3 centers around the Zero Point blessing the island with colors and the mighty Reality Tree spreading its roots across the island. The bloom effect the roots create along several POIs further result in the return of classic locations from the Chapter 1 map.
The mystery behind the flora of the Reality Tree has been revolving across fan theories, leaks and concepts created by the Fortnite player-base. Loopers are having their share of fun with looting from their Reality Saplings and seeing the return of Chapter 1 locations merging with several current POIs as a result of the Reality Bloom effect.
To summarize, when the Reality Tree spreads its roots across the island and grows an extension of itself on a POI, it causes several realities to merge, which in turn merges a POI with another from another point in time. This phenomenon is coined as Reality Bloom effect by the player community.
In the past, players have seen the return of Temple Ruins, Coral Castle and now Neo Tilted in POIs like Logjam, Butter Barn etc. that have all undergone through the Reality Bloom effect. Latest leak shows two more locations that are about to undergo a major change as the roots of the Reality Tree have just begun to spread further.
Sleepy Sound and Condo Canyon are about to undergo the "Reality Bloom Effect" soon
Two major POIs known for its expansive architecture and loot pool, Condo Canyon and Sleepy Sound are under the radar of the Reality Tree next. The two locations will soon see the extensions of the roots of the mysterious tree and will get a Reality Bloom effect.
The effect would then bring POIs such as Tilted Town, Neo Tilted, Coral Castle, Coliseum and Lazy Links to the two locations currently on the map. These POIs are a combination of Chapter 1 & 2 locations whose realities are being merged by the Reality Tree.
Although the effect does bring back fan favorite locations back into the game without any explanation, some loopers speculate that the island might be in grave danger. The mysterious figure that appeared at the end of the Chapter 3 Season 3 trailer has not been seen before and is being called as Bloomwatcher by the player base.
Furthermore, there are theories that the Zero Point might already be causing chaos around the island and the Imagined Order was right to contain it along the Bridge. Now that it is free, the island is undergoing major changes and is running wilder than before.
The mystery of the Zero Point remains as loopers continue to enjoy their time in this madness caused by the chaotic Reality Blooms across their favorite POIs. All that the players ever wanted was the Chapter 1 map to return but it isn't turning out the way it was supposed to be.
Fortnite Fall Guys event leaked: How to complete Crown Clash challenges
A much anticipated collab between Fortnite and Fall Guys is finally coming to the looped Battle Royale with some rewards and challenges. Here's how you can do them.
Fall Guys is one of the most popular Battle Royale games that went viral ever since its release due to its healthy gameplay and exciting obstacle based games. Its collaboration with Fortnite has been teased for over a year and leaks show that it is finally arriving in the form of an in-game event with challenges that offer rewards to those who participate in it.
The collaborations between Fortnite and several video games always keeps the player base at their feet as they wait for their favorite characters to enter the loop. Moreover these collabs result in either in-game items, challenges or Item Shop cosmetics that loopers do not hesitate spending their precious V-Bucks on.
From Street Fighter to God of War, players have seen characters from various franchises arrive to the Gaming Legends series of cosmetics to the Item Shop. Most recently, players saw a brief collab with Among Us cosmetics, as the game finally arrived to Epic Games store a while ago.
However, the collab only consisted of a Back Bling and an emote which was rather disappointing but fans still bought the cosmetics from the Item Shop, given the game's popularity. Now that Fall Guys is free on Epic Games Store, the collab between the two is arriving in Fortnite with certain challenges that rewards the participants with in-game cosmetics.
How to complete Fall Guys Crown Clash Challenges in Fortnite Season 3
Fortnite x Fall Guys collab is set to enter Fortnite on June 29 in-game with the release of Crown Clash Challenges. The challenges will go on until July 11 which means players will have less than a couple weeks to complete all the challenges and claim their rewards.
Players would need to complete these challenges in 5 rounds. This might suggest that these challenges would take place in a Creative map rather than the traditional Battle Royale approach.
Loopers who complete these in Fortnite will get 5 free cosmetics right in their locker which will only be exclusive to those completing all the challenges. Moreover, if players have their Epic ID linked to their Fall Guys account, they will receive 3500 Kudos after the completion of these challenges, in their Fall Guys account to spend in-game.
However, the challenges also seem to affect the points one could get in Rocket League, as per the leaks. Although, this might be a possibility as Rocket League cars were spotted in a leak to appear soon in the Fortnite island back again.