New 'Operation: Grotto' game mode leaked
A new Operation Fortnite game mode has been leaked, called 'Operation: Grotto.'
The Operation game modes have been the hallmark of Chapter 2 Season 3. Instead of regularly changing the LTM offerings, Epic have added a few Operation modes to fill our time.
We started with Operation: Dropzone before Knockout was introduced. With v12.50, we saw Operation: Payload come into the game for the first time – an escort-style game mode similar to that of Overwatch.
There was a fourth Operation mode added to the Fortnite game files in the v12.50 update. This will be called Operation: Grotto and – you guessed it – it will take place at The Grotto.
We don't know much about the new Operation mode apart from the name. According to data miner @FortTory, the hatch of The Grotto will be closed during the match.
Whether we'll be fighting to get out of The Grotto or fighting to get in is unclear. It's safe to assume that there will be five rounds, as is the case with all of the Operation modes.
It will be interesting to see what kind of game mode this turns out to be. Our best guess is something like King of the Hill or Hardpoint – an objective-based game mode that we haven't seen in Fortnite.
We'll keep you posted when more news about this mode becomes available. Until then, keep grinding your spy tech!
Entire Fortnite Summer Smash LTM lineup revealed
Here are all of the upcoming LTMs for the Fortnite Summer Splash event.
We're in the midst of Fortnite's annual Summer event – this year called, "Summer Splash." Last year, we saw Epic unvault a new weapon each day during the 14 Days of Summer. This season, we're getting a healthy rotation of some LTMs.
The return of LTMs was one of the most-requested features from the Fortnite community during the first two seasons of Chapter 2. Fans wondered why Epic didn't add these modes to the game. Well, we may now know: they were saving them for a small event.
We'll be treated to five more LTMs over the course of July, starting with Fog of War, which came out on the 6th. Tomorrow, July 8, the rotation will split to High Explosives as a Squads mode.
Fortnite data miner @iFireMonkey took a look at the game files and found all of the LTMs coming to Fortnite in the next month. Along with the game types, he also found the team size that each mode will feature. Here's his infographic on all of the LTMs coming to the Summer Splash event.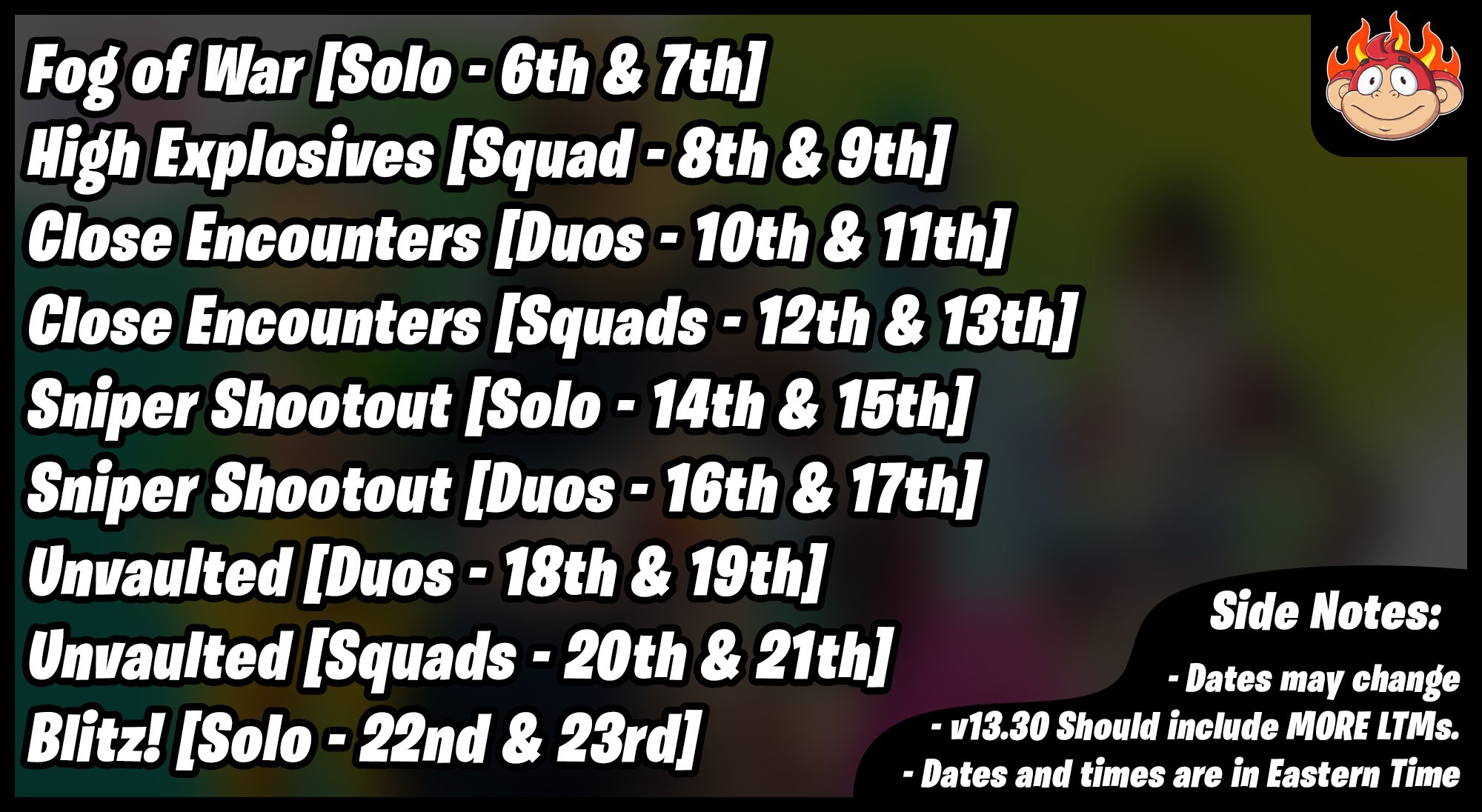 As you can see, Epic are, traditionally, keeping their LTMs around for four days each – switching the team size after two days. Sniper Shootout, Blitz, and Unvaulted are three of the most popular LTMs, so it makes sense that we're seeing them here.
Of course, there will be a few fan-favorites that missed the rotation. The Floor is Lava, Air Royale, and The Getaway are probably all Chapter 1-specific, but we would have loved to see Bounty in this lineup. Hopefully, Epic continues to keep up with their LTM rotation after Summer Splash concludes.
Fortnite brings back Lightsabers for Star Wars day
Epic Games has re-added the Lightsaber weapon to Fortnite Battle Royale, presumably as a one-off addition in time for May the 4th, often known as Star Wars day.
The date comes from the play on 'May the fourth (force) be with you', and is celebrated by Star Wars fanatics around the world.
Although there won't be any big conventions this year for obvious reasons, Fortnite is doing its part to pay homage to the franchise, bringing back lightsabers.
First added as part of the Star Wars crossover in December, 2019, when the Millenium Falcon appeared above the map.
The event actually played a short teaser scene from the latest movie, The Rise of Skywalker.
On May 3, Epic announced that the lightsabers were back. Feel like a Jedi as Lightsabers have returned for a limited time!"
Although Epic Games didn't specify when they'll be taken away again, data miner iFireMonkey states that they will be available until May 6.
Even better, if you didn't complete the challenges for the lightsabers last time, they are now re-enabled. However, some of these challenges are not possible due to other game changes.
There are four types of lightsaber, Kylo Ren (Red), Rey (Blue), Luke (Green) and Mace Windu (Purple), but the differences are purely cosmetic.
All lightsabers deal the same amount of damage (45 for a regular swing and 150 for a slam).
The most unique feature of lightsabers though is their ability to block incoming bullets. They can block around 30 bullets before being knocked back, and take a few seconds to reset.
Previously, they were only found in lightsaber chests, so presumably, these will be back too. If not, they may just be available in regular chests. Drop-in and find one!
This intel combination is breaking Fortnite Operation matches
Epic may not have considered the implications of this Intel combination.
Epic may not have considered the implications of this intel combination.
The Operation game modes in Fortnite Season 2 are an interesting take on the game – specifically Knockout. Dropzone is a good change-of-pace for Team Rumble players, but Knockout provides a unique tournament-style experience.
The intel you gather in these modes ranges from incredibly powerful to completely useless. The RNG of your rolls determines how well you will perform in a match.
There are a few particularly powerful combinations that will help you secure a win. Getting a Jetpack with the perk that allows you to deal more damage while in the air is one of the best combos in the game.
One combination seems to have been overlooked when balancing this mode, however. The Shield Bubble with the Fast Charge perk allows you to repeatedly throw Bubble after Bubble, blanketing the entire circle.
As you can imagine, this leads to some in-game issues. All you have to do is get a small lead and start spamming Shield Bubbles. Your opponents can't do anything to stop you.
There isn't an obvious fix for this issue, short of vaulting Shield Bubbles in Operation matches. The season is extended for another month, so it's safe to assume that Operation will be a Fortnite mode for that long. Can we deal with another month+ of this?
This isn't the most broken thing in Fortnite right now. The Storm audio bug and the auto-reload bug are far more annoying. Still, this is something that needs to be adjusted.