New Fortnite shotgun and dual-wield pistols leaked
A new dual-wield silenced pistols weapon and shotgun have been leaked from the Fortnite v12.40 update.
A new dual-wield silenced pistols weapon and shotgun have been leaked from the Fortnite v12.40 update.
Nearly every Fortnite update comes with a few leaks, and v12.40 was no different. In fact, we saw two new weapons leaked following the downtime for the most recent update.
We have Dual Silenced Pistols and an unnamed shotgun that will likely be coming to Fortnite in the next few weeks. We'll start with the pistols since they're probably closer to being released.
Dual Silenced Pistols
The Dual Suppressed Pistols were the first of the new items to be discovered in the game files. According to @Hypex, these pistols will come in uncommon, rare, and epic rarities.
The stats for the new pistols are as follows:
Ammo: Medium Bullets
Reload time (seconds): 3.15/3/2.85
Mag size: 18
Damage to player: 37/39/41
Deadpool's pistols are very similar to these, which was unexpected to many players. They aren't like the Dual Pistols of old. We can expect these to come into the game within the next week or two.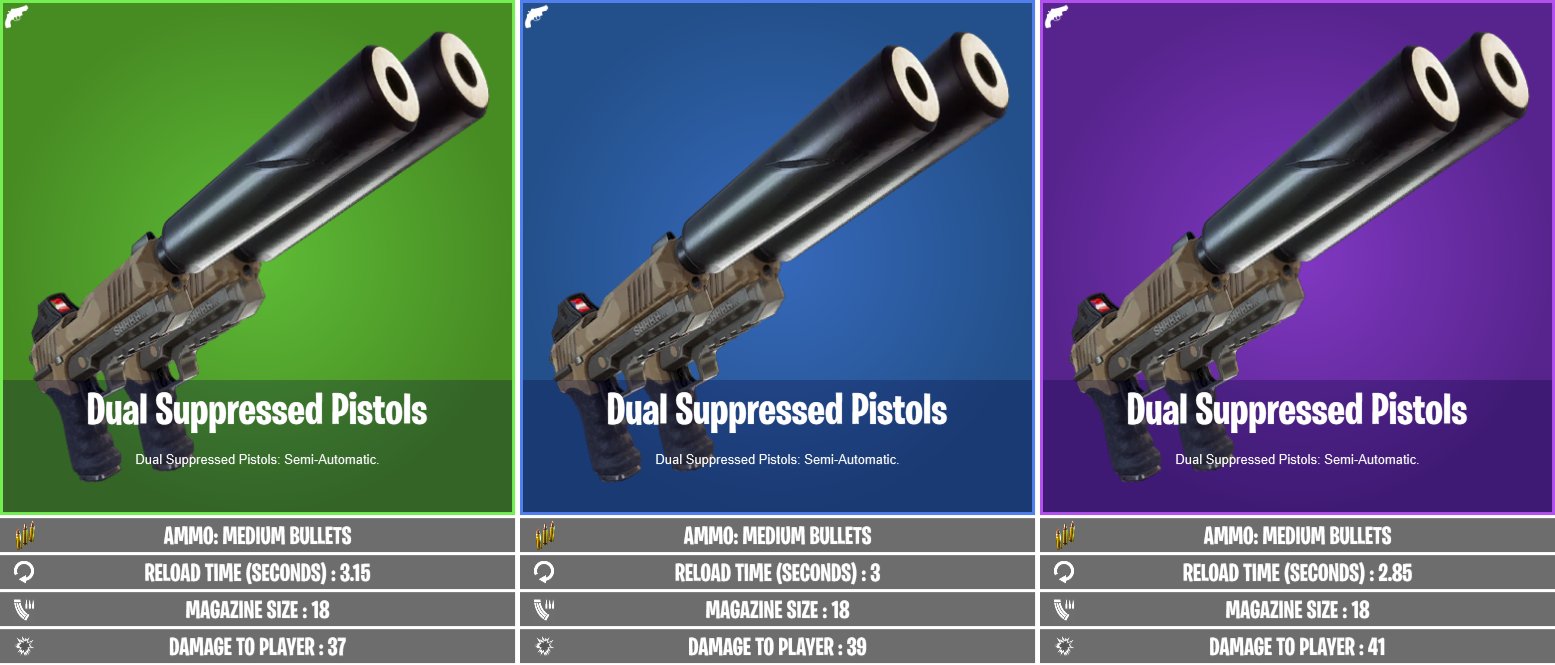 New Shotgun
The new Fortnite shotgun is probably further away than the pistols due to the fact that it's still in development.
All we have for this shotgun is a codename: "Shotgun_Charge_Athena." According to Hypex, it will be available in all rarities. Here are the reported stats of the gun.
Rarities: All
Damage: 68/77/85/95/102
Headshot multiplier: x1.5
Damage charge multiplier: 1x – 1.75x
Mag size: 3
Charge time: 1 second
As you can see by the statistics and the codename, this shotgun appears to be some sort of charge weapon.
It will be interesting to see whether this gun becomes popular in the era of quick edits and lightning-fast shots. It doesn't seem to gel too well with the high-level meta, but we'll have to see.
Since this shotgun is still in the works, it's safe to assume it won't come to the game for another two weeks – at least. Expect to see the pistols before the new shotgun.
How to collect Floating Rings at Steamy Stacks in Fortnite
Floating rings are back for Season 4 Week 9 – this time, in Steamy Stacks. Here are all of the Floating Ring locations.
Fortnite Season 4 Week 9 has brought yet another "Floating Rings" challenge to the game – this time in Steamy Stacks. At least we'll be able to glide out of the area when we're done.
The five floating rings are scattered around the POI – both inside and outside. You'll find them on the roof of the primary building, a the top of a mechanical piece in the center of the POI, above one of the tubes to the south, and inside two of the buildings.
We know that this description and image doesn't give you too much to go on – this week's challenge is a bit more difficult to describe than some of the Floating Rings quests in previous weeks.
To make things easier, we included a video from HarryNinetyFour that will show you all of the Floating Rings in Steamy Stacks and exactly where you can find them.
As always, we recommend that you complete this challenge in Team Rumble. If not, then there's a strong chance that you'll be eliminated by the horde of zombies falling from the sky.
Week 9 is a big week for challenges in Season 4, with the implementation of Forntitemares, the addition of a secret challenge, and the release of Wolverine's Logan style. We're going to have a busy weekend.
Fortnite Season 4 Week 9 Challenge guide
All challenges for Fortnite Season 4 Week 9 and how to complete them – including the Upstate New York and Heart Lake locations.
Fortnitemares is here, bringing a new list of challenges for players to complete. That doesn't mean that the weekly challenges are slowing down as players finish up the Battle Pass and work their way to the holographic skins.
Unfortunately, we'll be chasing some floating rings again this week. Apart from that, these challenges are relatively straightforward and can be completed within a few matches of Team Rumble.
Search Chests at Holly Hedge (7)
Eliminations at Slurpy Swamp (3)
Land at Sharky Shell and finish Top 25
Heal teammates with a Bandage Bazooka (7)
Deal damage to opponents at Sweaty Sands (500)
Dance at the highest spot and the lowest spot on the map
Sharky Shell might sound like a brand-new POI, but you've probably been here several times without knowing what it's called. This refers to the remnants of The Shark, which was decimated by the flood. The removal of the 100% chest spawn-rate hit The Shark hard, and the fact that a lot of people will contest it for this challenge is going to make this a tough one.
We'll publish additional guides that show you the lowest and highest point on the Fortnite map along with the Floating Rings in Steamy Stacks. The rest of these challenges should be easy enough to work your way through.
After getting your eliminations, searching chests, and dealing damage, you'll probably be left with the requirement of healing teammates with a Bandage Bazooka. This one is always tough, as you don't always have the opportunity to complete it in a typical Fortnite match. In our experience, the best way to complete this challenge is to grab a Bandage Bazooka in Team Rumble.
As always, we'll keep you posted with all of the upcoming Fortnite challenges. Follow us on Twitter @FortniteINTEL to stay up to date with all of the latest Fortnite news, challenges, memes, and more.
Fortnitemares: Midas' Revenge challenge guide
A guide to all of the released and leaked Fortnitemares 2020 challenges.
Fortnitemares 2020 is here, bringing players a ton of new content to enjoy. We have Zombie Shadows giving players the ability to respawn, some new locations to explore, and Midas' return from the dead after being eaten by a shark.
Of course, with a new event comes a list of challenges and rewards. We only have three available challenges at the time of writing, but data miners were able to clue us into what else will be coming in the future. Here are all of the challenges you'll need to complete this Fortnitemares season:
Travel 100 meters on a Witch Broom
Eat Candy
Deal damage with a Possessed Vehicle
Eliminate Shadow Midas
Eliminate shadows as Player
Visit Different Witch Shacks
Consume legendary loot as a Shadow
As we said, only the first three challenges are available at the time of writing. Becoming a Shadow is easy as staying in the game after you die. If you do this three times, you'll complete the first stage of the challenge.
Witch Brooms can be found at the Witch Shacks scattered around the map. We'll have a separate guide to these posted when the next stage of the challenges come to the game. You can find that linked here.
Candy is found all over the map, but the best place to find it could be at Doom's Domain. It looks like Doom's Henchmen have left out some candy for the kids. See? They're not all bad.
Possessed vehicles have been in the game for a while – often called "dancing cars" before Fortnitemares came out. To find one, you'll need to hop inside, exit, and see if the car starts jumping around. If it does, then you can use it for the damage challenge.
Finishing these challenges will net you some unique rewards including a back bling, a weapon wrap, two emoticons, and an exclusive pickaxe. Out of all of the recent limited-time rewards, this lineup is one of the best.
We'll continue to update this post as more challenges become available. You won't want to miss out on these limited-time rewards, so make sure you're staying up to date with all of your Fortnitemares challenges!