Most popular Fortnite skins in Season 4 – Iron Man, Aura & more
Ever wonder which Fortnite skins are the most popular? Data miner, Lucas7yoshi, took it upon himself to find out.
The most popular skins in Fortnite Season 4 are largely comprised of the Marvel Battle Pass, but other popular skins have stood the test of time.
Fortnite players love their cosmetics – possibly more than any other community in gaming. Having an "OG" skin immediately gives you a position of authority in any Creative lobby, even if you haven't played the game since those skins were new.
We often wonder which skins and emotes the community uses the most but had no way of knowing for sure. Data miner Lucas7Yoshi had an idea of gathering this information: take a massive number of replay files, analyze them, and find out which cosmetics are the most commonly selected.
Most Popular Skins in Fortnite
What Lucas7Yoshi found was relatively predictable, which makes sense. We see these skins in almost every match, which is why they're the most common in the game right now. Of course, his method wasn't flawless, but it was as close as we could get without the raw numbers from Epic Games.
Unsurprisingly, the Marvel skins from the Season 4 Battle Pass top the charts, with Tony Stark, Jennifer Walters, Mystique, Doctor Doom, and Wolverine all making the top six. At the four spot is Aura – which might be the most popular skin in all of Fortnite, regardless of which season we're talking about. The same can be said of Crystal at number nine.
Venom and Mogul Master stand out as surprises, but these are probably a result of the recency of the study. The Nick Eh 30 pack included Mogul Master, and Venom is the most recent Marvel skin added to the game.
Most Popular Emotes in Fortnite
The most popular emotes in Fortnite was more interesting to us, as it showed a couple of emotes that continue to stand the test of time. Of course, you have the newer TikTok-style emotes that Epic have added, and you've likely seen or used them in several matches.
"Laugh it Up" – which might be the most triggering emote in the game – is securely at the number-one spot on the board. We expect that "Take The L" would be on here as well, but that emote was a part of an old Battle Pass, and newer players don't have it.
"Dance Moves" is a classic that everyone has access to, but "Have a Seat" comes as a surprise. We love this emote but didn't know that so many others felt the same.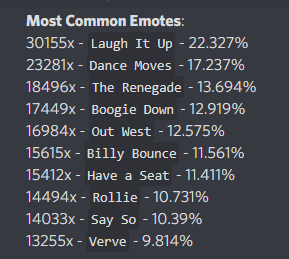 Hopefully, Lucas7Yoshi keeps up with this project, and it only becomes more accurate over time. We're excited to see which skins and emotes stand the test of time and which fall by the wayside after a season ends. If he completes the same process next season, we doubt that these Marvel skins will make the top ten.
PC Fortnite players should head over to Lucas7Yoshi's Discord server if you want to help out with the project. The more replay files he has, the more accurate his information will be. Let's see what happens in Season 5.
IMG/data credit: u/AeroTheManiac/Lucas7yoshi
Lazarbeam Fortnite skin: release date, first look & more
Lazarbeam is getting a Fortnite skin in the Fortnite Icon Series. Take a look at the new skin, bundle, and release date.
On March 1, Epic Games and Lazarbeam announced that they Australian YouTube star would be the next creator to be included in the Fortnite Icon Series with a new skin bundle.
The Fortnite Icon Series gives creators a way to become immortalized in one of their favorite video games: Fortnite. This began with one of the pioneers of Fortnite, Ninja, and has since expanded to include Loserfruit, Lachlan, and TheGrefg.
It looks like popular Australian YouTuber and streamer, Lannan "Lazarbeam" Eacott will be the next creator featured in the series. He first teased the announcement with a scheduled video, then showcased his skin at 5:00 PM EST on March 1.
Lazarbeam Fortnite skin release date
Lazarbeam's Fortnite Icon Series skin should hit the Item Shop on March 4. He also mentioned some giveaways, which could relate to his YouTube channel or a limited-time tournament, similar to TheGrefg's Floor is Lava event.
The bundle will come with a skin, and additional variant, the Gingerbread construction worker Back Bling, a sledgehammer pickaxe and an emote that may or may not be built into the outfit.
We'll update you when we get closer to the release date of Lazarbeam's Fortnite skin. We should see some datamined images of the skin in the next Fortnite patch, so stay tuned for that as well.
In the meantime, make sure to follow us on Twitter @FortniteINTEL so you never miss out on the latest Fortnite news.
New Fortnite portal points to Xenomorph from Alien
A new portal has opened in Fortnite, suggesting that Xenomorph from Alien will be the next hunter coming to Season 5.
The Fortnite Season 5 crossovers continue to roll in as a new portal has appeared on the map. A glimpse at the inside of the portal reveals an upcoming crossover with the Alien franchise.
This Fortnite season has been the most crossover-filled in the history of Fortnite. We've seen characters from Terminator, God of War, Halo, Predator, Street Fighter, and many other franchises come to the Fortnite Item Shop.
Recently, fans saw some leaks that led them to believe that Peter Griffin from Family Guy could be the next crossover skin. He still might be on his way, but we have someone else coming ahead of him: Xenomorph from the Alien franchise.
There's still hope for Peter Griffin, but this could be the XL skin that data miners told us about. Xenomorph will likely resemble The Devourer skin, which is one of the bigger skins in the game.
These portals usually come to Fortnite a day or so before the skin comes to the Item Shop. We expect to see the Street Fighter skins leave the shop on February 25, ushering in a new trailer and skin set for the Alien Crossover.
Of course, the addition of Alien brings the Alien vs. Predator theme to Fortnite as well. It will be interesting to see if Epic do anything neat with the skin, like add him to the game as a boss. We'll keep you posted when we learn more about the release date.
March 2021 Fortnite Crew membership pack revealed
The Crew pack for March 2021 and Fortnite Season 6 has been revealed, featuring the new Llambro skin and accompanying set.
The next Fortnite Crew membership pack has been revealed for March 2021, featuring the Llambro skin and accompanying cosmetic set.
In 2021, Epic introduced the Fortnite Crew subscription. This monthly pack gives players an exclusive cosmetic set, 1,000 V-Bucks, and access to the current Battle Pass for $11.99.
Since then, we've seen four skin packs enter the game, with a fifth on the way. Epic have confirmed leaks that point to the Llambro Outfit, Up North Back Bling, Puffcorn Pick Pickaxe, and The Llegend Wrap coming to the game in March 2021.
Since this pack will coincide with the start of Fortnite Season 6, players who subscribe to March's Crew subscription will also receive access to the Battle Pass; making it an excellent deal for those who want the skin and don't have enough V-Bucks for the Battle Pass.
If you subscribe now, you can also gain access to February's skin pack, which features Vi. You can buy the subscription now, wait until the new season, and cancel it if you want to go that route. Doing this would grant you two skin sets, 1,000 V-Bucks, and the next Battle Pass for only $11.99.
There are only a few weeks left in Fortnite Season 5, and we're excited to see what the next season will bring. Until then, you can prepare yourself by finishing the Battle Pass with the weekly challenges and grabbing the next Fortnite Crew Subscription.
We'll be covering the new Fortnite season as soon as we hear any news, so make sure to follow us on Twitter @FortniteINTEL so you never miss out on any of the latest Fortnite updates.
Image Credit: Epic Games