Massive Fortnite Season 3 leaks reveal map changes, new items & more
Some of these huge Fortnite Season 3 leaks have already come true.
Fortnite Chapter 2 Season 3 is still a month away, but new details have emerged that could tell us what the new season will hold.
We've already seen a few concrete leaks and teasers about the new season. Three posters were leaked and will reportedly appear on the 'No Sweat Insurance' building in Lazy Lake.
These posters show Meowscles wearing floaties, a shark chain Peely, and a house floating atop the water.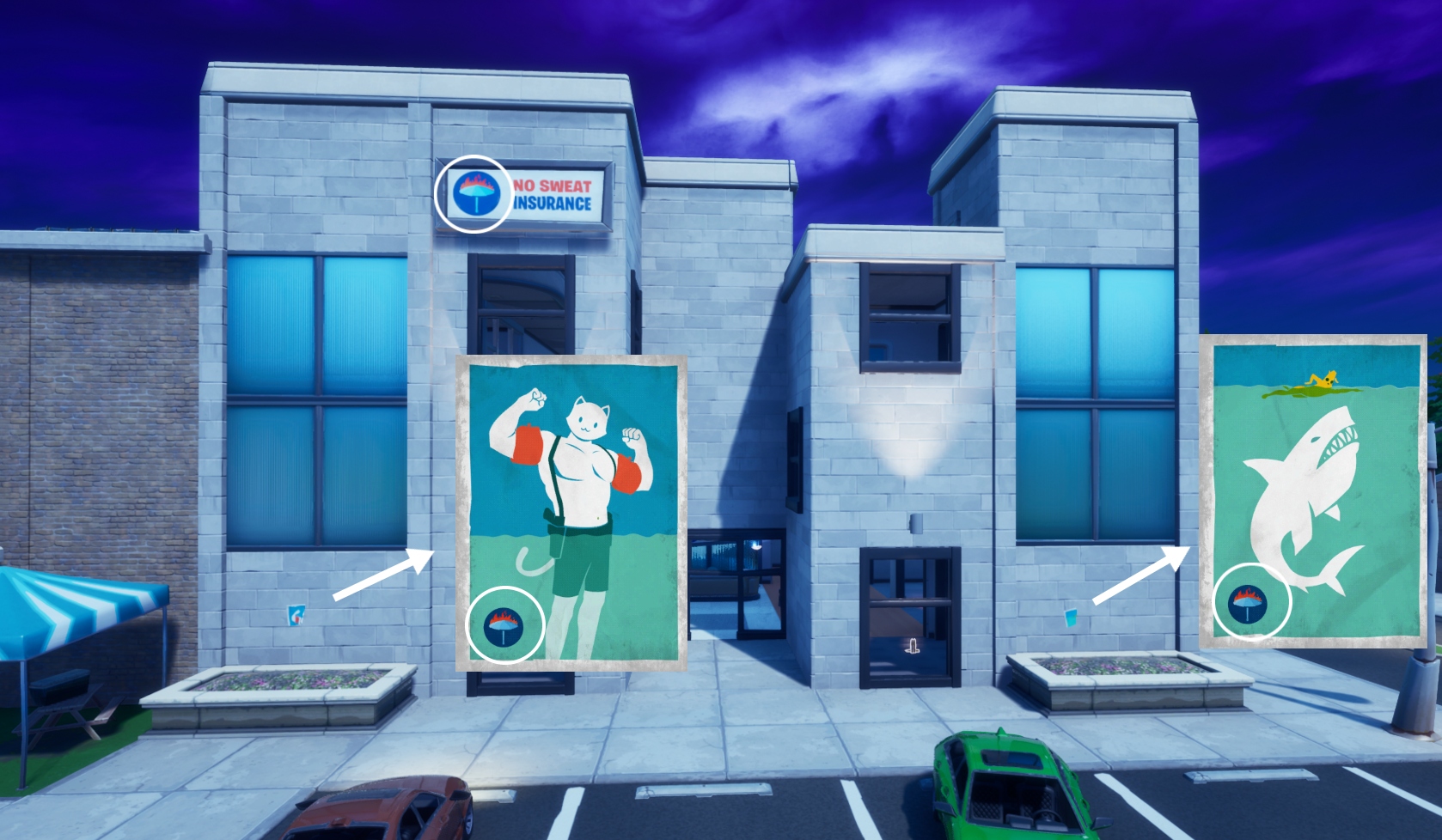 At the bottom lefthand corner of each poster, you can see a flaming umbrella, suggesting that this will be our reward for winning a game during Season 3.
Before these posters even released – and before the news of Party Royale – YouTuber Tabor Hill released a video containing Season 3 leaks that he received from an anonymous source.
We didn't initially report on these leaks because it was all hearsay. There was nothing to support these claims, but v12.50 and Party Royale changed that.
Tabor Hill's source told him that Season 3 would bring a new hub. This hub would feature blue phone booths that allow you to change your outfit in-game. There would also be minigames and other activities in this hub. Is any of this sounding familiar? Party Royale has confirmed all of this information.
The source also told Tabor Hill that water would cover most of the Season 3 map. There will be a rideable shark vehicle to help you traverse the water that surrounds everything. All of this fits into the Season 3 teasers which, again, were not public when Hill's source made these claims.
Another piece of information that has some support is environmental fire damage. According to these leaks, we'll be able to set buildings on fire in Season 3. We don't know the limitations of this but it's another claim that's corroborated by the leaked teasers – the flaming umbrella.
The rest of the information has yet to be supported by any official channels. The Battle Pass will reportedly include a female version of the Black Knight, Aquaman, and a build-your-glider feature that's similar to what we got with Maya.
Of course, all of this information could be false as it's coming from an unnamed source. Take it with a huge grain of salt. At the same time, a lot of it has either come true or been hinted towards. We'll have to wait until June 4 to find out.
New Fishing Rod and Flopper types leaked in Fortnite v13.30
It looks like we'll be getting a revamp of the Fortnite fishing meta.
Fishing was the revolutionary mechanic that Epic added to Fortnite in Chapter 2. "Revolutionary" might sound like a strong description, but it made huge strides in reworking the meta of Fortnite. Nowadays, you'll rarely see competitive players being comfortable going into end-game without a stack of Floppers or Slurpfish.
Since Epic added the Harpoon Gun early in Season 1, fishing has been untouched. We still have the same loot pool available from fishing holes as we always have, with very few adjustments.
This looks to change in the near future, as Fortnite data miners found a host of new Flopper types in the game files last month. You can take a look at all of those here. This isn't the end of them, however, as Hypex tweeted about two new Flopper types following the v13.30 patch.
What will the Mechanic Flopper and Battle Flopper do? Your guess is as good as ours. The Mechanic Flopper could be related to vehicle repair with the new cars coming to the game and the Battle Flopper could buff your damage. Again, these are only guesses.
We also have some news about a new fishing rod coming to Fortnite. Hypex found a file called "RodPro" in the game files, suggesting we'll have an upgraded version of the traditional Fishing Rod. We're guessing that this one will have a quicker cast time and catch rate than the original to help bridge the massive gap between a Fishing Rod and a Harpoon Gun.
It will be interesting to see how these new Floppers and this new Rod will influence the Fortnite meta. Will adding these fish bog-down the fishing loot pool or will they offer players a new way to enjoy the game? As is the case with anything, we'll have to wait and see.
Right now, we have no news as to when these items will enter Fortnite – if they ever do. Leaks don't always come to fruition, after all. Still, we can reasonably expect at least a couple of these fish to make it into the live game. We'll update you when we learn more.
Fortnite leak reveals material gain, speed & more car mechanics
A new leak reveals explosion damage, speed, health, and many more details about cars coming to Fortnite.
Cars have to be the one of the most anticipated Fortnite additions in all of Chapter 2. Fans have been requesting access to the in-game vehicles since the new chapter began. When Season 3 released, it looked like we were finally getting our wish.
When the downtime for Season 3 ended, however, fans quickly realized that cars would have to wait. The map was almost entirely flooded and the cars that we saw in the trailer were still underwater. No matter – data miners told us that cars would be coming to Fortnite on July 21.
Well, July 21 came and went with no cars. In fact, Epic pulled a fast one on us and removed all of the working cars from the map. Presumably, this was Epic's way of tying the addition of cars into the lore. They had to be fixed-up before they'd work.
Data miners were able to find some additional info about cars in the v13.30 game files, however. We already knew quite a bit about the cars coming to Fortnite. We know the car types, their health, their fuel consumption, and how gasoline will work when they enter the game. You can take a look at that recap here.
Fortnite data miner VastBlastt went deeper following the v13.30 patch. He revealed that cars will be able to gather metal similar to a BRUTE. He also told the community about the maximum speeds, the existence of tire skids, an eject button, and more.
Included in this information dump were the massive damage numbers that these cars will do when they explode. According to the leaks, the cars will deal 800 damage to structures and 200 damage to a player at close-range. Ghost-riding the whip into an enemy structure could be the new best strategy in Fortnite.
Cars have yet to be added to the game, which means that all of this is subject to change. One-shotting an opponent seems a bit too powerful on paper, but we may need to see how it works out when cars eventually enter Fortnite.
We have no idea when cars are coming to Fortnite, but we'll let you know when we do. Until then, we can only drive on land with a Motorboat as we wait.
4 new Fortnite LTMs leaked: Tank Battles, Payback & more
Fortnite data miners find Tank Battles, Polaris, Payback, and Rags to Riches LTMs in the v13.30 game files.
One of the primary complaints from Fortnite players throughout Chapter 2 Seasons 1 and 2 was the lack of an LTM rotations. We saw frequent LTM changes in Chapter 1, and that was abandoned for the first two seasons of Fortnite's second chapter. In fact, a return to LTMs was at the top of the list for many players going into Season 3.
We saw how popular LTMs could be when Epic brought them back for the Summer Smash event. Unvaulted was one of the most beloved Fortnite game modes in recent memory. It was a reminder of all of the fun, goofy weapons and items that used to be in Fortnite. Fans are still waiting for revolutionary LTMs like The Floor is Lava and Air Royale, but those may end up being exclusive to Chapter 1.
With the release of v13.30, however, Fortnite data miners found new LTM strings in the game files. Hypex tweeted four new LTMs that should be coming to Fortnite in the near future. These include Tank Battle, Payback, Polaris, and Rags to Riches. Within each file was a brief description, giving us an idea of what these modes will include.
Rags to Riches: All Loot is Gray, Eliminations Randomly Upgrade a Weapon!
Tank Battle: Hits Steal Shields from Other Players.
Payback: Fight to the top with your team. Get payback On marked players. Payback Counts as two eliminations.
Polaris: Loot pulled from open water is grey & High tier loot pulled from fishing spots.
Out of the four of these, Payback seems to be the most intriguing. The rest of these will be dependent upon team size, but they look to be incredibly fun as well.
Epic have seen the positive feedback when it comes to their LTM rotation, and are clearly dedicated to expanding their offerings. The more game modes, the better – in our opinion. We'll keep you posted when we learn more about when these LTMs will come to the game.