Massive Fortnite Season 3 leaks reveal map changes, new items & more
Some of these huge Fortnite Season 3 leaks have already come true.
Fortnite Chapter 2 Season 3 is still a month away, but new details have emerged that could tell us what the new season will hold.
We've already seen a few concrete leaks and teasers about the new season. Three posters were leaked and will reportedly appear on the 'No Sweat Insurance' building in Lazy Lake.
These posters show Meowscles wearing floaties, a shark chain Peely, and a house floating atop the water.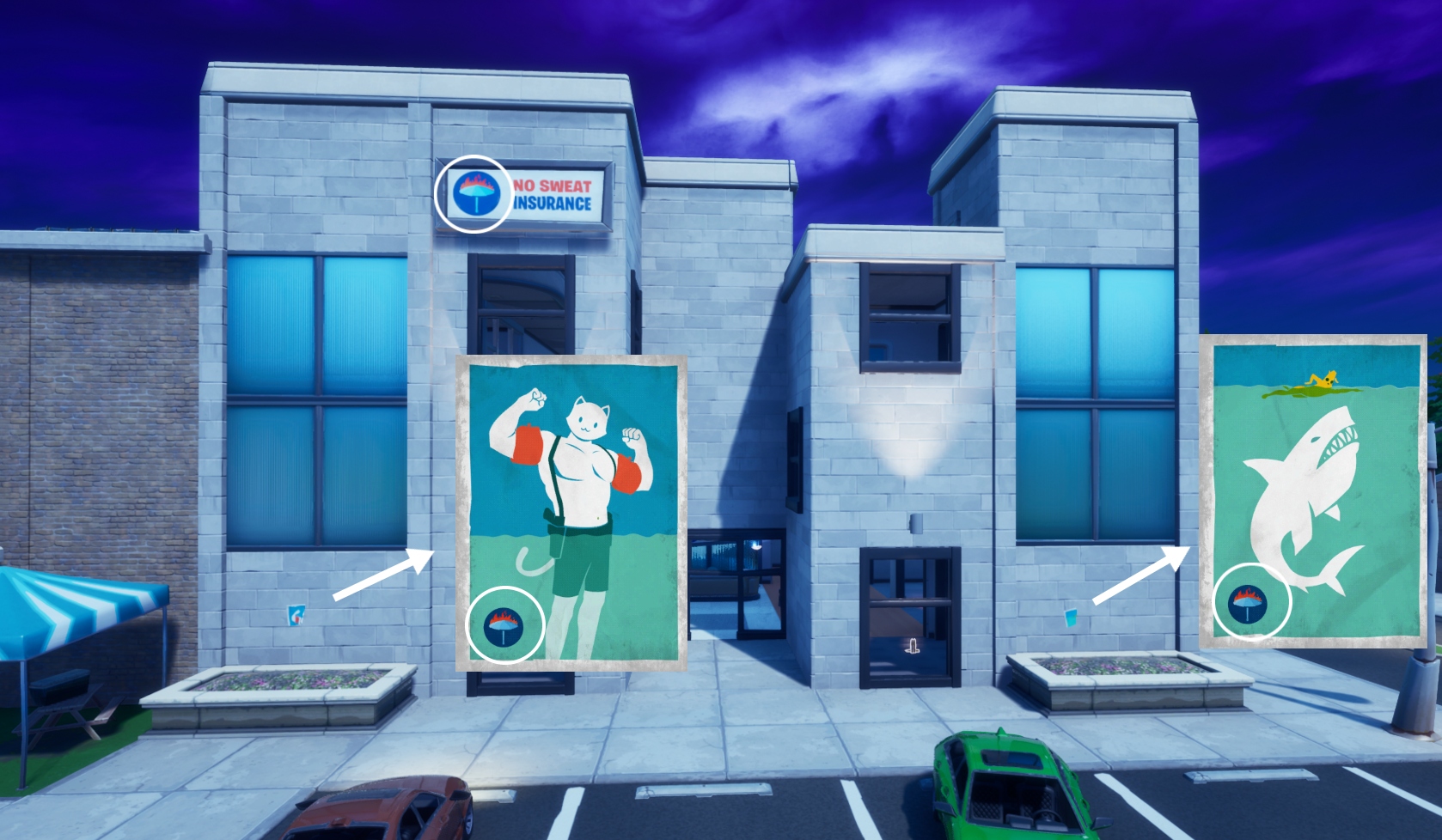 At the bottom lefthand corner of each poster, you can see a flaming umbrella, suggesting that this will be our reward for winning a game during Season 3.
Before these posters even released – and before the news of Party Royale – YouTuber Tabor Hill released a video containing Season 3 leaks that he received from an anonymous source.
We didn't initially report on these leaks because it was all hearsay. There was nothing to support these claims, but v12.50 and Party Royale changed that.
Tabor Hill's source told him that Season 3 would bring a new hub. This hub would feature blue phone booths that allow you to change your outfit in-game. There would also be minigames and other activities in this hub. Is any of this sounding familiar? Party Royale has confirmed all of this information.
The source also told Tabor Hill that water would cover most of the Season 3 map. There will be a rideable shark vehicle to help you traverse the water that surrounds everything. All of this fits into the Season 3 teasers which, again, were not public when Hill's source made these claims.
Another piece of information that has some support is environmental fire damage. According to these leaks, we'll be able to set buildings on fire in Season 3. We don't know the limitations of this but it's another claim that's corroborated by the leaked teasers – the flaming umbrella.
The rest of the information has yet to be supported by any official channels. The Battle Pass will reportedly include a female version of the Black Knight, Aquaman, and a build-your-glider feature that's similar to what we got with Maya.
Of course, all of this information could be false as it's coming from an unnamed source. Take it with a huge grain of salt. At the same time, a lot of it has either come true or been hinted towards. We'll have to wait until June 4 to find out.
All signs point to The Ghostbusters coming to Fortnite
Fortnite leaks and in-game sightings point to Ghostbusters coming to Fortnite soon.
Fortnite v14.40 introduced the much-anticipated Fortnitemares event to the game. Among the major changes that came with the patch, Midas returned from the dead and reclaimed The Authority – renaming it The Ruins.
This wasn't the only Halloween-related character who was kicking-around the Fortnite map. As players began to log into Fortnite, some noticed a vehicle sitting under a tarp in Camp Cod. It was none other than the Ecto-1 from Ghostbusters.
This could just be a small Easter Egg for eagle-eyed fans, but data miners soon corroborated the sighting with some in-game leaks.
iFireMonkey posted a tweet that told fans of some upcoming skins that should be hitting the Item shop in the near future. Two of those cosmetic packs relate to Ghostbusters – suggesting that they'll be entering Fortnite within the next two weeks.
Fellow data miner, Hypex, added to this speculation with a leak of his own: a Ghostbusters achievement. According to him, players will be able to earn the "I Collect Spores, Molds, and Fungus" achievement by gathering a foraged item while wearing one of the Ghostbusters skins.
We still don't know whether we'll be able to choose one Ghostbusters skin to unlock, or if it will be a cosmetic bundle like the newly-released Skull Squad Pack.
Ghostbusters seems like a perfect addition to the Fortnite universe. The collaboration falls in line with Stranger things from a couple of years ago and gives players another way to celebrate Spooky Season in-game.
Will you be grabbing a Ghostbusters skin if/when they come to Fortnite? Let us know on Twitter @FortniteINTEL.
Fortnite leak reveals Slurp Bazooka, NPC Snowman & more
We may be seeing our first leaks of what's to come in Fortnite Season 5.
The Fortnite v14.40 update brought Fortnitemares to the game for 2020, but it also included some game files that gave data miners a few hints as to what's coming to Fortnite in the future.
Data miner, Hypex, tweeted about some exciting items that should be coming to the game in the near future. Among them were a Slurp Bazooka and a Fire Extinguisher – two items that would add some variety to the loot pool.
He also talked about the potential addition of a "Snowman NPC," that will give you challenges – possibly with some high-tier loot as a reward.
It stands to reason that the Slurp Bazooka will be a Slurp version of the Bandage Bazooka. Players have been asking for Epic to expand on the two-slot system for a while, and it looks like they're finally comfortable adding another double-slot item.
We can only guess as to what the Fire Extinguisher would do – outside of the obvious. It has to have some additional capabilities outside of putting out fires. If not, no one would carry it – unless Epic make fire much more of an issue in the next season.
The Snowman NPC is the most interesting leak out of all of these, and will almost certainly relate to Season 5 – which is presumed to be Fortnite's first winter-themed season in Chapter 2.
We'll have to wait and see what all of these new mechanics mean for Fortnite when they enter the game. It seems like we might have to wait until Season 5 to learn more, so we might as well start the hype train early.
Leaked Fortnite 14.40 skins & cosmetic items
Fortnite's v14.40 update has officially signalled the start of Fortnitemares 2020, and a brand-new patch means we have plenty of leaked skins and cosmetics to take a look at.
While Season 4 has been all about superheroes, Halloween is the name of the game for the next couple of weeks, with Fortnite's annual spooky event Fortnitemares making it's welcome return, and bringing back Midas too.
Midas disappeared at the end of Season 2 when his Device experiment ended in disaster, but the 14.40 update sees the character regain control of The Agency thanks to his Shadow Henchmen, who will play a significant role in the game for the next few weeks.
For cosmetics fans, a new update means new skins, gliders, back bling, and more to look at ahead of their addition to the Item Shop, and thanks to data miner HYPEX, we can take a look at everything that will appear in-game over the next few weeks.
Skins
As always, new skins are the highlight of any cosmetic drop, and there are plenty for fans to sink their teeth into during the Fortnitemares event.
Beef Boss and Fishstick are two new members of the Skull Squad, while the Skull Trooper himself gets a party makeover. Elsewhere, we have some new default characters for those who like to keep things simple, while the Good Doctor skin has a special emote that sees him transform into a massive monster when he drinks a potion.
Emotes
We've also got some new emotes, including one which sees your character play the banjo on a rocking chair, and a zombie walk which fits the Fortnitemares theme.
Unfortunately, we haven't seen any gliders, back bling, or weapon wraps just yet, but we'll be sure to add them to this article when they are revealed.