Massive Fortnite Season 3 leaks reveal map changes, new items & more
Some of these huge Fortnite Season 3 leaks have already come true.
Fortnite Chapter 2 Season 3 is still a month away, but new details have emerged that could tell us what the new season will hold.
We've already seen a few concrete leaks and teasers about the new season. Three posters were leaked and will reportedly appear on the 'No Sweat Insurance' building in Lazy Lake.
These posters show Meowscles wearing floaties, a shark chain Peely, and a house floating atop the water.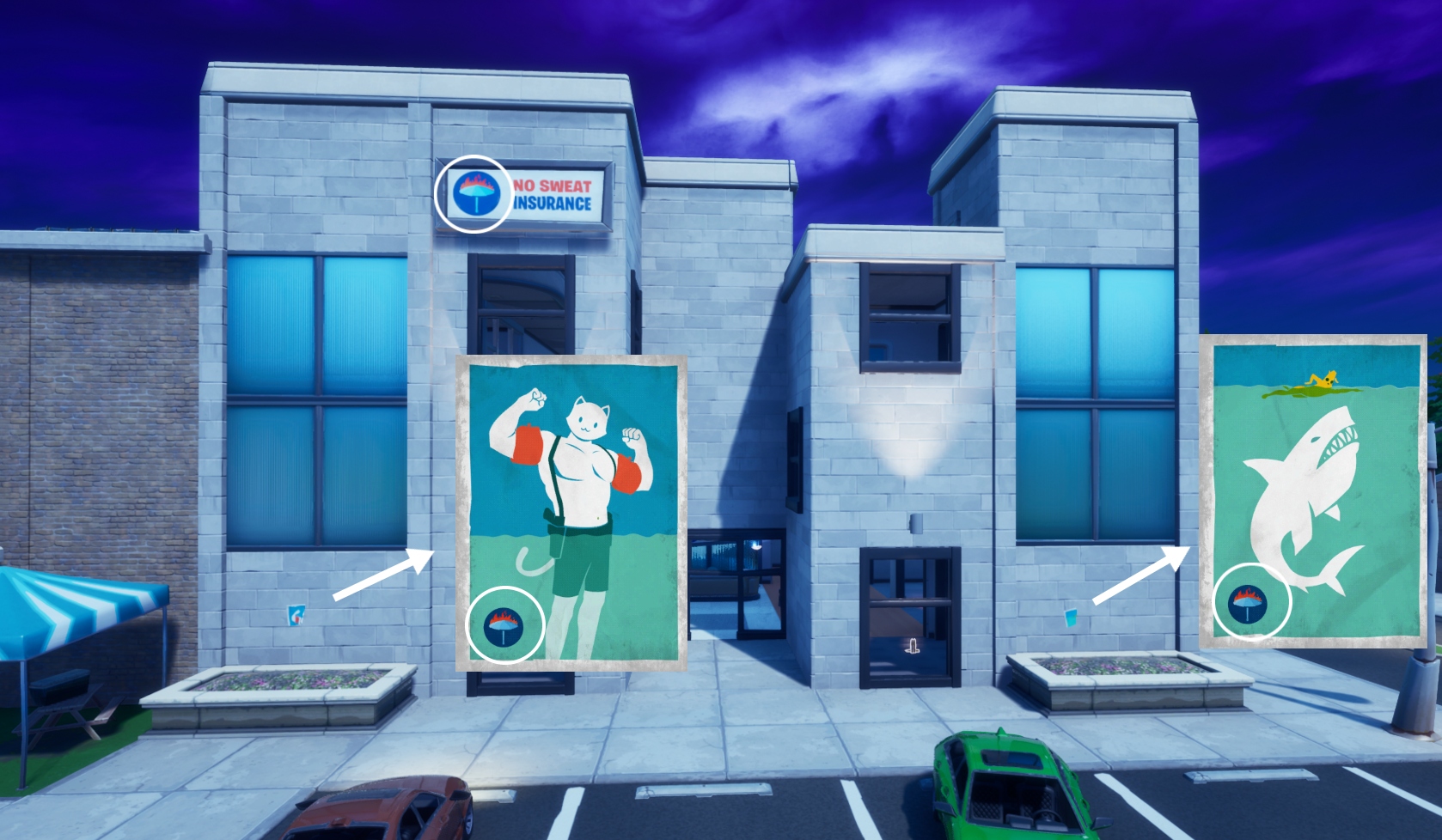 At the bottom lefthand corner of each poster, you can see a flaming umbrella, suggesting that this will be our reward for winning a game during Season 3.
Before these posters even released – and before the news of Party Royale – YouTuber Tabor Hill released a video containing Season 3 leaks that he received from an anonymous source.
We didn't initially report on these leaks because it was all hearsay. There was nothing to support these claims, but v12.50 and Party Royale changed that.
Tabor Hill's source told him that Season 3 would bring a new hub. This hub would feature blue phone booths that allow you to change your outfit in-game. There would also be minigames and other activities in this hub. Is any of this sounding familiar? Party Royale has confirmed all of this information.
The source also told Tabor Hill that water would cover most of the Season 3 map. There will be a rideable shark vehicle to help you traverse the water that surrounds everything. All of this fits into the Season 3 teasers which, again, were not public when Hill's source made these claims.
Another piece of information that has some support is environmental fire damage. According to these leaks, we'll be able to set buildings on fire in Season 3. We don't know the limitations of this but it's another claim that's corroborated by the leaked teasers – the flaming umbrella.
The rest of the information has yet to be supported by any official channels. The Battle Pass will reportedly include a female version of the Black Knight, Aquaman, and a build-your-glider feature that's similar to what we got with Maya.
Of course, all of this information could be false as it's coming from an unnamed source. Take it with a huge grain of salt. At the same time, a lot of it has either come true or been hinted towards. We'll have to wait until June 4 to find out.
Fortnite leak reveals new vehicle mods in development
New Fortnite leaks suggest that Epic are working on vehicle mods. These changes are expected in Fortnite Season 6.
A new Fortnite leak has revealed some massive updates coming to cars in Fortnite. These will likely come to the game during Season 6.
Recently, Fortnite data miners have found some massive changes coming to Fortnite in the future. This began with the discovery of weapon mods in the game files. Early reports have it that these should be similar to weapon mods in Apex Legends – altering the way some weapons behave.
Now, new leaks have revealed additional changes coming to vehicles. You will reportedly be able to find vehicle attachments and use them for off-roading, bolstering your car's durability, and even mounting weapons to the vehicle.
We don't know exactly how this will work, but data miner Hypex was among the first to report the new feature.
Fortnite Season 5 brought some huge changes to the game. NPCs, bounty hunters, and the quest system are all brand-new features, so we'd be surprised to see weapon and vehicle mods enter the game anytime soon.
We saw a lot of leaks pertaining to Season 5 content during Season 4. Our best guess is that these leaks are similar – that we're seeing Season 6 content leaked during Season 5.
It's good to see that Epic are taking some massive steps with each season of Fortnite. They're keeping things fresh, which was something that was missing for the first half of Chapter 2.
As Donald Mustard said at the beginning of the Chapter, they dialed things down only to ramp them up again. It's an exciting time to be a Fortnite player.
Fortnite Winter Trials event & rewards leaked
Epic Games quickly added and removed a webpage that revealed a new Fortnite event: Winter Trials. Here's everything we know so far.
Epic Games released a new website, announcing the Fortnite Winter Trials. They have since removed the site, leading fans to believe it was leaked early.
Most of the time, when we're discussing Fortnite leaks, we're talking about data miners finding files in the game that relate to certain events, skins, etc. In rare cases, Epic let something slip a bit early. That's what we have here.
On January 25, Epic released the Fortnite Winter Trials webpage, showcasing free rewards, an influencer tournament, community voting on events, and more.
The website was quickly removed after it was added, but data miner Hypex was able to record some of the contents before it went down.
The details of the event are still limited, but it appears as though players will be earning badges for logging in, voting for challenges, and playing Fortnite.
Over the course of the rest of the season, your playtime and badges will reward you with free cosmetics. Most of them are hidden, but we know about a spray, emoticon, and weapon wrap from the images on the website.
We should see an official announcement of the event soon. Since Epic were the ones who jumped the gun, we expect to see them announce the event as soon as tomorrow – if not later tonight.
We'll update this post when we learn more about the event, along with additional details on how to earn free cosmetics. Stay tuned.
Fortnite tease new Drift Crew skins
Epic Games are dropping some cryptic hints relating to the iconic Drift character in Fortnite, and speculation suggests it's all leading to a new Drift Crew skin.
On January 24, Epic Games posted a series of mysterious tweets, to get the community guessing.
Their first post referenced Drift directly, saying: "Drift? Drift. Come in. Do you read me?" A series of messages followed, asking for help – presumably Drift's help.
The Fortnite account has since deleted the tweets, but here's a screenshot of all of them from iFireMonkey.

Data miner HYPEX was quick to highlight that these teasers are almost certainly connected to the upcoming new Drift Skin, which appears to be a female version of the fan-favorite skin.
Fortnite Crew is the monthly subscription service, and it's expected that this new Drift skin will be included in the February edition of the subscription rewards.
The subscription grants players each new Battle Pass, plus 1,000 V-Bucks, in addition to the cosmetic rewards.
We'll have to wait and see confirmation about the new Drift skin as we put January in the rearview mirror and move into February.