Leaked Fortnite Week 8 'Dive!' mission challenges and loading screen
Data miners have leaked all the challenges and the loading screen for Week 8 of Fortnite Chapter 2: Season 1 – called Dive – and there's a hidden message in the loading screen as part of your challenge set.
Should tradition being anything to go by, we're already well over halfway through the first season of Fortnite Chapter 2!
Going off the same format used in Season 1-10, there should only be two weeks of Season 1 remaining, however, Epic Games have confirmed that the season has been extended to cover the holidays.
Week seven's challenge missions are already out, meaning that Battle Pass owners only have a matter of days to unlock this week's loading screen before the next set of tasks is released.
Throughout the first season, players have had to search for a hidden letter in each loading screen as a 'bonus' challenge as part of that week's mission.
Week 8 looks to be no different, as players will have to complete eight out of the eleven water-themed challenges in order to unlock the loading screen.
Leaked week 8 Dive! mission challenges
Leaked by Lucas7yoshii, the challenge set will require players to head over to Lazy Lake and Hydro 16 to complete the swimming trials, alongside completing the usual damage-based tasks.
Deal damage to descending supply drops (200).
Eliminations at Hydro 16 or Holly Hedges (3).
Search a supply drop within 10 seconds of it landing (3).
Complete the swimming trials at Lazy Lake and East of Hydro 16 (2).
Eliminations without aiming down sights (3).
Pull an item, pull an opponent and catch a fish using a Harpoon gun (3).
Deal damage to opponents within 30 seconds of using a glider (1).
Search 2 chests within 30 seconds of each other (3).
Harvest wood within 60 seconds of landing from the battle bus in a single match (300).
Deal damage with 2 different weapons within 30 seconds (1).
Search the hidden 'E' found in the Dive! loading screen (1).
Leaked week 8 Dive! Loading screen
We also have the loading screen for you to feast your eyes on, without having to complete a single one of the eight challenges!
The loading screen certainly paints a chaotic scene, with Rippley and Sludge hanging on for dear life. Let us know below how you plan on tackling this week's missions, as we edge closer to the season-end.
All major Fortnitemares: Midas' Revenge map changes
Take a look at all of the new locations in the Fortnite v14.40 Fortnitemares update.
Fortnite v14.40 brought Fornitemares: Midas' Revenge into the game. Midas has returned to his old stomping grounds with his Drum Gun and some RPG-wielding Henchmen to back him up.
The Fortnite map underwent several changes when the update launched – potentially the most changes since the start of the season. Ahead, we cover all of the new locations you can visit now that Fortnitemares 2020 is live.
The Ruins
The Ruins was the biggest change that came with the Fortnitemares update. At the same time, the changes seem a big familiar.
The location is now shrouded in shadows as Shadow Midas roams the hallway. This has now become the most dangerous location on the map. When you combine the undead Midas, Henchmen carrying Rocket Launchers, a massive number of players, and the new Shadow Zombies – it's going to be tough to make it out of The Ruins alive.
Witchshacks
Witchshacks have popped-up all across the Fortnite map. These small huts aren't too much to write home about, but they do bring the Halloween theme to more portions of the island.
The biggest reason to visit the Witchshacks has to be the new Broomsticks that you can find, there. The Broomsticks are kept inside of the barrels at these locations. You can grab one by breaking or searching a barrel – just like Fishing Rods.
The Broomsticks work exactly like Silver Surfer's Surfboard. They propel you off of the ground and into the air, allowing you to glide as far as you choose. You can also cancel them mid-flight, just like the aforementioned Surfboard.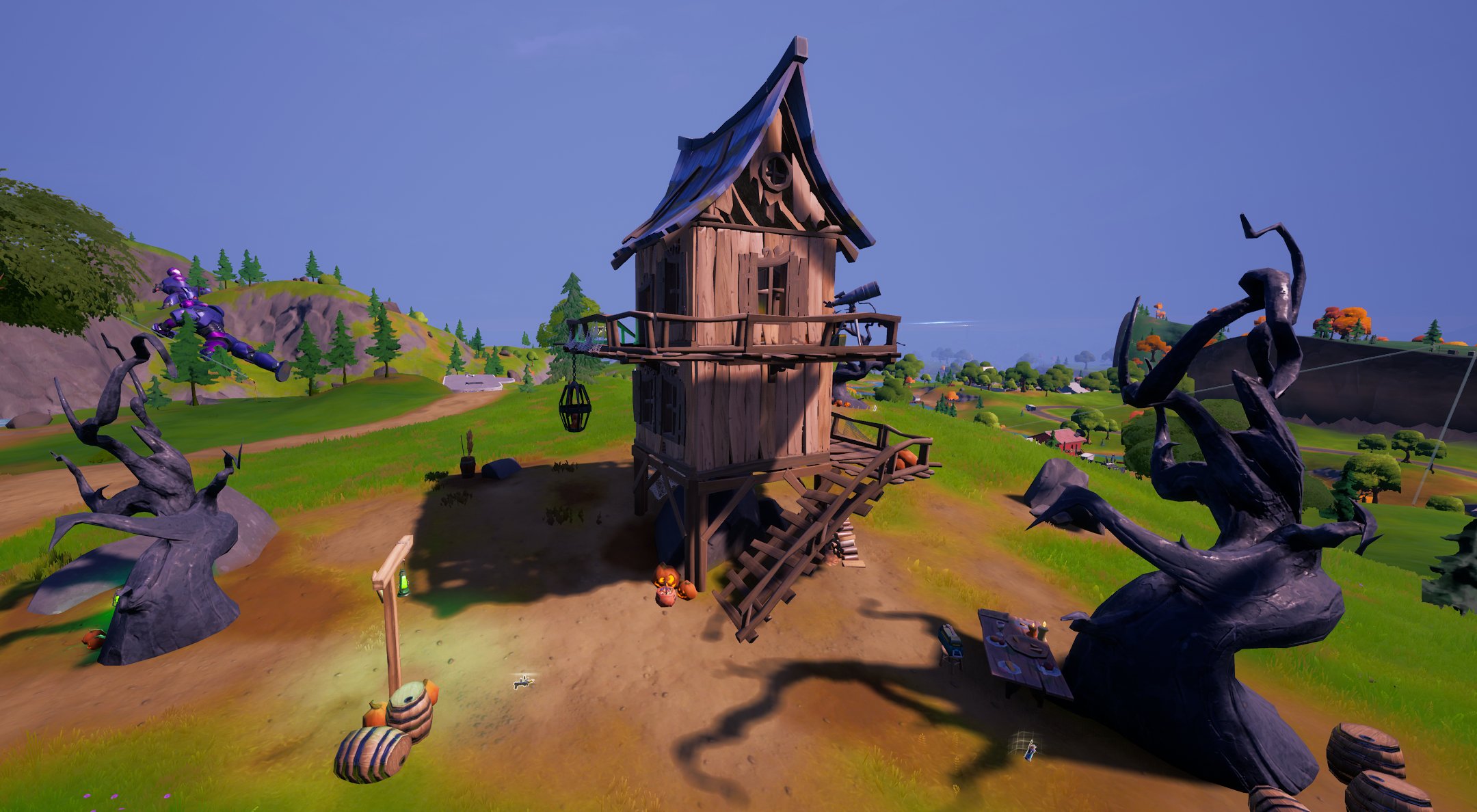 New Rift locations
There were a few small map changes in v14.40. One category of change is an expansion of the Rift Zones. Now, you can find Rifts surrounding some of the major POIs like Misty Meadows.
We're still finding all of the new Rifts across the map, but they offer an additional form of mobility – always welcome when the storm is closing in.
These were all of the major changes in the Fortnitemares update, with small details still being uncovered. For instance, eagle-eyed players can find the Ghostbusters van and whack it for a cool Easter Egg.
The update is set to remain active until November 2, so we have several weeks left to enjoy the Halloween-themed Fortnite. Let us know what you think about all of these changes on Twitter, @FortniteINEL.
Your guide to Shadows in Fortnitemares 2020
Everything you need to know about Zombies in Fortnitemares 2020.
The addition of player-controlled Shadows might be the biggest addition to Fortnitemares 2020. For the first time in Fortnite's history, players are able to respawn in core game modes.
The player base is already split as to whether or not this is a good addition to the game. Whether you like the change or not, it's here to stay – at least for a while. Ahead, we'll give you everything you need to know about Shadows in Fortnite.
How to turn into a Shadow
Turning into a Shadow is the easiest part of all of this – all you need to do is stay in the game after you die. Rage-quitters won't be able to experience the primary feature of the Fortnitemares update.
The Shadow mechanic gives players an extra life after they die. You'll still be able to communicate with your teammates, but your voice will be distorted – a nice touch, in our opinion.
Abilities
As a Shadow, you have the ability to scan the area for enemies, lunge forward, attack, and become invisible. Scanning the area is incredibly powerful, as it reveals all of the "real" players to the rest of the zombie horde.
To become invisible, stand still and sneak up on an opponent. Your eyes will still be visible, but they're easy to miss when you're running by them.
Healing
As a zombie, you can heal by consuming loot that eliminated players drop. You start with 100 HP and can gain it back by eating ammo, materials, items, and weapons.
It appears as though the amount of healing you receive scales based on the rarity of the loot. You will also keep the loot on your body, meaning the player who eliminates you can use it to help them win the game.
Winning
You might be wondering: can you win as a Shadow in Fortnitemares? Yes, you can. Eliminating all real players will grant a 'Nitemare Royale' to all of the zombies who survive.
In fact, winning as a shadow will count as a Solo win if you're in that mode. There could be ten Shadows left in the lobby and you'll still get a Solo win. With so many tools in the Shadow's toolkit surviving to the end and winning as a Shadow might be the easiest way to win, right now.
Fighting Shadows
After playing a few games in the new Fortnitemares event, it will soon become clear that winning as a player tends to be more difficult than winning as a zombie. The Shadows can overwhelm you, break down your builds, and push you back with every hit. Husks were one thing, but the 2020 Shadows are like intelligent versions of the Husks – making them far more difficult to deal with.
So – how do you fight the Shadows? The only strategy that seems to work is to keep your distance. You can use Bouncers and Gauntlets to stay above the zombies and away from their attacks. The new Crossbow deals extra damage to Shadows, as does Midas' Drum Gun – although there's only one Drum Gun and the Crossbow can be unreliable.
As you can see in this clip from SypherPK, the Iron Man Gauntlets seem to be the best way to fight the Shadows – with Doctor Doom's Gauntlets close behind. If we find any better methods, we'll let you know.
Shadows will undoubtedly be the most controversial part of this update – either you'll love them or you'll hate them. It's a cool idea to give players a second life in Fortnite, but it can be a bit overwhelming in the end-game scenarios.
Epic might need to make a few balance changes to the zombies after this update. Some have suggested that eliminating Shadows should grant players material and shields as a way to mitigate their destruction. For now, though, we'll have to deal with the Shadows as they are. If you don't like them, you can to stick to Arena.
Leaked Fortnite 14.40 skins & cosmetic items
Fortnite's v14.40 update has officially signalled the start of Fortnitemares 2020, and a brand-new patch means we have plenty of leaked skins and cosmetics to take a look at.
While Season 4 has been all about superheroes, Halloween is the name of the game for the next couple of weeks, with Fortnite's annual spooky event Fortnitemares making it's welcome return, and bringing back Midas too.
Midas disappeared at the end of Season 2 when his Device experiment ended in disaster, but the 14.40 update sees the character regain control of The Agency thanks to his Shadow Henchmen, who will play a significant role in the game for the next few weeks.
For cosmetics fans, a new update means new skins, gliders, back bling, and more to look at ahead of their addition to the Item Shop, and thanks to data miner HYPEX, we can take a look at everything that will appear in-game over the next few weeks.
Skins
As always, new skins are the highlight of any cosmetic drop, and there are plenty for fans to sink their teeth into during the Fortnitemares event.
Beef Boss and Fishstick are two new members of the Skull Squad, while the Skull Trooper himself gets a party makeover. Elsewhere, we have some new default characters for those who like to keep things simple, while the Good Doctor skin has a special emote that sees him transform into a massive monster when he drinks a potion.
Emotes
We've also got some new emotes, including one which sees your character play the banjo on a rocking chair, and a zombie walk which fits the Fortnitemares theme.
Unfortunately, we haven't seen any gliders, back bling, or weapon wraps just yet, but we'll be sure to add them to this article when they are revealed.