Leaked Fortnite skin bundle offers Ghost Chaos Agent, Wildcard & more
These leaked Fortnite skins bring Ghost to Season 3.
Fortnite fans are still waiting on the long list of cosmetics that were leaked in the initial Season 3 patch. Epic have been, understandably, slow to roll them out. They want players to pick up the Battle Pass first, then head to the Item Shop to spend some extra V-Bucks.
We have seen a few leaked skins and emotes come to the shop, but nothing major. Well, it appears as though a new bundle is on the horizon. These skins will likely come as standalone cosmetics with the option to buy them as a pack – similar to what we saw with other bundles in the recent past.
According to data miner FireMonkey, the bundle will include Ghost Hush, Ghost Wildcard, and Ghost Chaos Agent. Reportedly, these will all be new skins and won't be available as selectable styles to those who already own Chaos Agent, Hush, and Wildcard.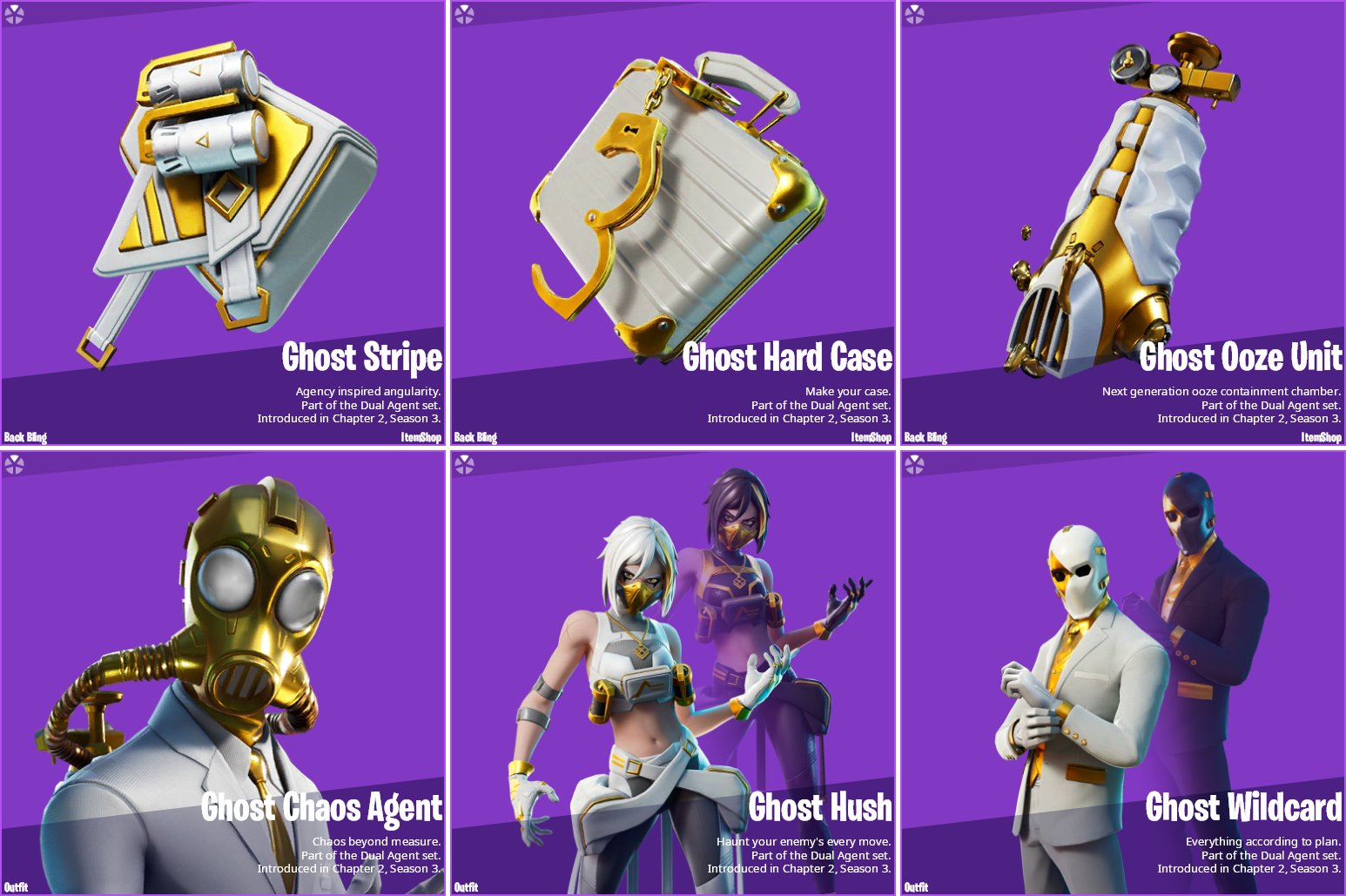 The Ghost Chaos Agent skin is particularly interesting when you look at the plot of Fortnite. Before Season 3 released, Epic re-released the skin with the message, "It's not his final form." Fans wondered about this phrase, and the new skin might be our answer.
Within the plot of Fortnite, it appears as though Midas and Chaos Agent joined forces at the end of Season 2. In Midas' locker, you could see the golden helmet of Chaos Agent, hanging in his collection. This could be the in-game version of the style.
Plot aside, these are some awesome new skins and look to become some of the more popular sights in Fortnite Season 3 when they eventually come out.
Fortnite leaks confirm future Deathstroke skin
A new Fortnite leak has confirmed what we all assumed: Deathstroke from DC will come to the game as a skin.
New Fortnite leaks have confirmed speculation that DC villain, Deathstroke, will be getting a Fortnite skin in the future.
The Fortnite X DC Comics Batman series has been a delight for both DC and Fortnite fans. The limited-edition series brings Batman and other heroes to the Fortnite world, along with some iconic villains.
Among the villains portrayed in the comics is Deathstroke. Since all of the characters in the comic are already in the Fortnite world, players assumed that Deathstroke would be the next DC character to get a Fortnite skin.
This was later confirmed via Fortnite leaks. Hypex, a popular Fortnite data miner, tweeted an image of a glider. Not just any glider, though. This was the glider that Deathstroke can be seen using in Issue 4 of the comic.
We don't have the render of the skin just yet, but this glider is enough to confirm that Deathstroke will be coming to Fortnite at some point. We don't know whether this will be through the Item Shop, a limited-time tournament, or the Fortnite Crew subscription.
Deathstroke isn't the only skin from the DC comic that Fortnite players are drooling over. Epic recently announced that players who purchase the comics will receive a code for a free cosmetic item. Issue 1 will include an exclusive Rebirth Harley Quinn skin.
We could see Deathstroke come to Fortnite in this way, as well. We also expect to see a new Catwoman skin, a Batcave POI, and a lot more as Season 6 continues. Stay tuned to learn when all of this will come to the game.
Fortnite Season 6 leak reveals more upcoming vehicle mods
A new Fortnite Season 6 leak reveals two upcoming vehicle mods coming to the game after the Chonkers off-road tires.
The Fortnite v16.20 update brought vehicle mods to the game for the first time, but we don't expect it to be the last we see of them.
Vehicle mods in Fortnite Season 6 have been teased since the trailer was first released. It took a few weeks for Epic to bring them to the game, but they're finally here.
The first vehicle mod added to Fortnite is the Chonkers off-road tires. These tires, as their name suggests, make it easier for players to drive off-road as well as allows them to scale cliffs without getting out of the car.
Of course, we don't expect this to be the only modification that Epic add to vehicles in Fortnite Season 6. More than likely, we'll see some new mods added every patch or so until there are several options in the game.
A leak from Fortnite data miner @Hypex reinforces this speculation. According to him, there are two more unreleased vehicle mods in the game files; one for a rear bumper and one for a front bumper.
The front bumper mod will be called "Scoop" and the rear bumper mod will be called "Mega Booster." Hypex also stated that we could see a mounted weapon on cars and even "interactable mod garages."
The names of these mods make it clear what they'll do. The "Mega Booster" mod will probably be some kind of rocket-propelled enhancement that makes cars go faster. If we had to guess, the "Scoop" mod will be a ramp that will make it easier to blast through structures.
As for mod garages, it's difficult to speculate on how these will work. The Chonkers tires spawn on the ground and let players throw them onto cars. A mod garage seems a bit foreign in the current setup.
Of course, we'll keep you posted when we learn more about these upcoming vehicle mods. Until then, make sure to follow us on Twitter @FortniteINTEL.
Fortnite v16.20 leaked skins: Princess Fishstick, Aloy & more
New Fortnite leaks from the v16.20 patch reveal skins for Aloy, Princess Fishstick, and many more. Here are all of the leaks so far.
The Fortnite v16.20 patch is live, and brought some new leaked skins and cosmetics to the game. Here's what we know.
It's been two seasons since we first saw Princess Fishstick teased in a loading screen. Now, in the v16.20 patch, we finally have a leaked model for the skin.
Of course, she isn't alone. We have a ton of new skin leaks to explore along with some updated bundles. Here are all of the new and updated skins that were leaked in v16.20.
Fortnite v16.20 leaked skins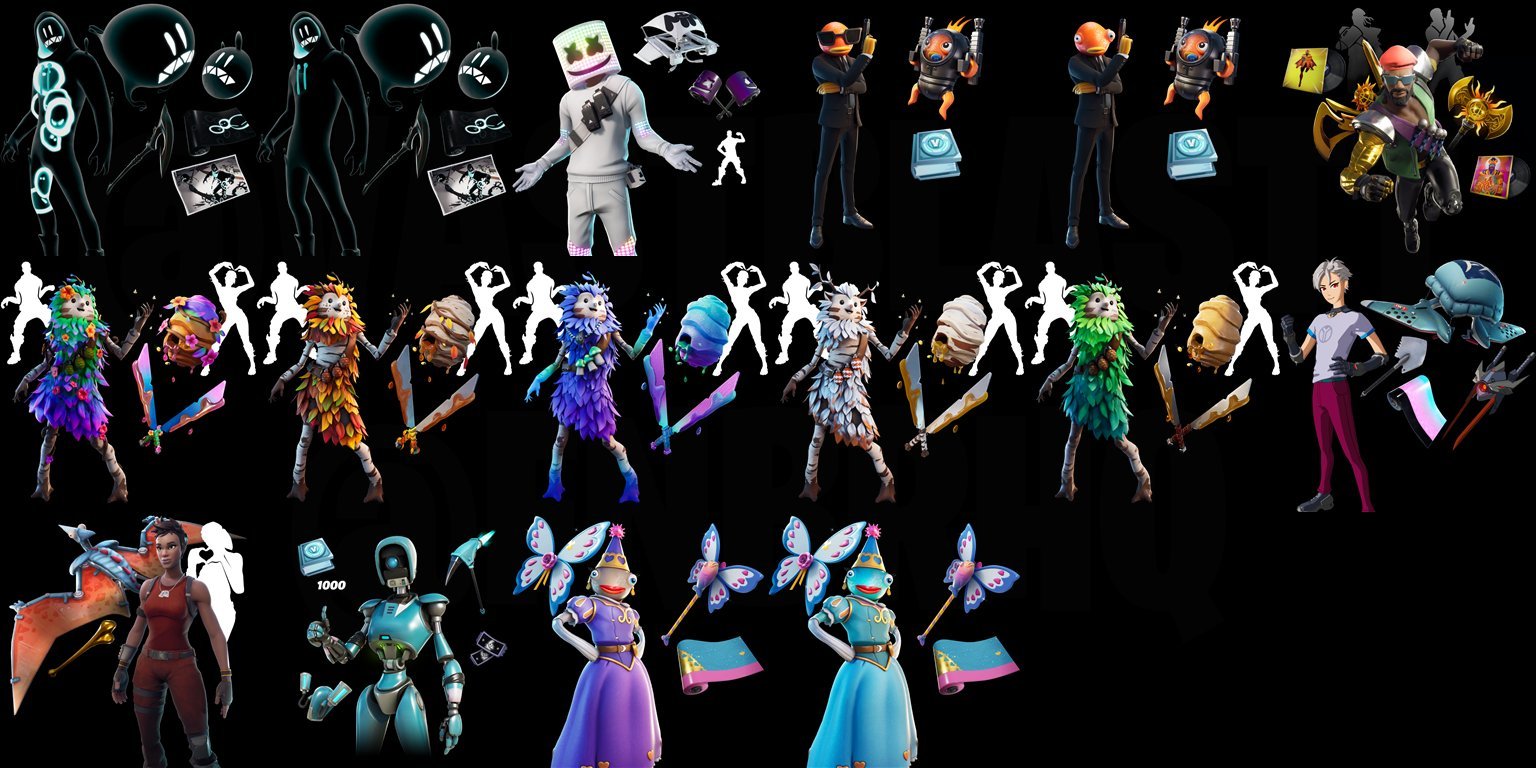 Fortnite v16.20 leaked Emotes
We assume that these cosmetics will hit the Item Shop in the coming weeks. We already know that Aloy will be available on April 14 through the PlayStation exclusive Aloy Cup. You can view more details on that here.
We'll keep you updated if data miners find any more leaked skins and cosmetics in the update. Until then, make sure to follow us on Twitter @FortniteINTEL so you never miss out on any of the latest Fortnite news.
Image Credit: Epic Games, Hypex, VastBlastt