Leaked Fortnite skin bundle offers Ghost Chaos Agent, Wildcard & more
These leaked Fortnite skins bring Ghost to Season 3.
Fortnite fans are still waiting on the long list of cosmetics that were leaked in the initial Season 3 patch. Epic have been, understandably, slow to roll them out. They want players to pick up the Battle Pass first, then head to the Item Shop to spend some extra V-Bucks.
We have seen a few leaked skins and emotes come to the shop, but nothing major. Well, it appears as though a new bundle is on the horizon. These skins will likely come as standalone cosmetics with the option to buy them as a pack – similar to what we saw with other bundles in the recent past.
According to data miner FireMonkey, the bundle will include Ghost Hush, Ghost Wildcard, and Ghost Chaos Agent. Reportedly, these will all be new skins and won't be available as selectable styles to those who already own Chaos Agent, Hush, and Wildcard.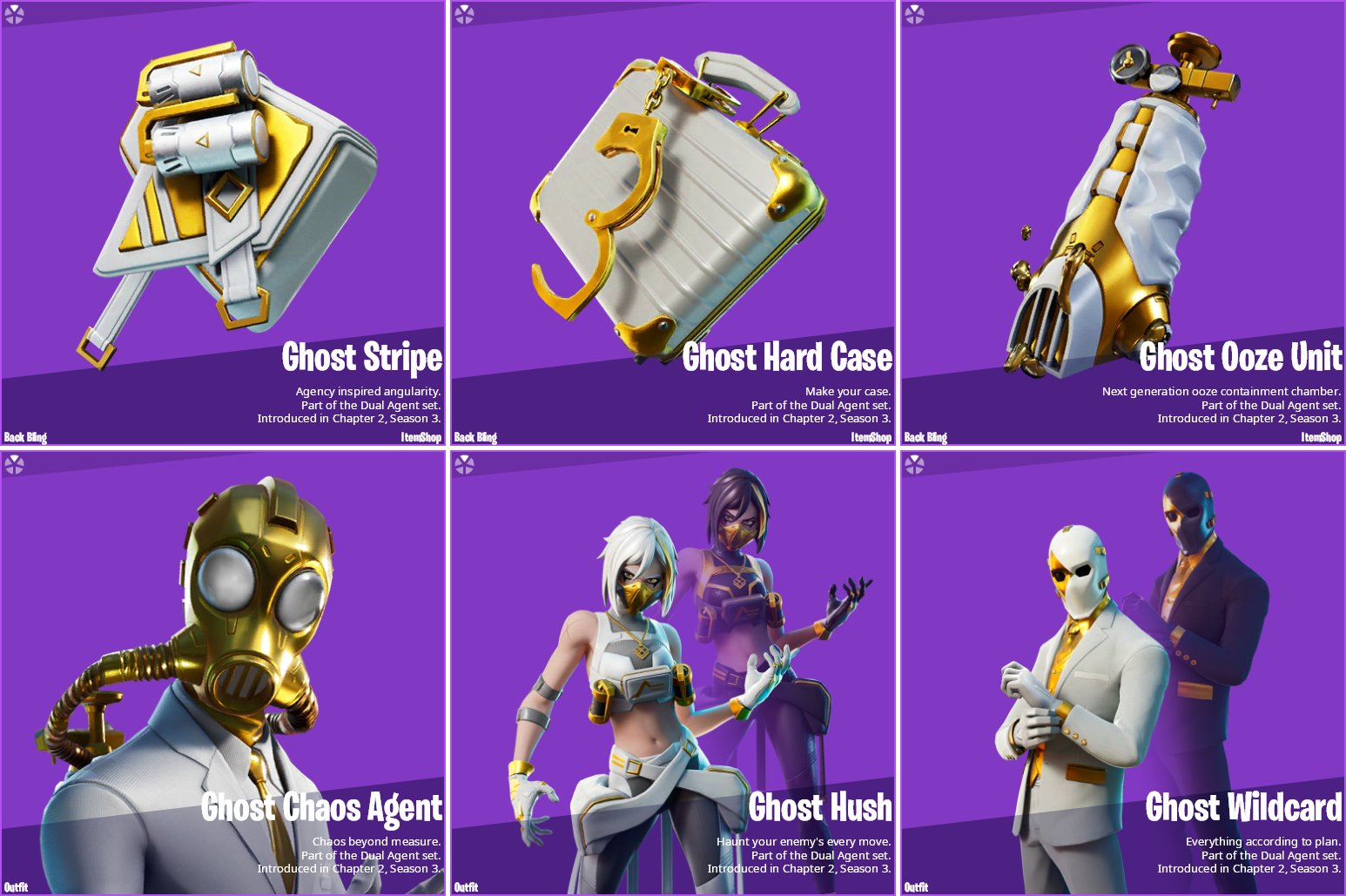 The Ghost Chaos Agent skin is particularly interesting when you look at the plot of Fortnite. Before Season 3 released, Epic re-released the skin with the message, "It's not his final form." Fans wondered about this phrase, and the new skin might be our answer.
Within the plot of Fortnite, it appears as though Midas and Chaos Agent joined forces at the end of Season 2. In Midas' locker, you could see the golden helmet of Chaos Agent, hanging in his collection. This could be the in-game version of the style.
Plot aside, these are some awesome new skins and look to become some of the more popular sights in Fortnite Season 3 when they eventually come out.
Entire Fortnite Summer Smash LTM lineup revealed
Here are all of the upcoming LTMs for the Fortnite Summer Splash event.
We're in the midst of Fortnite's annual Summer event – this year called, "Summer Splash." Last year, we saw Epic unvault a new weapon each day during the 14 Days of Summer. This season, we're getting a healthy rotation of some LTMs.
The return of LTMs was one of the most-requested features from the Fortnite community during the first two seasons of Chapter 2. Fans wondered why Epic didn't add these modes to the game. Well, we may now know: they were saving them for a small event.
We'll be treated to five more LTMs over the course of July, starting with Fog of War, which came out on the 6th. Tomorrow, July 8, the rotation will split to High Explosives as a Squads mode.
Fortnite data miner @iFireMonkey took a look at the game files and found all of the LTMs coming to Fortnite in the next month. Along with the game types, he also found the team size that each mode will feature. Here's his infographic on all of the LTMs coming to the Summer Splash event.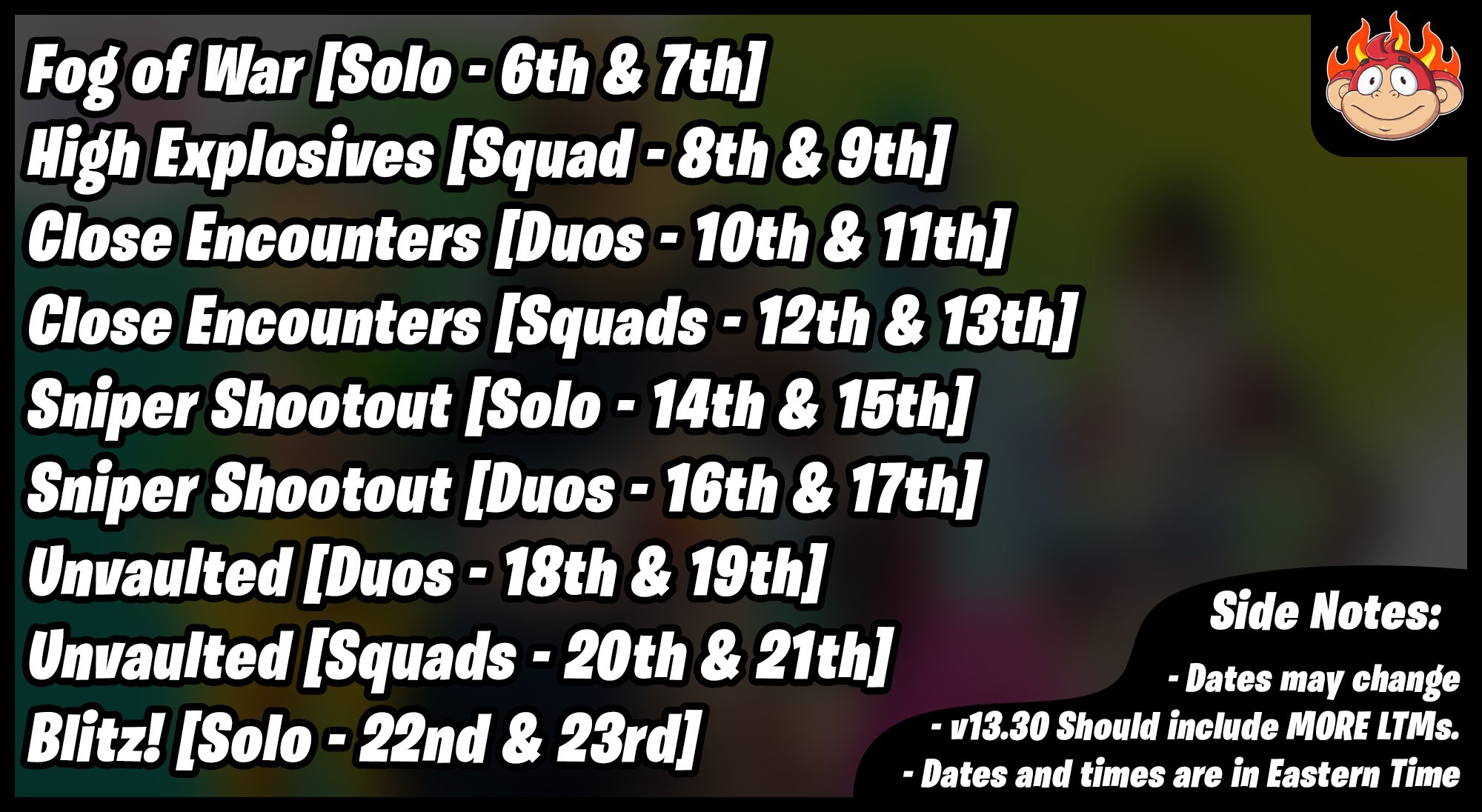 As you can see, Epic are, traditionally, keeping their LTMs around for four days each – switching the team size after two days. Sniper Shootout, Blitz, and Unvaulted are three of the most popular LTMs, so it makes sense that we're seeing them here.
Of course, there will be a few fan-favorites that missed the rotation. The Floor is Lava, Air Royale, and The Getaway are probably all Chapter 1-specific, but we would have loved to see Bounty in this lineup. Hopefully, Epic continues to keep up with their LTM rotation after Summer Splash concludes.
Fortnite Season 3 leak reveals vehicle stats, fuel consumption & more
We now know exactly how fuel will work when cars come to Fortnite Season 3.
Land vehicles have been sorely missing from Fortnite for the entirety of Chapter 2. We started with the boat, then expanded to the helicopter, and can now hook onto Sharks and use them for transportation. In Season 3, fans were expecting to see cars enter the game, and we should be welcoming them to Fortnite, soon.
Reports have it that cars will come to Fortnite on July 21 – nearly a month after Season 3 first released. We can assume, then, that the water level will continue to lower week by week until the roads are clear for cars to emerge.
We've seen bits and pieces of details about cars trickle through, but July 6 revealed the most comprehensive information about cars to date. This information was provided by Hypex and placed into some easy-to-read infographics by FireMonkey. Let's start with car types and more details about gas pumps.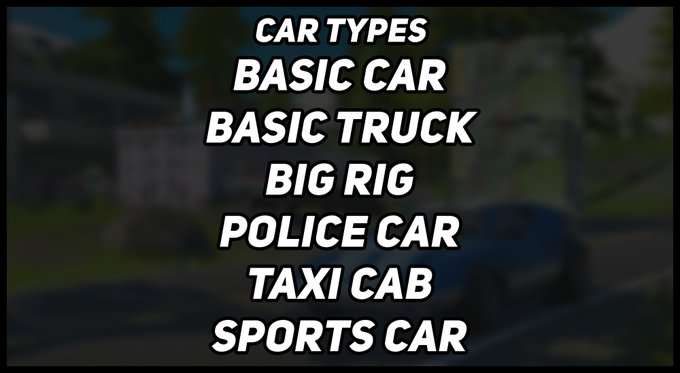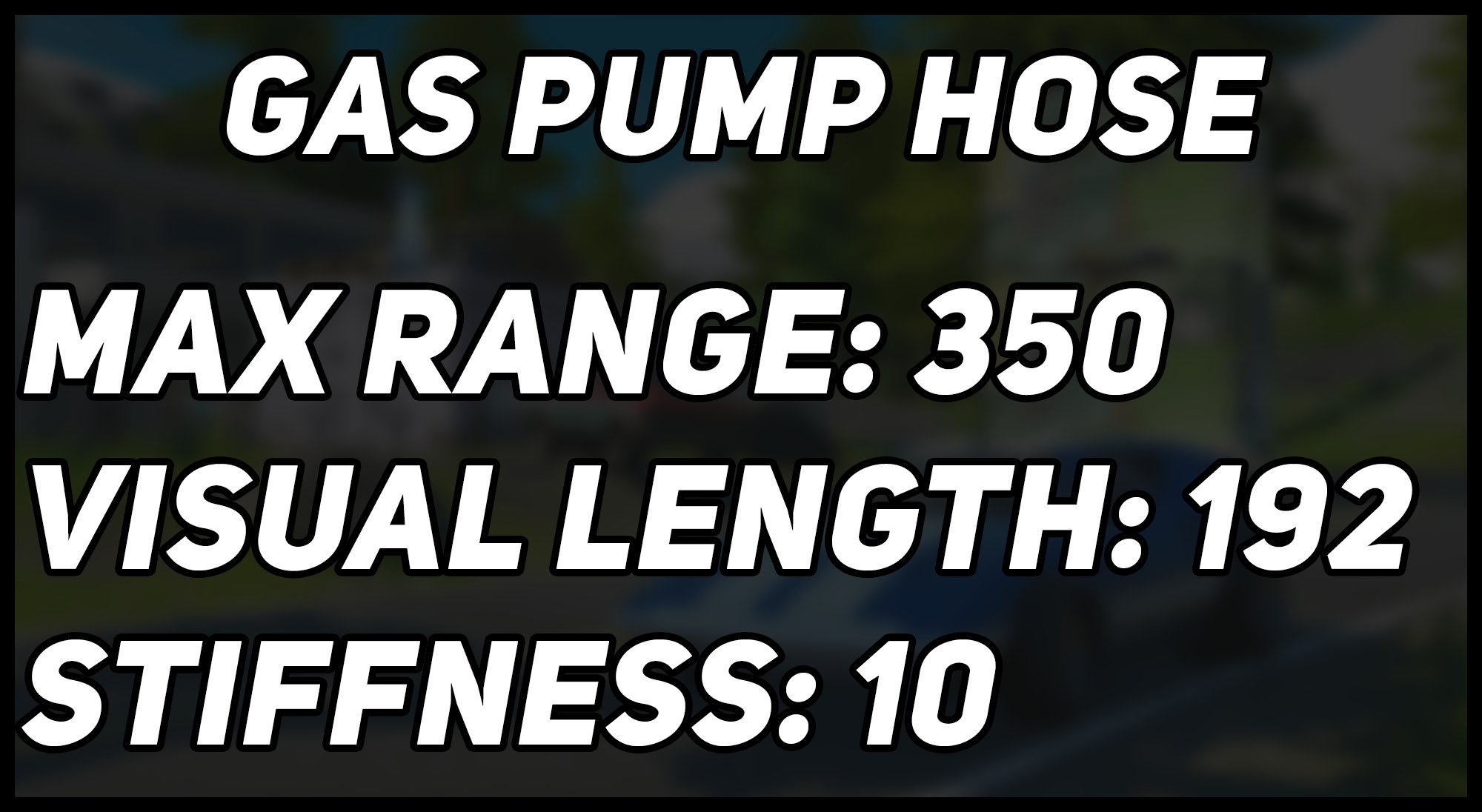 We already knew the general vehicle types coming to Fortnite, but this new information gives us the official names. More importantly, it tells us a lot about how fuel will work when cars are eventually added. According to the graphic, you'll be able to drag the hose a considerable distance away from the pump.
As interesting as this is, it's a bit confusing. Previous reports had it that gasoline would be an ammo type, suggesting that we could carry it on our player. This new leak points to the need to visit a pump while in the game.
That's not all that these leaks provided us. We now know that cars will begin to leak fuel when players shoot them, which makes sense as a game mechanic. Here's all of the information about fuel consumption, boost, and more for each vehicle type.
Cars seem to be one of the more intricate Fortnite vehicles that Epic have ever added. The mechanics we've seen in the past, largely, relate to durability and mobility. Cars will have all of that and then some.
There's still a lot to learn about cars – most of which we won't know until they come into the game. Until then, this gives us nearly everything we need to speculate as to how powerful the first land vehicles in Chapter 2 will be.
When are cars coming to Fortnite Season 3
The release date for cars in Fortnite Season 3 has been revealed.
When the Fortnite Season 3 trailer came out, fans were excited to learn that cars would be entering the game. When the downtime ended and players began to search the map, they saw that cars were nowhere to be found.
We saw a similar pattern with helicopters in Season 2. They were in the trailer and promotional art, but weren't in the game. This time, however, we have a cannon explanation as to why: the cars would have nowhere to go. It's tough to zoom around the map in a car when most of the roads are still flooded.
The water within the Fortnite map has already begun to recede, and levels will continue to lower over the course of the season. This begs the question: when will the water level be low enough for cars to traverse the map? Well, over the weekend, data miners gave us that information.
Cars will, reportedly, be added to Fortnite on July 21 – two weeks from tomorrow. This will likely come in a patch, as water levels continue to progressively get lower with each week.
We saw some additional information about cars in Fortnite a couple of weeks ago. You can take a look at all of that information here. As always, we'll keep you posted with all of the updates we see for cars and everything else related to Fortnite Season 3, so stay tuned!