Leaked Fortnite skin bundle offers Ghost Chaos Agent, Wildcard & more
These leaked Fortnite skins bring Ghost to Season 3.
Fortnite fans are still waiting on the long list of cosmetics that were leaked in the initial Season 3 patch. Epic have been, understandably, slow to roll them out. They want players to pick up the Battle Pass first, then head to the Item Shop to spend some extra V-Bucks.
We have seen a few leaked skins and emotes come to the shop, but nothing major. Well, it appears as though a new bundle is on the horizon. These skins will likely come as standalone cosmetics with the option to buy them as a pack – similar to what we saw with other bundles in the recent past.
According to data miner FireMonkey, the bundle will include Ghost Hush, Ghost Wildcard, and Ghost Chaos Agent. Reportedly, these will all be new skins and won't be available as selectable styles to those who already own Chaos Agent, Hush, and Wildcard.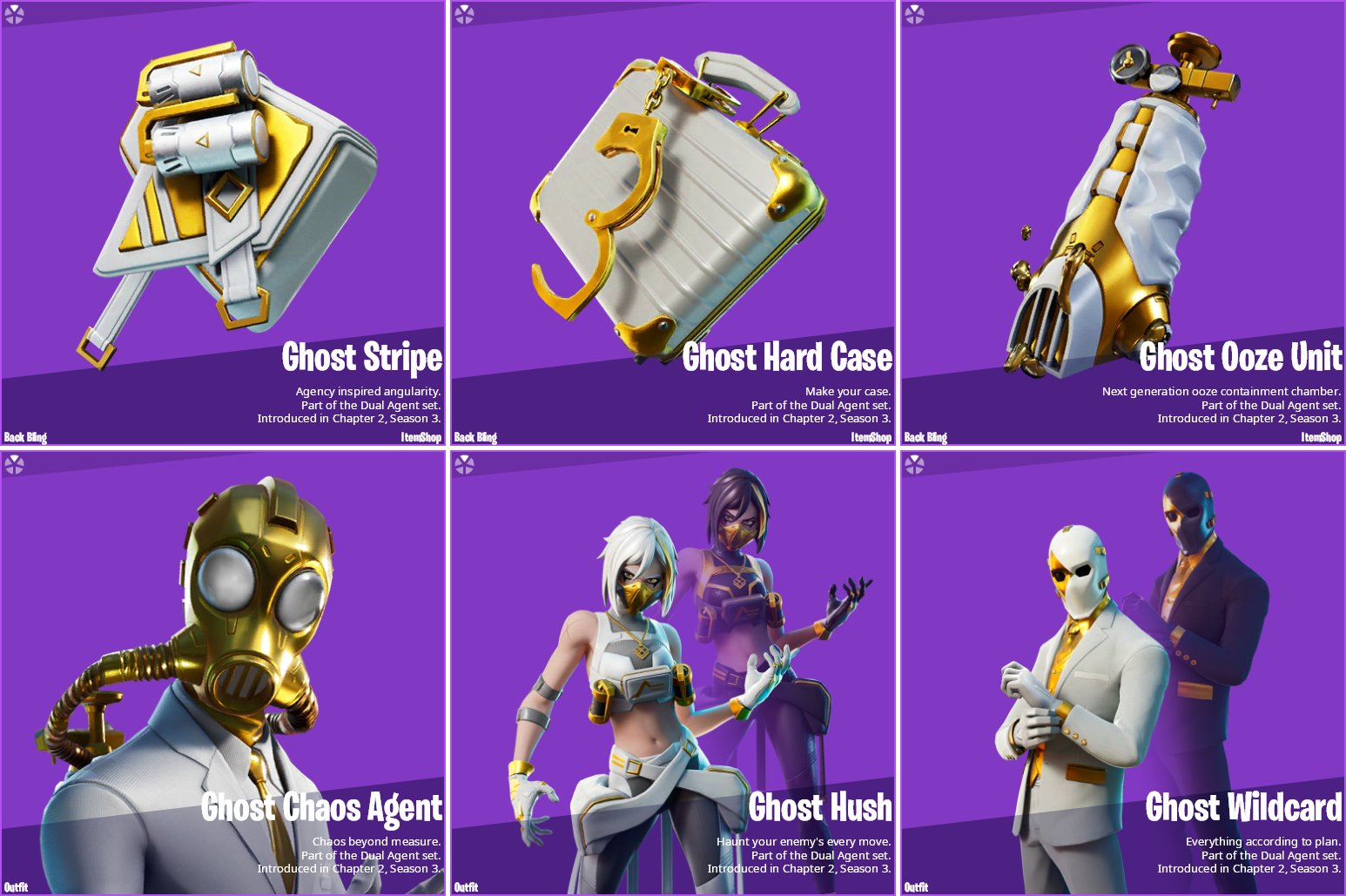 The Ghost Chaos Agent skin is particularly interesting when you look at the plot of Fortnite. Before Season 3 released, Epic re-released the skin with the message, "It's not his final form." Fans wondered about this phrase, and the new skin might be our answer.
Within the plot of Fortnite, it appears as though Midas and Chaos Agent joined forces at the end of Season 2. In Midas' locker, you could see the golden helmet of Chaos Agent, hanging in his collection. This could be the in-game version of the style.
Plot aside, these are some awesome new skins and look to become some of the more popular sights in Fortnite Season 3 when they eventually come out.
Leaked Fortnite weapon is a cross between a Minigun & Grenade Launcher
This leaked Fortnite weapon is scary…
The Fortnite community tends to be split when it comes to explosive weapons. Some enjoy the ability to break down any structure in the game, while others prefer a rocket-free experience when cranking 90's for high-ground.
We've seen all kinds of explosive weapons come and go from Fortnite. We've had the Quad Launcher, Grenade Launcher, Proximity Launcher, regular RPG, Pumpkin Launcher, and several others. Only a couple of them have remained in the loot pool for more than a season.
According to Fortnite data miner, @Mang0e_, it looks like the latest explosive weapon is on the horizon. We've only seen some statistics and mesh image of the item, but that's enough for us to be intimidated as to the destruction it could cause.
Mang0e_ described the weapon as a "cross between a Grenade Launcher and a Minigun." If that doesn't send a chill up your spine, we don't know what will. These are two of the most powerful weapons that Fortnite has ever seen. Now, we're combining them?
Of course, this is only preliminary information and we have no idea if this item will ever even come to Fortnite. The initial impression could be way off as well, so it's no time to panic.
After all, we saw Machine Pistols leaked last year and they still haven't entered the game. Just recently, we got the first piece of concrete news on the item since last November. This is all to say that it could be a long time before this strange "heavy weapon" comes to Fortnite – if it ever does.
We'll keep you posted when we learn more about the weapon, but it could be a while. Epic likely won't release the next Fortnite update for at least a week or two, and we don't expect to see this weapon when it does come out. In the meantime, make sure to follow us on Twitter, @FortniteINTEL, to be the first to know all of the breaking Fortnite news.
Fortnite Mythic weapon leak: 'Mystique's Dual Auto Pistols'
Fortnite leaks reveal that Mystique is finally getting a Mythic item.
Fortnite Season 4 is all about the hero abilities. We've seen an ability for nearly every hero in the game along with some for heroes that haven't even been released, such as Black Panther and Venom.
The only Battle Pass hero who hasn't received a Mythic ability is, strangely, Mystique. To be fair, it might be a bit difficult for Epic to come up with one. Her superpower, after all, revolves around shapeshifting into other people. We can use this as a built-in Mystique emote, but it doesn't work as a standalone in-game mechanic.
Well, it seems like Mystique's mythic item is in development. That's right: reports have it that we're getting an item rather than an ability. Fortnite data miner, @Mang0e, released his findings: Mystique's Dual Auto Pistols.
You probably don't remember this weapon model – it's not everyone's job to follow all of these Fortnite leaks – but this Machine Pistol was leaked over a year ago. After several updates, Epic adjusted the statistics and rarities of the unreleased weapon.
Still, even after the weapon was updated, Epic kept it out of the game for almost a year. It seems like we may finally see a version of this weapon enter Fortnite in Season 4.
We still have a lot of unanswered questions about this weapon. Most likely, we'll be able to get our hands on it through the drones located at the Quinjet landing sights. This has been the most common place to grab Mythic hero abilities. Of course, we don't know this for sure.
Will the third leak be the charm for the Machine Pistol, AKA Mystique's Dual Auto Pistols? Only time will tell. We'll keep you posted when we learn more about this weapon.
Leaked Rocket League POI coming to Fortnite soon
A Fortnite leak revealed a new Rocket League POI that could be coming to the game any day now.
Epic Games made some waves in the gaming community when they acquired Rocket League developer, Psyonix. They made their mark on the game almost immediately and started positioning Rocket League's monetization to mirror that of Fortnite.
Part of that game was to make Rocket League free-to-play, which has finally happened after months of anticipation. Naturally, Epic celebrated the move with a Fortnite collaboration – bringing players from two of their biggest games together.
The collaboration includes cosmetic rewards for both Fortnite and Rocket League. You can take a look at how to unlock all of those challenges here and get started right after reading.
According to Fortnite data miners, we'll also see a Rocket League POI entering Fortnite in the near future. This new building will include some Rocket League posters, trophies, and more. We don't know where or when it will pop up, but we can expect it to come to Fortnite over the weekend – possibly during the Birthday update.
We thought that this location may already be in Fortnite following the maintenance patch, but looked around and saw nothing new. We'll keep you posted when it does enter the game, though, as it could be here any day now.
In the meantime, playing Rocket League for the first time is worth a try. It's one of the most unique and competitive games out there. Better yet, it's free so there's nothing to lose.