The Fortnite Challenges for Week 9 of Season 6 have reportedly been leaked!
With Week 9 of Season 6 set to begin on Thursday, November 22, the upcoming Challenges have been revealed.
Although the developer will typically implement 'placeholder' Challenges beforehand to protect from leaks, data miners can typically find them a few days before they are released.
Like weeks prior, the Week 9 Challenges appear to be straightforward and won't necessarily require much in-depth research to complete.
You can view all of the leaked Season 6, Week 9 Challenges below, courtesy of FortniteInsider. It should be noted that until the Challenges are officially released in-game, Epic Games can always change the list beforehand.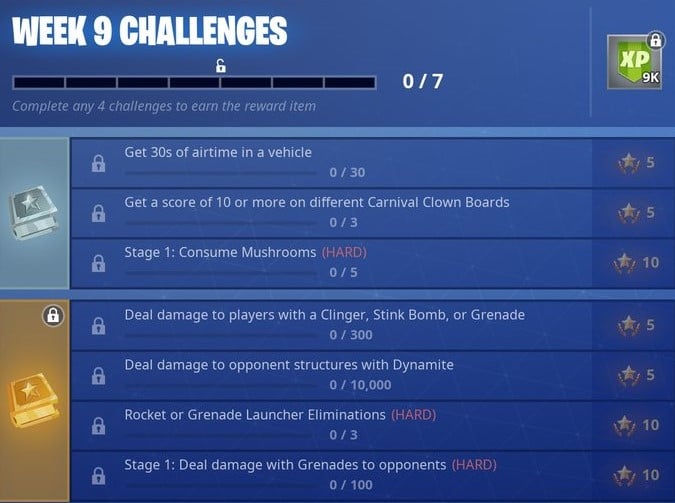 Free Challenges
Get 30s of airtime in a vehicle (30)
Get a score of 10 or more on different Carnival Clown Boards (3)
Stage 1: Consume Mushrooms (5)(HARD)
Battle Pass Challenges
Deal damage to players with a Clinger, Stink Bomb or Grenade (300)
Deal damage to opponent structures with Dynamite (10,000)
Rocket or Grenade Launcher Eliminations (3)(HARD)
Stage 1: Deal damage with Grenades to opponents (100)(HARD)