Lazarbeam teases new Fortnite Icon Series skin
Is Lazarbeam getting a Fortnite skin? That's what the internet is wondering after the YouTuber teased an announcement on March 1.
Is Lazarbeam getting a Fortnite skin? We explore the YouTuber's new teaser and supporting evidence of an Icon Series skin.
Since the release of Ninja's Fortnite skin, fans of the game have been speculating about which creators could be next. We've now seen Loserfruit, Lachlan, and TheGrefg receive skins in Fortnite, along with celebrities like Travis Scott and Marshmello.
There are still some big names left on the board. Streamers like Nick Eh 30 and SypherPK have received bundles for their most-used items, but who will be the next creator to enter the Icon Series?
Well, according to Lazarbeam, it could be him.
Lazarbeam Icon Series Skin
On March 1, Lazarbeam scheduled a video entitled, "MY FORTNITE SKIN REVEAL." Fans immediately wondered whether or not the Australian YouTuber – known for his gags – was pulling a fast one on his fanbase.
We still don't know whether or not this announcement is legitimate, but the early signs point to it being the real deal. Lazarbeam even assured his followers that it isn't clickbait.
Fortnite data miner, iFireMonkey, added further legitimacy to the announcement by looking at the files for the planned video.
"The Lazarbeam Icon Series video appears to be only 2 Minutes and 25 Seconds long according to the videos content details," he wrote on Twitter. "Due to the video length being pretty short, I would say this is 99% confirmed to be his icon series skin."
The video is scheduled to release at 5:00 PM EST (2:00 PST), so we'll know more when we can watch Lazarbeam's announcement.
If this is Lazarbeam's entrance to the Icon Series, it would be the first time that a creator revealed their skin before it was leaked. This could be why Epic and Lazarbeam are announcing it now – before it enters the game files for data miners to find.
Of course, there's still a small chance that we're one of the many fans who are taking the bait. We'll let you know when we see the video in a few hours.
Tfue sets Fortnite Chapter 3 Season 3 record for the most kills
Tfue returned to Fortnite in Chapter 3, and hasn't looked back ever since. He now holds the record for most eliminations in a Squads game.
Tfue's return to Fortnite has been no less than a highlight reel so far. He's won several Zero Build tournaments and made the record for the most kills in a Squads game recently.
Tfue played a major role in making Fortnite the biggest Battle Royale title ever. Back in the day, he was the face of the game and fans could not believe it when he quit in Chapter 2.
However, Tfue is finally back and he's causing mayhem in the newly introduced Zero Build mode.
Tfue and Zemie drop 68 eliminations in a Fortnite Squads game
Tfue and fellow Twitch streamer Zemie have participated in several tournaments together. Fans are well aware of their skills and synergy which has helped in yielding great results consistently.
In a recent live stream, Zemie and Tfue tried to drop 50 bombs in every game. This basically means that they were trying to get over 50 kills collectively. A Squads lobby is definitely better to attempt such challenges because it is easier to find groups of players.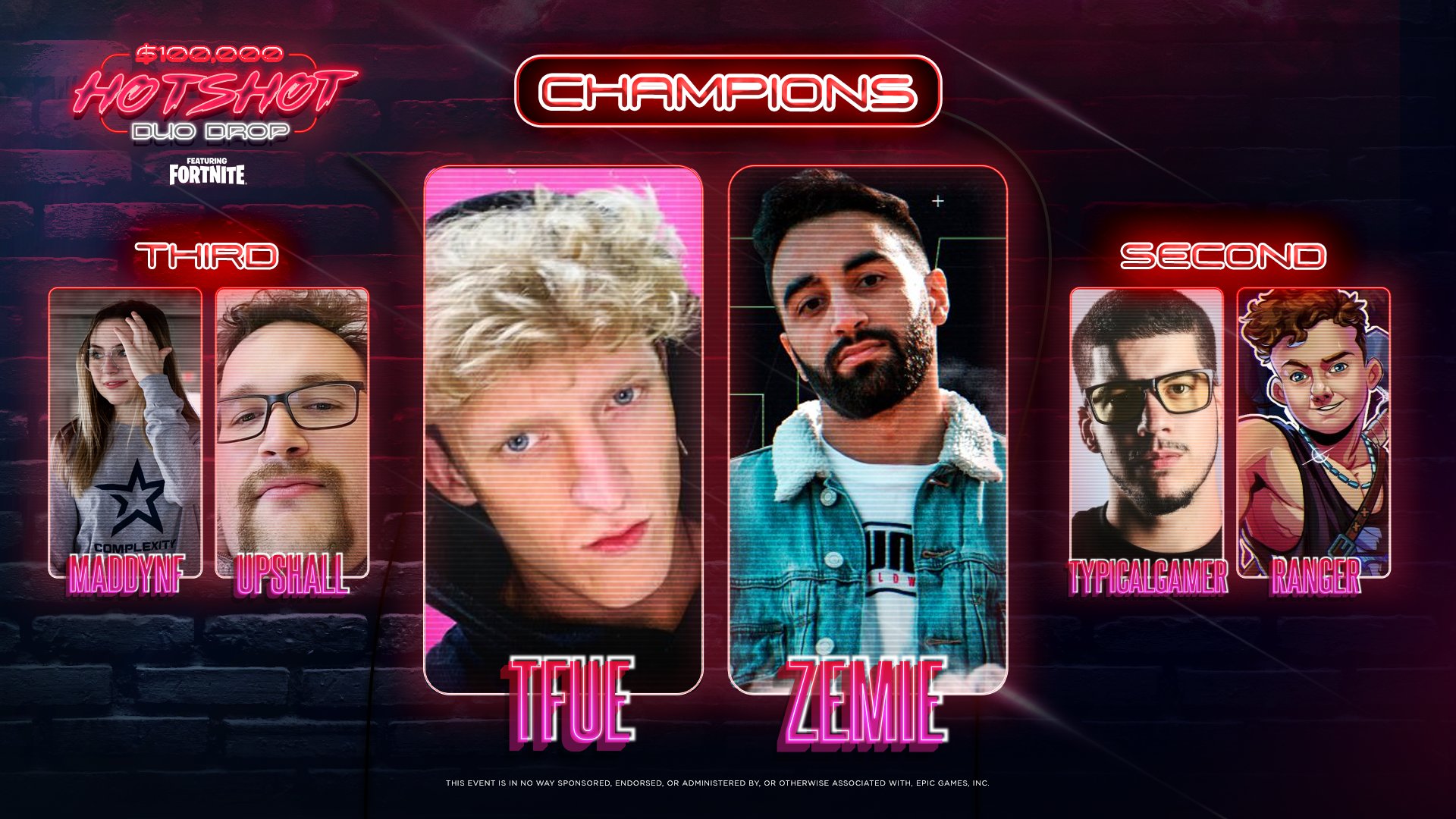 Little did the streamers know that they would end up creating a record for the most kills in a Squads game. The fact that they accomplished this feat as a duo is even more impressive. Tfue racked up 38 kills while Zemie had 30 eliminations under his name.
A total of 68 elimination in a single game is as unreal as it sounds. There is no denying the fact that Tfue and Zemie are two of the most skilled players out there, but eliminating 70% of the players in a lobby also requires a ton of luck.
Fortnite community reacts to Tfue and Zemie's record
Interestingly, Tfue's latest Fortnite record has received a mixed response from loopers around the world. While some creators have praised the duo, others believe that they created the record in a bot lobby.
A bot lobby includes a ton of AI. It's easier to get kills in a bot lobby because the AI can randomly spawn close to the player.
On the other hand, several fans also pointed out that famous streamers get a ton of free/easy kills because of stream snipers.
Amidst the contrasting opinions, Tfue and Zemie proudly hold the record for most kills in a Fortnite Squads game. It is safe to assume that no one will be able to break this record for a long time, let alone in Chapter 3 Season 3.
Fortnite player reaches Level 400 in Season 3 already: Here's how they did it
A Fortnite YouTuber has achieved the unimaginable by reaching Level 400 of the Chapter 3 Season 3 Battle Pass within the first week.
While the majority of the community is struggling to get XP in Fortnite Chapter 3 Season 3, a dedicated XP grinder has already surpassed level 400. Here's how they pulled it off.
It wouldn't be an exaggeration to say that the XP grind in Fortnite Chapter 3 Season 3 is merciless. Epic Games has repeatedly nerfed the XP system and loopers are nervous about completing the Battle Pass and unlocking their favorite skins.
On the other end of the spectrum, there's a player named LootStation who is on his way to reaching level 1000 in Chapter 3 Season 3.
Fortnite player finds the best ways to get XP in Chapter 3 Season 3
It is no surprise that LootStation is constantly accused of buying Battle Pass tiers. However, even if that's true, the YouTuber could have purchased a maximum of 100 levels and still managed to get 300 more levels even before the Week 2 challenges go live.
LootStation is no stranger to unlocking 'impossible' Battle Pass levels. Ever since the release of Impostors, he has relied on the LTM for XP. However, in Chapter 3 Season 3, playing Team Ruble in Squads is LootStation's go-to tactic for XP.
In a recent video, the XP grinder claimed that he's making the most out of the buffed Accolade XP. In each game, looting from chests and ammo boxes grants him 30,000 XP while quests hand out over 5,000 XP.
Loot Lake is one of the best locations to get XP from chests and looting. There's an abundance of chests and the OG POI also allows players to fish. Fishing has always been a reliable XP method and LootStation recommends it as well.
The Fortnite community reacts to LootStation's grind
It is evident that LootStation is not a casual player. He's summarized the location of every chest in Loot Lake and has a fixed looting routine. In the meantime, his team focuses on competing in the Daily, Weekly, and Milestone quests that are a stable source of XP.
Even though the Team Rumble looting strategy is effective, LootStation has put in countless hours to reach level 400 with it. While his supporters love the grind, others find it unnecessary as there are no rewards after level 200.
LootStation's goal is to prove his worth as an XP grinder and always discover the best ways to get XP. The YouTuber is certainly succeeding in doing so, and considering his current level, he should be able to reach level 1000 easily before the end of Chapter 3 Season 3.
Fortnite star SypherPK quits Zero Build tournament after losing to cheaters
The Zero Build tournaments in Fortnite have been hijacked by cheaters, and streamer SypherPK eagerly wants Epic Games to fix it.
Fortnite veteran SypherPK has always been vocal about cheaters and stream snipers in the community. The streamer's latest encounter with hackers in a Zero Build tournament compelled him to quit.
Multiplayer games, especially Battle Royales, have always had trouble with cheaters. Brilliant titles like Apex Legends and Call of Duty Warzone became unplayable owing to the rise of hackers and have lost innumerable players so far.
From the looks of it, there has been a surge of hackers in Fortnite Chapter 3 Season 3 as well following the introduction of Zero Build mode.
Fortnite pros are encountering more hackers than ever in Zero Build tournaments
Fortnite caught a second wind with Zero Build as a ton of new players joined the community. Moreover, big names like Ninja, Dr. Disrespect, and Tfue returned to the game and appreciated the non-sweaty mode.
The developers then hosted Zero Build tournaments that received an overwhelmingly positive response initially. However, hackers have now plagued such tournaments.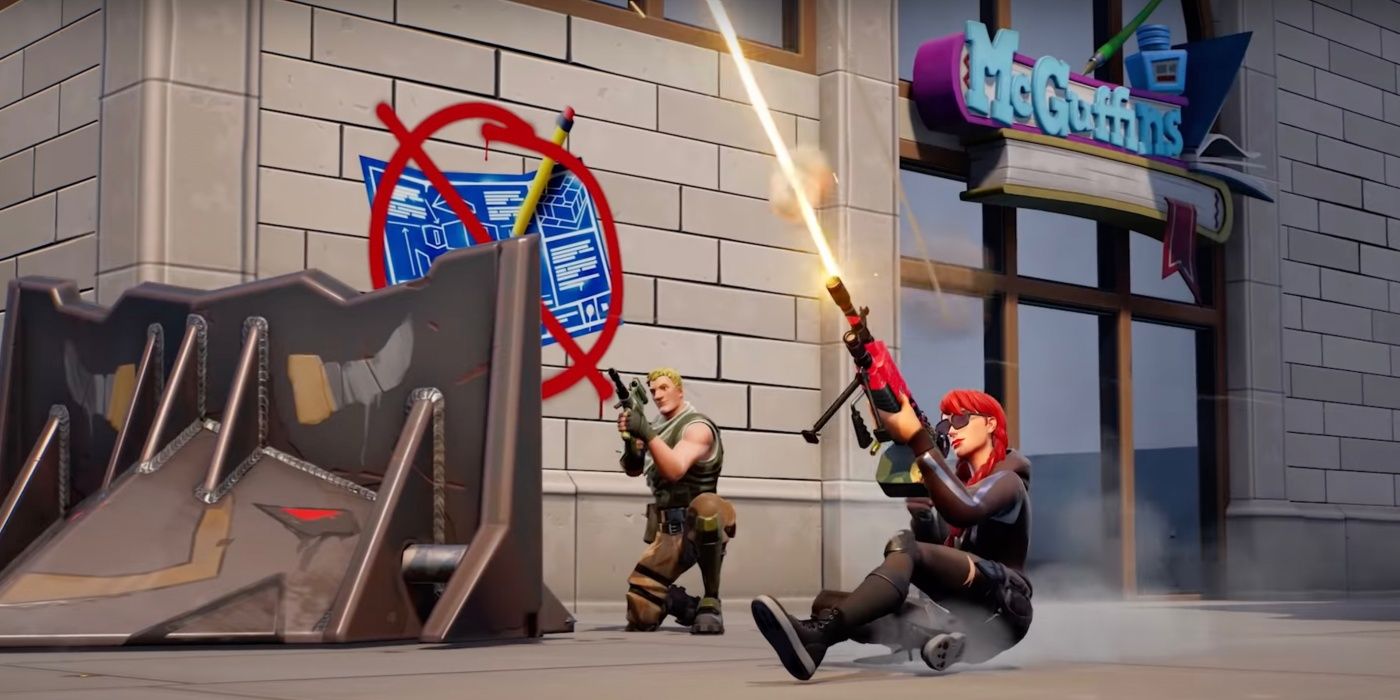 SypherPK recently took part in the NA West Zero Build finals and he was well aware of the fact that some teams are abusing aim bot and wall hacks.
Soon after, the streamer reported that hackers eliminated him in the very first game. It is no surprise that this incident led to him quitting the cup. He asked Epic Games to work on a live bans feature or atleast a new anti-cheat system that is dedicated to competitive playlists.
Zero Build mode in Fortnite has helped in exposing cheaters
Previously, Fortnite compelled players to build which significantly increased the skill gap between newcomers and veterans. On one side, there were players with the skill set to make a skyscraper within 30 seconds. On the other end of the spectrum, there were beginners who struggled in every game because the SBMM system rarely matched them with equally skilled/experienced players.
Amidst such issues, we are witnessing the growing use of cheats and devices like the Cronus Zen. This allows cheaters to win more comfortably than ever, but naturally, at the cost of the ruined experience of every player they face.
Until Chapter 3 Season 1, it was harder to track cheaters because mechanics like building and editing were an integral part of the meta.
In contrast, aim and mobility are the deciding factors of a Zero Build game. Accordingly, players can now easily identify cheaters using aim bots and wall hacks.
Countless other players, streamers, and pros have similar opinions on the current state of Fortnite and Epic Games would certainly want to come up with a solution before the Cash Cups commence in Chapter 3 Season 3.