Lazarbeam Fortnite skin: release date, first look & more
Lazarbeam is getting a Fortnite skin in the Fortnite Icon Series. Take a look at the new skin, bundle, and release date.
On March 1, Epic Games and Lazarbeam announced that they Australian YouTube star would be the next creator to be included in the Fortnite Icon Series with a new skin bundle.
The Fortnite Icon Series gives creators a way to become immortalized in one of their favorite video games: Fortnite. This began with one of the pioneers of Fortnite, Ninja, and has since expanded to include Loserfruit, Lachlan, and TheGrefg.
It looks like popular Australian YouTuber and streamer, Lannan "Lazarbeam" Eacott will be the next creator featured in the series. He first teased the announcement with a scheduled video, then showcased his skin at 5:00 PM EST on March 1.
Lazarbeam Fortnite skin release date
Lazarbeam's Fortnite Icon Series skin should hit the Item Shop on March 4. He also mentioned some giveaways, which could relate to his YouTube channel or a limited-time tournament, similar to TheGrefg's Floor is Lava event.
The bundle will come with a skin, and additional variant, the Gingerbread construction worker Back Bling, a sledgehammer pickaxe and an emote that may or may not be built into the outfit.
We'll update you when we get closer to the release date of Lazarbeam's Fortnite skin. We should see some datamined images of the skin in the next Fortnite patch, so stay tuned for that as well.
In the meantime, make sure to follow us on Twitter @FortniteINTEL so you never miss out on the latest Fortnite news.
How to earn the Webster Outfit for free in Fortnite
Fortnite is hosting the Spring Breakout Cup this week. Find out how to earn the Webster Outfit for free by competing.
Fortnite is hosting another tournament that offers players a free skin as a reward. Here are all of the details you need to know.
Fortnite Season 6 is here and is hosting the season's first tournament. Epic announced the Spring Breakout event starting on March 30, with a chance to earn the Webster Outfit and Mecha-Feathers Back Bling for free by competing in the Spring Breakout Cup.
Here's everything you need to know about the tournament, how to enter, and what placement you need for the free cosmetic set.
Fortnite Spring Breakout Cup
The Spring Breakout Cup is a Duos tournament that will replace Friday Night Bragging Rights on April 2. It will follow the same format as other Duos tournaments in the recent past.
As was the case with a lot of other cosmetic tournaments, only the top teams in each region will earn the Webster Outfit and Mecha-Feathers Back Bling for free. Here's where you need to place in each region:
Europe: 1st – 1,125th
NA East: 1st – 575th
NA West: 1st – 250th
Brazil: 1st – 250th
Asia: 1st – 125th
Oceania: 1st – 75th
Middle East: 1st – 100th
Players will have three hours to complete ten matches to place as highly as they can. Even if you're not interested in the free skin, it's worth your time to use this tournament in practice if you're a competitive Fortnite player. As always, players need to complete Epic's 2FA to compete in the event.
Fortnite Crew Pack themes explained by this fan theory
The Fortnite Crew Packs may be following the themes of previous Fortnite seasons, according to this fan theory.
The relatively new Fortnite Crew Pack seems to offer a random skin each month, but what if the skin selection isn't exactly random?
The Fortnite Crew Pack was introduced at the beginning of Season 5, at it was immediately a hit. For $11.99, players gain access to the current Battle Pass, a skin, additional cosmetics, and 1,000 V-Bucks.
Even if you're not a fan of all of the Crew skins, the Battle Pass and V-Bucks, alone, are worth the $11.99 monthly fee.
Since the subscription service was first released, players anticipated the new skin that was announced ahead of the coming month. A new theory, however, suggests that these skins might not be as unpredictable as we thought.
We've now seen four Crew Pack skins with a fifth on the way. A Japanese Fortnite news account, FortniteJPNews, put the five Crew skins together with old Fortnite seasons. Sure enough, they fit like a glove.
The first skin, Galaxia, fits the space theme of Chapter 1 Season 3. The second skin was Green Arrow, which fits the superhero theme of Chapter 1 Season 4. The same is true for the three latest skins as well. They all fit into the following three seasons.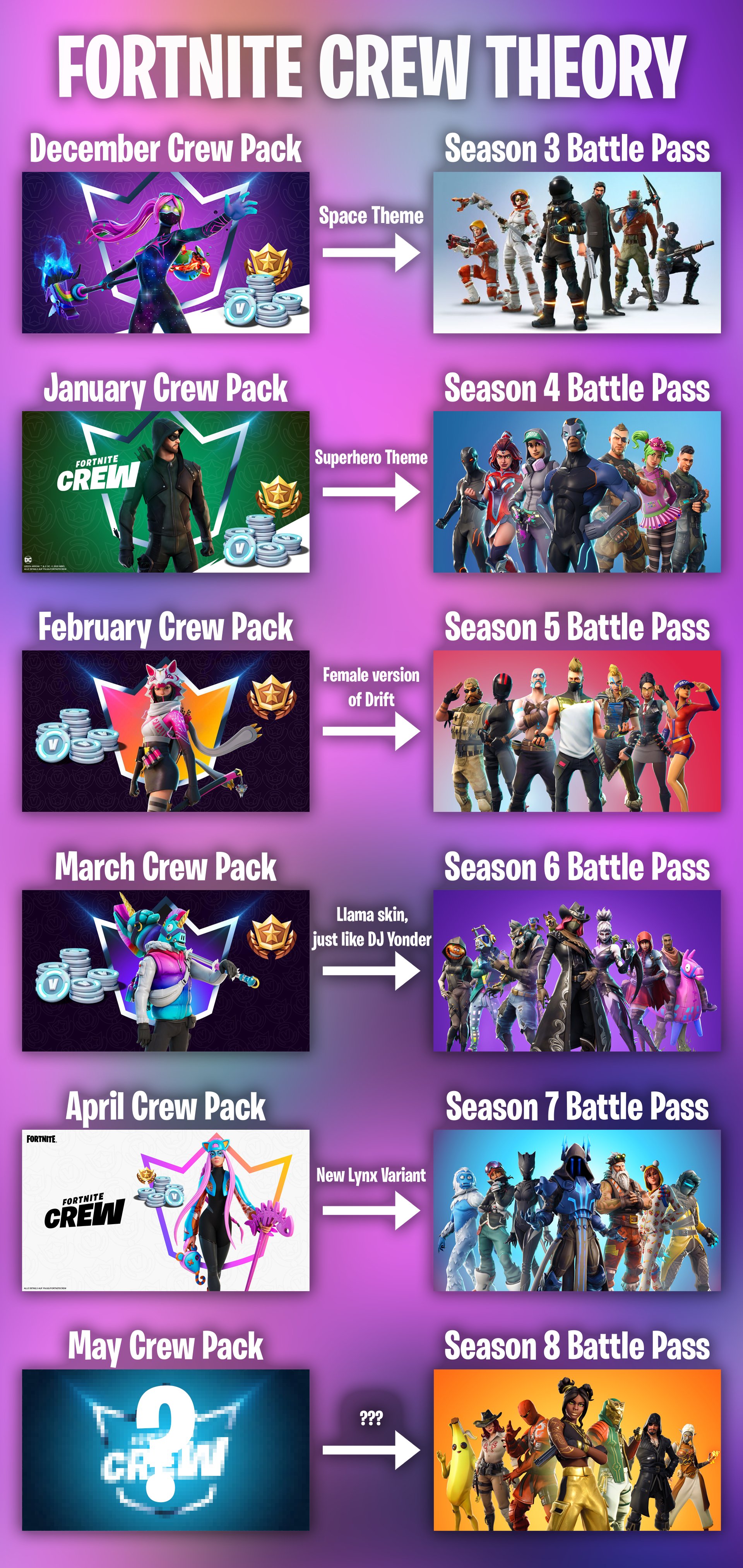 Now, what can we expect from the May Crew skin based on this information? Well, the major theme of Season 8 was pirates, so we could see a pirate skin come to the game next month.
Fans hope that the most popular skin from Season 8 makes its way into the Crew Pack, however. Peely was released in Season 8, which means we could see a Peely variation come as a Crew skin in May 2021.
Of course, this is only speculation, but it makes a lot of sense. We expect Epic to continue to follow this trend until they run out of seasons. We'll update you when we get official word on what the May Crew skin will be, but we probably won't know for several weeks.
Image Credit: Epic Games, ShiinaBR
How to cancel your Fortnite Crew subscription
Don't like the monthly offering for the Fortnite Crew subscription pack? Here's how to cancel before you receive a charge.
The Fortnite Crew subscription is the popular new way to get exclusive monthly cosmetics and the Battle Pass for one low price. If you don't like the monthly offering, here's how to easily cancel your subscription.
For all of their faults, Epic Games is one of the most player-friendly developers when it comes to microtransactions. They changed the meta of gaming monetization with the Battle Pass model, pushing other developers away from the loot box system that was popular at the time.
In 2021, Epic announced a new monetization system: the Fortnite Crew subscription. In January and March, with new Battle Passes to unlock, the $11.99 price tag offered an amazing deal for the Battle Pass, a skin pack, and 1,000 V-Bucks.
The next couple of months offered new skin packs, but the Battle Pass offering didn't present as attractive of a value for those who already owned it. If you don't like the new skin pack, it probably wasn't worth the price.
Thankfully, Epic makes it easy to cancel your subscription. Here's what you need to do.
How to cancel your Fortnite Crew subscription
As we said, Epic is an extremely customer-friendly developer. They make canceling the Crew subscription as easy as possible. You don't need to go to their website or even leave the game; it's all right here.
Follow these steps to cancel your Fortnite Crew subscription:
Navigate to the Item Shop tab
Scroll down to the Crew section
Click Cancellation Info
Click Leave Fortnite Crew
Just like that, you'll be out of the Crew subscription and won't be charged when the new month begins. You can always rejoin at any time by going back to the Item Shop and signing up.
Most other games would likely force you to go to the website and enter your details before canceling – making it more difficult and easier for players to forget. As usual, Epic don't use these predatory tactics.
Will you be keeping your Fortnite Crew subscription this month or will you be canceling? Let us know on Twitter @FortniteINTEL.