July 2021 Fortnite Crew Pack: Loki cosmetic set revealed
Loki of Asgard has made his way to The Island as a part of the July 2021 Fortnite Crew Pack. Here is what his cosmetic set includes.
Marvel's Loki is coming to Fortnite as a part of the July 2021 Fortnite Crew Pack, and here's what comes with his cosmetic set.
A few days ago, Epic Games teased Loki as the upcoming Crew Pack skin. Players already knew Loki would be coming at some point because of his "appearance" in a June Crew Pack loading screen. However, this teaser confirmed he would be coming to Fortnite in the near future.
Today, the Loki skin and cosmetic set have been officially revealed. A new trailer shows Loki getting up to his usual mischief, and still, images show what the rest of the cosmetic set includes. Starting July 1, players can grab the God of Mischief set via the July 2021 Fortnite Crew Pack.
Loki of Asgard coming to Fortnite Crew Pack
The skin features Loki in his iconic green Asgardian clothing. The God of Mischief dons his golden helmet with obnoxiously large horns. He also comes with a few other cosmetic goodies. Loki's Scepter and Cape come with the skin as a pickaxe and back bling. As well, players can glide down in still using the Chitauri Chariot Glider. And if that weren't enough, players can load into each game with the new Loki's Welcoming Loading Screen.
Unlike the most recent Fortnite Crew Packs, the July Pack doesn't offer any bonus subscriptions or free memberships. Instead, players will be given the traditional 1,000 V-Bucks and access to this season's Battle Pass. While there hasn't been anything added to sweeten the pot, this is the only way to obtain this limited licensed skin.
Loki will enter the world of Fortnite on July 1, which means this is the last chance to get the Mecha Cuddle Master set. The futuristic Cuddle Team Leader skin comes with three different styles, multiple loading screens, and even two lobby tracks. Players won't want to miss their chance to get this awesome limited-time skin set.
Fortnite Fall Guys event leaked: How to complete Crown Clash challenges
A much anticipated collab between Fortnite and Fall Guys is finally coming to the looped Battle Royale with some rewards and challenges. Here's how you can do them.
Fall Guys is one of the most popular Battle Royale games that went viral ever since its release due to its healthy gameplay and exciting obstacle based games. Its collaboration with Fortnite has been teased for over a year and leaks show that it is finally arriving in the form of an in-game event with challenges that offer rewards to those who participate in it.
The collaborations between Fortnite and several video games always keeps the player base at their feet as they wait for their favorite characters to enter the loop. Moreover these collabs result in either in-game items, challenges or Item Shop cosmetics that loopers do not hesitate spending their precious V-Bucks on.
From Street Fighter to God of War, players have seen characters from various franchises arrive to the Gaming Legends series of cosmetics to the Item Shop. Most recently, players saw a brief collab with Among Us cosmetics, as the game finally arrived to Epic Games store a while ago.
However, the collab only consisted of a Back Bling and an emote which was rather disappointing but fans still bought the cosmetics from the Item Shop, given the game's popularity. Now that Fall Guys is free on Epic Games Store, the collab between the two is arriving in Fortnite with certain challenges that rewards the participants with in-game cosmetics.
How to complete Fall Guys Crown Clash Challenges in Fortnite Season 3
Fortnite x Fall Guys collab is set to enter Fortnite on June 29 in-game with the release of Crown Clash Challenges. The challenges will go on until July 11 which means players will have less than a couple weeks to complete all the challenges and claim their rewards.
Players would need to complete these challenges in 5 rounds. This might suggest that these challenges would take place in a Creative map rather than the traditional Battle Royale approach.
Loopers who complete these in Fortnite will get 5 free cosmetics right in their locker which will only be exclusive to those completing all the challenges. Moreover, if players have their Epic ID linked to their Fall Guys account, they will receive 3500 Kudos after the completion of these challenges, in their Fall Guys account to spend in-game.
However, the challenges also seem to affect the points one could get in Rocket League, as per the leaks. Although, this might be a possibility as Rocket League cars were spotted in a leak to appear soon in the Fortnite island back again.
Fortnite adds Firework Flare Gun in latest Hotfix update
A brand new version of the Flare Gun is coming to Fortnite Chapter 3 Season 3. Here's how it is the perfect fit for the Vibin' theme.
Fortnite has added the coolest version of the classic Flare Gun in the June 28 hotfix update for Chapter 3 Season 3. From its stats to viability, here's everything to know about the new weapon.
Back when Firefly Jars and Repair Torches weren't a thing, Fortnite players used Flare Guns to cause chaos. The multi-purpose pistol is a fan favorite, and it has finally returned in a new Firework form.
How to use the Firework Flare Gun in Fortnite Chapter 3 Season 3
Just like the OG Flare Gun, the Firework Flare Gun should be available in chests, rare chests, Loot Llamas, Supply Drops, and even floor loot.
It will serve two major purposes:
Scan nearby opponents with the help of fireworks.
Cause a fire when the bullet comes in contact with structure/surfaces. The fire spreads within a fixed AoE (area of impact) that deals continued damage to opponents.
The Flare Gun has the following stats:
DPS– 34
Damage– 60
Reload Time– 1.6 seconds
Mag size– 6
However, as the name suggests, the Firework Flare Gun has a special Firework ability. When loopers shoot towards the sky, the bullet eventually turns into a beautiful firework. Interestingly, this effect also happens when the bullet touches the ground or any other surface.
We already have gameplay footage of the Firework Flare Gun in Fortnite Chapter 3 Season 3:
It is evident that the Firework Flare Gun is a lot goofier than its standard version. This is primarily because of this season's theme, Vibin'.
Fortnite community looks forward to more summer content in Chapter 3 Season 3
The Firework Flare Gun won't be a part of the loot pool permanently. According to leakers, it has been unvaulted for the No Sweat Summer event. This also explains the tropical color theme.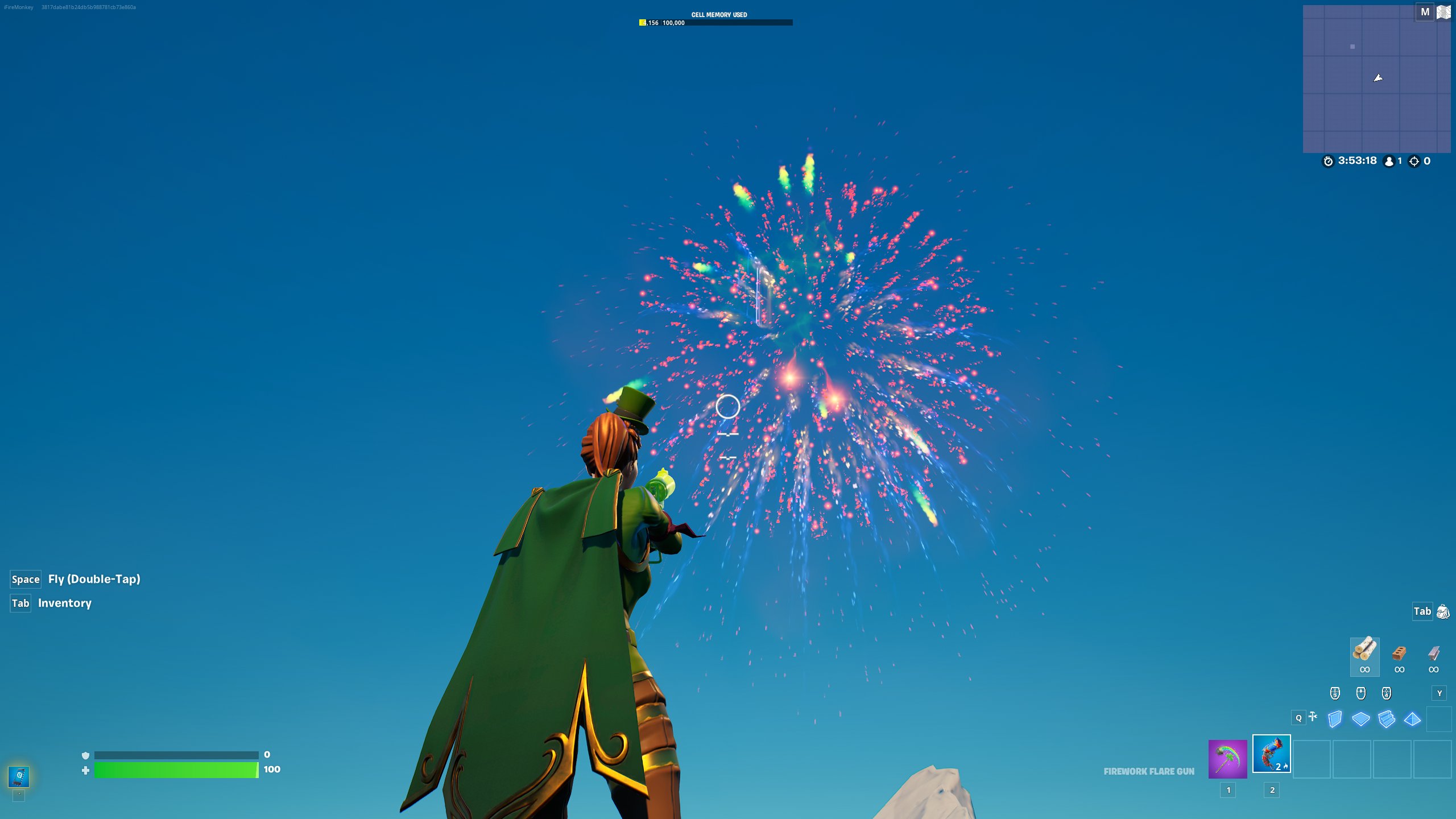 While loopers are excited to see fireworks on the island, they definitely expect more from the No Sweat Summer event. Until now, we've only received some Creative XP challenges and three free cosmetics (back bling and sprays).
Epic Games is yet to add summer-themed elements to the map like Surfboards and NPCs, among other things. The developer can certainly change this narrative with the next major update that should arrive next week.
Fortnite reveals new July Crew Pack skin
Another month, another Crew pack releases in Fortnite and this time around it comes with an additional surprise. Here's the latest on this month's Crew Pack.
Fortnite Crew skins hold their exclusivity as these in-game cosmetic usually do not arrive to the item shop and are availed by those who additionally purchase the pack. However, this time around it arrives with an exclusive Save The World access that is pretty unusual for a Crew Pack to feature other than the traditional V-Bucks and a Battle Pass.
With the release of Chapter 3 Season 3, players saw the arrival of several characters and new outfits in the Battle Pass that they have been waiting for. From Darth Vader to Indiana Jones, loopers are enjoying the grind to unlock their favorite skins in the Battle Pass and also purchasing the newest Naruto Collab skins from the Item Shop.
However, apart from the traditional Item Shop cosmetics, this time around players seem to love the Save The World Skate Park Royalty pack and are not hesitating to cop the exclusive outfit. Although, some were still waiting for the Crew Pack to hit the Item Shop to make their choice between the two as the latter offers a hefty amount of V-Bucks and the season's Battle Pass.
As loopers saw some major changes arrive in the v21.10 update last week, Epic announced its July Crew Pack cosmetics which come with the usual combo but this time around, also comes with an exclusive Save The World access to subscribers.
Phaedra arrives to the island with July Fortnite Crew Pack
Fortnite July Crew pack brings 'A dark sea witch with unknowable power' to the game. Phaedra hits the Item Shop on July 1st with the rest of the crew pack bonuses subscribers usually get.
The July Crew pack features a Phaedra outfit with an additional selectable style, a Ceph back bling that looks like a squid, an Inky Reflection Loading Screen, a Gothic Shadesoarer glider and a Stygian Parasol pickaxe, both of which resembles an umbrella. In addition to those subscribers will get a free Battle Pass, 1000 V-Bucks and an exclusive access to Save The World PVE campaign.
Moreover, players who already own the Battle Pass, will be getting 950 V-Bucks back in addition to the 1000 V-Bucks as a Crew Pack Bonus. For $11.99, this crew pack offers a lot more than its value and is bang for the buck for those who want to purchase it or subscribe to it.
However, loopers can also subscribe to the current Mecha Strike Commander Crew Pack to get both the cosmetics of June's as well as July's crew packs right in their lockers, with the V-Bucks and Save The World access the latter promises.