How to unlock Deadpool's unmasked variant
Take a look at how to unlock Deadpool's unmasked variant in Fortnite.
Take a look at how to unlock Deadpool's unmasked variant in Fortnite.
Deadpool finally entered Fortnite on Friday, April 3. Since then, he's been partying it up at The Yacht as Meowscles cries himself to sleep, alone, at the Box Factory.
Since his release, Deadpool has become one of the most popular skins in the game. This is no surprise, as most fans predicted that we'd see a lobby full of masked mercenaries when he entered Fortnite.
The challenges aren't over, however. We still have a new Deadpool style to unlock. You can take his mask off after you complete the week 8 challenges, which will come out on April 10.
These challenges require you to find Deadpool's pool floaty and dance at his Yacht Party.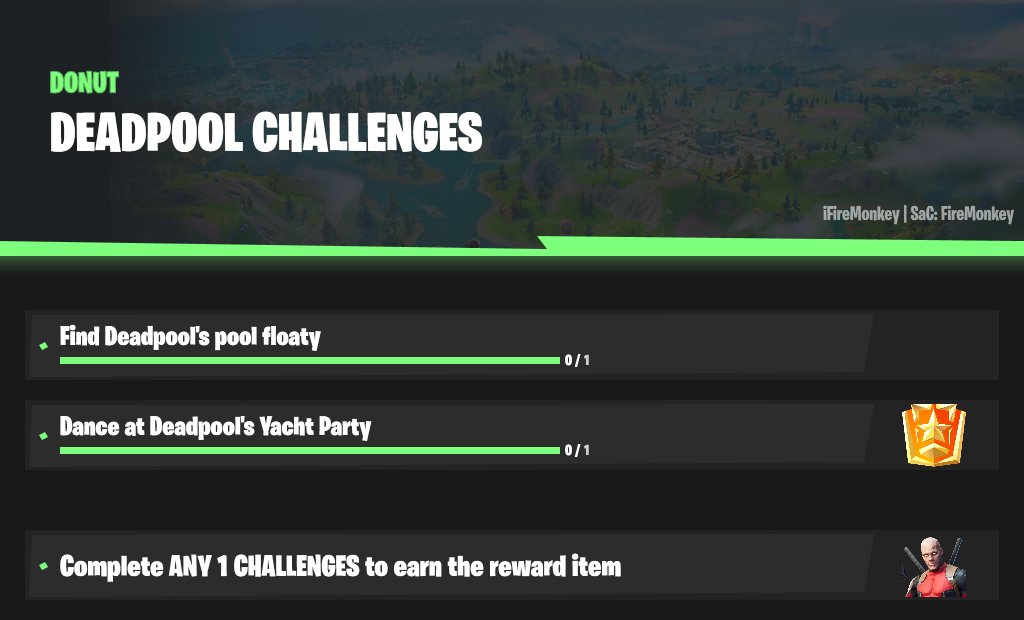 The challenges haven't come out at the time of writing, so we don't know the exact location of Deadpool's floaty. It's safe to assume that we'll find it in one of the agent vaults, however.
Skye hasn't given us any Deadpool offerings yet, so I expect to see the floaty in her locker. We'll update this post when the challenges go live.
Update: Indeed, Deadpool's floaty is in Skye's locker. You can find it in the lefthand corner. There should be a prompt when you open it up.
After that, all you have to do is fly to The Yacht and start dancing. This is a bit more difficult than it sounds, though, if you're completing the challenge in regular modes.
Even if you get a lobby of friendly Deadpools, you'll still have to clear out all of the braindead Henchmen. The NPC Deadpool also has a surprising lack of chill when it comes to people dancing at his party. As always, Team Rumble and a favorable zone will be your best bet.
How to use pre-editing to your advantage in Fortnite
Don't turn off pre-edits so fast! Learn how to make pre-edits work for you in Fortnite with these new competitive strategies.
Learn how to make pre-edits work for you in Fortnite with these competitive strategies.
Pre-edits in Fortnite can be maddening when you're in the middle of a fight. More often than not, the pre-edits will work against you as you accidentally edit a hole in your floor or a window in your wall. Before you know it, you're taking fall damage or getting shot because you hit the wrong button while battling someone.
Epic recently added a lon-requested setting to Fortnite, giving players the ability to toggle pre-edits on and off. Now, with a simple setting change, you'll never need to worry about pre-edits again.
This doesn't mean that pre-edits are entirely useless. In the patch before the setting change was released, pro player Maken used them expertly to outplay his opponent.
Useful pre-edits have also been posted to the r/FortniteCompetitive subreddit in the past. These pre-edits focus on cones, and give players the ability to fake-out opponents and even place their structures through turbo-builds.
The first strategy involves subverting the expectations of your opponent. Most skilled players anticipate edits, but using a pre-edited cone can get you a free shot.
As you can see, all you have to do is edit the wall, place your triangle cone, resent the cone edit, and shoot your opponent. There's hardly anything they can do to prevent this free shot – especially since they aren't going to see it coming.
The above clip from u/DemianNieuwenhuis has a very niche application. After all, using a regular cone is going to be far more useful in most situations. The only time your pre-edited cone will work is when someone is standing outside of your box.
This next clip is more of an exploit than anything. It also requires you to pre-edit your cone; this time in a V shape. You can exploit the new Turbo Building system and place the V-cone under your opponent's ceiling after breaking their cone.
Again – like the other clip – this strategy will only be useful in certain situations. You won't be able to cone-block opponents or even protect yourself from above if you run around with your cones all jacked up like this.
Still, these strategies are worth mentioning – especially if you find yourself in a 1v1. You can surprise your opponent with both of them, and steal some shots without taking damage.

Fortnite split-screen: how to play with friends
Epic introduced the ability to play split-screen Fortnite in Chapter 2 Season 1. Here's how to enable the setting.
Epic introduced the ability to play split-screen Fortnite back in Chapter 2 Season 1. Here's how to enable it so you can play locally with a friend.
Fortnite has always had a focus on playing with friends, but that always meant you had to play online. Even if you were in the same house as your friend or family member, the two of you had to play on two separate devices.
This changed back in the v11.30 update in Chapter 2 Season 1. Epic introduced split screen capabilities on consoles for the first time. It wasn't perfect when it first came out, but it's since gotten a lot better.
How to use the Fortnite console split-screen feature
Initiating split-screen is simple. All you have to do is connect two controllers to your Xbox or PlayStation. Split-screen still isn't available on mobile, PC, or Nintendo Switch. Here are the steps you need to follow:
Start Fortnite
Connect a second controller to the console and turn it on
Hit 'Main Menu'
Player 1 will need to invite Player 2 with their Epic account
Player 2 will need to sign into their account
Player 2 will join and split-screen will automatically initiate
You can even save another player's information on another account on your console, making split-screen easier and quicker to complete.
The feature still isn't perfect and doesn't replace the feeling of playing online. You'll only have access to half of your screen, so you're going to miss a few things that normal players will see. Still, playing split-screen is far more preferable than switching off with your friend or family member game after game. Enjoy!
Image Credit: Epic Games/u/SmonkYT
Fortnite Creative Mode could be getting a huge expansion
Fortnite Creative Mode could bring a massive update to truly simulate end-game scenarios, according to a recent leak.
Fortnite Creative Mode could bring a massive update to truly simulate end-game scenarios.
Creative Mode was one of the most innovative additions that Epic has made to Fortnite. You don't even have to play the base game mode to enjoy Fortnite, anymore. You can play Search and Destroy, deathruns, Zone Wars, Trivia, boxfights, and a lot more.
Competitive Fortnite players have taken to Creative Mode the most. Zone Wars gives you a simulated end-game and boxfights let you practice the most important element of high-level competitive play.
Fortnite Creative beta
Over a year ago, way back in, Fortnite v12.10, files were added to the game that we assumed would bring a massive change to Creative Mode. According to the game files, Creative can now support up to 50 players.
A year after we first heard the news about an updated Creative Beta, we still have yet to see this in practice. Since it's been so long, many players forgot that it was even on the horizon.
After the v15.50 update, however, data miners found some new files that relate to the Creative Mode expansion. According to them, Epic are testing a beta of Creative that should support 50 players.
Such a change would be a massive step for the game. You could truly play a mini-BR game with your friends if this change went through. YouTube creators and streamers could also manage private matches a lot easier, as there's no chance of a code leak or an unwanted intruder.
The best part of this additional player count is the ability to truly simulate competitive end-game situations. Zone Wars is good practice for a lot of us, but not for those at the highest level.
Anyone who has ever watched a tournament knows what we're talking about. The end-game in professional Fortnite matches routinely has 40+ players in the final few zones. It's pure chaos, and a 50-player Zone Wars lobby will be able to capture this.
Of course, the expansion also opens the door to a ton of other possibilities including massive boxfight battles and more. Epic will be focusing on the Creative side of things for the future of Fortnite, and an increased player count is an excellent first step.
Image Credit: Epic Games