How to get the new Venom Bundle for free in Fortnite
Venom is finally coming to Fortnite. Here's how to unlock his cosmetic bundle for free.
The time that many players have been waiting for is finally nearing: a Venom skin in Fortnite. After weeks of playing with Venom's Superpower in the Marvel-themed LTMs, we're finally set to unlock the skin through the Item Shop or Marvel Knockout Super Series.
For those who don't know, the Marvel Knockout Super Series is a weekly tournament series that uses the Marvel Knockout format. Winners of each stage of the tournament will qualify for the final event and will have a chance to earn real money for their placements.
The first stage of the tournament only offers skins as a reward, however, which is enough for a lot of players to compete. On November 16, Epic released a teaser for their next tournament: The Venom Cup.
We don't have an official date at the time of writing, but common sense and past experience dictate that the Venom Cup will take place on Wednesday, November 18. We're also expecting a patch this week, which should bring a leaked version of the Venom skin along with it.
You'll need to place high enough within your region to earn the Venom skin. It's a tough mark to hit, as only 800 players in Europe will earn the skin for free and only 700 players in North America can unlock it.
Here's a breakdown of the scoring system and placement threshold for each region of the Venom Cup.
Scoring System
1st: 25 points
2nd: 10 points
3rd-4th: 5 points
5th-8th: 3 points
9th-16th: 1 point
Required Placement for free Venom skin
Europe: 1st – 1,200th
NA-East: 1st – 750th 
NA-West: 1st – 300th
Brazil: 1st – 300th
Asia: 1st – 150th
Oceana: 1st – 150th 
Middle East: 1st – 150th 
We don't know what other cosmetics will come along with the Venom bundle, but fans are expecting a unique pickaxe that morphs into Venom's arm. We can only hope that this one is available for use with other skins and isn't locked to Venom like other cosmetics in the game.
Don't worry if you're eager to unlock Venom but don't want to compete in the Venom Cup. He'll be hitting the Item Shop after the tournament ends, just like the rest of the Marvel skins. You can expect to see him as early as this weekend.
Fortnite leaks reveal future God of War and Halo crossovers
Kratos from God of War and Master Chief from Halo will be coming to Fortnite Season 5, according to leaks.
Fortnite Season 5 is only a day old, but players are already looking to the future. According to leaks and rumors, Epic are planning future God of War and Halo crossovers.
Epic Games has to be the undisputed king of video game crossovers at this point. Fortnite has hosted crossovers with Star Wars, Marvel, Stranger Things, Borderlands, and several other entertainment and gaming titles.
Season 5 was released with a small crossover in The Mandalorian, but nothing close to the Season 4 Marvel crossover, as some fans expected.
According to Season 5 leaks, however, players will be experiencing additional crossovers sooner rather than later. Data miners leaked a Kratos skin – the main character in God of War – soon after the season went live. The official PlayStation account then posted an audio transmission from Fortnite, seemingly confirming the future crossover.
Sony isn't the only console-owner getting in on the action. According to leaks and rumors, Microsoft will be offering one of their exclusive characters as a Fortnite skin, as well.
This leak isn't as rock-solid as Kratos since it's reportedly from a 4Chan user who claimed to predict some of the elements of Season 5.
We'll have to wait and see with this one, but the crossover would reportedly include a Pelican glider, Lil' Warthog emote, and Capture the Flag LTM.
For now, we're comfortable saying that Kratos is 100% coming to Fortnite, and Master Chief could be a flip of a coin. We don't have anything from official sources on the latter, and Sony/Epic Games crossovers are more common than collaborations with Microsoft.
Will you be grabbing these – likely platform exclusive – skins in Fortnite? Let us know on Twitter @FortniteINTEL.
Most popular Fortnite skins in Season 4 – Iron Man, Aura & more
Ever wonder which Fortnite skins are the most popular? Data miner, Lucas7yoshi, took it upon himself to find out.
The most popular skins in Fortnite Season 4 are largely comprised of the Marvel Battle Pass, but other popular skins have stood the test of time.
Fortnite players love their cosmetics – possibly more than any other community in gaming. Having an "OG" skin immediately gives you a position of authority in any Creative lobby, even if you haven't played the game since those skins were new.
We often wonder which skins and emotes the community uses the most but had no way of knowing for sure. Data miner Lucas7Yoshi had an idea of gathering this information: take a massive number of replay files, analyze them, and find out which cosmetics are the most commonly selected.
Most Popular Skins in Fortnite
What Lucas7Yoshi found was relatively predictable, which makes sense. We see these skins in almost every match, which is why they're the most common in the game right now. Of course, his method wasn't flawless, but it was as close as we could get without the raw numbers from Epic Games.
Unsurprisingly, the Marvel skins from the Season 4 Battle Pass top the charts, with Tony Stark, Jennifer Walters, Mystique, Doctor Doom, and Wolverine all making the top six. At the four spot is Aura – which might be the most popular skin in all of Fortnite, regardless of which season we're talking about. The same can be said of Crystal at number nine.
Venom and Mogul Master stand out as surprises, but these are probably a result of the recency of the study. The Nick Eh 30 pack included Mogul Master, and Venom is the most recent Marvel skin added to the game.
Most Popular Emotes in Fortnite
The most popular emotes in Fortnite was more interesting to us, as it showed a couple of emotes that continue to stand the test of time. Of course, you have the newer TikTok-style emotes that Epic have added, and you've likely seen or used them in several matches.
"Laugh it Up" – which might be the most triggering emote in the game – is securely at the number-one spot on the board. We expect that "Take The L" would be on here as well, but that emote was a part of an old Battle Pass, and newer players don't have it.
"Dance Moves" is a classic that everyone has access to, but "Have a Seat" comes as a surprise. We love this emote but didn't know that so many others felt the same.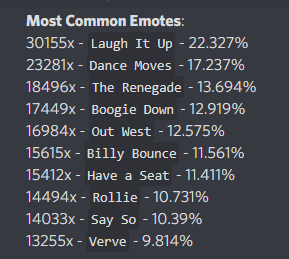 Hopefully, Lucas7Yoshi keeps up with this project, and it only becomes more accurate over time. We're excited to see which skins and emotes stand the test of time and which fall by the wayside after a season ends. If he completes the same process next season, we doubt that these Marvel skins will make the top ten.
PC Fortnite players should head over to Lucas7Yoshi's Discord server if you want to help out with the project. The more replay files he has, the more accurate his information will be. Let's see what happens in Season 5.
IMG/data credit: u/AeroTheManiac/Lucas7yoshi
How to get the Last Laugh Bundle in Fortnite
Don't worry! The Last Laugh bundle will be available for digital purchase.
One of the most anticipated bundles in the history of Fortnite is now available: The Last Laugh bundle.
This set will contain a new and improved Midas skin, the DC villain Poison Ivy, and the reason a lot of players are grabbing this bundle: The Joker. When you take a look at the Fortnite Item Shop, however, the bundle is nowhere to be seen.
If you visit the official Fortnite website, you'll see that the bundle is now available in stores for PlayStation, Xbox, and Nintendo Switch players. Android and PC players don't seem to have a way to buy the skin bundle, at this time.
For now, the bundle only appears to be offered in hard-copy format. It's available in stores, so players will need to visit their local GameStop, Best Buy, or Walmart if they can't wait to have The Joker in their lockers.
There's good news for those who don't want to go to the store. In Epic's official announcement of the skin set, they told players that it would be available for digital purchase through Item Shop. It will still cost real money (not V-Bucks), but you will be able to buy it digitally at some point.
We don't know when the Last Laugh Bundle will come to Fortnite in digital form but it could be as soon as this evening when the Item Shop resets (8pm EST). We'll update this article when the digital bundle goes live in the Item Shop.
In the meantime, follow us on Twitter @FortniteINTEL. We'll tweet about the Item Shop reset if it brings the Last Laugh bundle with it, so you'll be among the first to know.