How to get the new Hop Rock Dualies in Fortnite
The Hop Rock Dualies are the newest Exotic weapon in Fortnite. Here's how and where to find them.
Epic Games added a new Exotic weapon to Fortnite v15.20: the Hop Rock Dualies. Here's how and where you can find them.
After the holiday content lull, Epic Games released the v15.20 update. This new patch gave players a lot to discover, including the Predator's ship, the new Lever-Action Shotgun, and a brand new Exotic in the Hop Rock Dualies.
Dual Pistols have been a fan-favorite Fortnite weapon since they first released. The new version deals a whopping double-70 to the head and 43 to the body. You can two-shot a 200-health opponent if both of your initial headshots land.
How to find the Hop Rock Dualies
You could originally purchase the Hop Rock Dualies from Cole, an NPC that has two possible spawn locations. One of them is on the mountain overlooking Retail Row and the other is at a shack in the southeast portion of the map.
The Hop Rock Dualies cost 500 Gold Bars, which is substantially cheaper than most of the other Exotic weapons in the game.
On February 24, Epic moved the Hop Rock Dualies. They're now sold by Deadfire, who spawns near the center of the map in the Zero Point area. You can see his spawn location – along with the other Exotic weapons that changed hands – on the map below.
The Exotic effect of the Hop Rock Dualies allows you to jump higher while shooting. As the name suggests, this is the same effect as the Hop Rocks from several seasons ago.
If you can get your hands on them, the new Dualies will be one of the most effective and reliable Exotics in Fortnite. Some of the other Exotics have niche applications. The Hop Rock Dualies can be used from any range.
Now that you know where to find Fortnite's newest Exotic weapon, hop in there and try it out. It's well worth the price and could even grant you a Victory Royale.
All Fortnite Season 6 Exotic Weapon locations
Fortnite Season 6 is here, and only a few Exotic weapons made it. Here are all Exotic weapon locations for the new Fortnite season.
Fortnite Season 6 marked the return of Exotic weapons to Fortnite. Not all of the Season 6 weapons are there, however, and they've moved locations.
There's no shortage of new mechanics in Fortnite Season c, with the addition of crafting, the map changes, and a whole lot more.
Mythics have returned to the game in Season 6 but in a limited capacity. The only classic Mythic items in Fortnite Season 5 include the Spire Jumpboots and the Spire Assassin's Primal Shotgun.
What's more, Epic added craftable items to the game that allow players to create unique weapons out of existing parts. For instance, a Mechanical Bow and two Shockwave Grenades make the Shockwave Bow – a massive upgrade from both weapons.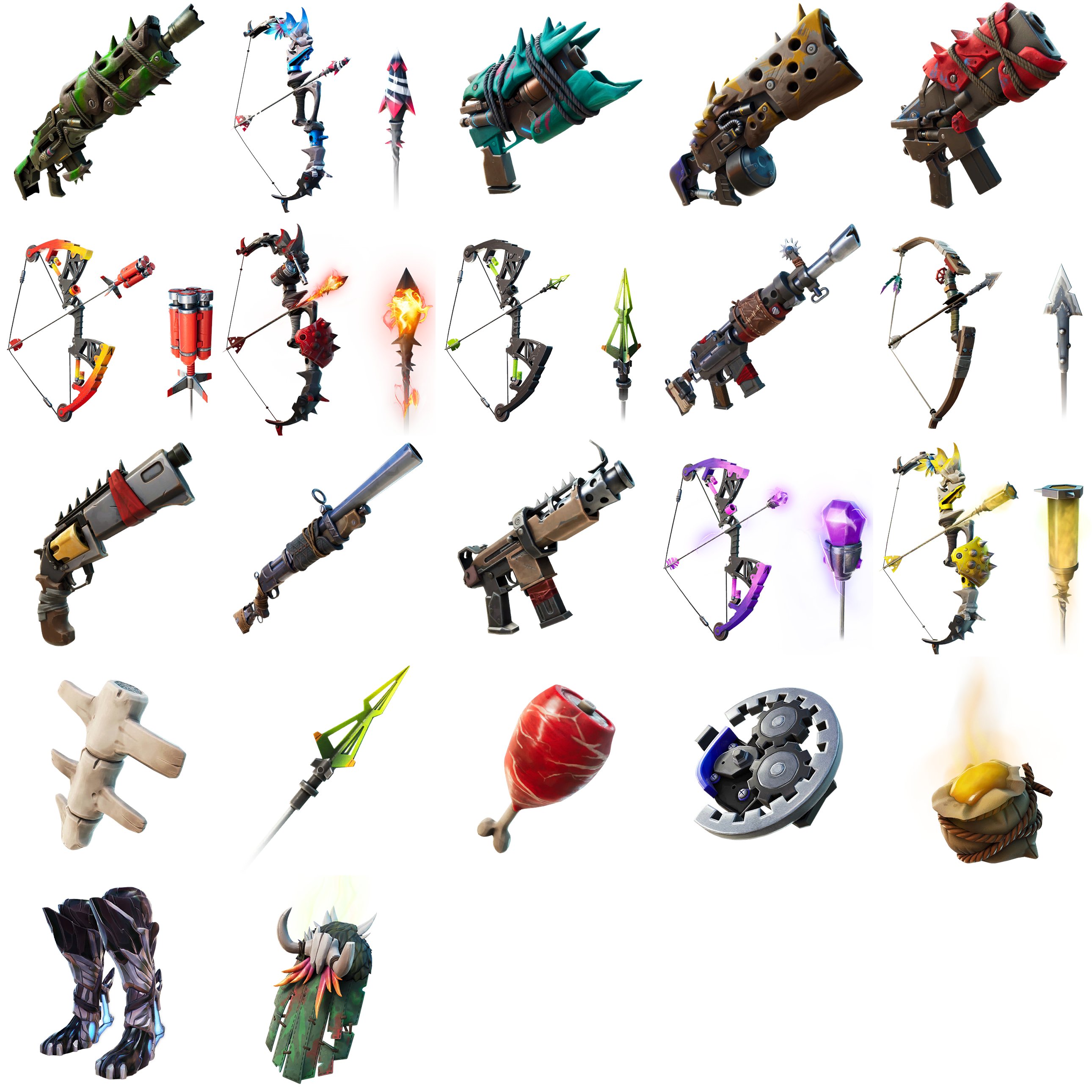 Fortnite Season 6 Exotic weapon locations
Exotic weapons have returned to Fortnite Season 6, but not as many as we had in Season 5. These will be supplementary items rather than the focus of the season, which appears to be on the new crafting mechanic.
Many of the NPCs who sold these items in Season 5 have also either moved locations or don't sell them anymore, so a new guide is needed. Here's a map of all of the Season 6 Exotic weapon locations.
As you can see, there are only four Exotic weapons and items that made it to Fortnite Season 6. These are the:
Hop Rock Dualies: sold by Gutbomb in Logjam Woodworks
Chug Cannon: sold by Slurp Jonesy in Slurpy Swamp
Shadow Tracker Pistol: sold by Power Chord in Dance Club Cabin
Dub Shotgun: sold by Burnout south of Steamy Stacks
The good news is that, unlike last season, all of the NPCs that sell Exotics only spawn in one location – at least, so far.
We'll keep this post updated as Epic add more Exotics to Fortnite Season 6. We expect to see them takes things further as the season goes on, so stay tuned to more news on Exotic weapons.
Image Credit: Epic Games, Fortnite.GG
How to get the Exotic Grappler Bow in Fortnite Season 6
The Grappler Bow has been added to Fortnite Season 6. Here's how to get your hands on Fortnite's newest Exotic weapon.
A Fortnite update on April 20 brought the newest Exotic weapon to the game: the Grappler Bow. Here's how to get your hands on it.
Fortnite Season 6 continues to be one of the most evolving seasons in Chapter 2. It seems like every week brings a patch or content update to the game, with something new for players to explore.
This week, a content update on April 20 brought a previously-leaked Exotic weapon to Fortnite: the Grappler Bow. As the name suggests, the Grappler Bow is a Grappler in bow form.
The bow is unique from the original Grappler in several ways. First, it damages opponents when you hit them with it. You can deal 89 damage to the body. Also, it uses Bow ammo, so you could run out of ammunition if you don't have enough.
Here's how you can get your hands on the newest Exotic weapon in Fortnite:
Head to Stealthy Stronghold
Talk to Lara Croft
Spend 500 Gold Bars to purchase the Grappler Bow
After that, you can fly around the map and attack unsuspecting opponents. Since it's an Exotic weapon that's only sold in one location, you should only see one of them per match. The 500 Gold Bar price point is quite expensive as well, so you might want to wait until an enemy buys it for you.
This update comes just in time for the Lara Croft and Alloy duo LTM that recently went live. We'll have to see if the new bow will be one of the items you can use in this game mode.
This almost certainly won't be the last Exotic weapon that Epic add to Fortnite Season 6. They removed a handful of weapons that were in the game last season, and will probably replace them as Season 6 goes on. Of course, if we see any announcements or leaks about new weapons, we'll be the first to let you know.
How to enable Performance Mode in Fortnite
Performance Mode is the newest way to improve your Fortnite experience. Here's how to enable the setting and get the most out of it.
Fortnite recently introduced Performance Mode to the game, which high-level and pro players seem to be loving. Here's how to enable it and get the most out of the new feature.
Performance Mode is the newest render setting in Fortnite, allowing players on lower-end PCs to get the most out of their hardware without sacrificing FPS. Players on even the cheapest gaming rigs will be able to achieve 144 FPS with this new setting.
If you've watched any Fortnite pros stream the game since the update in early February, then you probably notice that their structures look a bit strange. That's because they're using the new-and-improved Performance Mode.
Even high-end PCs can benefit from this new setting. Fortnite is notorious for having FPS drops on PC. Performance Mode will eliminate that issue. Here's how to use it.
How to enable Performance Mode
You can find the Performance Mode setting under Advanced Graphics in your Video settings. There, you'll see Rendering Mode, which will be set on DirectX 11 or 12, depending on which one you use.
All you need to do is switch this to Performance (Alpha) and restart your game. When you load in, you'll be on Performance Mode.
After you jump back into the game, you may notice that it looks blurry. Epic appear to lower your 3D models by default when you first switch, so make sure to bump that back to 100.
You will also want to put your Meshes on High under Graphics. Having this on low limits your ability to see through them, on top of making your walls look like you're playing on mobile.
Some players are having issues with some assets – including full structures – failing to load in Performance Mode. This could be because of the High Resolutions Texture setting. To turn this off, Navigate to Epic Games Launcher > Fortnite > Three Dots > Options > uncheck High Resolution Textures.
The Texture Quality in-game doesn't matter very much, so you can keep this on High if your GPU can handle it. In fact, most players find that having Textures on High actually improves their FPS.
Performance Mode won't make you a pro player overnight, but it will help you get the leg-up in a lot of instances – especially when there's a lot going on around you. We've been using it for a couple of days and have gotten used to the strange "bubble wrap" builds that have become the norm.