How to get the female Midas 'Marigold' skin in Fortnite
Female Midas is finally in Fortnite with the Marigold skin and Golden Touch pack. Here's how to unlock it and earn 1,500 V-Bucks.
Finally, at the end of Fortnite Season 5, players can purchase the much-requested female Midas 'Marigold' skin. Here's how to get it and how to complete the associated challenges.
Ever since Fortnite Season 5 was released, players have been asking for a female Midas skin. Data miners found the loading screen in the game files, and most players assumed it would be one of the Fortnite Crew pack rewards during the season.
On March 8, Epic finally released the skin to the Item Shop. Here's how to get it and how to complete the challenges for a 1,500 V-Buck reward.
Female Midas Golden Touch bundle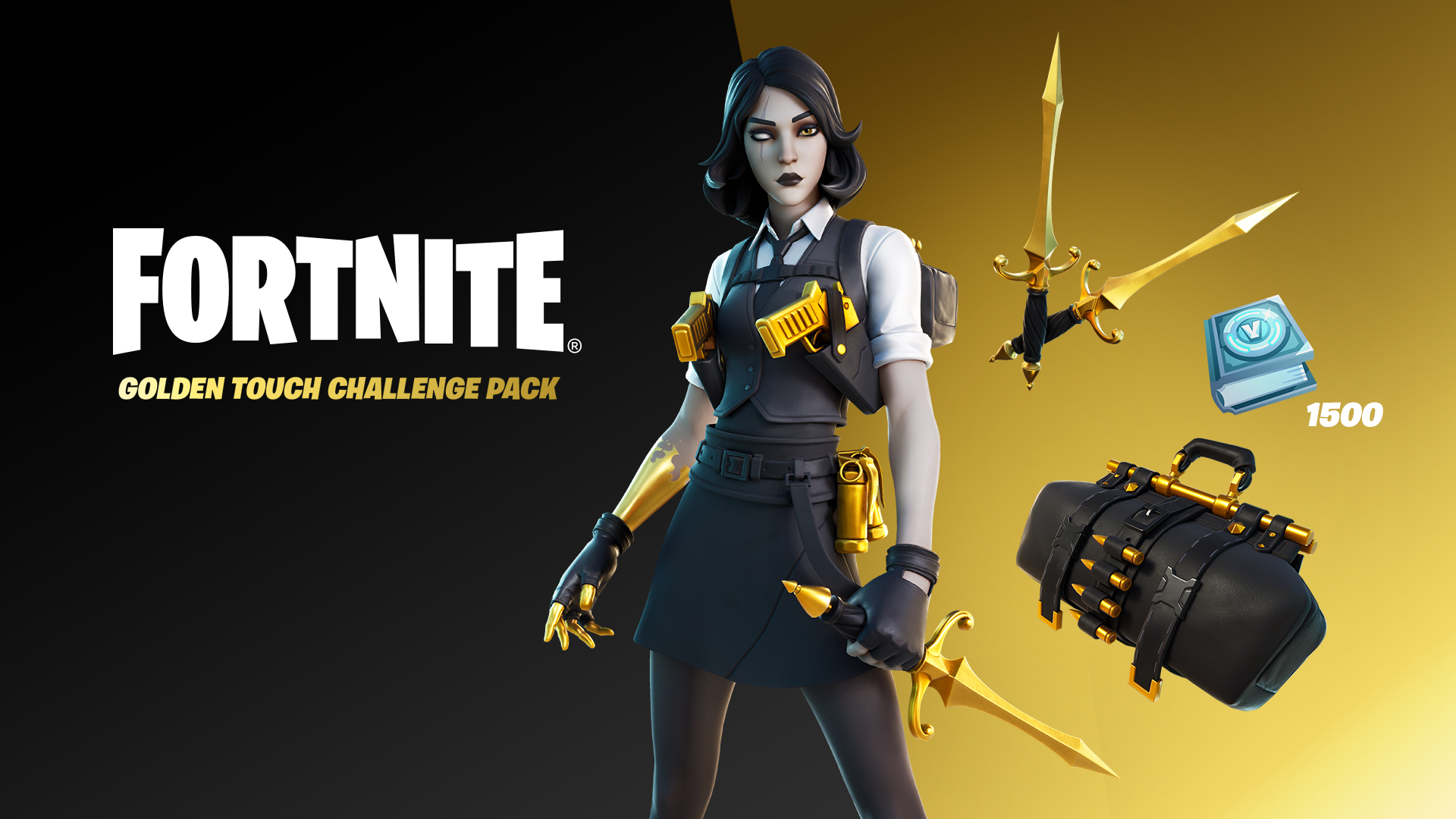 The Golden Touch skin bundle, as its called, includes the reactive Marigold outfit, the Golden Daggers pickaxe, the Golden Gambit back bling, and a list of challenges worth 1,500 V-Bucks. This will cost $11.99 to purchase from the Item Shop.
The Marigold skin is reactive and turns gold when you eliminate players. The more players that feel your wrath, the more complete Marigold will look.
The V-Bucks, alone, justify the purchase if you need to load-up before the new season, but you have to make sure to complete the challenges.
Marigold challenges
Like other skins in the past, Marigold will have daily challenges that unlock V-Bucks. The first day's challenges require you to complete Uncommon or Rarer skins – an easy task if you still haven't finished last week's list of Epic challenges.
The other challenges will follow a similar pattern, requiring players to complete challenges for higher rewards each day. These will start with 100 V-Bucks and work their way up to 500 by the fifth day.
With another seven days before Season 6, we should have enough time to top-off our V-Bucks for the next Battle Pass – especially if you purchased this one. We'll keep you posted when the Week 15 challenges go live, and give you everything you need to know to complete them – along with the Marigold challenges.
Image Credit: Epic Games
How to get the exclusive Rebirth Harley Quinn skin in Fortnite
The Batman Fortnite comic series release date has been announced, with an exclusive skin in each issue, the first being Rebirth Harley Quinn.
The Fortnite X Batman comic series has officially been announced, offering players a chance to earn limited-edition skins by purchasing the comics.
The Batman X Fortnite comic series has been teased for a while, with multiple releases bringing clarity to both the comic and the future of the map. So far, promotional material for the comic has led fans to speculate that we'll see a Batcave POI in Fortnite along with a Deathstroke skin.
On April 14, Epic and DC finally announced that the comic series would begin releasing on April 20. The following four issues will be released twice a month in May and June, culminating in the final issue on July 6.
This limited-edition series will only be available for a short time and brings some in-game rewards along with it.
In the Epic Games announcement blog post, the team announced that, "Each print issue of Batman/Fortnite: Zero Point will include a redeemable code for bonus DC-themed Fortnite digital items inspired by the events in the comic."
The first of these exclusive rewards will be the Rebirth Harley Quinn Outfit – a rework of the skin that many of us already have in our lockers. A lot of Fortnite players were asking for a re-release of this skin, and are now getting a new version, instead.
Each issue will come with a cosmetic reward, which could be where the rumored Deathstroke skin comes in. All signs point to these cosmetics being exclusive to players who purchase the DC comics, so we don't expect to see them in the Item Shop.
We'll update this post when Epic announce the exclusive skin for future issues of the Batman X Fortnite comic. Until then, follow us on Twitter so you never miss out on any of the latest Fortnite news.
Image Credit: Epic Games/DC
Fortnite X Horizon Zero Dawn skin & LTM coming soon
A new Fortnite leak reveals that Aloy from Horizon Zero Dawn will be coming to Fortnite Season 6. Here's how to get the skin for free.
Fortnite is teaming up with Sony once again to bring another fan-favorite character to Fortnite: Aloy from Horizon Zero Dawn.
Epic Games have been turning up the crossovers for the past few seasons. They began focusing on crossovers in Season 4 with Marvel, then continued to expand the universe in Season 5. Now, we're into Season 6, and nothing seems to be slowing down.
In the v16.20 patch, data miners found the next character that will be added to the Fortnite world: Aloy from Horizon Zero Dawn.
How to get the Aloy skin for free
Aloy will be available on all platforms when she comes to the Fortnite Item Shop, just as Master Chief and Kratos were available to everyone. PS4 and PS5 players will have a chance to earn the skin for free, however.
Sony and Epic are hosting an exclusive Aloy Cup for PlayStation players, with the top-performers earning the Aloy and Horizon Zero Dawn skin bundle for free. The tournament will take place on April 14. Aloy will likely come to the Item Shop soon after the tournament.
Team Up! Aloy & Lara LTM
Aloy will be teaming up with Lara Croft for an LTM when she enters the game. It will be a duos mode, and will mostly focus on the Bow and Dual Wield Pistols.
One player will be Aloy and the other will be Lara Croft. Naturally, Aloy will have a Primal Bow and Lara will have two pistols. This event will begin on April 16 and will run through April 18.
We'll keep you posted if any other details come out about this crossover. Until then, make sure to follow us on Twitter, @FortniteINTEL.
How to earn the Webster Outfit for free in Fortnite
Fortnite is hosting the Spring Breakout Cup this week. Find out how to earn the Webster Outfit for free by competing.
Fortnite is hosting another tournament that offers players a free skin as a reward. Here are all of the details you need to know.
Fortnite Season 6 is here and is hosting the season's first tournament. Epic announced the Spring Breakout event starting on March 30, with a chance to earn the Webster Outfit and Mecha-Feathers Back Bling for free by competing in the Spring Breakout Cup.
Here's everything you need to know about the tournament, how to enter, and what placement you need for the free cosmetic set.
Fortnite Spring Breakout Cup
The Spring Breakout Cup is a Duos tournament that will replace Friday Night Bragging Rights on April 2. It will follow the same format as other Duos tournaments in the recent past.
As was the case with a lot of other cosmetic tournaments, only the top teams in each region will earn the Webster Outfit and Mecha-Feathers Back Bling for free. Here's where you need to place in each region:
Europe: 1st – 1,125th
NA East: 1st – 575th
NA West: 1st – 250th
Brazil: 1st – 250th
Asia: 1st – 125th
Oceania: 1st – 75th
Middle East: 1st – 100th
Players will have three hours to complete ten matches to place as highly as they can. Even if you're not interested in the free skin, it's worth your time to use this tournament in practice if you're a competitive Fortnite player. As always, players need to complete Epic's 2FA to compete in the event.