How to get Chonkers off-road tires in Fortnite Season 6
The Fortnite Season 6 v16.20 update brought Chonkers off-road tires to the game. Here's where you can get them.
The Fortnite v16.20 patch introduced Chonkers off-road tires to Fortnite Season 6. Here's how to get them and what they will do.
Vehicle mods have been teased for Fortnite since the beginning of Season 6. Even before that, data miners found them in the game files, so fans have known about some sort of mod for a while.
Finally, in v16.20, we saw our first vehicle mod come to Fortnite in the form of Chonkers off-road tires. We expect to see more of these come to the game in the future.
These tires, as the name suggests, will make off-roading a whole lot faster. They will impact different cars more than others, with the truck getting the most benefit from them. As a bonus, these tires allow you to scale steep surfaces you'd otherwise need to climb with ramps.
How to get Chonkers off-road tires
Chonkers tires spawn all over the map, but mostly in gas stations and garages. You can find them on the floor in these locations, or by breaking stacks of tires. Yes, that means the tires that you can bounce on.
This update also saw Sparkplug added to Catty Corner. She'll be one of the better NPCs going forward, as she sells mechanical parts and offers weapon upgrades to players.
Land at the southern garage in Catty Corner
Enter the garage and fins Sparkplug
Look around for tires that spawn on the ground
Grab them and throw them on the closest car.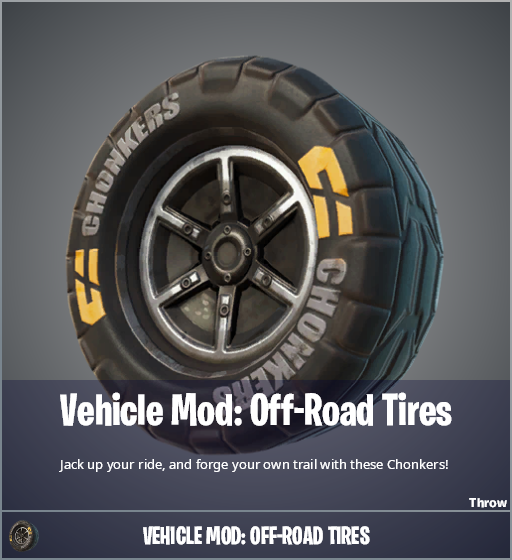 These tires aren't too much of a game-changer, with their biggest benefit being the ability to traverse steep cliffs.
This won't be the last vehicle mod we see added to Fortnite, however. We'll be keeping our eyes peeled when the next patch releases to see what else Epic have in store for the future of Fortnite Season 6.
Image Credit: Epic Games, Hypex
What are Social Tags in Fortnite Season 3 and how to use them?
Social Tags are finally here in Fortnite and players can connect with random players across the world based on their preferences. Here's how you can use them.
Fortnite Season 3 has introduced players to several new features, a new UI and a more colorful island to drop in. One of these most awaited and heavily rumored features was Social Tags. Now that it's finally here, players are loving how it adds their in-game personality to their profile.
Loopers are enjoying every bit about the latest Chapter 3 Season 3. From ballers, exciting new POIs, the brand new Reality Sapling loot system, all the new additions accompany one another in a perfect manner.
However, the user interface options in Fortnite have stayed stagnant for a long period of time and required a major overhaul with the evolution of the gameplay. With the addition of Explore and game playlists options earlier this year, Epic showed its player base about the potential of what Fortnite can be.
In addition to all these features, something felt missing that allowed players to connect with other active players who have similar interests and the way they play Fortnite. Enter Social Tags which were added in the most recent v21.10 update. Here's what they are and how you can use them.
Use Social Tags to define your choices and find similar players in Fortnite
Social Tags in Fortnite are basically name tags you can add to your Fortnite profile on the sidebar section. These tags signify how you play Fortnite and you can get recommendations on the Explore Menu of similar experiences.
If you enjoy a certain Battle Royale or Creative mode, you can add a tag for it. One player at max, can add 3 tags to their profile. It could be a mix of Creative, Battle Royale which bbasically have gameplay modes and Miscellaneous which has more options like Chill, Quests, Mic On etc.
To apply Social Tags to your profile, do the following steps:
Click on your profile icon in the left sidebar.
Select +Add Tag option on your profile.
Add social tags from the list available there.
Save and confirm the selected tags. (Max 3)
Once assigned, they will show up on your profile and would tell others how you choose to play Fortnite. Furthermore, you can head to Looking For A Party option on the left sidebar, right above settings to search for random players who play Fortnite the way you do.
It will then show a list of players who are active currently in-game and are in the lobby with how many players. Moreover, you can send them a party invite or a request to join your party. You can also choose to turn off this option.
This feature promotes healthy connectivity between players who play Fortnite in a similar way and helps prevent toxicity between Casuals and Sweats in the game. Additionally, it creates a healthy divide between the two communities if one enjoys grinding Arenas while others purely enjoy Public matches.
How to jump off of a diving board in Fortnite Season 3
A Fortnite Chapter 3 Season 3 Week 3 challenge requires players to jump off of a diving board and here's a quick guide to completing it.
Fortnite players must search for a diving board and jump off of it this week. This will complete one of the latest Week 3 challenges and provide them with 15,000 XP.
Quests and challenges have always been the most reliable source of XP for Fortnite players. The developers release three Daily Quests every day and seven Weekly Quests every week.
Weekly quests for Week 3 of Fortnite Chapter 3 Season 3 have arrived, and here's a guide to completing the one based on jumping off a diving board.
Where to find Diving Boards in Fortnite Chapter 3 Season 3
To complete the Weekly quest, players first need to find one Diving Board. It is located near Rocky Reels and the exact location is marked (blue marker) in the image below:
The diving board is placed on the top of a massive rock in the desert region south of Rocky Reels. It basically gives players a small push and they can dive into the river flowing underneath.
The quest requires you to jump off of a diving board three times, and they don't need to be unique. This means that the challenge can be completed by jumping off of the aforementioned board repeatedly.
How to reach the diving board in Fortnite Season 3
Another thing to note is the accessibility of the diving board. There's no way to reach the top of the massive boulder in Zero Build modes owing to the lack of ziplines. Jumping while sprinting might help but it is better to take on this challenge in modes with building enabled.
Obviously, players can directly land at the diving board near Rocky Reels in Zero Build modes but this will only allow them to jump off of it once.
All in all, completing the weekly challenge will grant players 15,000 XP. Seven new quests have been added this week and there will be an additional bonus for completing them. This implies that the total XP output will be over 200,000 which is equivalent to almost three levels in the Battle Pass.
How to get Starmapping Wrap for free in Fortnite Season 3
Another PlayStation exclusive tournament arrives in Fortnite with the release of a new season and it rewards participants who play. Here's what you can get.
An exclusive PlayStation based tournament is incoming later this month for console players and rewards each participant with a free wrap. Alongside it, winners are in for cash prizes and the prize pool this time around is extremely generous.
Fortnite and PlayStation has had a bunch of collabs ranging from tournaments to exclusive skin packs and the console platform rewarding players with free skins as part of their premium membership program. These cosmetics are highly exclusive and still have a good reputation amongst the player base.
However, there is a separate exclusivity for those cosmetics which one can win or reward themselves with upon playing a certain tournament and grabbing those rewards. Several of these cosmetics are in the form of a cosmetic wrap, emoticon or even skins that sometimes never hit the Item Shop for others to purchase.
With the release of the latest Chapter 3 Season 3, players have just started introducing themselves to new tournaments and farming those Arena hype points to reach contender and champion league. While the grind continues, a console only tournament for PS4 & PS5 players is set to arrive later this month where players can get a free cosmetic wrap.
Play the June Fortnite PlayStation Cup to win a free wrap and more rewards
According to recent news, a Fortnite tournament is set to hit the game next week for PS4 & PS5 players only where they will have a chance to win a share of a whopping $116,750 which is placement based. However, there are several amounts allocated to each region depending upon the number of active player it hosts.
Moreover, the mode of tournament will be a regular Solos match with Builds enabled and a traditional Battle Royale will take place with all competitive features enabled. So you can jump in to the game without having to find a partner or team up with someone with bad comms or network lag.
Additionally, players who score more than 8 points throughout the tournament will receive a stunning Starmapping wrap that will be awarded once the tournament ends. The wrap will be available for players to equip in their locker and can only be availed between June 28 to June 30.
The wrap looks identical to several animated wraps that have hit the item shop before as well. However, the PS exclusive wrap will hold its exclusivity as only console players will be able to flaunt them like they do with OG skins like Neo Versa etc.