How to get a 'Double Pump' in Fortnite Season 6
The Dub, one of the returning Exotics in Fortnite Season 6, has an interesting feature that removes the shotgun-switch delay.
A feature that was originally found in Fortnite Season 5 has returned in Season 6, allowing players to use the old "Double Pump" strategy from back in the day.
The shotgun meta is always a topic of conversation in Fortnite, and Season 6 is no different. Players have been complaining about the effectiveness of the Primal Shotgun, while strongly disliking the Makeshift variant.
Fortnite Season 6 brought back a few Exotic weapons from Season 5, along with a heap of new ones for players to try. One of the returning weapons is The Dub – a Double Barrel shotgun that pushes both the shooter and the opponent back when fired.
The Pump has also returned to Season 6, giving players the ability to use The Dub and The Pump as a double-pump replacement.
For those who don't know, the Dub Shotgun is unique in one special way. There's no cooldown timer attached to The Dub, which allows players to use a Pump and Dub together without facing a delay.
Here's a video from YouTuber, OrangeGuy, showing how this works. He made the video back in Season 5, but the information still applies. In fact, the "Double Pump" strategy lives up the name now more than it did last season.
Initially, when we reported on this feature, we weren't sure whether or not it was intended. After over a season of The Dub shotgun, it's safe to say that Epic know that the cooldown works this way, and are okay with it.
If you want to try the Season 6 Dub shotgun for yourself, you can find it from Burnout south of Steamy Stacks
How to transform into a prop in Fortnite Season 6
You can disguise yourself as a prop in Fortnite Season 6 if you know where to go. Here's where you need to visit.
Fortnite Season 6 allows players to disguise themselves as a prop to fake-out opponents. Here's how you can turn into a prop, yourself.
The newest Fortnite season introduced a host of new mechanics to the game. The crafting system is the most obvious of the many changes, but there is a handful of others to explore.
One of these new mechanics reworks an old, controversial element from Chapter 1. Longtime players will remember the update in Season X, where crouching in Moisty Palms turned you into a prop.
Players were split on this change, with some using it for fun and others growing frustrated with late-game crouching. Now, in Chapter 2 Season 6, the feature is back and has greatly improved.
Fortnite Season 6 prop locations
Instead of allowing players to accidentally turn into a prop, Epic made it a lot more intentional. You'll need to purchase this feature from NPCs in Season 6, and only a handful of them offer the upgrade.
This season, you can turn into anything from a mailbox to a trashcan to a Slurp Barrel – drawing opponents toward you. It can be a useful feature, and will undoubtedly make for some funny clips.
Only five NPCs offer this upgrade, however. These NPCs are:
Bushranger in Pleasant Park
Raz in Coral Crops
Crustina in The Orchard/Tomato Town
Jekyll in Steamy Stacks
Snow Sniper east of Retail Row
The upgrade will only cost 75 gold – making it one of the more affordable options available.
Of course, it's best to use this feature close to the center of the storm circle. Otherwise, you'll need to rotate dressed as a prop – unable to farm or shoot at enemies without breaking your disguise.
We don't doubt that disguising yourself as a prop will be a part of a future Fortnite Season 6 challenge. We'll update this guide if/when Epic add more NPCs that offer prop disguises.
All Fortnite Season 6 Exotic Weapon locations
Fortnite Season 6 is here, and only a few Exotic weapons made it. Here are all Exotic weapon locations for the new Fortnite season.
Fortnite Season 6 marked the return of Exotic weapons to Fortnite. Not all of the Season 6 weapons are there, however, and they've moved locations.
There's no shortage of new mechanics in Fortnite Season c, with the addition of crafting, the map changes, and a whole lot more.
Mythics have returned to the game in Season 6 but in a limited capacity. The only classic Mythic items in Fortnite Season 5 include the Spire Jumpboots and the Spire Assassin's Primal Shotgun.
What's more, Epic added craftable items to the game that allow players to create unique weapons out of existing parts. For instance, a Mechanical Bow and two Shockwave Grenades make the Shockwave Bow – a massive upgrade from both weapons.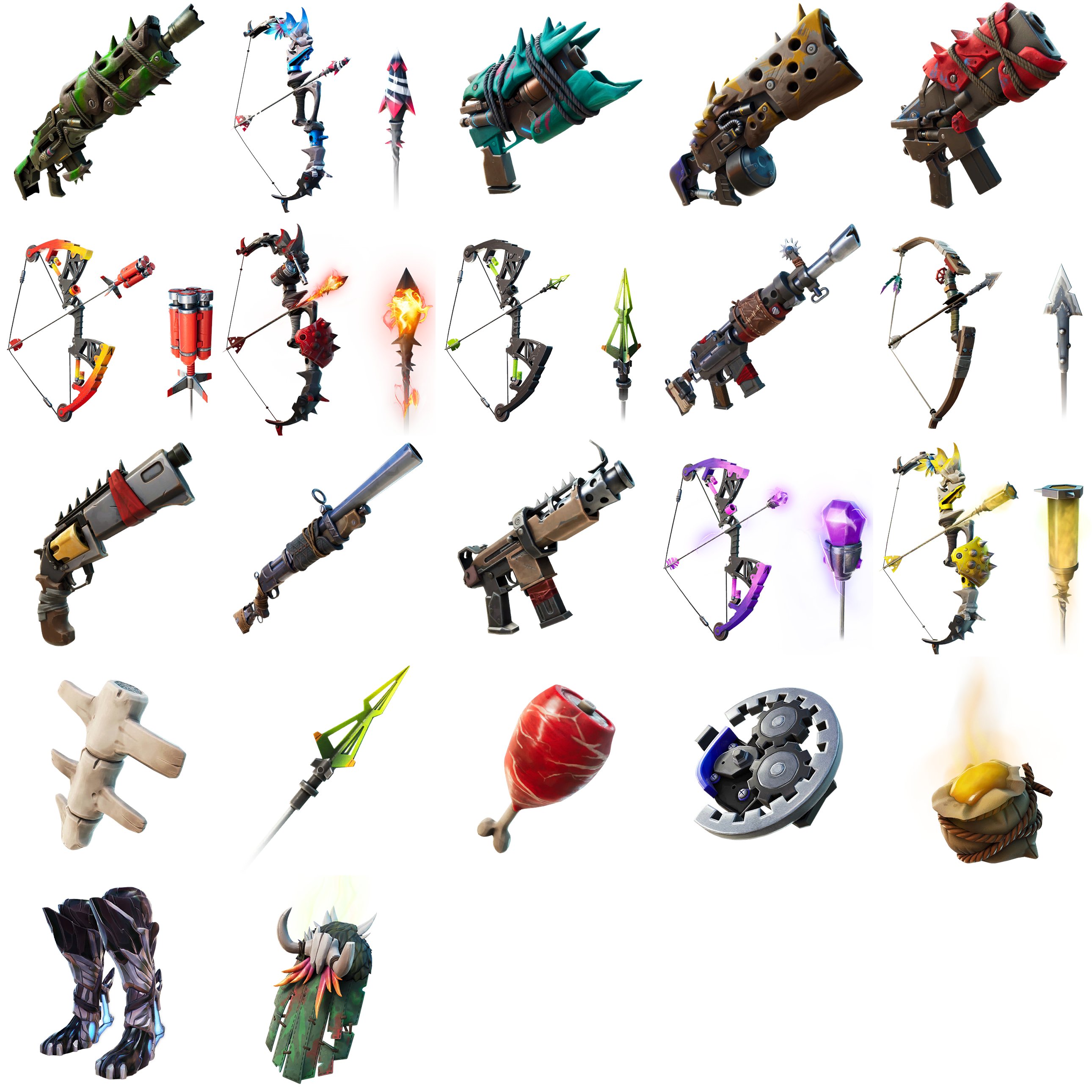 Fortnite Season 6 Exotic weapon locations
Exotic weapons have returned to Fortnite Season 6, but not as many as we had in Season 5. These will be supplementary items rather than the focus of the season, which appears to be on the new crafting mechanic.
Many of the NPCs who sold these items in Season 5 have also either moved locations or don't sell them anymore, so a new guide is needed. Here's a map of all of the Season 6 Exotic weapon locations.
As you can see, there are only four Exotic weapons and items that made it to Fortnite Season 6. These are the:
Hop Rock Dualies: sold by Gutbomb in Logjam Woodworks
Chug Cannon: sold by Slurp Jonesy in Slurpy Swamp
Shadow Tracker Pistol: sold by Power Chord in Dance Club Cabin
Dub Shotgun: sold by Burnout south of Steamy Stacks
The good news is that, unlike last season, all of the NPCs that sell Exotics only spawn in one location – at least, so far.
We'll keep this post updated as Epic add more Exotics to Fortnite Season 6. We expect to see them takes things further as the season goes on, so stay tuned to more news on Exotic weapons.
Image Credit: Epic Games, Fortnite.GG
How to get the Exotic Grappler Bow in Fortnite Season 6
The Grappler Bow has been added to Fortnite Season 6. Here's how to get your hands on Fortnite's newest Exotic weapon.
A Fortnite update on April 20 brought the newest Exotic weapon to the game: the Grappler Bow. Here's how to get your hands on it.
Fortnite Season 6 continues to be one of the most evolving seasons in Chapter 2. It seems like every week brings a patch or content update to the game, with something new for players to explore.
This week, a content update on April 20 brought a previously-leaked Exotic weapon to Fortnite: the Grappler Bow. As the name suggests, the Grappler Bow is a Grappler in bow form.
The bow is unique from the original Grappler in several ways. First, it damages opponents when you hit them with it. You can deal 89 damage to the body. Also, it uses Bow ammo, so you could run out of ammunition if you don't have enough.
Here's how you can get your hands on the newest Exotic weapon in Fortnite:
Head to Stealthy Stronghold
Talk to Lara Croft
Spend 500 Gold Bars to purchase the Grappler Bow
After that, you can fly around the map and attack unsuspecting opponents. Since it's an Exotic weapon that's only sold in one location, you should only see one of them per match. The 500 Gold Bar price point is quite expensive as well, so you might want to wait until an enemy buys it for you.
This update comes just in time for the Lara Croft and Alloy duo LTM that recently went live. We'll have to see if the new bow will be one of the items you can use in this game mode.
This almost certainly won't be the last Exotic weapon that Epic add to Fortnite Season 6. They removed a handful of weapons that were in the game last season, and will probably replace them as Season 6 goes on. Of course, if we see any announcements or leaks about new weapons, we'll be the first to let you know.