How to complete the secret finale of the Bears vs. Gnomes quests
Find out how to finish the finale of the secret Gnomes vs. Bears Fortnite quest line.
While we await the rumored season-ending Doomsday event that we expect to close-out Season 2, a sub-plot has been brewing under the surface. The bears and gnomes of the island have been going at it for weeks.
For those who don't know, there have been secret quests that reward players with 15,000 XP apiece. We've been intervening in the ongoing war between the bears and the gnomes which has, seemingly, come to an end.
If you haven't completed them already, you can take a look at the guides for the previous challenges below. They require you to point telescopes, search for honey, free the imprisoned bears, and stop the armed conflict.
The assumed final stage of the challenge is available today and will, reportedly, be live until the end of Season 2. All you have to do is celebrate the truce by dancing next to the bears and gnomes.
You can find the groups playing a game with one another to the east of Weeping Woods. They're located at the edge of the treeline. Here's a closer look from data miner @iFireMonkey.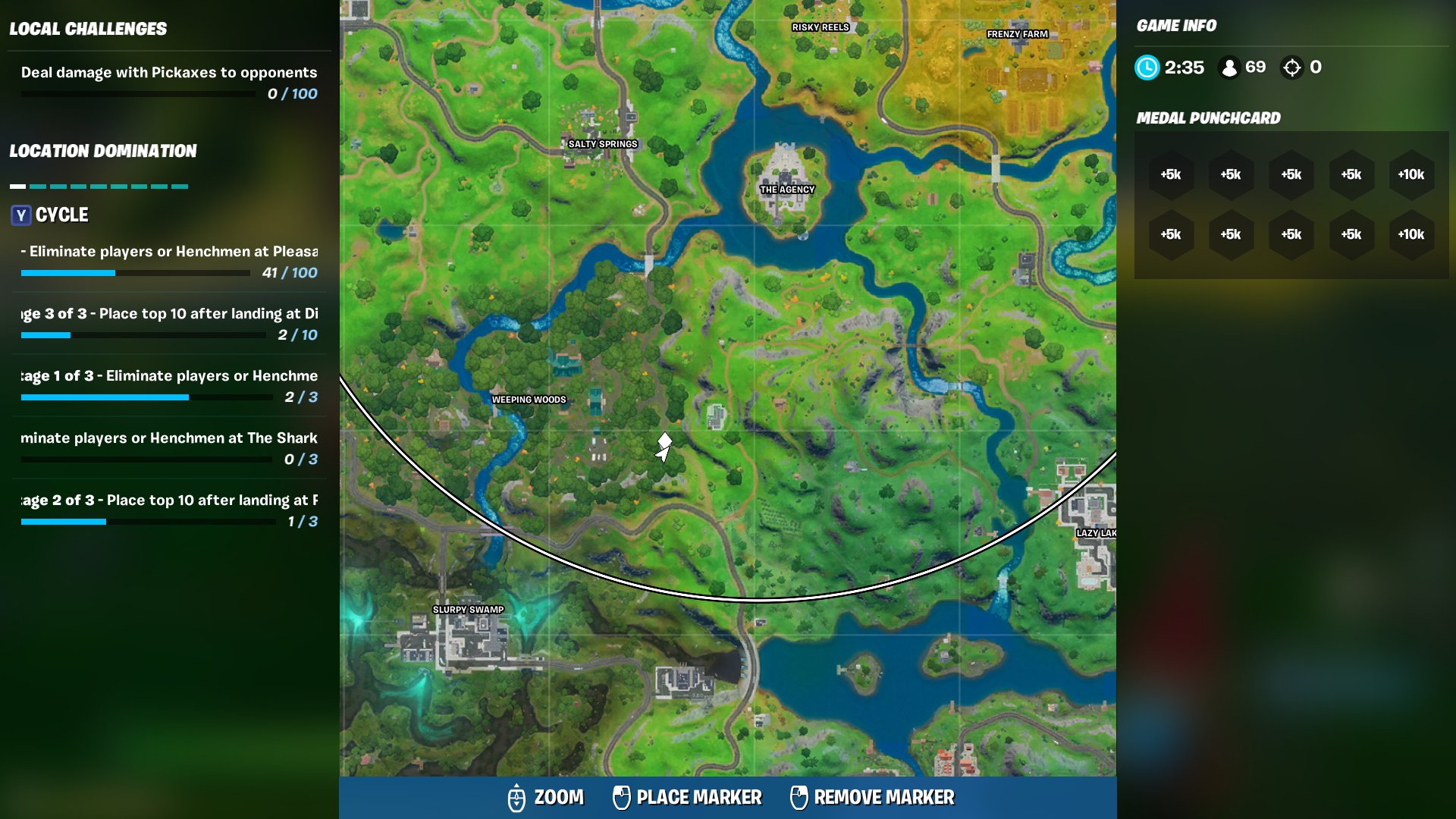 We saw some additional strings related to this questline in leaks from past patches, but this appears to be the last stage of the challenge.
With the golden Agent Peely requiring you to reach level 350, every little bit of XP counts. It's a simple challenge, so it's certainly worth completing. As always, we'll keep you posted with any updates to this secret plotline.
Epic delay Fortnite Season 3 & Device Event for the second time
The Device Event and Fortnite Season 3 have been delayed in the wake of nationwide protests in the US.
Epic Games have delayed Fortnite Season 3 and the Device Event for the second time. This decision comes following similar decisions from Sony and Activision, who delayed the PS5 reveal and Call of Duty season, respectively.
The team announced their decision in a blog post on June 3. The Device Event was moved from June 6 to June 15 and the new season was rescheduled for June 17.
"Recent events are a heavy reminder of ongoing injustices in society, from the denial of basic human rights to the impact of racism both overt and subtle against people of color," they wrote in their blog post. "We're acutely aware of the pain our friends, families, team members, players, and communities are experiencing."
"The team is eager to move Fortnite forward, but we need to balance the Season 3 launch with time for the team to focus on themselves, their families, and their communities," the post continued.
"The live event The Device will be delayed to Monday, June 15, and the Season 3 launch delayed to Wednesday, June 17. We know this delay comes on the heels of another one, and we appreciate your patience and understanding during these difficult times."
Fortnite fans are disappointed by the news, but it was not unexpected. As we said, other publishers and studios have made similar decisions in the wake of recent real-world events.
The exact timing of the Device Event is still up in the air, as it's now set to take place on a Monday rather than a Saturday. We'll keep you posted with more news about Fortnite Season 3 as it comes.
This spray concept would be one of the most-used emotes if added
This Fortnite spray concept is as simple as it is brilliant.
Sprays are one of the most forgotten cosmetic items in all of Fortnite. At least Banners have their own skins and emoticons allow you to use them after death. Sprays, on the other hand, tend to sit in everyone's locker, unused.
There are a couple of sprays that get some attention, but Reddit user u/JewishGuyOnReddit had an idea that could beat all of them – and some of the most popular emotes that are already in Fortnite.
The idea is as simple as it is brilliant. Here's what it is: "_____ was here." That's it. Imagine how awesome that would be. You could spraypaint your Gamertag or IGN all over the island.
This would be up there with some of the classic emotes as an instant purchase and a staple of the front wheel. You could even incorporate the dead body outline to show that you eliminated a player and tagged their spot.
Epic have incorporated a ton of fan-made cosmetic items, and we'd like to submit this one for their review. Let's bring sprays back with this one!
Ninja goes off on 'boring' Fortnite Chapter 2: ready for a new Season
Ninja calls the recent Fortnite seasons "boring" but remains hopeful for Season 3.
Fortnite Chapter 2 Season 2 is second only to Chapter 2 Season 1 as the longest season in Fortnite history. This season, like the previous one, has also offered little in the way of new content to players who hop on the Battle Bus every day.
During a recent stream, Tyler 'Ninja' Blevins unleashed his fury upon the recent state of Fortnite. He echoed the complaints of many longtime Fortnite players. His perspective might be a bit amplified by the number of hours he's put into the game in the past year, but it's relatable to many in the community.
"I don't want to play Fortnite right now," Ninja told his chat. "It's boring, there's nothing new/ I'm having a little bit of fun, sometimes, but we've been playing the same map … the only new places that they've added are places with Henchmen that beam you, and laser you, and s**t on your walls."
(0:33 for mobile viewers)
In a moment of self-reflection, Ninja admitted that he's starting to "sound like Turner (Tfue)." He acknowledged that he's having more fun with Fortnite than other times in the past, but misses the variety that old Fortnite seasons brought us.
"It blows my mind that we were forced to play the very first Season 1 for, like, 120 days," Ninja continued before looking at the chart that showed the length of each season. "Double the length of seasons with half the content. Two seasons have almost taken up a year!"
Ninja is giving a voice to a large portion of the community who are eager for Season 3 to come out. Rumors are swirling about an additional delay to the next season due to the protests in the United States. Epic and Loserfruit just announced a delay to her Icon Series skin for that reason.
We have yet to hear any official news about a Season 3 delay, just yet. Of course, we'll keep you covered if that changes.