How to complete all the challenges from Fortnite Season 7
If you're getting started late to Season 7 and are looking for how to complete all of the challenges, then you're in the right spot.
It has been a long run since early December, but Fortnite Season 7 will be concluding on Thursday, February 28.
However, now that the Season is coming to a close, there is a good chance that a lot of Fortnite players still have challenges to complete.
Read Also: Full list of events that took place during Fortnite Season 7
Completing all of the Season 7 challenges will be a major help to level-up the remaining tiers on a Battle Pass and obtain loot that will likely only be available in S7.
All images are courtesy of SquatingDog, a user who creates weekly Fortnite challenge guides.
Here's how to complete all Season 7 challenges in Fortnite.
Week 1
Find our cheat sheet for Week 1 here.
Week 2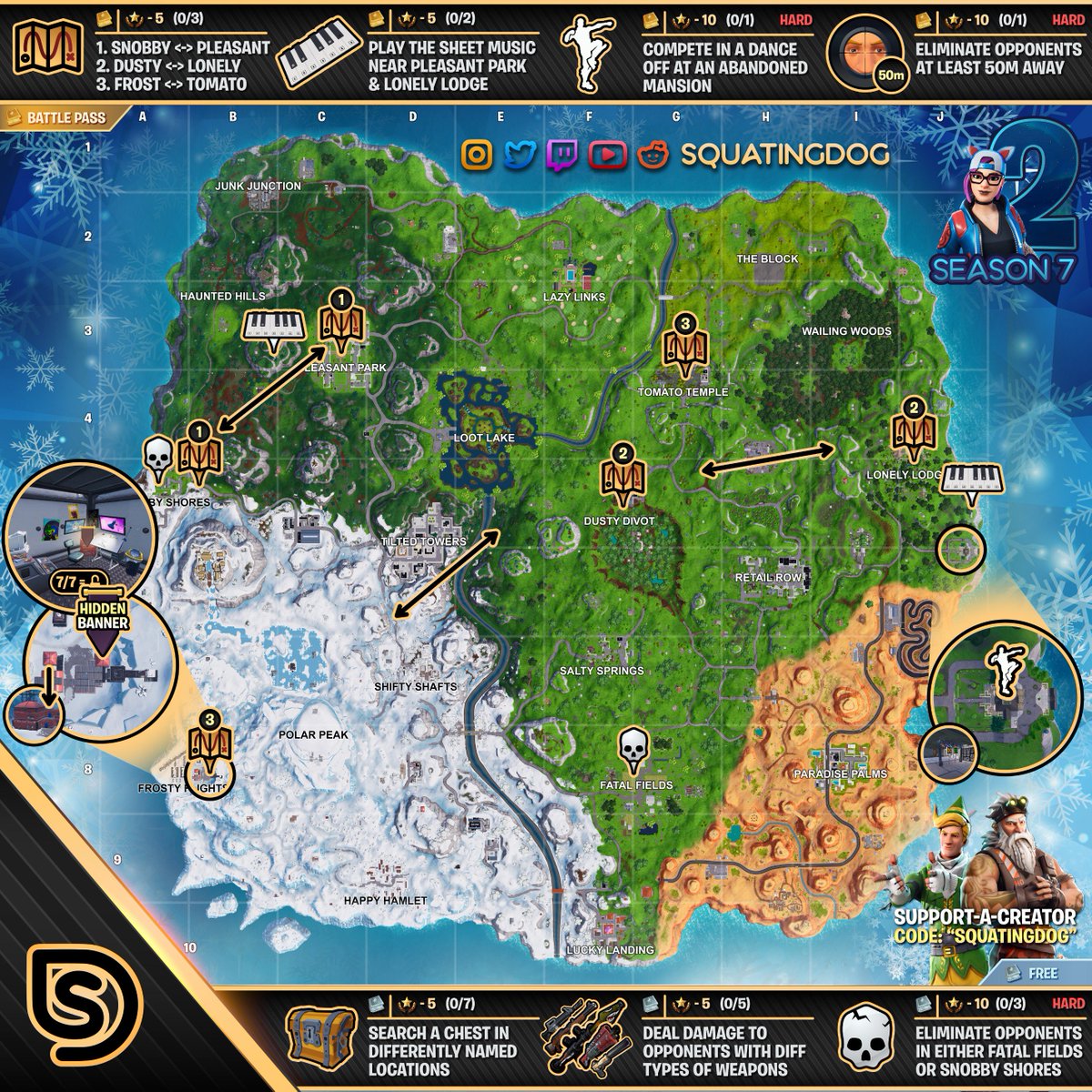 Find our cheat sheet for Week 2 here.
Week 3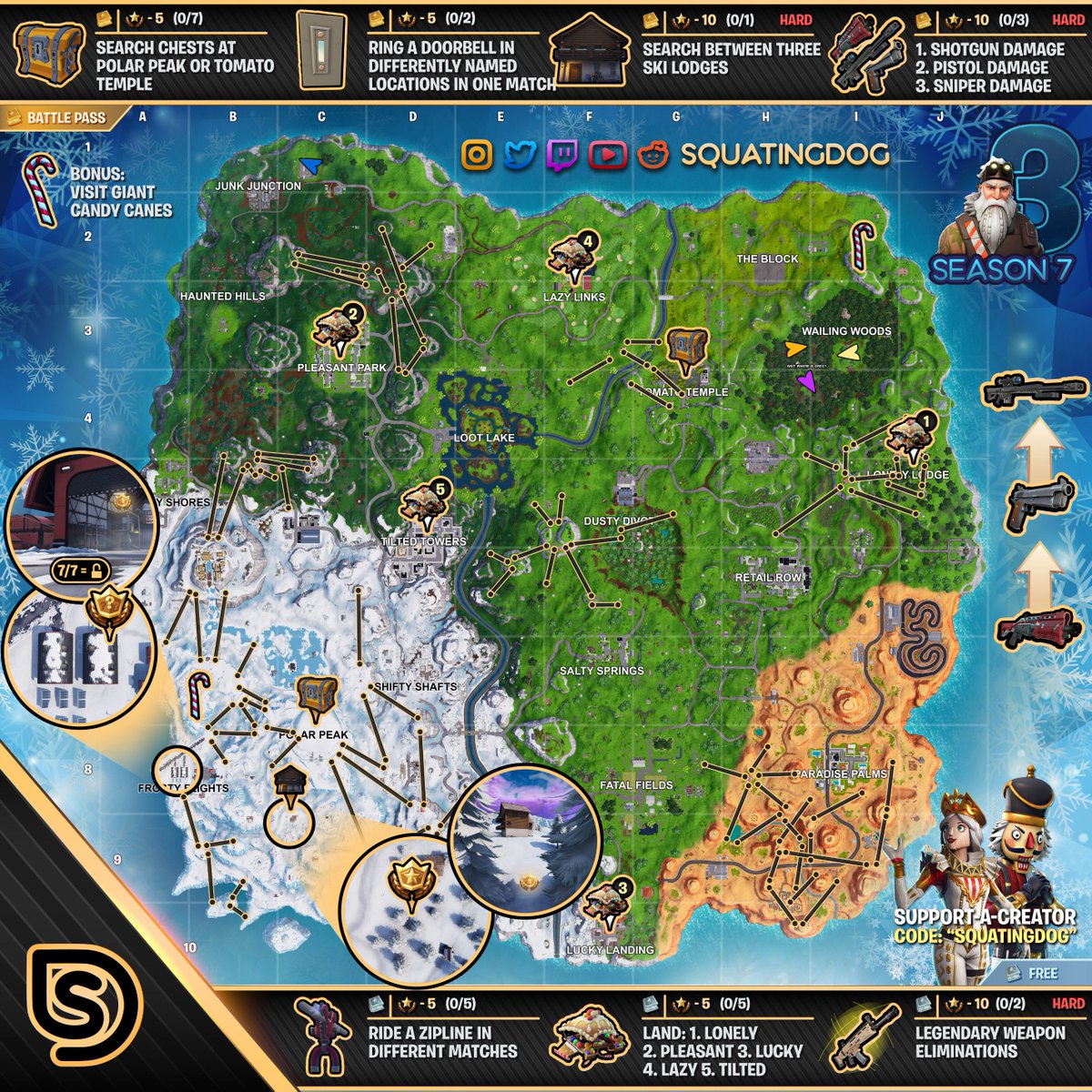 Find our cheat sheet for Week 3 here.
Week 4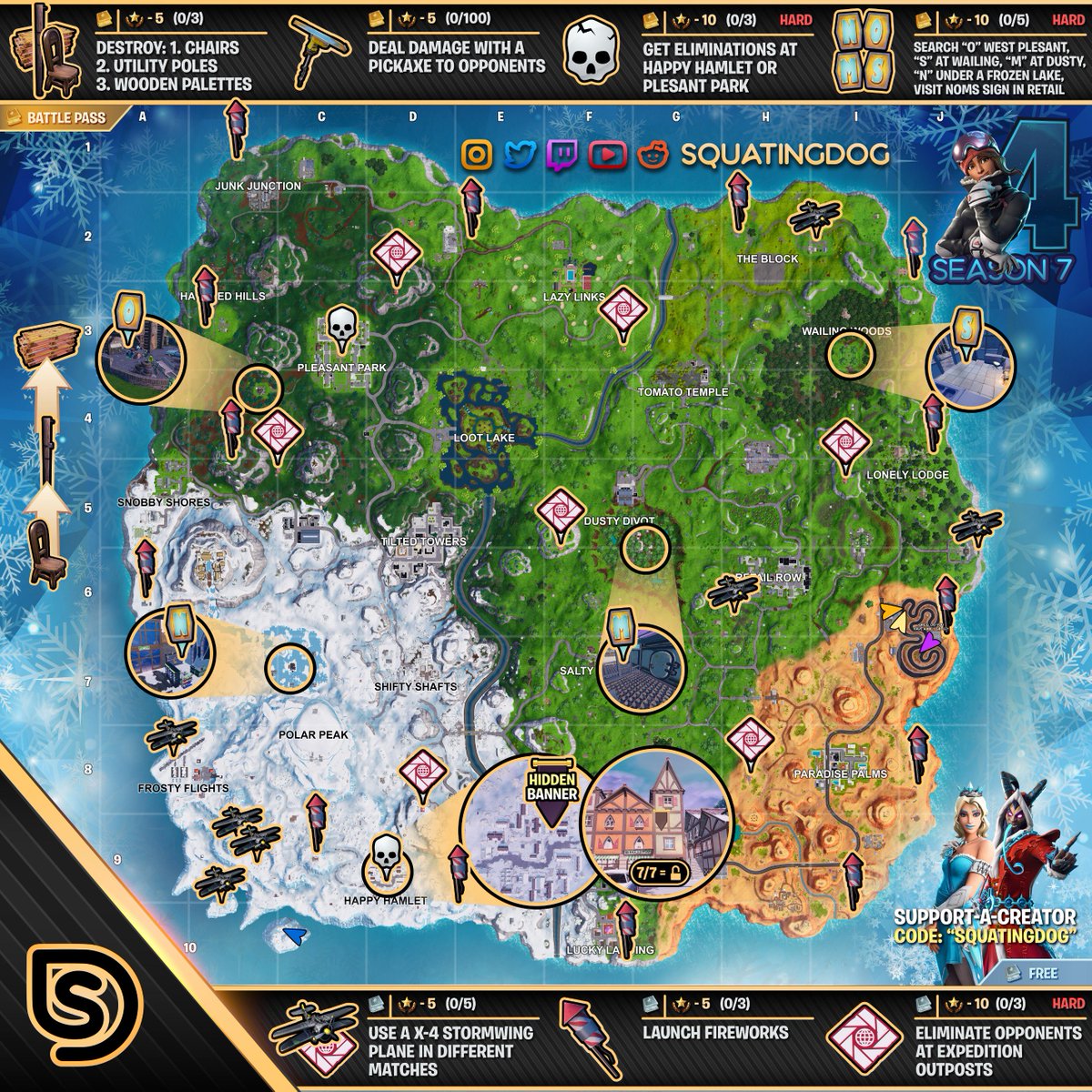 Find our cheat sheet for Week 4 here.
Week 5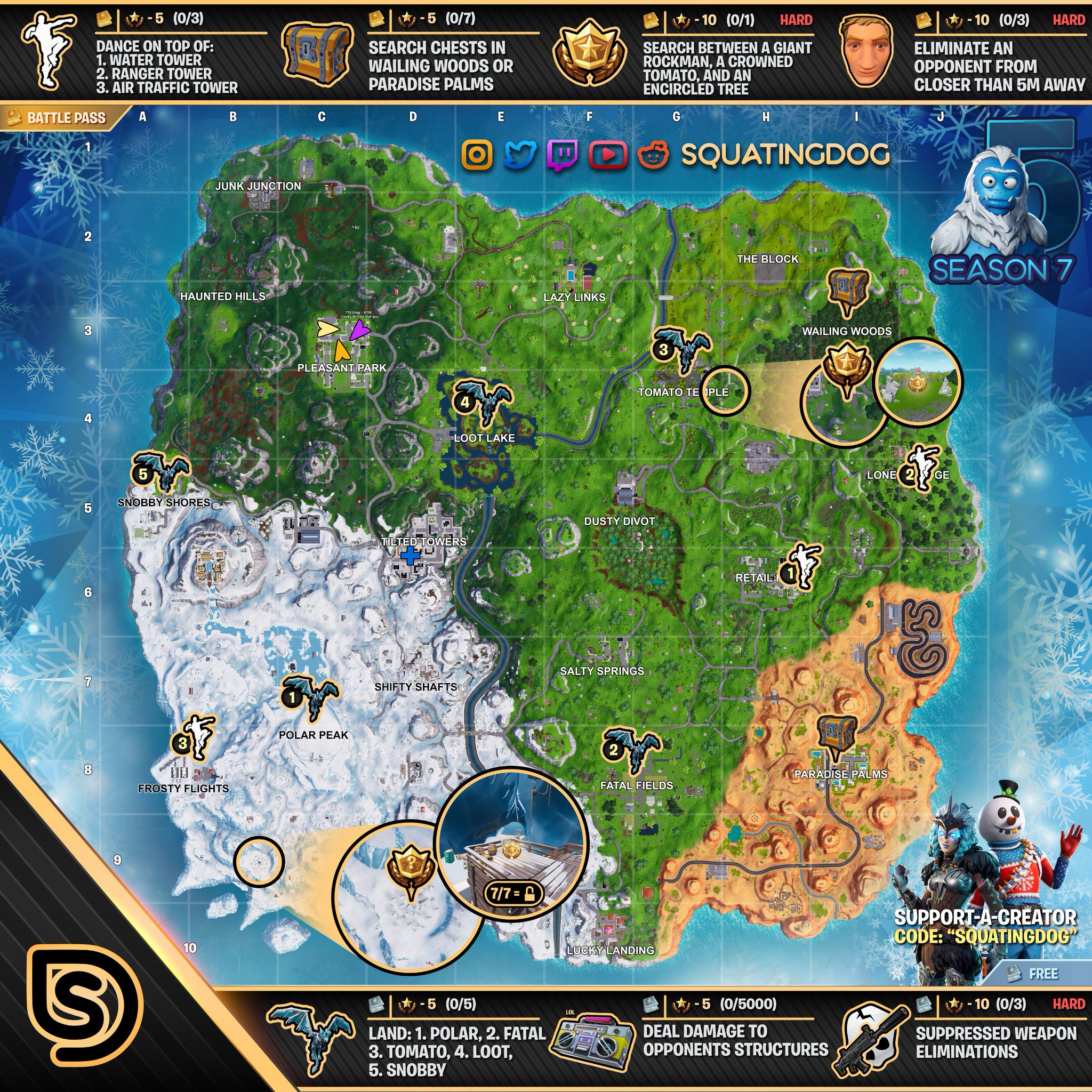 Find our cheat sheet for Week 5 here.
Week 6
Find our cheat sheet for Week 6 here.
Week 7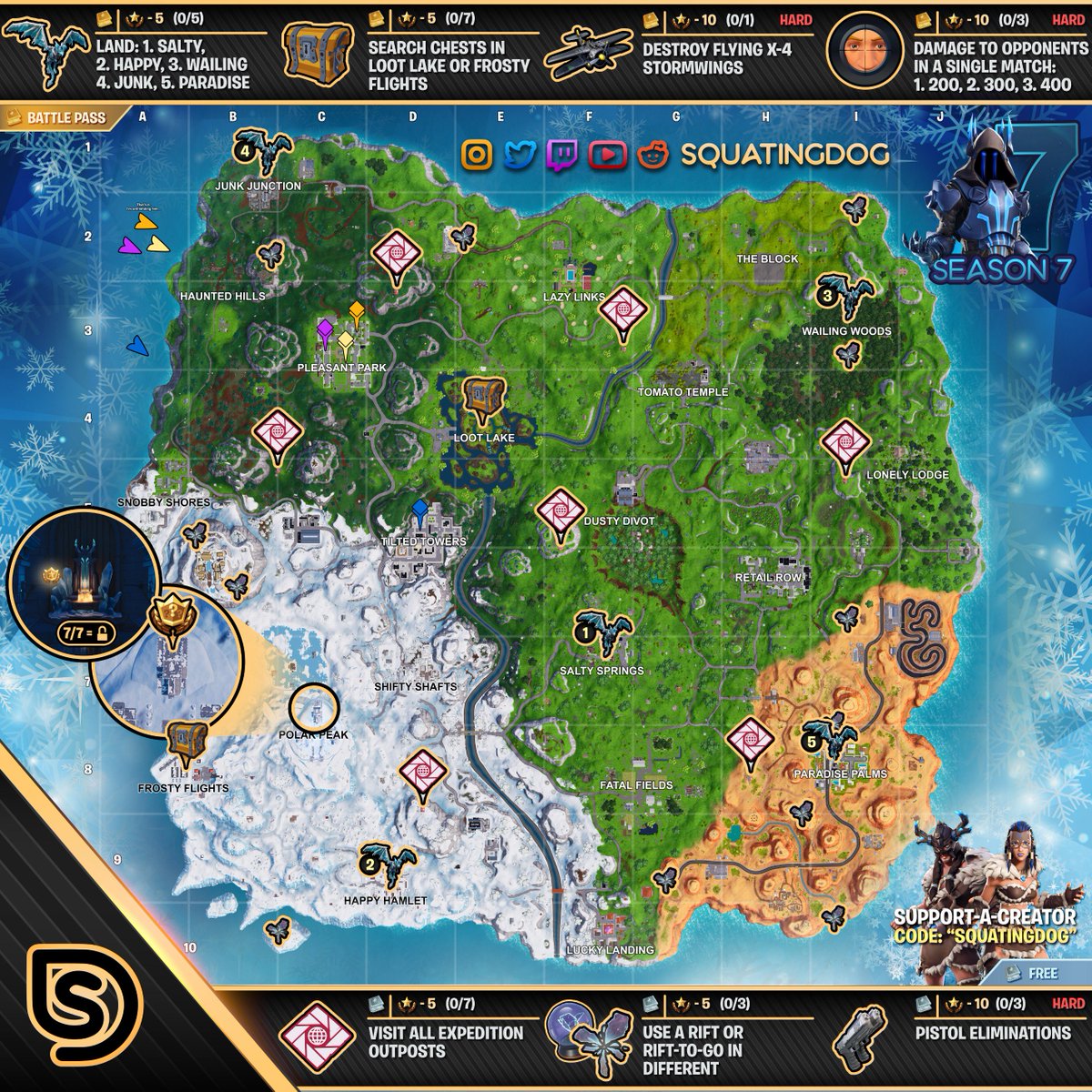 Find our cheat sheet for Week 7 here.
Week 8
Find our cheat sheet for Week 8 here.
Week 9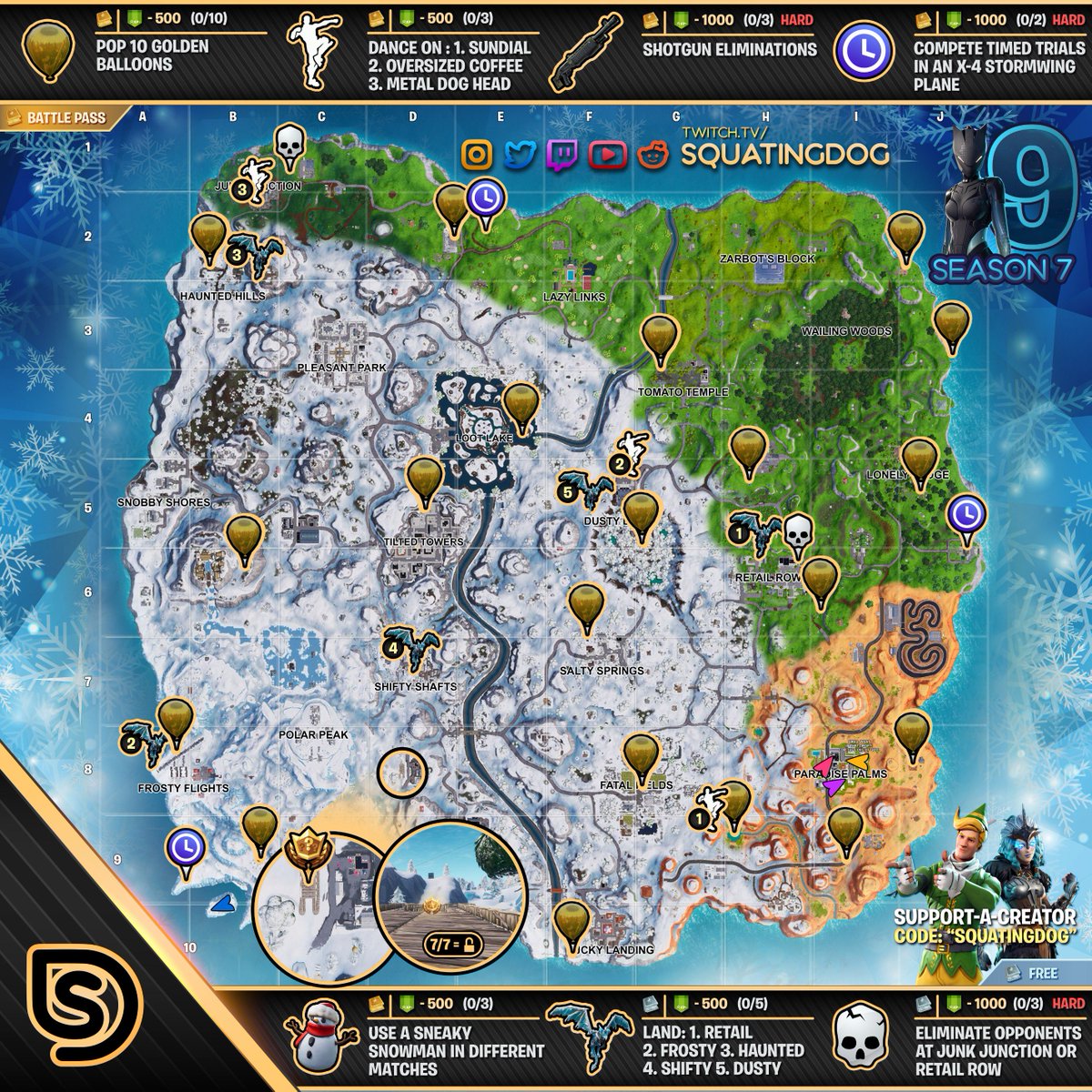 Find our cheat sheet for Week 9 here.
Week 10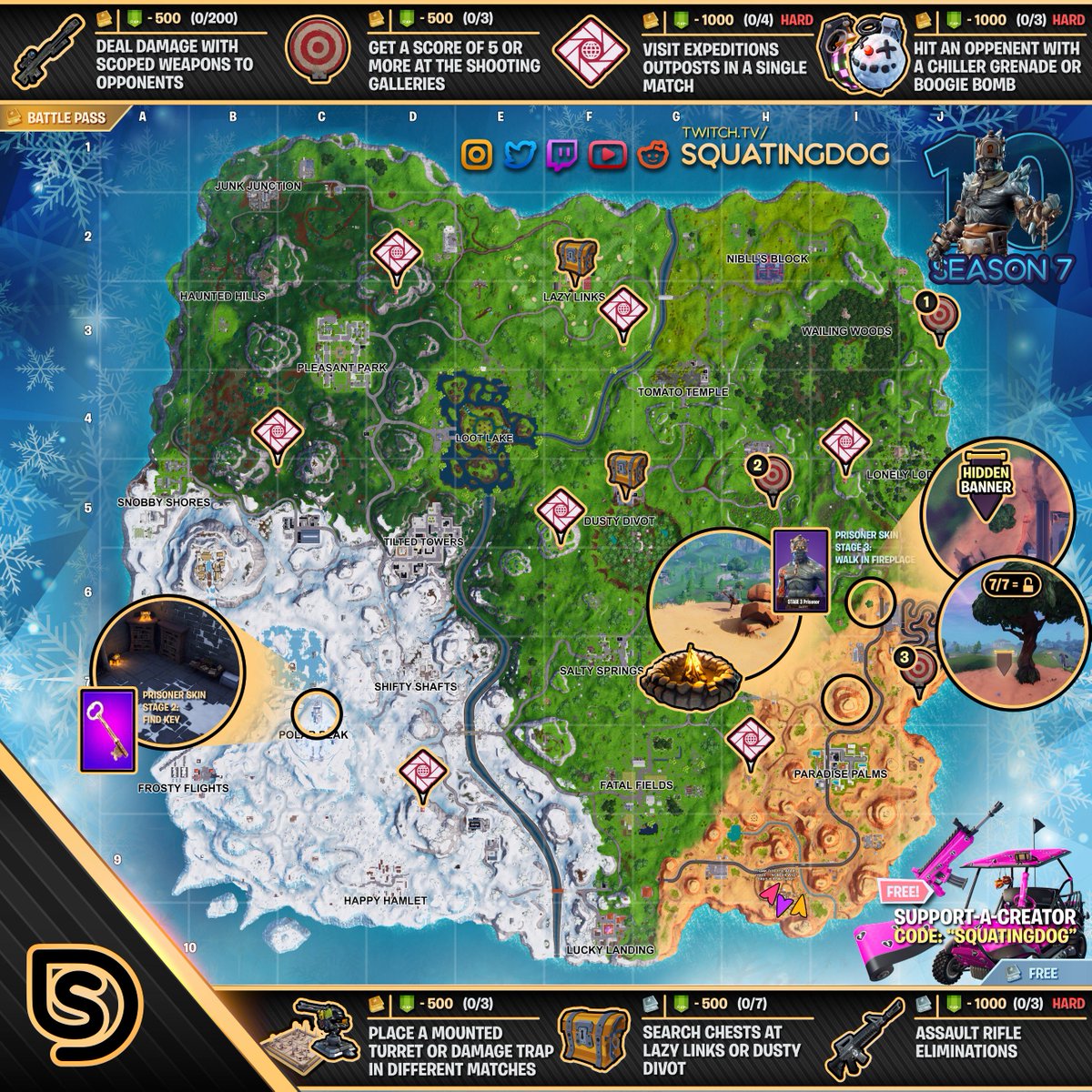 Find our cheat sheet for Week 10 here.
---
Are you excited for Fortnite Season 8? Let us know what you're excited for in the comments below!
Fortnite Doomsday event countdown reveals Season 2 end date and time
Fortnite now has an official countdown to the upcoming end-of-season event in-game, confirming Saturday, May 30 as the date for the Doomsday event.
Each Season of Fortnite usually tries to go out with a bang, and leaks and teases have been foreshadowing the big 'Doomsday' event ending Season 2.
Although data miners were able to provide their best guesses for when it would be, and what exactly will happen, the countdown now confirms it.
Appearing on May 23, exactly one week before the event is scheduled to take place, you can now see the countdown prominently in the main lobby.
The timer will end on Saturday, May 30, ready for the event to kick off at 7:05pm BST / 8:05pm CEST / 2:05pm EDT / 11:05am PDT.
What is the Doomsday Event?
While we now know when the event will take place, there still remains the question of what will happen.
The most common theory currently is that the map, or at least part of it, will flood. This is plausiblele, considering players also noticed that the underwater hatches were 'activated' on the same day as the countdown appeared.
Many players are convinced that there will be some kind of water theme in Chapter 2, Season 3, as the big leak a few weeks ago suggested.
This same leak also claimed that there will be a rideable shark vehicle in the next season, as well as the ability to set materials on fire.
So, the Doomsday event could be a total or partial flooding of the Fortnite map – or something else entirely. At this point, it's impossible to say for sure. We just have to wait until Saturday, May 30.
Broken Fortnite exploit lets you take pieces 100% of the time
This Fortnite exploit allows you to take cones 100% of the time. All you have to do is stand at the northern end of the box.
Update 5/22: Epic have released a patch to address this issue. Read about it here.
Original article: There are – and always have been – a plethora of ways to gain an advantage over an opponent in Fortnite. There are exploits that allow you to phase through structures, steal walls, and make it so an uninformed opponent has no chance of defending themselves.
Most of these require a high level of skill to master. The ramp-phase trick is one that most players know about, but there are other wall-phasing exploits that only pro players use in their games.
Recently, players began to notice an exploit that allows you to take cones and floors 100% of the time. You don't have to build three structures to push yourself through a building piece. All you have to do is stand on the southern end of the structure, looking to the north. It sounds crazy, but it's that simple.
Several Fortnite players have showcased this exploit, including DuckyTheGamer – one of the most popular mobile Fortnite players on Twitch. In this clip, you'll see him testing the exploit and succeeding 100% of the time when standing on the southern side.
We tested this in the Battle Lab on Xbox and weren't as consistent with our cone-stealing. There's a chance that this was a PC and mobile problem, as Epic released a maintenance patch on those platforms, today.
To be fair, though, we probably don't have the best timing with this. It seems like players who have optimal timing can steal these building pieces 100% of the time.
Other Fortnite players tested this on walls, and it doesn't seem to apply. That's the good news, at least. The bad news is that if a player has great timing, they'll be able to steal your ceiling from you every time. Hopefully, Epic address this issue soon, if the recent maintenance patch wasn't aimed at this exploit.
Fortnite v12.60 patch notes
Take a look at all of the changes listed in the Fortnite v12.60 patch notes.
Fortnite v12.60 went live this morning, May 20. This patch featured a few bug fixes and new features, but the major changes have likely yet to be revealed. Those who have already hopped into Fortnite know that there are some strange clouds circulating around The Agency.
Before we get to that, let's take a look at what's already changed. Here are the patch notes for v12.60.
Battle Royale
Party Royale

Grappler and Jetpack added

Operation: Infiltration

New Spy Games playlist, extract the intel case from enemy team or protect your case.

Dragacorn Glider animation changed and added back to the game.
Riot Control Baton Pickaxe fixed (was causing player footsteps to be inaudible).
Fixed damage indicators pointing in the wrong direction.
You can now change your skin and visit the Item Shop while spectating a friend.
New HUD indication that shows nearby gunfire
PC Controller changes

Epic have pledged to make some changes to aim assist after the FNCS finals, so we can expect that next week. In an email, they stated,
"Controller tweaking, tuning, and investigation continues. We have some changes for next steps, but we don't want to release right before the FNCS Invitational Finals."
Creative
Epic made several changes and fixes to Creative Mode in this patch. Some of the highlights include:
Fixed an issue where players would be unable to push or pull items closer to them when placing them via the quickbar.
Fixed an issue where Player Built Structures would turn invisible when cutting them with the phone tool and quickly switching to the pickaxe.
Fixed an issue where prefabs placed with quick bar do not drop when Drops is turned on.
Fixed an issue where some prefabs and galleries are larger than indicated by the preview
Fixed an issue where the phone tool cut button copies when double-clicked.
Fixed an issue where there is no audio feedback when placing a prefab or gallery from the quickbar.
Fixed an issue where the cost preview amount is inconsistent with the actual amount of memory used in the Thermometer.
You can take a look at the full list of v12.60 Creative Mode patch notes here. We'll let you know if any major unannounced changes get discovered as players get their hands on the new patch.