Green Arrow leaked as January Fortnite Crew skin
According to a Fortnite leak, Green Arrow will be the next skin bundle included in the Crew subscription.
The January Fortnite Crew skin has been leaked in v15.10. Green Arrow will be coming to Fortnite.
In Season 5, Epic introduced the Fortnite player base to the Crew system, a subscription that offers players 1,000 V-Bucks, access to the current Battle Pass, and a skin set for $10 per month.
The first month of Crew, December 2020, was undoubtedly a smash hit. They provided players with a brilliant skin set and access to the new Battle Pass – making it a great deal for anyone who needed V-Bucks.
In the first patch of Season 5, v15.10, data miners found the next Fortnite Crew skin pack: Green Arrow.
The pack will include the Green Arrow skin, the quiver back bling, and a boxing glove pickaxe. It might not be as generally beloved as the Galaxia skin from December, but it will be worth it for the many Green Arrow or DC fans.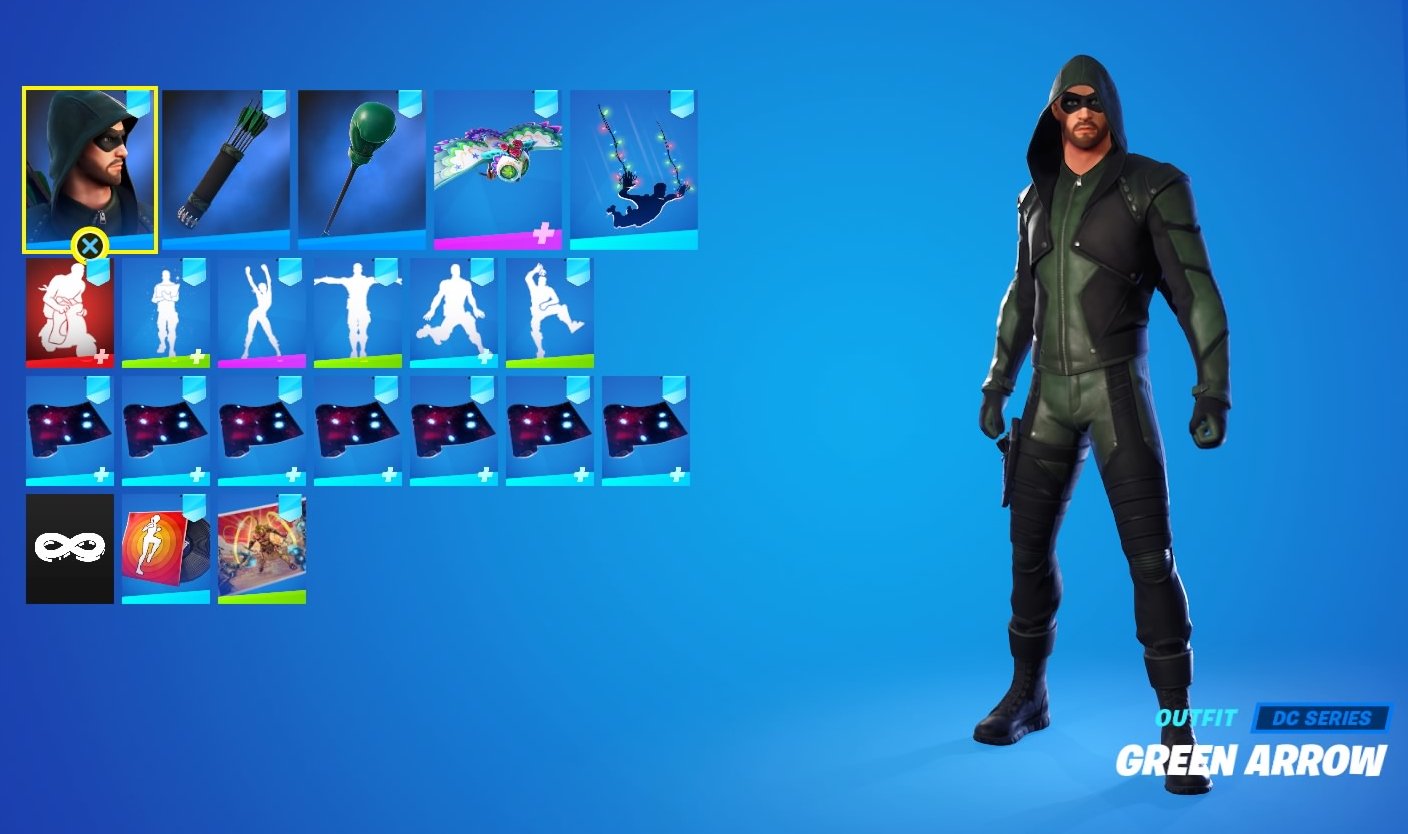 We'll need to see whether or not subscribed players stick around for this one. We purchased the Crew subscription for the Battle Pass with plans of canceling it after a month. Green Arrow might not be enough to keep us around, but we'll see.
For those who play Fortnite every day and regularly spend money on skins, the Crew subscription will undoubtedly be a good deal. Epic is setting the stage for a worthwhile subscription system with a few good skin sets out of the gate.
Leak via: arusaurZ_YT
Fortnite Winter Trials event & rewards leaked
Epic Games quickly added and removed a webpage that revealed a new Fortnite event: Winter Trials. Here's everything we know so far.
Epic Games released a new website, announcing the Fortnite Winter Trials. They have since removed the site, leading fans to believe it was leaked early.
Most of the time, when we're discussing Fortnite leaks, we're talking about data miners finding files in the game that relate to certain events, skins, etc. In rare cases, Epic let something slip a bit early. That's what we have here.
On January 25, Epic released the Fortnite Winter Trials webpage, showcasing free rewards, an influencer tournament, community voting on events, and more.
The website was quickly removed after it was added, but data miner Hypex was able to record some of the contents before it went down.
The details of the event are still limited, but it appears as though players will be earning badges for logging in, voting for challenges, and playing Fortnite.
Over the course of the rest of the season, your playtime and badges will reward you with free cosmetics. Most of them are hidden, but we know about a spray, emoticon, and weapon wrap from the images on the website.
We should see an official announcement of the event soon. Since Epic were the ones who jumped the gun, we expect to see them announce the event as soon as tomorrow – if not later tonight.
We'll update this post when we learn more about the event, along with additional details on how to earn free cosmetics. Stay tuned.
Fortnite tease new Drift Crew skins
Epic Games are dropping some cryptic hints relating to the iconic Drift character in Fortnite, and speculation suggests it's all leading to a new Drift Crew skin.
On January 24, Epic Games posted a series of mysterious tweets, to get the community guessing.
Their first post referenced Drift directly, saying: "Drift? Drift. Come in. Do you read me?" A series of messages followed, asking for help – presumably Drift's help.
The Fortnite account has since deleted the tweets, but here's a screenshot of all of them from iFireMonkey.

Data miner HYPEX was quick to highlight that these teasers are almost certainly connected to the upcoming new Drift Skin, which appears to be a female version of the fan-favorite skin.
Fortnite Crew is the monthly subscription service, and it's expected that this new Drift skin will be included in the February edition of the subscription rewards.
The subscription grants players each new Battle Pass, plus 1,000 V-Bucks, in addition to the cosmetic rewards.
We'll have to wait and see confirmation about the new Drift skin as we put January in the rearview mirror and move into February.
Fortnite Terminator T-800 & Sarah Connor skins leaked
It's official: both Sarah Connor and T-800 are headed to the Fortnite Item Shop. The PlayStation store leaked them early.
Fortnite Season 5 is bringing another crossover to the game, this time with The Terminator and Sarah Conner.
The PlayStation Store is at it again with the Fortnite leaks, this time providing an early look at the two upcoming Terminator skins that should be available soon. Since Sony jumped the gun, we can expect to see these skins in the Item Shop as early as tonight.
In case you missed it, fans began speculating about a Fortnite X Terminator crossover when Predator first came to the game. A new Bounty Hunter Portal opened on the island and showed an image that was directly brought from the second Terminator movie.
On January 20, the official Fortnite account confirmed the crossover with a transmission, which you can listen to below.
At this point, all signs pointed to a Sarah Conner skin, but not to the T-800 (or Terminator) skin, itself. A Terminator crossover without The Terminator would seem a bit dull, but our worriers were curbed later in the day.
Several data miners and leakers reported seeing a new tab on the PlayStation store, advertising a new Terminator skin bundle. This bundle included both Sarah Connor and T-800, which is great news for fans of the film franchise.
Again, we can expect to see this skin hit the Item Shop as soon as tonight. Sony is no stranger to early Fortnite leaks, but they tend to leak them close to their official release date.
Will you be grabbing this skin for yourself? Let us know on Twitter @FortniteINTEL.