Gen.G competitive Fortnite team interview
Females have historically struggled to make a name for themselves as competitors, but Gen.G has a whole new approach towards "female gamers".
October 25, 2018 is an important date for female Fortnite games, but more specifically for Tina 'TINARAES' Perez and Maddie 'Maddiesuun' Mann.
Tinaraes and Maddiesuun were the first official female Fortnite players to sign with a prominent organization that would be able to provide them with the tools and opportunities to truly shine.
Since then, Gen.G has gone on to sign another female Fortnite competitor in Carlee 'iCarlee' Gress in February 2019.
I was lucky enough to be able to ask Tina, Maddie, and Carlee a few questions about their time with Gen.G, competing in a male-dominate esport, and more!
Tina and Maddie, you two were the first to sign with Gen.G as the first competitive female duo in Fortnite. Gen.G has since gone on to sign Carlee along with other popular online personalities like Ava and NuFo. Did you two decide to sign with Gen.G due to their drive to help promote female gamers?
Maddie: "Of course, their message about promoting female gamers caught my interest but it was also their actual effort to provide the resources and make it really happen was what got me to sign."
Tina: "Yes! We both loved the opportunities Gen.G were offering not only as a professional gaming career but opportunities to help widen and promote women in esports."
Carlee, you were signed a few months later to Gen.G in February 2019. What was it about Gen.G that interested you? Did you play with Tina and Maddie before to test out chemistry and in-game performance?
Carlee: "I think Gen.G interested me the most because of having an all-female Fortnite team. I think what they are doing for women in esports is amazing and I wanted to be apart of that. I played with Tina and Maddie before they signed me to make sure that we all worked well together and that we had great chemistry."
Tina, Maddie, and Carlee, do you have a past history with battle royale games, or was Fortnite your first BR experience?
Tina: "I played on consoles my whole life until officially switching to PC in 2017 that is when my battle royale career began. Starting with H1Z1 being known as a top female competitor then when the game started to go downhill I officially switched over to Fortnite."

Maddie: "I sure do! I started playing H1Z1 when it first came out in 2015 and to the day it died. I gave PUBG a try but it was just a little bit too slow for me gameplay wise. When Fortnite was released, Tina tried to get me to play it but I actually did not like the game because of the gun mechanics and the building part, but she convinced me and here we are now. Of course we tried out Realm Royale and Apex Legends throughout the past year but Fortnite has been the keeper."
Carlee: "The only BR I played before this was H1Z1 and I loved it."
Ladies, in what season did you begin to play Fortnite, and what was your favorite season so far?
Tina: "I started playing Fortnite casually on the release date of the battle royale where I had to spend $30 just to play the online multiplayer. Mid-late October during Season 1 I decided this was the game I was going to main and be good at. Season 2 is still by far my favorite season because it was the most fun and I absolutely loved how Fortnite changed up the map to decorate it very Christmas like along with implementing cute Christmas skins!"
Maddie: "I started playing Fortnite prior to season 1 even coming out and I'd have to say my favorite season so far has to be season 2 because it was the peak of the game and introduced and brought people together whether they were just casuals, people who never have played video games, and also competitive gamers. It was a really fun time with my friends because we were all bummed out about H1Z1 coming to its end and needed something to enjoy together. I was glad to see people all around the world talk about the game, it introduced gaming to a whole new generation and has taken esports to a whole new level of expectation."
Carlee: "I started Fortnite when it first came out, before season 1 was even a thing. I have to say season 2 or 3 would have to be my favorite."
Ladies, what is your picture-perfect loadout? Feel free to be creative and include Vaulted items like the Drum Gun, Tactical Submachine Gun, or the OG Zapotron!
Tina: "My picture perfect load out would have to be (in this order from left to right) gold spaz, gold scar, gold minigun (for the LULZ), rift to go, and minis. Also throw in some bounce pads and spike traps!"
Maddie: "My picture perfect load out is an Assault rifle, pump shotgun, heavy sniper, spike traps, launch pads, rift to go, and some med kits and mini shield potions."
Carlee: "My perfect loadout would have to be a gold scar, gold pump, purple tactical smg, gold heavy sniper, and some minis. God loadout."
There have been a handful of streams from the Gen.G offices located in California. You three moved away from home in order to pursue an esports career. How have you three adjusted to being away from home? Do you think moving to California in order to be close to your teammates has helped increase chemistry?
Tina: "Adjusting from being away from family was the hardest part of all this. I went from living in a 15-16 person household to 1 other person (Maddie) but knowing that I'm able to go home and revisit helps ease that sadness. I know California is where I need to be to better my career and have a future in esports. Moving to California to be with my teammates has definitely created a sisterhood-like feel. We have each other's back and cannot stand when someone is affecting one of us negatively which causes someone to step in to help. We hang out outside of our offices regularly because there is also a friendship there."
Maddie: "In the first month of being away from home, I was excited and enjoyed the new apartment, new area, and new lifestyle. But, as time went on, I started missing home and feeling really sad. To adjust, I honestly just distracted myself by streaming and focusing on everything that I've been blessed to have and became more thankful for it and began to work harder. I do think moving to California has helped increase the chemistry with my teammates. We've pretty much become sisters and best friends. We hang out outside of the office and we've grown close and trust each other with personal topics. We see each other as really good friends and I think that's what all teammates should view each other as so that yes the chemistry does increase and feels real and comfortable."
Carlee: "I think I have adjusted pretty well being away from home. It's a whole different experience for me because it is my first time ever leaving home, but I feel like I'm okay and I'm loving being an independent! I also love being able to be with my teammates when we game because I just think the chemistry is insane and I love my teammates being able to cheer me on when I win and they are right behind me, definitely boosts my confidence."
You three are obviously in the spotlight when it comes to competitive Fortnite gamers. You three tend to stick close on social media, offering support to each other when the random troll sticks their head out. Have you found yourselves facing other obstacles that others haven't? For instance, has it been more difficult to train or land a spot in scrims?
Tina: "I do believe we do have a difficult time training when Fortnite doesn't provide custom games and/or cups for us to compete in. This is because when no cups are happening we sometimes don't have access to these pro player discord's even though we are signed to a professional esports organization."
Maddie: "Social media is a rough place. With us rapidly turning into public figures, we've all struggled with knowing how to respond to trolls and be mature and professional about it. Personally, I was bad at it before Gen.G but lately I feel happy with how I deal with trolls because they just want attention and I don't give them the time of day to even have my name in their notifications, I stick to making my own tweets without replying to them directly and allowing myself to put my message and my opinion out there for people to hear."
Carlee: "I think in-game the obstacles we face anyone faces, I don't think random trolls on twitter or anything effect our in-game problems. I do think we face obstacles outside of that, being a girl playing the game as a minority, like not getting taken as seriously as a man would."
Gen.G has several teams across multiple esports titles like Call of Duty, Overwatch, and League of Legends. Have you interacted with any of the other players under the Gen.G banner? Have they given you any advice which you found to be helpful?
Tina: "We have played with Seoul Dynasty on both Fortnite and Overwatch but there a little of a language barrier between us. We interact with Call of Duty and Apex probably the most out of all our teams because (speaking for myself here) I originated from Call of Duty so finally being a part of a team involved in COD esports is huge to me so I try to stay involved and very supportive."
Maddie: "I've briefly interacted with the Call of Duty team on Twitter because we don't see each other in the office every day but both teams are very supportive of each other when it comes to tournaments and big events happening. Being in the office with Overwatch is fun, we say hello about every day but having a language barrier is kind of hard to communicate. The one person that has given me the most advice is Kristen or KittyPlays, she always comes in with a positive and uplifting attitude and she may or may not know it but it pushes me to want to be like her and encourages me to look at things from a different perspective."
Carlee: "I haven't talked to many other players in Gen.G (yet), but I have talked to KittyPlays and she actually came and talked to me for a while and offered me any kind of advice I needed. She's definitely helped me boost my confidence and feel so much more comfortable here."
Competitive players are known for grueling "work hours" which can consist of training up to 12 hours a day. Fortnite issues a brand new patch every day which can change the entire meta of the game. How do you train for competitions like the Fortnite World Cup?
Tina: "We train heavily on Fortnite whether it's build battling in creative, pop up cups, or something simple as solo squading. When a new item is implemented into the game we work our play styles around to adjust to the meta. Knowing how to operate effectively in Fortnite without these items is huge. As long as we can compete at the highest level without certain items I believe we can do the same when they are randomly dropped into the game."
Maddie: "Fortnite is always changing and their idea of good players are ones that can adapt so that's what we do. It's stressful because you never know when the entire meta can change but you have to be ready for it and ignore the complaints from other players and just go with the flow. My training consists of aim practice (Kovaaks), build battling each other and others in creative mode, scrims, pop up cups. As long as I feel productive and feel that I'm getting better then I know I'm getting good practice in for the day."
Carlee: "Being at the office for hours and hours a day can definitely be grueling, but I love this game and I just want to be the best. Always scrimming and doing any customs will help us for the World Cup and any kind of mistake that I make, I make sure I learn from it and make sure it doesn't happen again and become a better player because of it."
We would like to thank Tina, Maddie, and Carlee for taking the time to answer our questions.
Be sure to tune in on Saturday, April 13 as they compete in the first week of Fortnite's World Cup Qualifiers!
Fortnite leaks point to underwater swimming coming in Season 3
Swimming underwater may be a permanent feature coming to Fortnite Season 3.
Early leaks of underwater swimming in Fortnite came to the game files several patches ago. Naturally, this led to the assumption that we'd be able to dive underwater in future Fortnite seasons.
These hopes were dashed when the Astronomical event happened. We swam underwater during this event, and most fans assumed that this would be the bulk of our undersea travel.
A couple of updates later, in v12.61, we saw the ability to swim underwater updated, yet again. When you combine this with the unconfirmed leaks covering Season 3, all signs are pointing to the ability to swim underwater in the next Fortnite Season.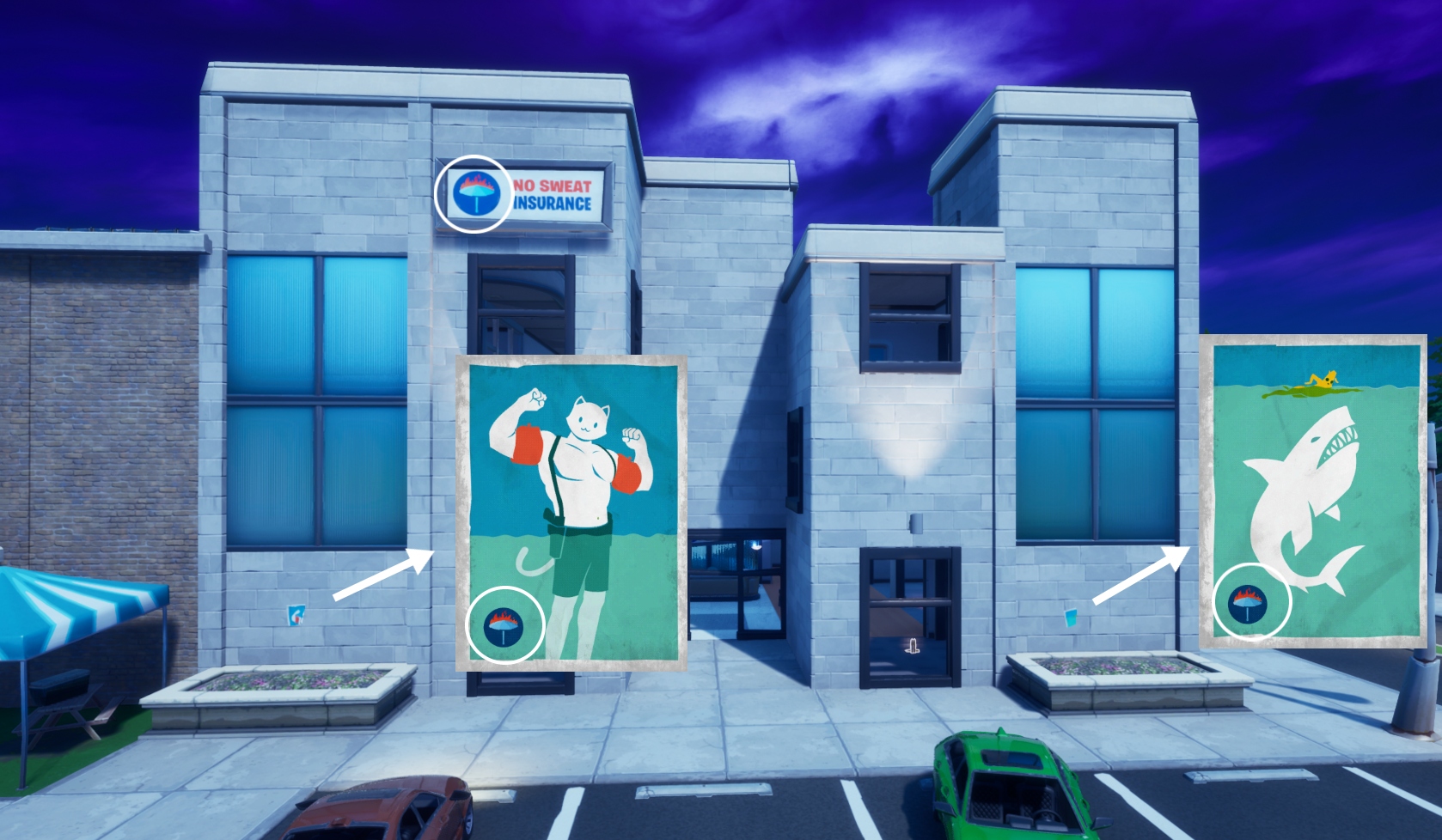 Several data miners covered the new strings in the game files. After a bit of digging, they came up with the animation, itself.
As you can see from FortTory's tweet, this animation is different from the normal swimming animation. You can dive, swim, and float in place while underwater.
There are still a ton of questions to be answered on this front. Will we able to swim underwater indefinitely or will we have an oxygen meter? Will this only be allowed on certain areas of the map? Does this mean we're getting an underwater POI?
Underwater swimming has always been a difficult concept in gaming. Unfortunately, it could lead to a host of bugs and issues if there are some blind spots in development. Let's hope for the best, though, and trust Epic to get it right.
Fortnite v12.61 patch notes: aim assist changes, bug fixes & more
Take a look at everything that changed in the Fortnite v12.61 patch notes.
The Fortnite v12.61 content update released this morning, which marks the final update of Fortnite Season 2. It was a small patch and one that was largely geared toward preparing the game for the rumored Doomsday event.
Most of the interesting parts of v12.61 came in the form of leaks, which we'll cover in some separate articles. There were a few above-board changes, though. We'll delve into them here.
Aim assist changes
The most noteworthy change was to controller aim assist on all platforms. This one is tricky since we need to rely on community reporting to tell exactly what's different.
Early reports had it that close-range aim assist was lowered by 20%, mid-range aim assist was lowered a bit, and long-range aim assist was buffed. Our early testing shows very little difference from the old system, however. Casual players probably won't notice a difference, but we'll have to wait and see.
Storm the Agency Challenges
Storm the Agency will, almost certainly, be the last batch of challenges before Season 3. We aren't getting any Overtime Challenges, so these will have to do.
The new challenge set has not been released at the time of writing but should be available later today or this week. They may be released as late as Thursday, ahead of the Doomsday event. We'll cover the challenge tutorial in a separate guide.
Storm Circles
Epic appear to have changed storm circles in the v12.61 update, as well – at least in public matches. The first phase of the storm closes much more quickly – but on a larger circle. The circle then gets much smaller, causing some players to have to rotate, quite quickly.
The circles aren't perfect, either. Just take a look at this tweet from broadcaster AussieAntics. We'll have to wait and see how this shakes out.
Bug Fixes
There weren't too many bug fixes in this patch. The biggest issue that was addressed was the inability to refund the Dragacorn Glider for some players. Here's everything that was fixed in v12.61:
Numbers not changing on sports-themed Outfits
Unable to refund Dragacorn Glider
iOS players hitching at high rate
We'll update this post with any additional changes that surface as more players get their hands on the new patch. This was a small one, though, and largely focused on adding the Doomsday Device to the game.
Leaked Fortnite v12.61 update skins and cosmetic items
Fortnite update v12.61 has arrived, and while Epic Games didn't add many new skins or cosmetic items to the game, data miners and leakers have been sifting through the files and given us a look at what's to come before the end of Chapter 2, Season 2.
Season 2 is rapidly coming to its conclusion, with the highly anticipated Doomsday event set to rock the game to its foundations as Epic Games moves to Season 3.
With the current season drawing to a close, the game's developers have released the v12.61 Update on May 26 which includes a number of leaks as to what the event will entail.
For those who are looking a new skin or some new dances moves, though, Epic have added some new additions to the files which will be released over the next week or so.
Cyclo Doomsday skin and Windshear Cloak
There's only one new skin in the game this week, but it appears to have major links to the end of Season 2, with the mysterious and imposing skin added to the files under the name "Hurricane," prompting many to wonder if he is set to unleash the natural disaster onto the island.
On top of that, there is also a brand-new cloak that goes with Cyclo Doomsday, which appears to have been battered by winds and torn in places at the bottom. You can view the skin and back bling below courtesy of @Lucas7yoshi.
Drake's Toosie Slide comes to Fortnite
Definitely the most surprising addition to the game, global megastar Drake has made his first appearance in Fortnite, with a brand-new emote appearing in-game based on a dance from the music video for his latest single, Toosie Slide.
The track debuted on April 3, and was then eventually released as part of his new mixtape Dark Lane Demo Tapes. It immediately became a hit on TikTok, with creators dancing along to the instructions featured in the song, and now Fortnite players can do the same. You can watch the Toosie Slide emote in action below, thanks to @HYPEX.
On top of that, Epic have actually licensed the song, so when you're sliding in front of your downed enemies, they'll hear October's Very Own singing along.
Fortnite's v12.61 patch is expected to be the final patch before Chapter 2, Season 3 kicks off, so it was always likely that new cosmetics would be in short supply this week. Data miners are still sifting through the files though, so if any more are discovered we'll be sure to update this article.