Still need to complete some of the Week 7 challenges in Fortnite Season 7? Thesquatingdog has you covered with an all-inclusive Cheat Sheet!
With new challenges being released, Thesquatingdog creates a Fortnite 'cheat sheet' which pinpoints all of the challenge locations.
This can be a huge help for players that are still searching for difficult challenges and want to Tier-up as quickly as possible.
Week 7 contains a number of tasks that are relatively straightforward, such as 'Destroy Flying X-4 Stormwings' or 'Search Chests in Loot Lake or Frosty Flights/'
However, just having the Cheat Sheet up and ready while playing can be a great way of keeping track of the challenges you need to complete.
The full Week 7, Season 7 cheat sheet can be viewed below.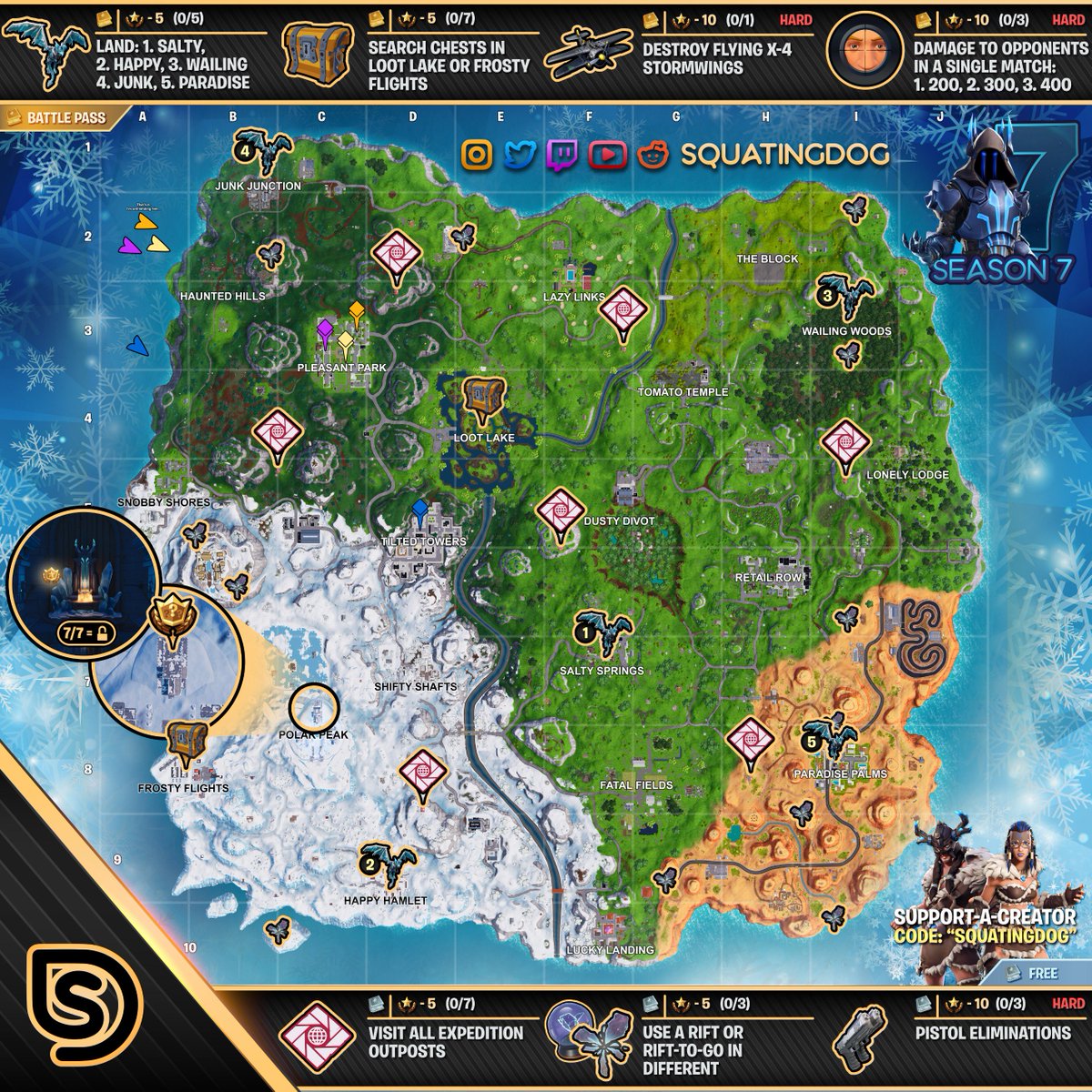 Free Challenges
Use a Rift or Rift-to-Go in (3) different matches – 5 Battle Stars
(3) Pistol eliminations (HARD) – 10 Battle Stars
Battle Pass Challenges
Stage 1: Land at Salty Springs – 1 Battle Star

Stage 2: Land at Happy Hamlet – 1 Battle Star
Stage 3: Land at Wailing Woods – 1 Battle Star
Stage 4: Land at Junk Junction – 1 Battle Star
Final Stage: Land at Paradise Palms – 1 Battle Star

Search (7) Chests in Leaky Lake or Frosty Flights – 5 Battle Stars
Destroy (1) flying X-4 Stormwing (HARD) – 10 Battle Stars
Stage 1: Deal (200) damage to opponents in a single match – 3 Battle Stars

Stage 2: Deal (300) damage to opponents in a single match – 3 Battle Stars
Final Stage: Deal (400) damage to opponents in a single match – 3 Battle Stars