Need to complete all of the Season 7, Week 3 Fortnite Challenges? Thesquatingdog has you covered with an all-inclusive "cheat sheet."
With Season 7 in full swing, players from across the Fortnite community are attempting to complete as many challenges as possible to level-up their Battle Pass.
Week 3 contains a mix of challenges that may require some extra research before completing, however, others are relatively straightforward.
Luckily, each week, thesquatingdog releases an in-depth 'Cheat Sheet' of all the challenge locations scattered across the Fortnite map.
You can view the Season 7, Week 3 Cheat Sheet below, along with a list of all the respective challenges.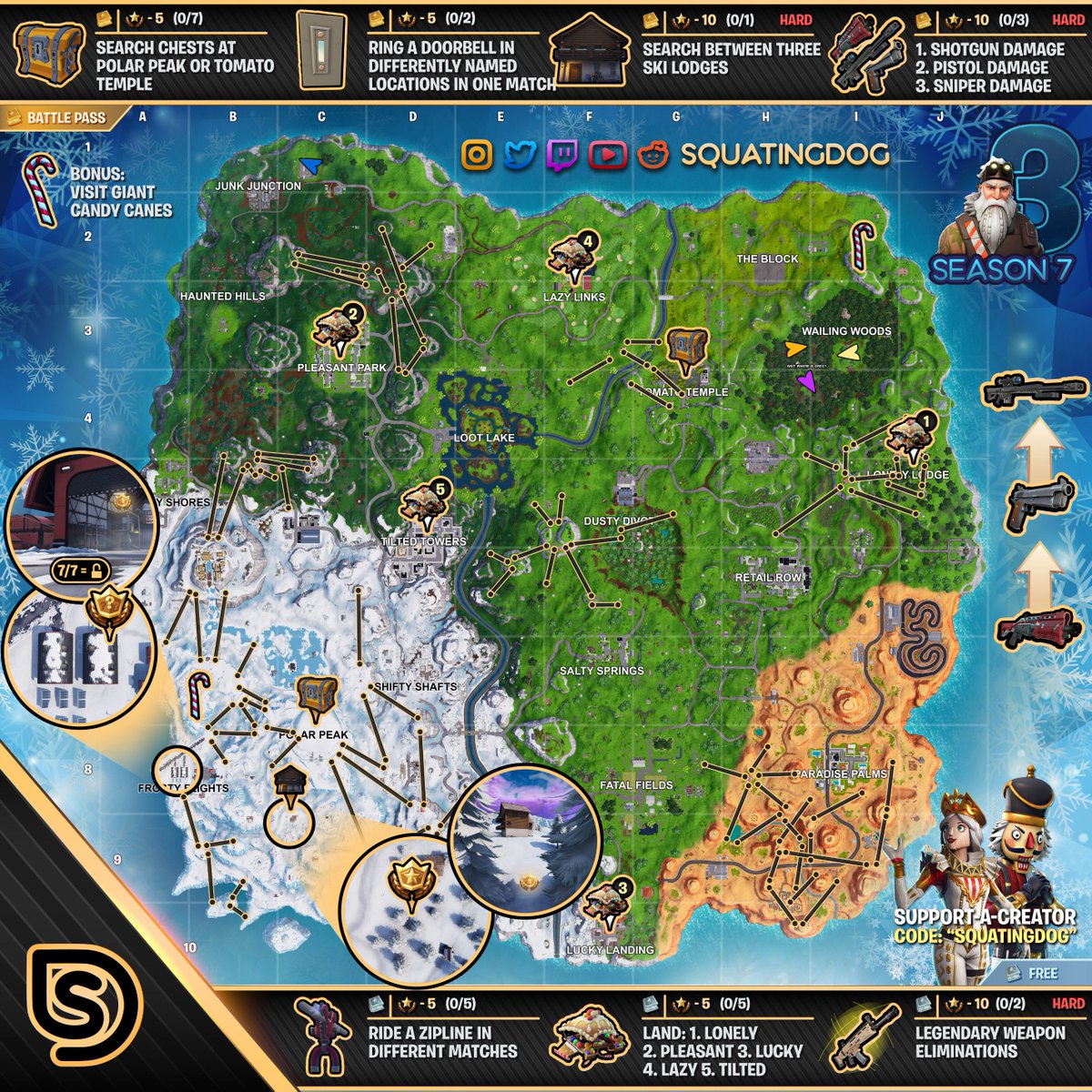 Free Challenges
Ride a Zipline in (5) different matches – 5 Battle Stars
Stage 1: Land at Lonely Lodge – 1 Battle Star

Stage 2: Land at Pleasant Park – 1 Battle Star
Stage 3: Land at Lucky Landing – 1 Battle Star
Stage 4: Land at Lazy Links – 1 Battle Star
Final Stage: Land at Tilted Towers – 1 Battle Star

(2) Legendary weapon eliminations (HARD) – 10 Battle Stars
Battle Pass Challenges
Search (7) Chests at Polar Peak or Tomato Temple – 5 Battle Stars
Ring the doorbell in (2) different named locations in a single match – 5 Battle Stars
Search between three ski lodges (HARD) – 10 Battle Stars
Stage 1: Deal (200) damage with Shotguns to opponents (HARD) – 3 Battle Stars

Stage 2: Deal (200) damage with Pistols to opponents (HARD) – 3 Battle Stars
Final Stage: Deal (200) damage with Sniper Rifles to opponents (HARD) – 3 Battle Stars