Need to complete all of the Season 6, Week 10 Fortnite Challenges? We have you covered with an all-inclusive "cheat sheet."
Each week, thesquatingdog releases a 'cheat sheet' that provides a quick look at how to complete all of the necessary Challenges.
Week 10 means that Season 6 of Fortnite is almost over, with the official end date set for Thursday, December 6.
This means that the clock is ticking to complete all the necessary challenges for S6, and earn the 'A.I.M' skin if you haven't already.
The full cheat sheet for Week 10 of Season 6 can be found below.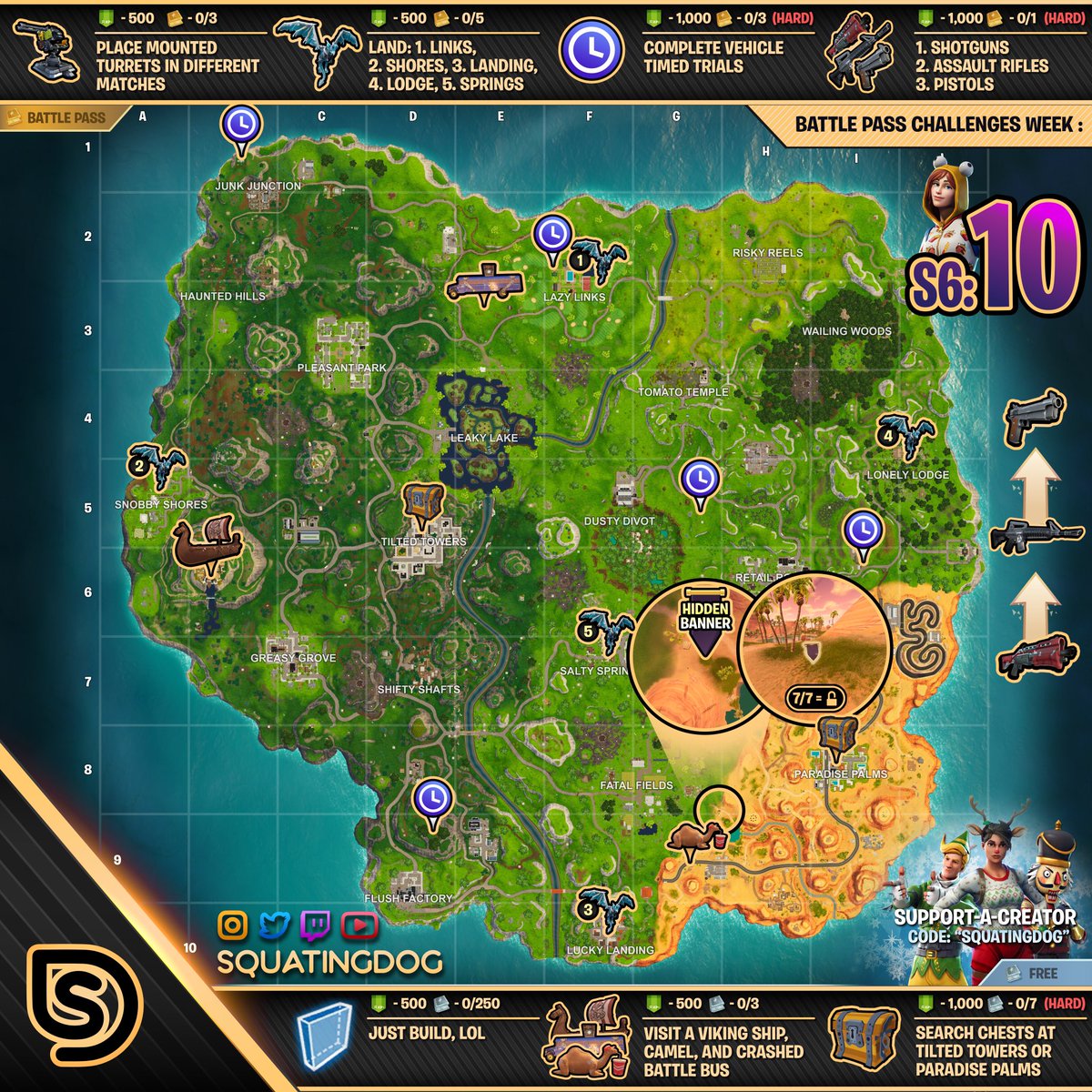 All of the Week 10 challenges for Fortnite Season 6 can be viewed below.
Free Challenges
Build (250) Structures – 5 Battle Stars
Visit a Viking ship, a camel, and a crashed Battle Bus – 5 Battle Stars
Search (7) Chests at Tilted Towers or Paradise Palms (HARD) – 10 Battle Stars
Battle Pass Challenges
Place a Mounted Turret in (3) different matches  – 5 Battle Stars
Stage 1: Land at Lazy Links – 1 Battle Star

Stage 2: Land at Snobby Shores – 1 Battle Star
Stage 3: Land at Lucky Landing – 1 Battle Star
Stage 4: Land at Lonely Lodge – 1 Battle Star
Final Stage: Land at Salty Springs – 1 Battle Star

Complete (3) vehicle timed trails (HARD) – 10 Battle Stars
Stage 1: (1) Shotgun Elimination (HARD)- 1 Battle Star

Stage 2: (1) Assault Rifle Elimination – 1 Battle Star
Final Stage: (1) Pistol Elimination – 1 Battle Star