Full Challenge Cheat Sheet for Week One of Fortnite Season 6
Season 6 of Fortnite: Battle Royale is finally here with a new collection of challenges.
The first week of Season 6 brought a number of new additions to Fortnite across the board, including a set of fresh challenges.
Now that the new season has arrived on Thursday, September 27, squatingdog is back with a 'Cheat Sheet' which gives a detailed look at where players can complete all of the challenges.
A player can complete any four challenges in order to receive the 5,000 XP reward bonus,
You can view the complete Season 6, Week 1 Cheat Sheet below.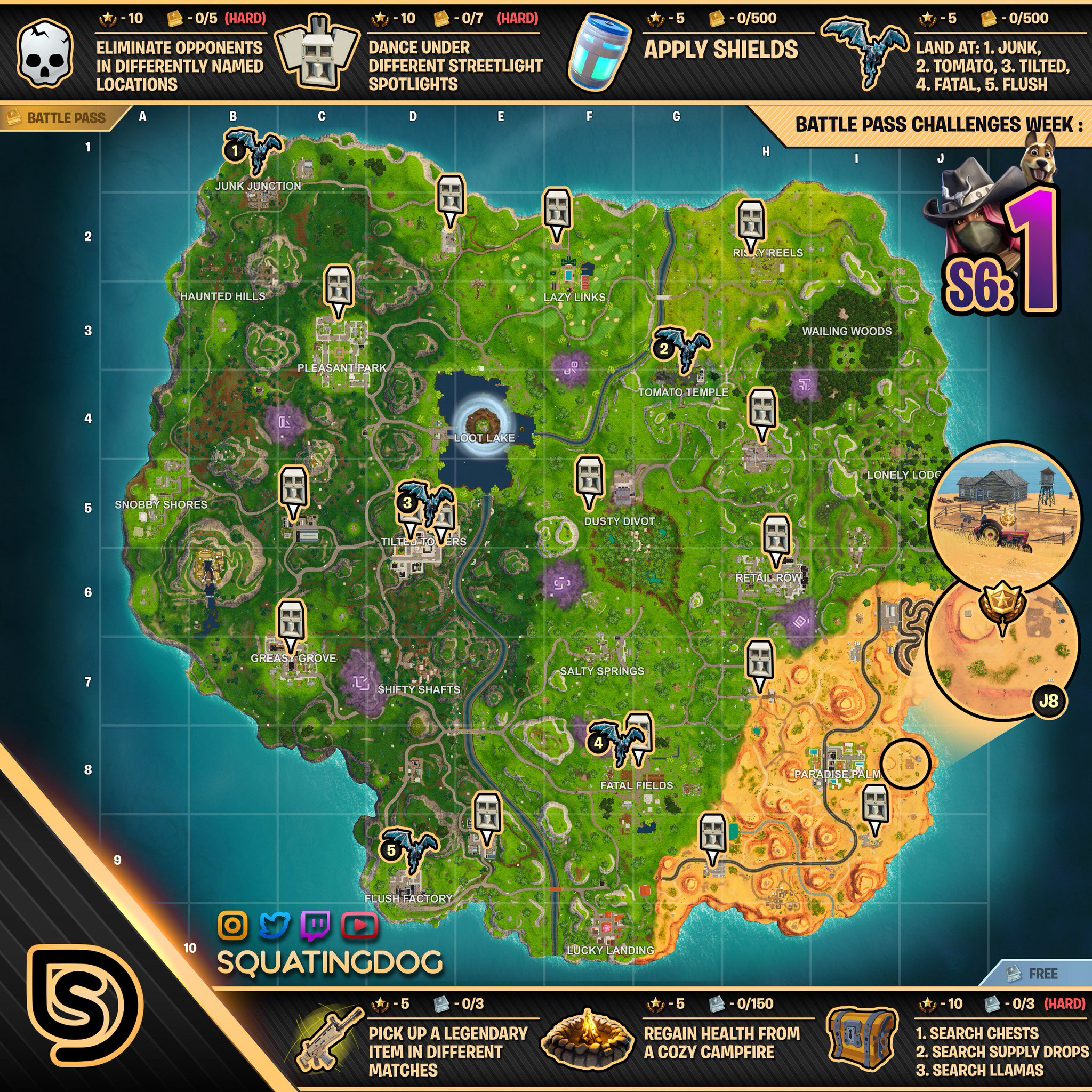 Free Challenges
Pickup a Legendary Item in (3) different matches – 5 Battle Stars
Regain (150) health from a Cozy Campfire – 5 Battle Stars
Stage 1: Search (3) Chests (HARD) – 1 Battle Star

Stage 2: Search (2) Supply Drops – 1 Battle Star
Final Stage:Search (1) Llama – 1 Battle Star
Battle Pass Challenges
Apply (500) shields – 5 Battle Stars
Stage 1: Land at Junk Junction – 1 Battle Star

Stage 2: Land at Tomato Temple – 1 Battle Star
Stage 3: Land at Tilted Towers – 1 Battle Star
Stage 4: Land at Fatal Fields – 1 Battle Star
Final Stage: Land at Flush Factory – 1 Battle Star

Dance under (7) different Streetlight Spotlights (HARD) – 10 Battle Stars
Eliminate opponents in (5) different named locations (HARD) – 10 Battle Stars
Once you have completed all Season 5 Week 8 Challenges, don't forget to collect your Free Battle Pass Tier!
Fortnite v13.40 patch notes – Joy Ride Cars
After weeks of anticipation, Epic Games have finally added cars into the game as the headline attraction in the August 5 Fortnite v13.40 update.
Dataminers first released the news that vehicles would be coming to the game early in Chapter 2 Season 3, and were expected to arrive in v13.30, only for Epic to confirm that they had been delayed.
Finally, we can start our engines and get ready to cruise around the island, with the August 5 patch on PC, Xbox One, PS4, Nintendo Switch, and mobile devices putting the keys in our hands as Joy Ride vehicles make their long-awaited debut in the game.
Joy Ride vehicles
Of course, the headline addition in this patch is the introduction of cars, giving players a new way to rotate around the island in search of Victory Royales.
Four vehicles will be coming in this update,: A sedan called Prevalent. a pick-up truck named Bear, a truck with the name Mudflap, and a sportscar that goes by the name Whiplash. Vehicles will come with 500 health, meaning you should be able to take some damage while driving round before it explodes.
Of course, they will go bang should you get too much though, dealing 800 damage to structures and anywhere between 50 to 200 damage to players depending how close you're standing at the moment it explodes.
Radio Stations
Of course, you can't go on a roadtrip across the Fortnite map without some tunes to enjoy, so Epic Games have introduced radio stations so you always have some music to listen to while you zoom across the map.
The tracks featured on these stations have yet to be confirmed, but it appears there is some copyrighted-music, as in an email to content creators the developers confirmed there would be a 'copyright-safe; playlist to help streamers avoid getting in trouble.
Bug Fixes
As always, Epic Games are fixing some bugs and glitches in the v13.40 patch, with a number of issues mentioned on their official Trello board as now fixed. You can view the full list below, including Slow Glider problems, and some bugs with Season 3 Quests.
General
Inability to edit floors and roofs at certain angles.
'Lock Input Method as Mouse' does not lock the input method.
Mouse cursor appearing on PC when playing with controller.
Battle Royale
Placing a map marker cancels movement.
Replays not saving on PlayStation 4.
Water Balloon Toy temporarily disabled.
Slow Glider speed after redeploying in certain situations.
XP bar can be visually incorrect while in match / incorrect leveling-up.
Ocean's Bottomless Chug Jug unable to be picked up while recharging if dropped by another player.
"Deal damage within 10s of landing from the Whirlpool at Hydro 16" should say "at the Yacht" instead.
"Land at Frenzy Farm/The Yacht and finish Top 25" not counting in Duos/Squads.
Creative Mode
Arena Island progress reset soon.
Billboards broken in islands that used Roboto.
Multi-selected items do not rotate properly on grid snap.
Crash on consoles when renaming a device.
Fortnite players are using these trickshot strategies to rotate
Pro Fortnite players are taking a page out of the trick-shotting book.
Rotating in competitive Fortnite has gone through a ton of iterations. We had the days of the Baller, the Shockwaves, the Shadow Bombs, and, of course, the post-Launch Pad removal days when people would just have an unspoken truce while they walked to the next circle.
Players are always trying to find a safe and reliable way to make it to the next zone without getting shot. For a while, the best way to do this has been with the short-pad. This involves building a ramp over a Launch Pad so that it shoots you straight rather than into the air.
With the addition of Crash Pads into the competitive loot pool, however, players are beginning to use them in conjunction with Launch Pads to jump further while remaining safe. Here's one example from YouTuber OrangeGuy, although there are easier variations to pull off.
OrangeGuy got some flack for this tweet from players who said "trick-shotters have been doing this since Crash Pads came out." This is true – they have been – but they've been using the strategy in a much flashier way.
Now, competitive players can use the strategy – not to hit crazy shots but to move to the next zone. Here's a much easier and quicker way to use this strategy than what OrangeGuy showcased.
We're sure that pros will continue to innovate on this strategy – as always – and we'll be here to showcase some of the more interesting variants. Until we inevitably find a new one – this strategy is one of the best ways to make it to the next zone in a hurry.
What to expect when cars enter Fortnite
Cars are coming to Fortnite on August 5. Here's how they'll work.
Finally, the long wait is over. Cars are coming to Fortnite on August 5. Epic announced their release in a series of tweets on August 3 and 4, hyping up the community for what might be the most anticipated release of Fortnite Chapter 2.
Since the community has been waiting for cars for so long, data miners have been giving players what they want in the way of leaks as to how these cars will perform. For instance, we know that there will be four different types of cars in the game. Epic are releasing the names of these cars as promotion for their release, but FortTory gave us the stats back in June.
As many players already know, you'll need to refuel the cars while you drive around. You can already see the gas station icons scattered around the map while using a boat or Choppa – the former is disabled at the time of writing, although it had been visible for weeks.
We also know a bit about the mechanics of cars. You will, reportedly, be able to gain metal by using the tire skid mechanic to run into things. The maximum speed will likely depend on the car, but will, reportedly, top-out at 45 mph.
Predictably, cars will damage players when they explode. The numbers in the game files were 200 damage to a player – enough to one-shot. This could be changed when the cars come out, however.
According to some of the additional leaks, the number of cars that spawn around the map will vary from game to game. There will be at least one on the map at all times and a maximum of 10.
Again, this could change and may have been a placeholder, as this particular piece of information comes from a couple of months ago when cars were first found in the game files.
Of course, all of this is subject to change. We'll know everything for sure when the new patch releases tomorrow, August 5. We'll have you covered with everything you need to know about cars when they make their way into Fortnite, so stay tuned!