Fortnitemares leak reveals 2020 theme: Midas' Revenge
Fortnitemares 2020 is set to feature Midas' return to Fortnite in "Midas' Revenge."
Fortnitemares 2020 is expected to come to the game this week and fans are eagerly awaiting what it will bring. The leaks surrounding the event have already told us a lot about what to expect. If you want to take a look at all of our predictions, you can find that article here.
On the morning of October 20, however, Fortnite data miners began buzzing on Twitter with some significant Fortnitemares information. Apparently, according to the Russian in-game news feed, Fortnitemares 2020 will be called "Fortnitemares: Midas' Revenge."
Anyone who has been following the Fortnite leaks for a while shouldn't be surprised by this news. A few weeks ago, we learned that Midas will return to Fortnite for the Halloween event with some "Ghostly Ghost Henchmen." When the last update went live, Midas' golden chair could be spotted at The Authority, suggesting that he'll return to his old stomping grounds.
Back in August, Fortnite data miners leaked a bundle that included a new Midas skin along with The Joker and Poison Ivy. Later, Epic confirmed that this would be the "Last Laugh" bundle and would be released on November 17 – which could be the end of Fortnitemares 2020.
News Feed leaks like this one almost always come to fruition. We see something similar with nearly all of the new seasons that Epic release – only they tend to get leaked by PlayStation, Nintendo, and Microsoft.
It's exciting to see a unique theme for Fortnitemares 2020 after last year's PvE mode and map takeover. Epic set a high bar for themselves in 2019, but the 2020 theme looks like it may be able to match last year's success.
When does Fortnite Season 5 start? Downtime, leaks & more
Fortnite Season 5 is right around the corner. Here's everything you need to know about when it starts and what it will include.
Fortnite Season 4 is almost over. Here's everything you need to know about the upcoming Fortnite season.
Following the Galactus event, the Fortnite servers went down as players entered into a small, "second black hole." Thankfully, there's a timer on this one, and we know how long we have to wait.
Ahead, we'll give you all of the information we have about the new season, including the start time, leaks, and more.
Fortnite Season 5 Start time
Fortnite Season 5 is only hours away. Initially, when the event ended, we had a seven-hour countdown to the next season.
This proved too good to be true. A few hours later, the countdown shifted to ten hours, putting the start time of Season 5 at 4 AM EST – four hours after the scheduled downtime that Epic announced later in the evening. The initial countdown seemed to be counting to the downtime, not the actual start time.
What to expect
We're getting more and more information as the hours pass. At the time of writing, we've heard two teasers that presumably relate to some new Battle Pass characters and, likely, new bosses.
Last week, the Epic Games store accidentally updated their game icon, and some players were able to catch a glimpse of the new screen. Here, we saw some new characters along with The Mandalorian and Baby Yoda – two characters that have been teased in some of the official Fortnite Season 5 content
For now, the Fortnite Season 5 theme doesn't seem to be entirely focused on Star Wars, although there's a chance that we were transported into a Star Wars-based reality.
We expect the map to be considerably different this season – if not an entirely different template. As always, we'll have to wait and see what happens when the new game goes live.
Make sure to follow us on Twitter @FortniteINTEL to stay updated on all of the latest Season 5 information.
Fortnite Galactus event: Nexus War start date and time
The exact date and time for the Nexus War finale in Fortnite has been confirmed, and there is little time to prepare for the Galactus event.
The event, which will bring Chapter 2, Season 4 to a climax, as Galactus – aka the Devourer of Worlds – is bombing towards the map to, presumably, destroy it all.
The countdown to the event appeared in-game on November 21, and Epic have now confirmed the exact date and time when the Nexus War will commence.
"It was only a matter of time." Epic say in their blog post. "Galactus is closing in on the Island and the fate of all Reality lies in the balance. Join the ultimate fight against Galactus in the one-time-only Nexus War finale event."
When is the Galactus event in Fortnite?
The Nexus War finale event will start on December 1 at 1PM PT / 4PM ET / 9PM GMT.
To make sure you don't miss out, Epic has given some tips to be prepared for the event:
DOWNLOAD THE LATEST UPDATE
If you haven't already downloaded the 14.60 update, load the game on your preferred device and download today.
DOWNLOAD HOUSEPARTY
Fortnite's new integration with Houseparty means you can have live video chat in Fortnite (PC, PS4/PS5) while attending the event.
GET IN EARLY
We've taken measures to ensure more people can attend the event, but we still recommend everyone log into Fortnite at least 60 minutes prior to the event start. The event playlist is expected to go live 30 minutes prior to the start time.
Of course, even if you can't play the game yourself at the time, you'll still be able to catch the action on Twitch and YouTube streams from content creators.
As Epic confirms, this is a one-time-only event, so there won't be any reruns unlike previous end of season events.
All leaked Fortnite skins & cosmetics from v14.60
Fortnite v14.60 brought leaked skins, pickaxes, and more cosmetics to the game.
Fortnite v14.60 is here, and you know what that means: a batch of leaked skins that will be hitting the Item Shop in the upcoming weeks.
Fans are eagerly awaiting the next Fortnite event, which is rumored to be the biggest event in the history of the game. Until then, we can pass the time by drooling over some upcoming skins. The Cob skin is going to be a must-have going into Thanksgiving.
Leaked Skins & Back Bling
Fortnite is bringing a couple of interesting Thanksgiving skins to Fortnite, this year, including a skin concept that has existed for a while. Peely is getting the seasonal treatment and being turned into corn on the cob. This will, reportedly, be a part of a skin bundle with the evil pie-looking skin.
Of course, players will also see Venom enter the game as early as today in the Venom Cup. Winners of the skin will be able to use it this week. Everyone else will have a chance to buy it at a later date – probably this weekend.
The resident witch and wizard – Elmira and Castor – received a Dark variant in this patch, as well. Players who already own these skins will be able to access this new style right away.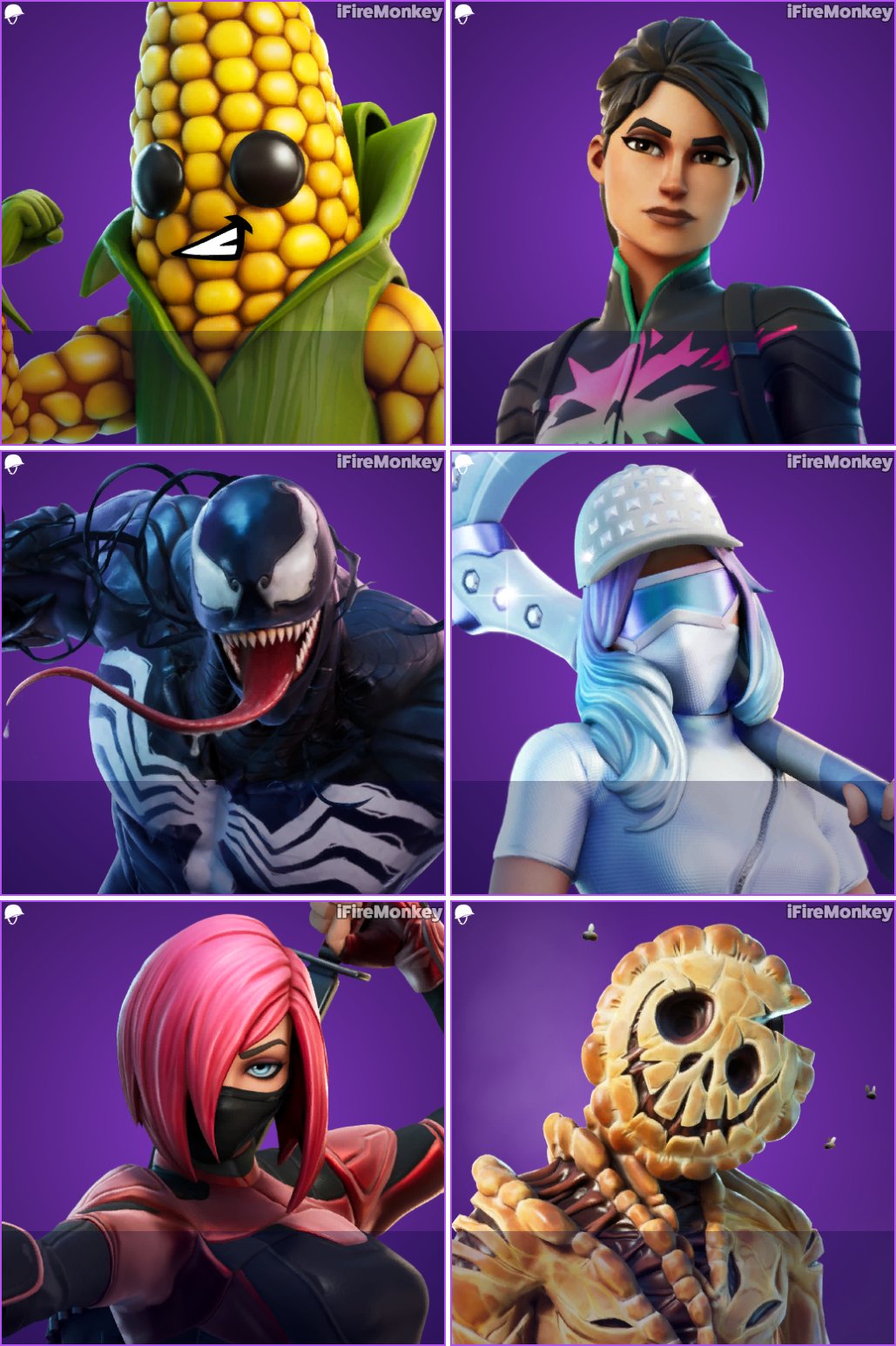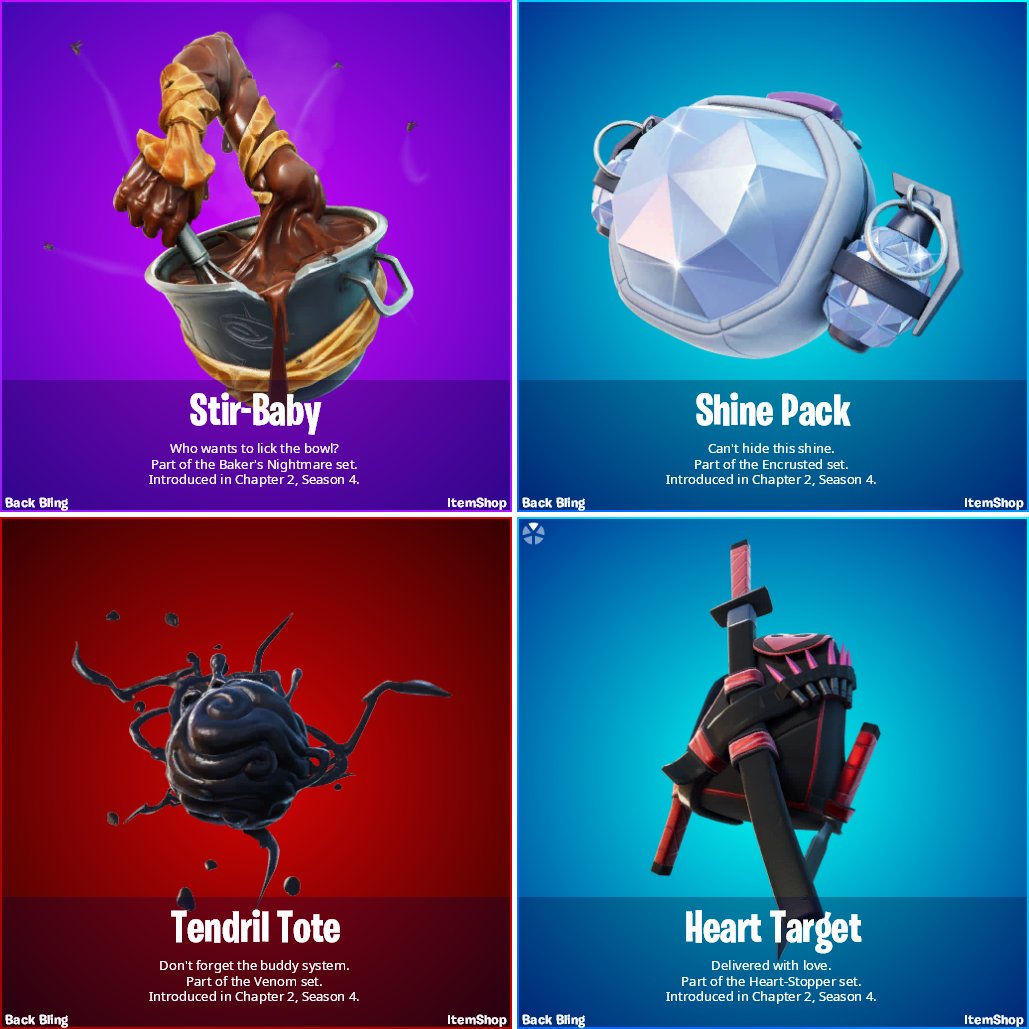 Leaked Pickaxes
The leaked pickaxes in this update aren't much to write home about – all but Venom's pickaxe. We have some bad news about that one, though.
According to Hypex, it will be a built-in pickaxe that we won't be able to use with other skins.
Leaked Wraps
We'll be getting a few wraps to go along with the leaked skins in the section above. The Galaxy Wrap appears to be another style for the female Galaxy skin that we saw a while back.
The Rainbow Fog wrap looks to be a part of the upcoming Fortnite X House Party collaboration, meaning players will probably be able to get it for free.
Misc.
There are a few miscellaneous leaked cosmetics as well, including a Reboot Van emoticon, a Thor music pack, and two sprays that relate to Ghost Rider and Peely.
We don't know whether or not you'll be able to buy these items, but most of the time Epic save these for free challenge rewards.
Cosmetics weren't the only leaks that were a part of the v14.60 update. We also have some information on what we can expect coming out of the next Fortnite event: Devourer of Worlds.
We'll keep you covered with all of the leaks ahead of the update, so make sure to follow us on Twitter @FortniteINTEL.