Fortnite x Naruto: The Nindo challenges for free glider and wrap just got easier
Fortnite introduced The Nindo challenges for the Naruto crossover. Following backlash, the developers have made them more practical.
The Nindo challenges in Fortnite Chapter 3 Season 3 were too specific owing to which players have been skeptical about unlocking the free glider and wrap. Luckily, the developers have finally made the desired changes.
To get the free glider and wrap, Fortnite players are expected to complete all four paths (Itachi, Hinata, Gaara, and Orochimaru) available in The Nindo challenges. Each path comes to an end when you earn five badges. The tasks that grant badges include fishing, surviving storm circles, getting eliminations, and more.
Here's how The Nindo challenges in Fortnite Chapter 3 Season 3 are not that gruesome now.
Fortnite x Naruto: The Nindo challenges no longer have team mode requirements
For context, let's take a look at the procedure to get a badge while completing the paths of:
Itachi– 5 Top-6 finishes equal one Badge
Gaara– Every 24 Storm Circles survived equals one Badge
Hinata– Every 20 Fish caught equals one Badge
Orochimaru– Every 18 eliminations equals one Badge
Considering that players need to earn five badges to complete one path, and four paths to get the free glider and wrap, the total requirements become:
Get 45 Top-6 finishes
Survive 216 Storm Circles
Catch 180 Fish
Get 162 eliminations
To make things worse, you could initially attempt these challenges in specific modes only. For instance, Itachi's path only registered stats from Squads while Gaara's path could be completed only in Zero Build modes.
It is evident why players had been complaining about The Nindo challenges. Completing such tasks within two weeks is almost impossible for casuals when in reality, they're the ones who mostly crave free cosmetics.
Accordingly, Fortnite has now updated the Nindo challenges are players can complete all the tasks in Battle Royale and Zero Build modes (Solos, Duos, Trios, and Squads).
How to get free Akatsuki wrap and Manda glider in Fortnite through The Nindo challenges
Following the aforementioned update, players can complete the paths of Itachi, Gaara, Hinata, and Orochimaru in any mode. Completing any one path will grant them the Akatsuki in-game cosmetic wrap while completing all four paths will let them unlock the Manda glider.
It is worth noting that obtaining one badge for any path will help you in unlocking the respective character's emoticon. On the other hand, the reward for earning five badges under any path is 20,000 XP.
All in all, loopers can stack 80,000 XP and some free skins by completing all The Nindo challenges. The Island Hopper challenges are also live at the moment, and the state of XP in Fortnite Chapter 3 Season 3 finally looks adequate.
The Fortnite rivalry between Tfue and Ninja continues as they face each other in Season 3
After taking long breaks from Fortnite, both Tfue and Ninja are back in Chapter 3. Here's how their latest in-game encounter went.
Fans worldwide always appreciate it when the likes of Ninja and Tfue face other, especially in Fortnite. The game seems to have caught a second wind in Chapter 3 as the biggest streamers are back at playing it.
It wouldn't be an overstatement to say that Tfue and Ninja are two of the most popular Fortnite streamers ever. Despite quitting the game temporarily, they're still associated with it.
It is no surprise that Turner 'Tfue' Tenney and Tyler 'Ninja' Blevins are also two of the most skilled players in history. Accordingly, it is invariably nerve-wracking when they take on each other in multiplayer titles.
Ninja finally takes revenge against Tfue in Fortnite
Even though Ninja has thrashed countless Fortnite players over the years, he hasn't been equally dominant against Tfue. So much so that the Turner has defeated him five times in their seven encounters so far.
However, Ninja and Tfue found each other in Greasy Grove during a Solos match recently. Considering their experience and expertise, it is natural for them to be placed in a lobby together.
Ninja entered the location on a Wolf while Tfue was already there looting. Turner was low on health with just 12 HP, 50 Shield, and 50 Overshield. On the flip side, Blevins was maxed out on shields as well as health.
True to his nature, Tfue didn't waste a second and instantly took shots when he spotted Ninja. This could have been a wise decision against any other player, but Blevins was quick enough to take cover and land three consecutive shots on Tfue which led to the latter getting out of the game.
Soon after, Ninja's viewers informed the streamer that he just eliminated Tfue. He went back to confirm the same and said, "Oh my god! that was him. Another one dude! Geeg"
While the streamers must have moved on from the incident already, it was undoubtedly special for the fans. The informal rivalry began in 2018, and it is always to delight to see the veterans enjoying Fortnite.
Tfue is still some steps ahead of Ninja when it comes to winning 1v1s. However, their encounters have become more common than ever in Chapter 3, and we might see Ninja bouncing back soon.
Fortnite v21.20 update delayed by a day and here's why
The Fortnite community was desperately waiting for the v21.20 update. However, it won't arrive on July 5, 2022 as there's an unexpected delay.
Amidst the community's sky-scraping expectations, Fortnite has delayed the v21.20 update. From its new release date to early patch notes, here's everything we know about the upcoming patch so far.
To say the least, Fortnite Chapter 3 Season 3 has been a roller coaster ride until now. While the map changes have been brilliant, the game has been really unstable with Unreal Engine 5. Moreover, there haven't been enough ways for players to steadily level up their Battle Pass and unlock skins like Darth Vader.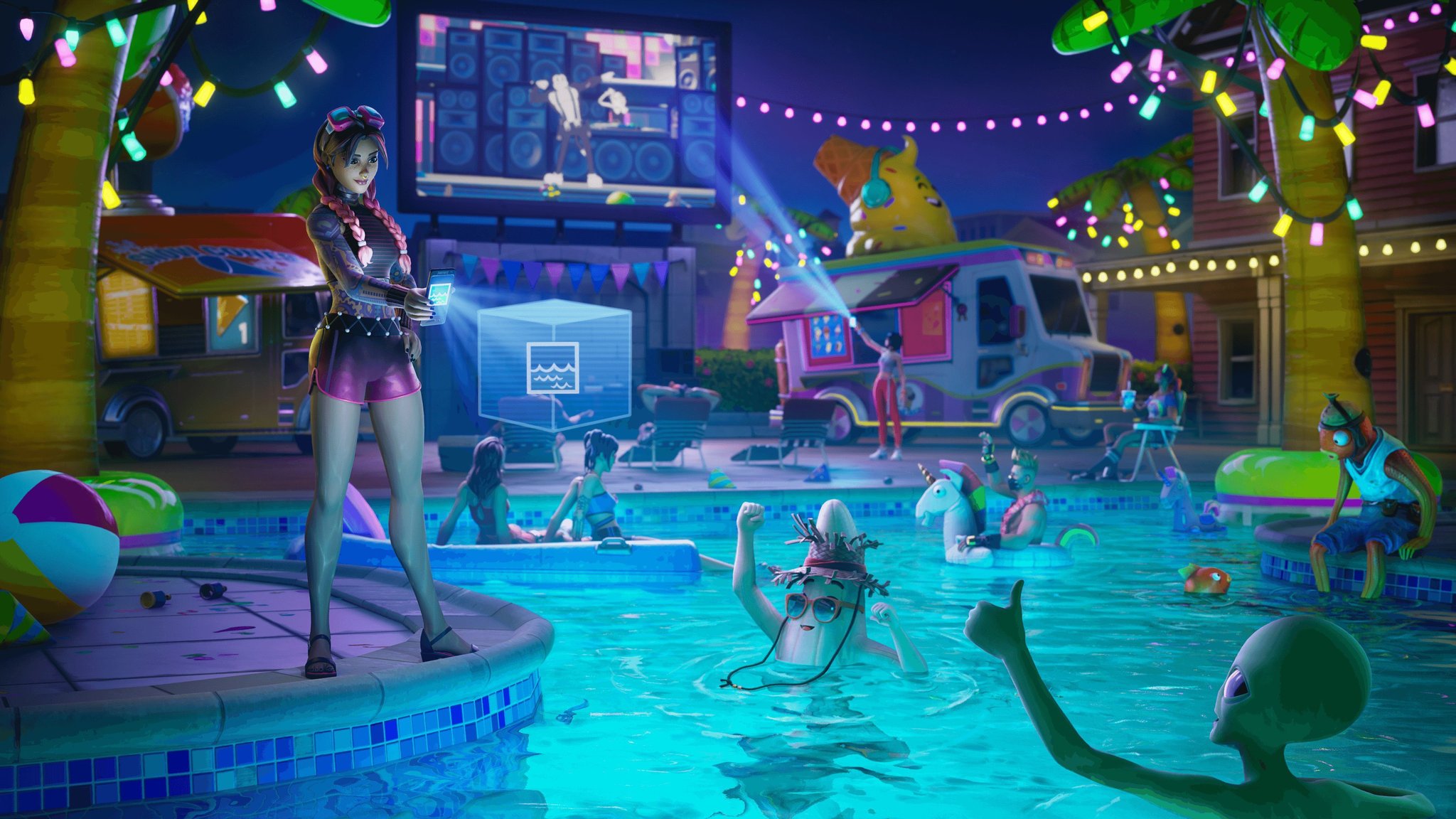 This explains why loopers eagerly await updates as they contain a ton of content such as bug fixes, new quests, and events. However, the v21.20 update that should have been released today has been delayed by a day.
Fortnite Cash Cups to take place on July 5 instead of the v21.20 update
From leakers to content creators to casuals, almost everyone in the community missed an announcement by Fortnite regarding this season's Cash Cups.
Apparently, Round 2 Duos Cash Cup and Duos Contender & Open Hype Cups are taking place on July 5 instead of July 6 because of game updates arriving around the same time. This clearly indicates that the v21.20 update will now be released on July 6.
This is in contrast to Fortnite's previous announcement in which the developers wanted pros to keep an eye on the Temple Bloom landmark. Loopers spotted a Reality Root there, which has always led to significant map changes.
From the looks of it, v21.20 was originally scheduled for July 5 as Fortnite has been constantly releasing updates on Tuesdays. It is certainly surprising that the developers have broken this pattern already.
What to expect from Fortnite v21.20 in Chapter 3 Season 3?
Even though Epic Games itself talked about the changes in Temple Bloom, leakers haven't discovered anything related to it in the files. What's more startling is the fact that the upcoming themes for Condo Canyon and Sleepy Sound are already here.
Apart from map changes, Indiana Jones and his cosmetics will become available from July 7, 2022. This also means that loopers will have new quests to complete which include a new set of Weekly and Vibin' challenges.
Last but not least, the Battle Royale modes should finally get some No Sweat Summer content including NPCs (Unpeely, Summer Drift, and Boardwalk Ruby) and Surfboards. The new release date for v21.20 should be July 6, 2022, and the downtime should begin around 4 PM ET and 9 PM BST.
Fortnite v21.20 early patch notes: Indiana Jones, No Sweat Summer, Luke Skywalker skin, more
Fortnite v21.20 is right around the corner. From Indiana Jones to new content for the 2022 No Sweat Summer event, there's a lot to expect.
Fortnite is all set to release the 21.20 update on July 6, 2022. Indiana Jones will finally become available in the Battle Pass, No Sweat Summer content will arrive in Battle Royale modes, and as usual, the Reality Tree will continue to grow.
The community has sky-scraping expectations from Fortnite v21.20. Even though map changes have been frequent and brilliant in Chapter 3 Season 3, the No Sweat Summer event and the XP system (in terms of more opportunities to earn XP) certainly need improvement.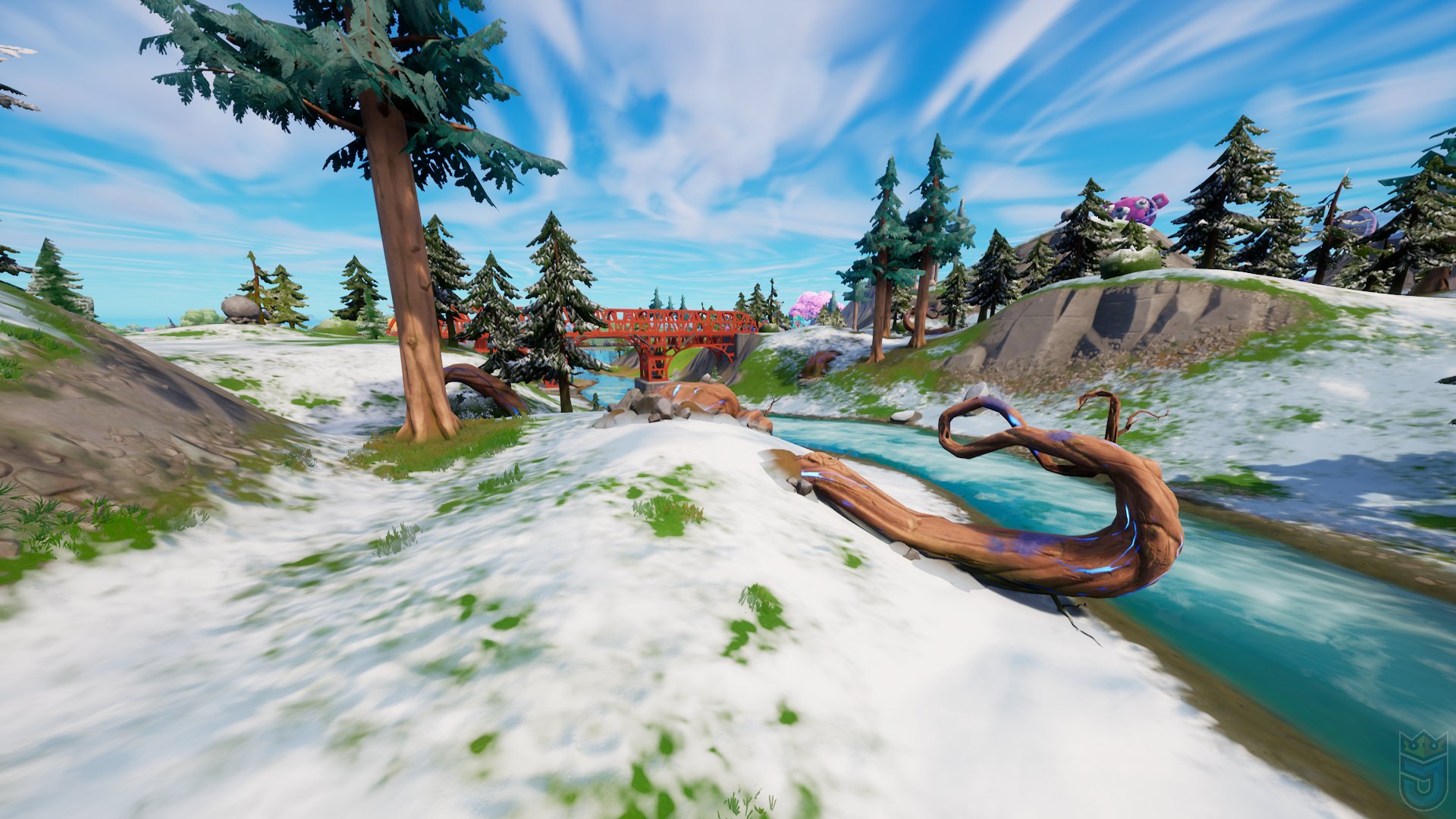 Here's everything players can expect in the second major update for Fortnite Chapter 3 Season 3.
Fortnite Reality Tree to affect Condo Canyon, Sleepy Sound, and Temple Bloom in v21.10
First and foremost, the Reality Tree will reach major locations like Sleepy Sound. Loopers have discovered a new set of roots near Shifty Shafts and they're most likely heading towards Sleepy.
Another location where we will see the influence of the Reality Tree is Condo Canyon. Interestingly, leakers have already revealed the upcoming themes. Like Butter Bloom and Logjam Lotus, Sleepy Sound and Condo Canyon will have recurring themes which include:
Froniter
Coliseum
Coral Castle
Neo Tillted for Sleepy Sound and Lazy Lagoon for Condo Canyon
There's a Reality Root near the Temple Bloom landmark as well. HYPEX has revealed that one of the themes in Temple Bloom is codenamed The Tower in the files, and that's the only information we have for now.
There's a possibility that v21.20 only focuses on Condo Canyon and Sleepy Sound as the developers are yet to add the updated version of Temple Bloom in the files.
New Indiana Jones skin and temple to arrive in Fortnite v21.20
Indiana Jones is the secret skin in the Fortnite Chapter 3 Season 3 Battle Pass. It cannot be unlocked at the moment, and will be available from July 7, 2022. Loopers who own the Battle Pass wil have to complete special quests to unlock the cosmetics which include:
Indiana Jones outfit
Indiana Jones Banner Icon
Raider's Relics Harvesting Tool
Rogue Archaology Wrap
Expedition Bag Back Bling
It is worth noting that these are the cosmetics on Page 1. These will not only become unlockable with v21.20, but you'll also be able to get a look at the next page.
Even though this might be a stretch, but many players believe that Indiana Jones will get his own spawn location. The aforementioned Temple Bloom POI could turn into a temple dedicated for the Indiana Jones boss/NPC. However, readers must take this claim with a huge grain of salt.
New No Sweat Summer content coming to Fortnite Battle Royale
The Island Hopper quests were decent, but players were disappointed to see them as the only 'summer event' content. However, leakers like iFireMonkey and Epic Games itself have claimed that more summer content is coming.
NPcs like Unpeely, Summer Drift, and Boardwalk Ruby, and vehicles like Surfboards will return to BR modes. Moreover, you can look forward to completing summer-themed quests in Battle Royale that should grant XP and free cosmetics.
Battle Royale content will certainly help in making No Sweat Summer 2022 one of the best summer events in Fortnite's history.
Luke Skywalker NPC
Epic Games has released a ton of Star-Wars content in Fortnite Chapter 3 Season 3 which includes Darth Vader as a boss and his skin in the Battle Pass as a tier 100 reward. HYPEX has disclosed that there's a Lightsaber in the files for a Luke NPC.
Based on the leak, it is safe to assume that Luke Skywalker will be released as an NPC and a skin, like this father. However, it is uncertain if he'll be a part of the upcoming update.
Last but not least, weekly quests for Week 5/ Week 6 and Vibin' quests will be added to files with Fortnite v21.20. There aren't any solid leaks regarding weapons as we've already received three new weapons (Two-Shot shotgun, Hammer AR, and DMR) this season.
Fortnite v21.30 will release on July 19, 2022 following which Epic Games will take a summer break that will take place between July 24 and August 12.