Fortnite x Batman event leaked – Tilted Town is changing
A brand new crossover event between Fortnite and Batman has been leaked ahead of schedule by data miners.
Several clues have been found in the game's files which suggest that the Tilted Town point of interest is about to be completely transformed into Gotham City, in an unlikely map change twist.
It's only been a matter of weeks since Epic Games decided to change Titled into a Rift Zone where players aren't able to build or break there, but it appears that it will change again soon – and drastically.
Tilted Town is being transformed!
Fortnite leaker Lucas7Yoshi has revealed a leaked loading screen which looks to be a huge hint at the map change, showing a darkened setting with the Battle Bus flying above it – giving us a real sense of how it will eventually look in-game.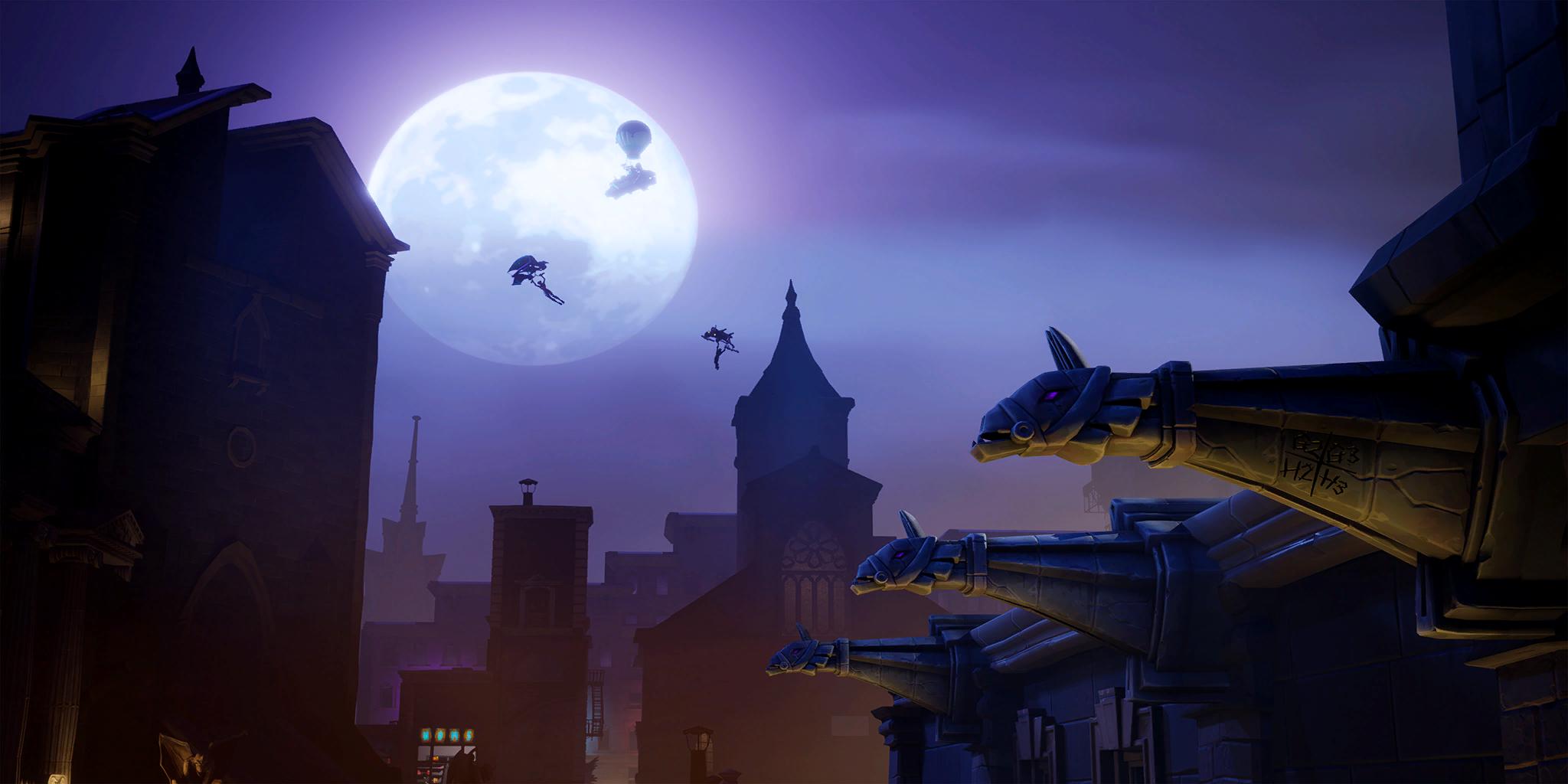 If this didn't give you enough of an idea of how it will soon look, check out this map that the leaker has also posted to social media. Titled Town is going to look very different, very soon.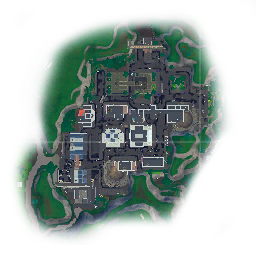 Fortnite Batman weapon!
A weapon has also been leaked by Lucas7Yoshi, which will presumably be released as the event is taking place – and it looks a lot like the Grappler. Check out the Batman Grapnel Gun!
While the easiest link to make between Fortnite and Gotham City might well be the upcoming Joker movie on October 4, there's a good chance that this event is actually going to mark Batman Day – which takes place every year on September 21.
There have also been a number of other features leaked for the event, too, including spray paints, what appears to be a new Explosive Batarang item, and more.
Fortnite Batman cosmetics and items
As we approach that date we expect to see even more Batman inspired content drop into Fortnite Battle Royale and, who knows, maybe even the Joker as well.
Slasher claims Fortnite esports' real problem isn't the prize pool
Esports reporter, Rod 'Slasher' Breslau, claims that Fortnite's main problem as an esport isn't the dwindling prize pool.
With the recent announcement of the Fortnite Season 4 FNCS tournament, high-level competitive players have been calling out Epic Games for the lowering of their esports prize pool after their massive $100 million splash during the 2018-2019 season.
Top competitors like BenjyFishy, Zayt, and others have taken to social media to call out Epic for the seemingly drastic lowering of the prize pool over the course of the last year.
Players who place in the top three of the most popular regions in the game are seeing about half of what they won a year ago. The winner of the European region in the FNCS will earn almost $370,000 less in Chapter 2 Season 4 than they did during the same tournament in 2019.
To be fair to Epic Games, there are a few reasons for this. Most obviously, Epic are now providing daily and weekly Cash Cups to their player base. These events might not garner as much attention as the seasonal FNCS and DreamHack tournaments, but they do count towards the total prize money that Epic give away for Fortnite esports.
This might sound like Champaign problems to a lot of people reading this. Yes, we're largely talking about young video game players who are competing for hundreds of thousands of dollars from the comfort of their own homes.
To the top players in the game, however, this isn't all about the money. To them, it's another sign that Epic don't care about the competitive side of Fortnite. In their defense, they have years of evidence to back this up.
Esports reporter Rod "Slasher" Breslau weighed in on this topic on Twitter, stating that the real problem with Fortnite esports has nothing to do with the prize money. "Fortnite esports doesn't need $100 Million in prize money for (it) to be successful," he wrote. "Fortnite needs Epic Games to truly care about its competitive player community with a long term plan for the pros instead of treating esports as a nonsense marketing exercise to promote the game."
In a follow-up tweet, Slasher evoked the ongoing battle between Epic Games and Apple and how many of the pros in the community remain indifferent on the objectively positive stand that Epic are taking. This writer has heard one popular pro claim that he wanted Apple to "clean out" Epic while raging about the Fortnite server performance in the Season 3 FNCS Grand Finals.
As unfortunate as it may be, Slasher is right. Epic are using Fortnite esports as a "marketing exercise to promote the game." They always have. When did Kevin the Cube come to Fortnite? In the middle of a tournament. When did the Infinity Blade come to Fortnite? The night before a tournament.
Chapter 1 Season 7 began four days before a $1 million Winter Royale tournament. That means that all of the qualifiers took place on a different Fortnite season than the finals. In fact, the EU finals and the NA finals for the same tournament happened on two entirely different seasons.
In his final tweet in the thread, Slasher acknowledged that "Fortnite esports is still in an okay spot, but given the size and impact of the game to the gaming community at large or even mainstream culture." Fortnite might be the biggest game of all time when it's all said and done, but the esports side of things, "could be so much more," as Slasher states.
Over the past year, in an interesting twist of fate, competitive Fortnite has become the number-one way to watch Fortnite on Twitch. Popular streamers like CouageJD, Ninja, DrLupo, and NickMercs have all left the game. Browsing the Fortnite category will primarily bring you streams of players like Clix, BenjyFishy, and Bugha broadcasting pro scrimmages.
At the same time, however, these pros are largely negative about the game that they all play. We all rage from time to time, but many of the Fortnite pros go out of their way to trash the game on other platforms – not just on-stream. It's a problem for a game when its most popular players are constantly talking about how bad it is.
The worst part of this scenario might be that the game isn't bad. It's actually quite good. Casual players who don't understand why these pros are complaining start to drift away from watching them. This was the primary cause of the philosophical divide that we're now seeing between the casual and competitive Fortnite player bases.
There's a way out of this for Epic Games, but we're not too confident that they're going to take it. Like Slasher said, Fortnite esports is in a good spot; despite all of the issues that it has. On a casual level, Fortnite has almost as many players as ever. Season 4 seems like a return to form for the core game.
As someone who was overwhelmingly excited for the future of Fortnite esports during the first Friday Fortnite tournament, though, I can't help but feel disappointed. There was a ton of potential and it seems like we might already be past the peak. It could have been a lot more, but that's not the route Epic are taking.
Fortnite Season 4 FNCS: dates, scoring, Twitch Drops & more
The Fortnite Season 4 FNCS is coming soon! Here's everything you need to know.
The Fortnite Season 4 FNCS is right around the corner, which means players and fans are gearing up to see how the latest season of competitive Fortnite will shake out. Will the mythic items play as much of a role as they have in past seasons? Only time will tell.
We're content to sit back and watch the action unfold in front of us. Ahead, we'll tell you everything you need to know to enjoy the event along with us, including the scoring format, how to watch, how to earn Twitch Drops, and more.
Format & Scoring
The Format for the Season 4 FNCS will be Trios, which is the favorite mode of many of the top competitors. Some teams have already developed while others will undoubtedly make some last-minute adjustments.
The point system has already been praised by a lot of the top pros in the Fortnite scene. All teams who place within the top half in each game will receive at least one point. They will gain another point for every placement position after that until they reach the top three, where the points go up a bit. Eliminations are also worth one point each and don't have a cap.
Placement
Victory Royale: 25 Points
2nd: 20 Points
3rd: 16 Points
4th: 14 Points
5th: 13 Points
6th: 12 Points
7th: 11 Points
8th: 10 Points
9th: 9 Points
10th: 8 Points
11th: 7 Points
12th: 6 Points
13th: 5 Points
14th 4 Points
15th: 3 Points
16th: 2 Points
17th: 1 Point
Each Elimination: 1 Point
Programming Schedule
The official Fortnite FNCS broadcasts will return for Fortnite Season 4, featuring some of our favorite personalities and broadcasters bringing us several days worth of content.
The FNCS begins on October 9 with the Open Qualification stages of the tournament, but the broadcasts will cover the second stages of qualifications on Saturday and Sunday.
This season, for the first time, Epic are breaking up the tournament into two days. This gives players a lot more rest in between their sessions. Here's a list of the broadcast schedule for every Saturday and Sunday (all times are in EST):
1:00pm – Broadcast begins
1:15pm – Live EU coverage
5:15pm – Live NAE coverage
8:30pm – Approximate end
The finals will take place through October 29 – November 1. You can watch all of the action on the Fortnite YouTube or Twitch channels or on watch.fortnite.com.
Twitch Drops
Twitch drops are returning for this season, as well, which means the most rewarding way to watch the FNCS will be on Twitch. The drops will feature the same cosmetics as the ones from Season 3 – only this time in fuchsia rather than cyan. With the new customizable skins and back bling, these cosmetics are more valuable than ever.
If you want to earn Twitch drops, the method is the same as it's always been: you need to link your Epic and Twitch accounts to one another. It's also important to note that you have to have linked your accounts within the last six months to receive Twitch Drops. If you linked your accounts over a year ago, you'll have to do it again.
While watching one of the verified FNCS streams, you'll see a prompt at the bottom of the video, telling you to link your account for Twitch Drops. All you need to do is click this link, sign in to your Epic account, and keep watching. Eventually, after watching for a bit, you'll earn the in-game Fortnite cosmetics.
That should be everything that you need to know to enjoy the Fortnite Season 4 FNCS. Of course, we'll update this post with any additional information or changes that come to light before the event starts on October 9.
We'll be covering all of the qualifications, the finals, and everything in between here and on Twitter, @FortniteINTEL, so make sure to follow us there to stay up to date with everything. Enjoy!
Where to find Wolverine in Fortnite
Having a hard time finding Wolverine in Fortnite? These tips will help you find and eliminate him.
In the v14.20 update, Epic added the latest boss to Fortnite: Wolverine. Wolverine also happens to be the unlockable skin for the season, but we're still a week away from unlocking him.
Next week, when Wolverine becomes available, we'll need to track him down in-game and secure an elimination. As anyone who has gone searching for Wolverine knows, this is going to be tough.
Epic did something interesting with Wolverine. Instead of tying the new boss to a specific location, they gave him a massive spawn radius and allowed him to roam the map, freely. On top of that, killing Wolverine is extremely challenging. He can self-heal and even revive himself, making him the most dangerous boss that Fortnite has ever seen.
As we said, finding Wolverine is a challenge within itself. We know that he spawns in Weeping Woods, but that's a huge area. This isn't like the two locations where Iron Man and Doctor Doom can spawn. Wolverine can begin his journey anywhere within the trees of Weeping Woods.
Wolverine's wander distance makes it even more difficult to locate him. You might land in Weeping with the intention of finding Wolverine, but once you have enough loot to take him on, he's already made it halfway to Slurpy Swamp.
YouTuber Tabor Hill released a video with some helpful tips on how to find Wolverine – the most useful of which involves turning on the "visual sounds" setting that shows footsteps on your screen and flying over Weeping Woods in a helicopter. This way, you can see when there are footsteps beneath you and take on Wolverine from the air.
Despite knowing Wolverine's general spawn location and the best way to find him, there's no easy way to tell you how to have a 100% success rate in a public match. Tabor Hill is able to locate him, but the YouTuber is in a private game without any enemies. It's going to be a lot harder when you do this in Solos – especially considering how lethal Wolverine can be.
We'll keep you posted if anyone finds a more reliable method of finding Wolverine in Weeping, but this is the best info that we have for now. Just remember to take him on at a distance. He can take you from 200 HP to 0 quite fast.