Fortnite weak point pickaxe bug fixed on all platforms
Finally, all Fortnite players are able to farm without this debilitating weak point pickaxe bug.
Finally, all Fortnite players are able to farm without this debilitating weak point pickaxe bug.
Yesterday, Epic released Fortnite v11.50.1 on Xbox, Switch, and iOS. The team didn't specify which bugs this small patch was aiming to fix, but some quick testing on the Xbox revealed that the weak point glitch was the target.
Anyone who plays Fortnite on a console knows how aggravating this problem was. I even went so far as to call it, "worse than the mechs," at one point. It was infuriating to stare those circles in the face as you missed them again and again.
Epic fixed the issue on the aforementioned platforms but PS4 was, unfortunately, left out of the party. PS4 players were wondering if the bug would be fixed before the PS4-exclusive Celebration Cup this weekend.
Today, February 12, Epic has released the v11.50.1 patch on PS4. The update has yet to go live on PC. By all accounts, PC players weren't experiencing the same issue as console players were.
Epic employee EpicDustyDevo responded to the clip above, telling players why a fix for the weak point glitch took so long.
"Basically hotfix means you change data (like how much damage a gun does, or how long it takes for the storm to close in), whereas most actual code bugs need to be fixed in code, compiled, and then a new version of the game has to be released to you. That process takes at least a few days in the best of circumstances."
I will say that farming feels amazing after experiencing this bug for the better part of a week. I'll never take those weak points for granted again.
Still, there is a long list of bugs that Epic is still trying to iron out. The new update comes out in just over a week. Let's hope they get everything sorted out by then.
Fortnite Season 4 Week 1 Challenge guide
How to complete the Fortnite Season 4 Week 1 challenges: Misty Meadows floating rings, Quinjet locations & more.
Fortnite Season 4 released today, August 27. This also marks the beginning of the seasonal challenges that we can expect to release each Thursday. It may be a new season, but most of the challenges have remained similar. We'll be searching chests, eliminating players, and collecting floating rings.
Fortnite Season 4 Week 1 challenges:
Search Chests at Dirty Docks (7)
Eliminations at Holly Hedges (3)
Collect Floating Rings at Misty Meadows (4)
Eliminate Stark Robots at Quinjet Patrol landing sites (5)
Gas a vehicle up at Lazy Lake
Deal damage to opponents with Stark Industries Energy Rifles (1,000)
Eliminate Doctor Doom at Doom's Domain (3): 50,000 XP
Deal damage to opponents at Craggy Cliffs (500)
Quinjet locations
Two of the Fortnite Season 4 Week 1 challenges revolve around Quinjet Patrol Landing sites, so it's helpful to know where to find them. The Quinjets spawn shortly after the Battle Bus takes off, but you need to wait a bit before they show up on the map.
Once you have a few games under your belt, however, you'll know where they land. These ships will be in the same location in every match – distinguishable by a while marker on your map. Here are the locations of all four of them.
Collect Floating Rings at Misty Meadows
The floating rings challenges are back for Season 4. These are always a bit of a hassle when trying to finish the challenges as fast as possible, but they're easy to complete once you know where to look.
Here's a video from HarryNinetyFour that shows an easy route to collecting all of these rings in only one minute.
The rest of these challenges should be easy to finish within a few matches of mindful playing. Eliminating Doctor Doom three times might be a hassle – Doom's Domain is a hotspot for activity – but you'll be able to finish the challenge within a handful of drops. We'll be back next week with another challenge guide, so stay tuned!
First look at the Fortnite Season 4 Battle Pass
Fortnite Season 4 is here. Take a look at the full Season 4 Battle Pass here.
Today is the day! Fortnite Season 4 is here. With it, comes a brand new Battle Pass with new skins, gliders, emotes, loading screens, pickaxes, and more. As expected, almost all of these Battle Pass cosmetics relate to the Marvel crossover.
The servers are still down at the time of writing, but data miner Hypex was quick to leak all of the in-game cosmetics as soon as the Season 4 trailer finished playing. Speaking of that, you can take a look at the trailer below.
Again, we don't have access to the full Fortnite Battle Pass just yet. For now, we're going with the in-game leaks from ShiinaBR, m1fnbr, and Hypex.
We'll make sure to update this post as soon as the servers open up and we're able to capture the entire Battle Pass. Until then, this will have to do.
Update: ShiinaBR and m1fnbr have leaked the full Battle Pass. Here it is!
We're excited to jump in and get our first win of the season. Speaking of that, we have a look at the new umbrella that we'll get for winning. This is the best-looking one that we've seen in a while, in our opinion.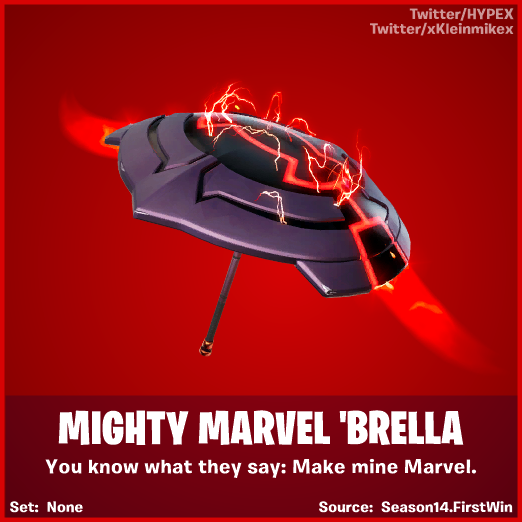 We'll keep you posted with everything you need to know about the new Fortnite season, so make sure to stay tuned. Good luck to everyone grinding for their first win this morning!
Ewok signs an exclusive deal to return to Twitch
Fortnite streamer, Soleil "Ewok" Wheeler, is back where it all started: Twitch.TV.
Shroud's return to Twitch dominated the headlines in gaming, yesterday, as fans eagerly await the news of Ninja's new platform. As this was happening, fellow Mixer refugee, Soleil "Ewok" Wheeler, announced that she would be returning to Twitch with an exclusive deal, as well.
The 14-year-old Fortnite streamer told ESPN, "I decided to return to Twitch because the platform has a vast network, and I had already established a community there before switching over to Mixer. It's also the best platform for me to continue building my brand. I also miss Twitch Rivals and meeting people that have supported me since day one."
Ewok has had a massive two years in gaming, from being discovered by some of the biggest streamers on the platform to being signed by FaZe Clan to signing an exclusive deal with Mixer – all in 2019. Now, she returns to where it all started: Twitch.TV.
The streamer also served as a huge inspiration to the deaf community, showing everyone that she was one of the best Fortnite players in the world – even without sound or verbal communications.
Ewok, like most of the streamers who signed exclusive deals, got the best of both worlds after the Mixer shutdown. On Twitch, she'll undoubtedly continue to grow her community and viewership.