How to turn on Fortnite's Visualize Sound Effects setting
If you're having trouble keeping track of enemies, it might be time for you to try Fortnite's Visualize Sound Effects setting.
You need every advantage you can get in Fortnite, and the visualize Sound Effects setting can help pinpoint where opponents are located.
Fortnite comes with a pretty substantial learning curve. Bloom replaces recoil which makes aiming more difficult. And the ability to build adds a layer of complexity to combat.
Not only do players need to learn to build, but they also have to navigate opponent structures. While caught up in an intense build fight, you might lose track of your opponent. Or you might not realize a third party is coming in.
A nice pair of headphones can really help improve your situational awareness. However, it doesn't hurt to get some help from an in-game feature. Let me introduce you to Fortnite's Visualize Sound Effect setting.
How to use Visualize Sound Effects in Fortnite
To turn on Visualize Sound Effects, open the settings menu and navigate to the Audio Settings. Then turn on "Visualize Sound Effects". This will show the direction of various noises in-game.
If you don't have headphones, playing with Visualize Sound Effects is a must. It lets you know the exact direction of footsteps, gunshots, vehicles, and heals. It even shows the direction of sounds you might not hear otherwise.
This is especially helpful in build fights as you can see where players are by looking at the indicators on screen. Fortnite's Visualize Sound Effects setting is pretty rad, but it does come with some drawbacks.
Sadly, this setting will negate the effects of the 3D Audio settings. If you aren't playing with headphones, this won't affect you. However, you can't be cheeky and use both 3D Audio and Visualize Sound Effects.
There are also some sounds that Visualize Sound Effects won't show you. These include when a player is crouch walking or falling. As well, it will show the direction of your teammate's gunfire if you get too far.
That being said, you may want to try out Visualize Sound Effects for yourself. If you're struggling to keep up with where players are, it might improve your gameplay.
For more Fortnite, check out how to see your Late Game Arena hype ranking, and stay tuned for more news and guides.
Image Credit: Epic Games
Fortnite Chapter 3 Season 3 storyline explained: Reality Tree, Darth Vader, and more
Fortnite Chapter 3 Season 3 has a Vibin theme. a Reality Tree, and Darth Vader. What does this mean for loopers and their future?
The Fortnite community is having a blast in Chapter 3 Season 3 as the war between the Imagined Order and The Seven is finally over. The storyline now has elements such as Reality Tree and even Darth Vader is a boss on the island.
The Fortnite storyline is as absurd as it gets, thanks to the Zero Point which allows characters from different universes to enter the island. Chapter 3 Season 3 has a Vibin theme, but loopers must not assume that they're away from danger.
Is the Reality Tree evil in Fortnite Chapter 3 Season 3?
The biggest highlight of the Chapter 3 Season 3 island has been the new biome that covers Greasy Grove and Reality Falls. Mushrooms are scattered around these POIs and the Reality Tree's roots are constantly spreading.
In version 21.10, Logjam Lumberyard turned to Logjam Lotus. It mysteriously switches between four themes in every game, and this is most likely caused by the Reality Roots in the region.
The Reality Tree might look pleasing aesthetically, but the latest Vibin' quests tell a different story. The Scientist wants to convey that the tree is controlling the island and it's spread will cause severe consequences.
From the looks of it, the Bloomwatcher (the name given to a mysterious character by the Fortnite community) is controlling the Reality Tree. Loopers have spotted her in one of the skin surveys and in the story trailer for Chapter 3 Season 3.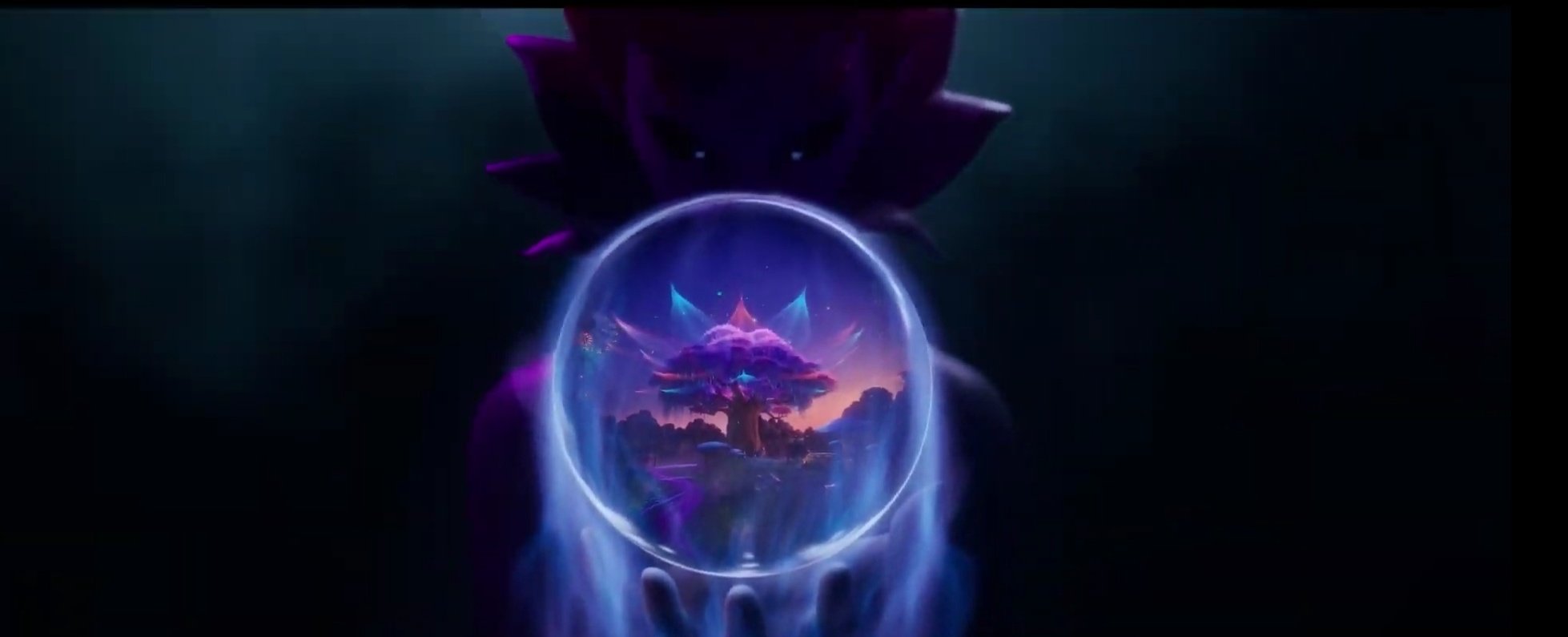 The Bloomwatcher is manipulating reality and loopers might have fallen into her trap. It looks like the war is over, but the worst is yet to come. The latest mushroom biome is nothing more than a facade which is exactly why The Scientist sounds so worried in the latest Vibin' quests.
Darth Vader has arrived in Fortnite to retrieve a Star Wars relic
The Zero Point is exposed under Loot Lake in Chapter 3 Season 3. As a result, an important relic from the Star Wars universe has accidentally landed in Artemis. Darth Vader and stormtroopers are here to recover it, and they won't mind destroying the island for it.
The Scientist reveals Darth Vader's intentions when loopers reach the Stage 3 of the Vibin' quests. While the central antagonist will roam around in his Lambda shuttle, the Reality Tree will continue to grow in Butter Barn, Rocky Reels, and other major locations.
All in all, you should not expect the ongoing party to last longer than a few weeks. Towards the end of Chapter 3 Season 3, chaos will ensue again and we might finally witness the Bloomwatcher.
Fortnite glitch in Season 3 makes loopers invincible
Fortnite Chapter 3 Season 3 finally has a 'god mode' glitch that makes players immune to opponents, bullets, and all sorts of damage.
Fortnite players can use rideable animals like Boars and Wolves to become invisible and eventually, invincible. Here's a quick guide to performing this unusual glitch in Chapter 3 Season 3.
Even AAA titles like Fortnite struggle to get completely rid of bugs and glitches. The community has discovered a ton of bugs related to XP and other mechanics in Chapter 3 Season 3. The latest addition to this list can help players in winning every game with ease.
How to get invisible and unbeatable in Fortnite Chapter 3 Season 3?
YouTuber GKI recently confirmed that it's possible for loopers to get unstoppable in Fortnite by following these steps:
Tame an animal (boar/wolf) and start riding it. Animals become rideable as soon as you land on their back.
Enter a vehicle while sitting on the animal and keep it close to the boar/wolf. Switch to the passenger seat and choose the option to ride the animal without leaving the car.
Go away from the vehicle and after covering some distance, double jump.
It is worth noting that players on keyboard and mouse might not be able to move after moving from the passenger seat to the animal in the second step. Accordingly, GKI has used a controller to trigger the glitch.
After performing the double jump in the third step, you will levitate in the air and opponents won't be able to see you. However, holding the exit button will teleport the character back to the car.
As it turns out, there are many glitches related to cars and rideable animals in Fortnite Chapter 3 Season 3. If you switch car seats while riding an animal, the character glitches in a manner that opponents won't be able to spot their head.
Even though players won't be able to move when the aforementioned glitch launches them in the air, being unseeable is still a massive advantage in a Battle Royale title.
The glitch can be clearly exploited and loopers should try it at their own risk. If they ruin the experience of others in the lobby, there's a high possibility that Epic Games will ban them.
Fortnite leakers confirm Dead by Daylight crossover in Chapter 3
Prominent Fortnite leakers have been informed about a Dead by Daylight crossover that would bring free cosmetics to both the titles.
Dead by Daylight and Fortnite have one thing in common: a collaboration with Stranger Things. Here's everything to know about the upcoming crossover between the Battle Royale title and the survival horror game franchise.
Stranger Things has been a part of both Dead by Daylight and Fortnite. The horror game released a special chapter that was based on the series while Epic Games introduced Demogorgon and Chief Hopper in the Item Shop.
Following Dead by Daylight's inclusion in Fortnite's latest survey, we now have news regarding a crossover.
Fortnite might release Meg Thomas in the Item Shop
An anonymous source recently reached out to the likes of Shiina, iFireMonkey, HYPEX, and other credible leakers. They claimed that Dead by Daylight devs recently approached Epic Games for a crossover and it might be in the works already.
For Dead by Daylight players, this crossover would bring in a charm based on Fortnite's Llama. Moreover, Behaviour Interactive might release a new Stranger Things DLC or bring back the previous DLC.
For Fortnite players, a crossover with Dead by Daylight will lead to the arrival of Meg Thomas in the Item Shop. She is one of the most popular playable survivors in the horror game and stands out owing to her speed.
It is worth noting that the latest Fortnite survey included characters like Legion, David, and Dwight. Even though a crossover seems imminent at this point, it is still too early to assume the exact skins.
Leaker iFireMonkey, in one of his recent videos, stated that the aforementioned charm could be a free reward in Day by Daylight. However, before any official announcements, it is advised to take leaks with a grain of salt.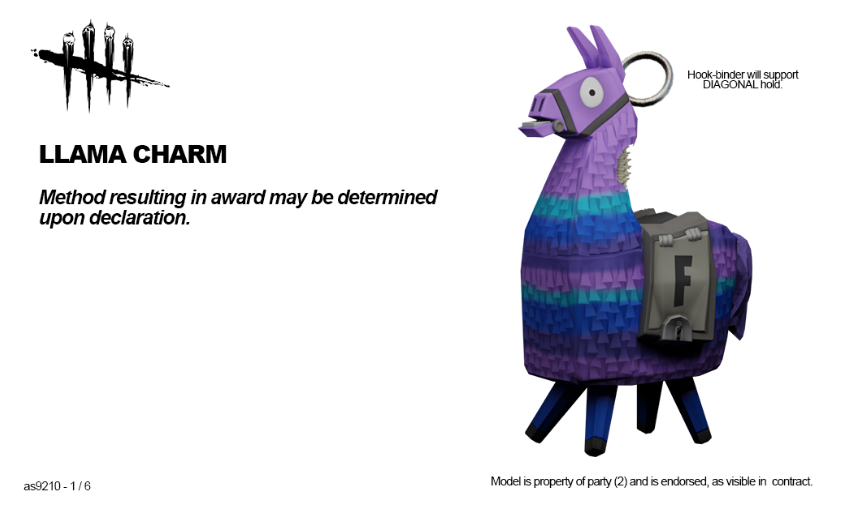 The Fortnite community is also looking forward to more Stranger Things content
Leakers in the Dead by Daylight community have confirmed that Netflix approached the franchise regarding their discontinued crossover. This implies that the original Stranger Things chapter should return during Christmas 2022 and new content with Vecna will also be released.
If Stranger Things is willing to collaborate with Dead by Daylight, it wouldn't be a surprise if the same happens in Fortnite. Players have been asking for ST skins and cosmetics for a long time, and now that Season 4 is live, it is the perfect time for a crossover.
All in all, the hype for the Dead by Daylight crossover is already sky-scraping. Readers can expect more details once Epic Games adds the cosmetics to the files or teases it officially.