Fortnite v20.40 Patch Notes: live event, sideways weapons return, competitive no build playlist, & more
Fortnite Chapter 3 Season 2 just received its final update and here is everything to look forward to that caps off this season.
The final patch for Fortnite Chapter 3 Season 2 is here, and it contains a lot of content to cap off the season!
Fortnite content updates are what keep players interested in the game over the course of each season. These updates spice up the loot pool, add new POIs, and are highly anticipated by fans.
Since seasons span several months, these updates are the lifeblood of Fortnite. The majority of updates during Season 2 have been underwhelming, but things are starting to heat up in Fortnite v20.40.
The final update of the season adds sideways weapons, a competitive Zero Build playlist, confirmation of a live event, and much more!
Fortnite Season 2 live event
According to multiple notable leakers, there will be a live event to end Fornite Chapter 3 Season 2. We did not get a live event to end last season or to kick off this season, so this si exciting news.
Some leakers also believe there will be an extended downtime after the live event to prepare for Season 3.
Sideways Week brings back Cube Monster weapons
If you're one of the few who miss the Sideways weapons from Chapter 2 Season 8, well you're in luck! For a limited time, the Sideways Rifle and Sideways Minigun have returned.
They are in the game today until May 24, 2022. There's also a series of Sideways quests that reward extra XP.
In order to upgrade the weapons, you will need to use an Upgrade Bench instead of Monster Parts. This will still allow players to get them to Mythic rarity.
Competitive No Build is coming
According to leaker Shiina, Epic Games have added a new competitive playlist. The playlist is titled "No Build – Competitive" leading people to believe there will be a competitive form of the Zero Build mode.
New Loot Lake POI
The IO are on their heels and have to make a last-ditch effort to win the war against the Resistance. Sprouting up on the northeast side of Loot Lake is the Doomsday Device POI.
It's likely the live event will center around this device. Until then, players can explore and loot the outpost, but watch out for the IO.
Competitive Changes
Here are all of the competitive changes in Fortnite v20.40:
Arena Fill has been enabled.
The Sideways Showdown unvaults are not included in competitive playlists.
The winner of the Shield Bubbles vs. Balloons vote will not be unvaulted in competitive playlists.
Bug Fixes
Here are all of the major bug fixes in Fortnite v20.40:
Fixed an issue involving players not receiving social notifications if they were in a match in a party with another player.
Fixed an issue involving the UI of the Anvil Rocket Launcher not appearing.
Fortnite v21.20 early patch notes: Indiana Jones, No Sweat Summer, Luke Skywalker skin, more
Fortnite v21.20 is right around the corner. From Indiana Jones to new content for the 2022 No Sweat Summer event, there's a lot to expect.
Fortnite is all set to release the 21.20 update on July 6, 2022. Indiana Jones will finally become available in the Battle Pass, No Sweat Summer content will arrive in Battle Royale modes, and as usual, the Reality Tree will continue to grow.
The community has sky-scraping expectations from Fortnite v21.20. Even though map changes have been frequent and brilliant in Chapter 3 Season 3, the No Sweat Summer event and the XP system (in terms of more opportunities to earn XP) certainly need improvement.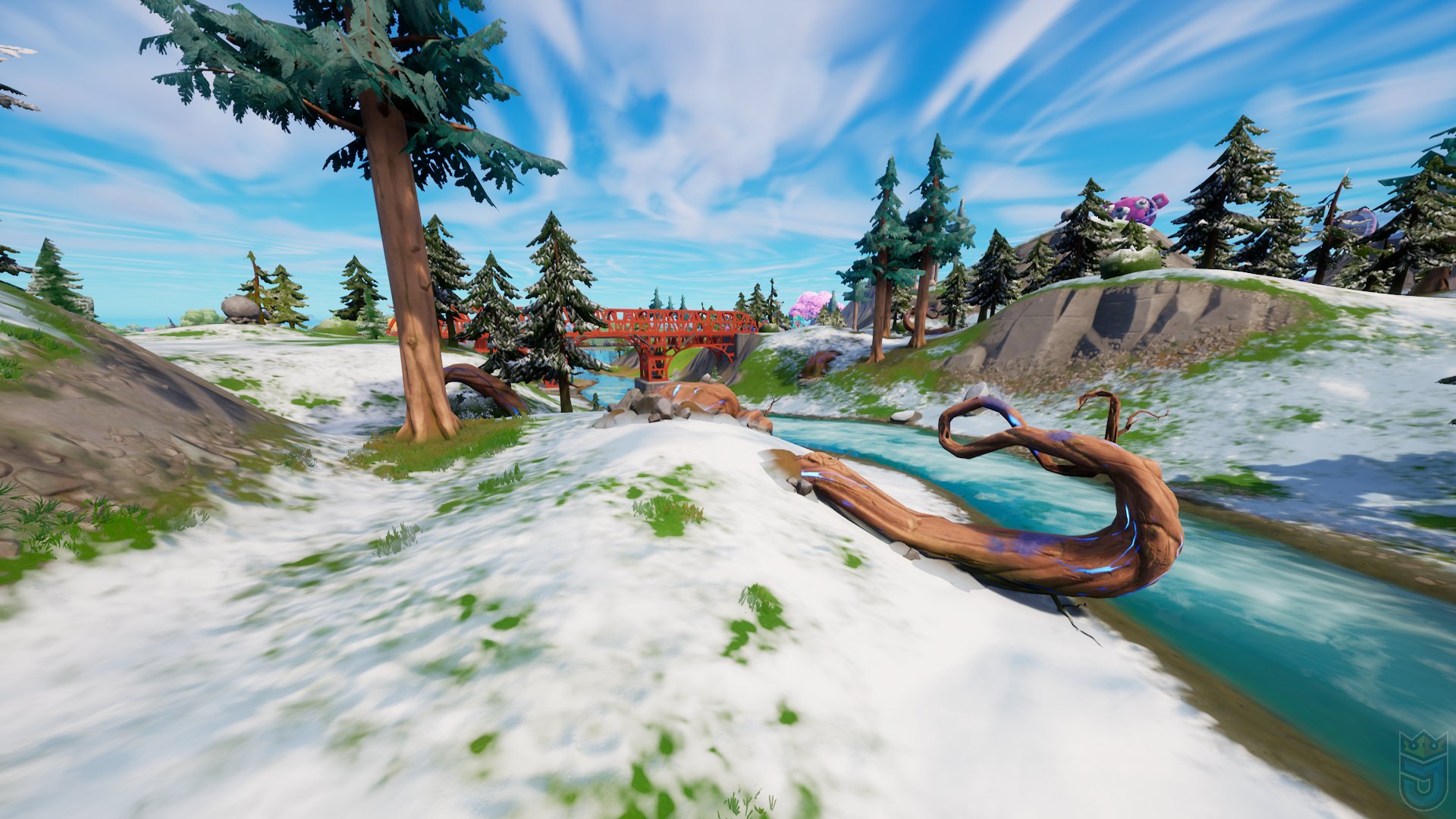 Here's everything players can expect in the second major update for Fortnite Chapter 3 Season 3.
Fortnite Reality Tree to affect Condo Canyon, Sleepy Sound, and Temple Bloom in v21.10
First and foremost, the Reality Tree will reach major locations like Sleepy Sound. Loopers have discovered a new set of roots near Shifty Shafts and they're most likely heading towards Sleepy.
Another location where we will see the influence of the Reality Tree is Condo Canyon. Interestingly, leakers have already revealed the upcoming themes. Like Butter Bloom and Logjam Lotus, Sleepy Sound and Condo Canyon will have recurring themes which include:
Froniter
Coliseum
Coral Castle
Neo Tillted for Sleepy Sound and Lazy Lagoon for Condo Canyon
There's a Reality Root near the Temple Bloom landmark as well. HYPEX has revealed that one of the themes in Temple Bloom is codenamed The Tower in the files, and that's the only information we have for now.
There's a possibility that v21.20 only focuses on Condo Canyon and Sleepy Sound as the developers are yet to add the updated version of Temple Bloom in the files.
New Indiana Jones skin and temple to arrive in Fortnite v21.20
Indiana Jones is the secret skin in the Fortnite Chapter 3 Season 3 Battle Pass. It cannot be unlocked at the moment, and will be available from July 7, 2022. Loopers who own the Battle Pass wil have to complete special quests to unlock the cosmetics which include:
Indiana Jones outfit
Indiana Jones Banner Icon
Raider's Relics Harvesting Tool
Rogue Archaology Wrap
Expedition Bag Back Bling
It is worth noting that these are the cosmetics on Page 1. These will not only become unlockable with v21.20, but you'll also be able to get a look at the next page.
Even though this might be a stretch, but many players believe that Indiana Jones will get his own spawn location. The aforementioned Temple Bloom POI could turn into a temple dedicated for the Indiana Jones boss/NPC. However, readers must take this claim with a huge grain of salt.
New No Sweat Summer content coming to Fortnite Battle Royale
The Island Hopper quests were decent, but players were disappointed to see them as the only 'summer event' content. However, leakers like iFireMonkey and Epic Games itself have claimed that more summer content is coming.
NPcs like Unpeely, Summer Drift, and Boardwalk Ruby, and vehicles like Surfboards will return to BR modes. Moreover, you can look forward to completing summer-themed quests in Battle Royale that should grant XP and free cosmetics.
Battle Royale content will certainly help in making No Sweat Summer 2022 one of the best summer events in Fortnite's history.
Luke Skywalker NPC
Epic Games has released a ton of Star-Wars content in Fortnite Chapter 3 Season 3 which includes Darth Vader as a boss and his skin in the Battle Pass as a tier 100 reward. HYPEX has disclosed that there's a Lightsaber in the files for a Luke NPC.
Based on the leak, it is safe to assume that Luke Skywalker will be released as an NPC and a skin, like this father. However, it is uncertain if he'll be a part of the upcoming update.
Last but not least, weekly quests for Week 5/ Week 6 and Vibin' quests will be added to files with Fortnite v21.20. There aren't any solid leaks regarding weapons as we've already received three new weapons (Two-Shot shotgun, Hammer AR, and DMR) this season.
Fortnite v21.30 will release on July 19, 2022 following which Epic Games will take a summer break that will take place between July 24 and August 12.
Fortnite nerfs the Visualize Sound Effects range in Season 3 update
The most broken feature of Chapter 3 has now finally received a nerf and players couldn't be happier. Here's the latest on that.
After a long wait, Epic finally fixes the most broken feature of Fortnite that sweats were just tired of ever since the beginning of Chapter 3. Visualize Sound Effects was a feature which was recently nerfed in an update where players got to experience it as they jumped into a Battle Royale match.
Fortnite has had a history of broken features and glitches that have been well exploited by the player community over the last few years. From XP Glitch Maps to weapons meta, players have been using these exploits to gain a gameplay advantage that sometimes ends up getting them banned for their actions.
While some actions or exploits get them banned, others are just bugs in the game that is an error from the developer's end that they take it casual enough to fix. One such exploit that was legit in the game was Visualize Sound Effects in sound settings.
When one enables the option, they can see visual cues of chests, gunfire, footsteps, reboot vans or even if someone is healing nearby. This then aids a player in judging the direction where the activity is happening and respond to it.
Ever since Chapter 3, this option was broken as players were able to hear the sound of gunfire, footsteps or even healing from afar which was an advantage to several sweats who always love to rush their opponents and engage in close combat. But in a recent update in Season 3, Epic finally decided to nerf it for good.
Epic nerfs Visualize Audio range as it's not broken anymore
In last week's update of v21.10, Epic nerfed the range of Visualize Sound Effects option as it was one of the most broken features in the game. Players weren't informed nor were aware of this major change that took place in Fortnite until they tried it out themselves.
The update has fixed the distance and the radius of the Visual Audio cues one gets upon going near Chests, hearing footsteps or gunfire. After the update, players will only be able to see visual cues if they are approx. 100m close to the objects or their opponents which is a major relief to casual players or campers.
While casual players or noobs enjoy this news, sweats are surely unhappy and so are players who basically need these hearing aid options in-game to help them orient their gameplay. Moreover, this major change by Epic in one of the oldest Fortnite settings was not announced in any of the patch notes or their official Twitter handle, which it should have, according to the player-base.
However, players think that this fix might be a random update as Visual Audio has always been messy in-game ever since it was added. From reboot vans sounding from miles away to footsteps being heard from a long distance, Epic still needs to put in some work to fix those audio issues.
Fortnite landmark Butter Barn now has three forms, thanks to Reality Tree
The map changes in Fortnite have been consistent lately. After Logjam Lumberyard, the Reality Tree has now affected Butter Barn.
Butter 'Bloom' is the newest location in Fortnite to be affected by the infamous Reality Tree. The landmark will now have three themes based on OG POIs like Coral Castle.
The mysterious Reality Tree in Fortnite Chapter 3 Season 3 is controlling the island in a manner that we've never seen before. Locations like Logjam Lotus and Butter Bloom now magically change themes, and it is hard to claim if this phenomenon is worth celebrating (from the storyline's perspective).
Here's everything players need to know about the latest map changes in Fortnite.
New Butter Bloom themes released in Fortnite Chapter 3
Butter Barn is now called Butter Bloom, and it will switch between the following themes:
Roman theme- Coliseum
Atlantis- Coral Castle
Neo Tilted
In its Neo Tilted form, Butter Barn will feature buildings like Peely's Banana Stand, the Pump Gym, and gas stations.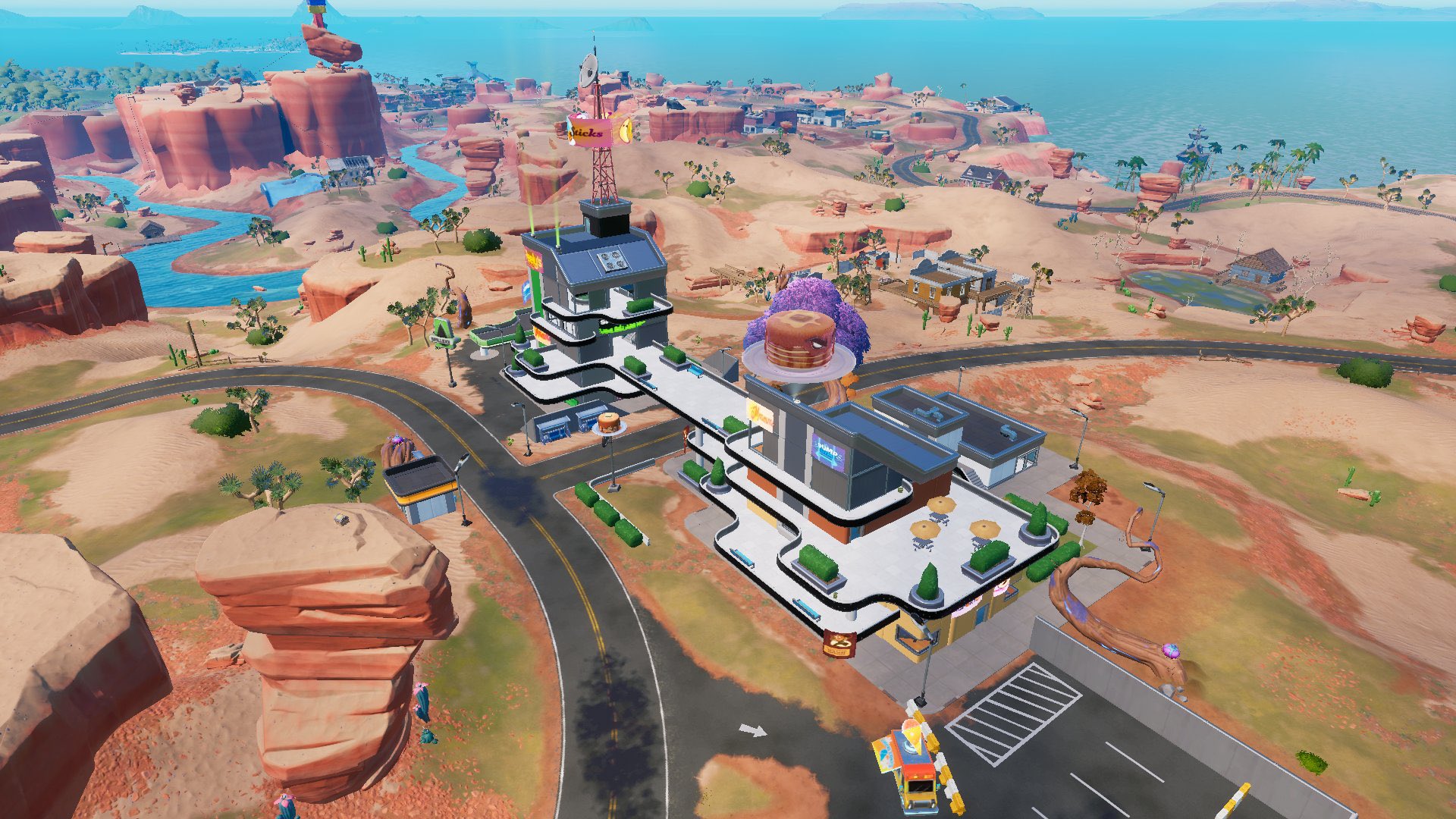 The Coliseum theme is similar to the one in Logjam Lotus.
The landmark gets fortified and the buildings represent Roman Architecture.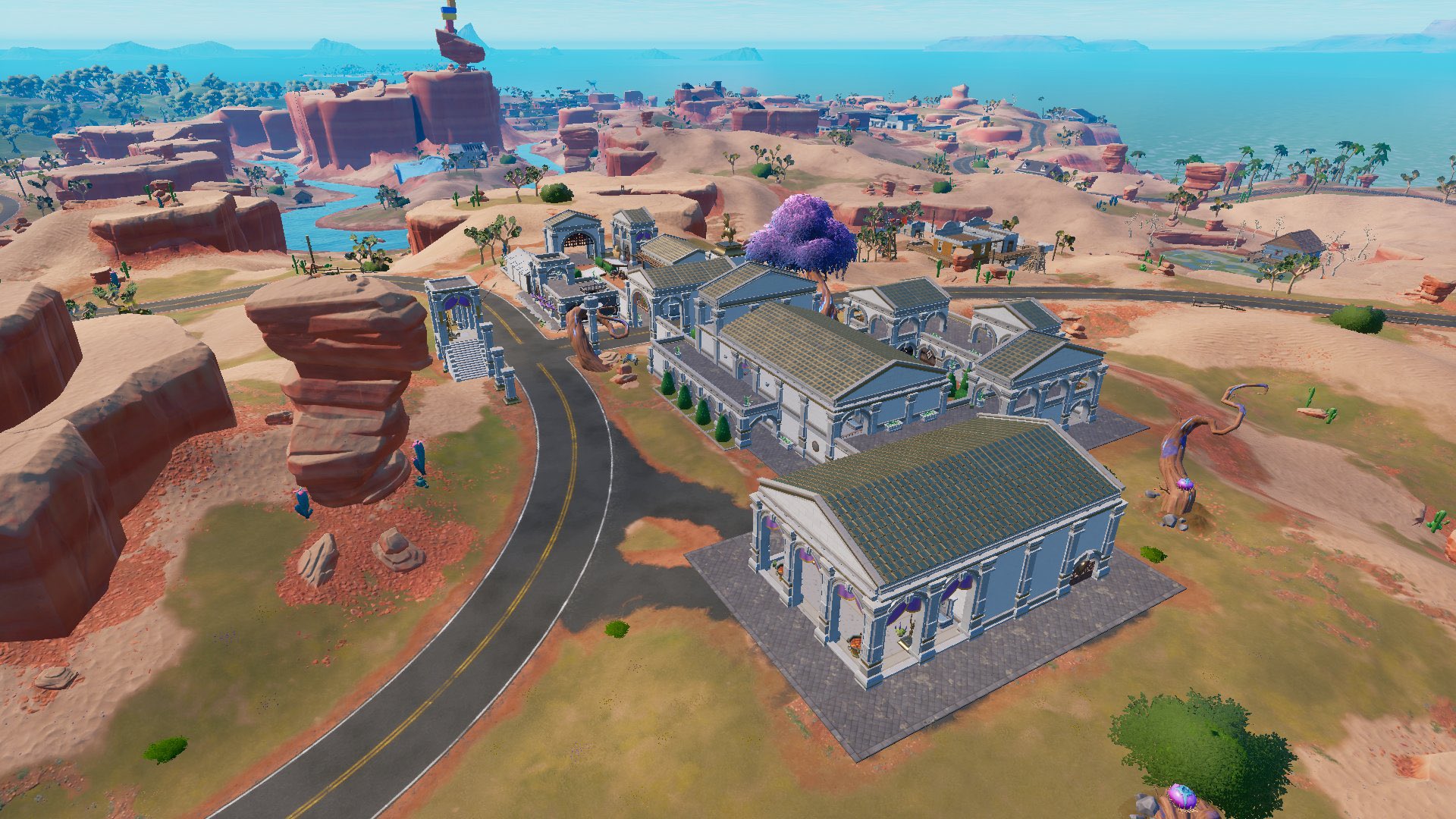 The final theme is Atlantis with which Butter Bloom turns into a miniature Coral Castle. Vintage dome-shaped buildings surround the region and there's a small pool as well.
Will Coral Castle finally become relevant in Fortnite?
The indirect return of Coral Castle has received a mixed response from the community. While some believe that Epic Games should have picked a more prevalent POI for Butter Bloom's Atlantis theme, others are elated that Coral Castle is now located in a much better position strategically.
Back in Chapter 2, it was the most despised location on the map (like Daily Bugle in Chapter 3). Even though there was good loot, players were ignorant due to its location which affected rotations, and the unusual landscape.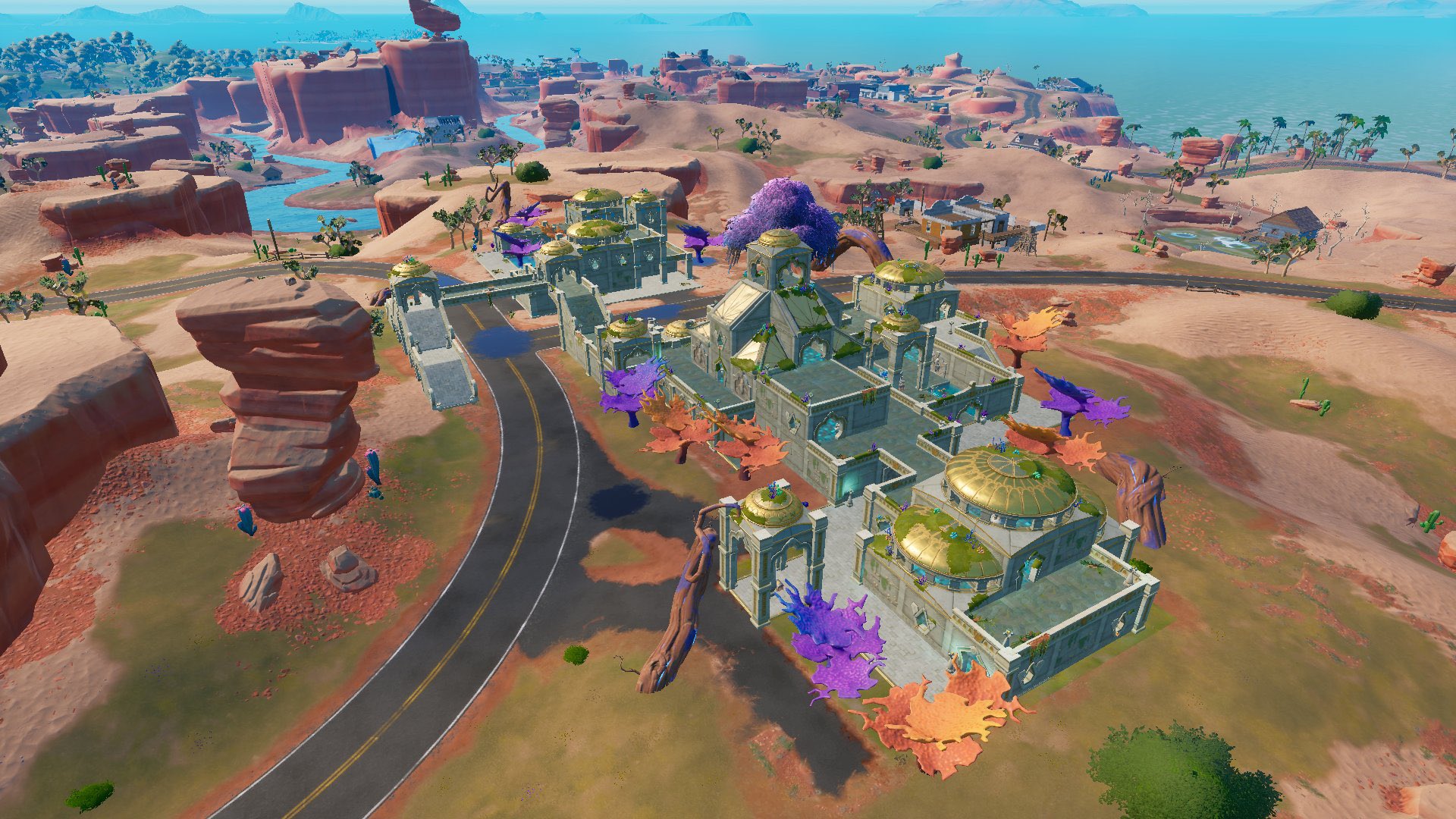 In contrast, Butter Bloom is a great spot in Chapter 3 and the Coral theme should not prevent players from landing here. To be fair, Coral Castle is one of the most beautiful locations in Fortnite history but loopers neglected it owing to its position on the map.
Hence, Coral Castle might get its well-deserved credit in Chapter 3.
It is worth noting that after turning Butter Barn into Butter Bloom, the Reality Tree's roots have already reached Temple Bloom. The landmark is located south of The Sanctuary, and we might witness similar map changes there as well.