Fortnite v18.10 Patch Notes: XP Update, Super Styles, "Tilted Towers", and more
The Fortnite v18.10 Patch Notes are here and a lot has been added to the game. Check out a new POI, weapons, items, and more!
The Fortnite v18.10 patch adds a ton of content to the game, and here are the latest patch notes!
This week's Fortnite update is a massive one adding a ton of new content. There are new weapons, characters, and an upcoming POI similar to Tilted Towers.
As well, Epic Games has made some changes to Fortnite Season 8's XP system. This season's Super Styles have been revealed and can now be unlocked. And there's a bunch of new Toona Fish styles that can be earned.
All of these changes and more are detailed in the Fortnite v18.10 Patch Notes below.
Table of Contents
Fortnite Season 8 Super Styles and XP Changes
The v18.10 Patch Notes added the Fortnite Season 8 Super Styles. As well, this update made some major changes to the XP system. Players haven't been happy with this season's XP, and Epic promised to make the necessary changes with this update.
The Cubes have corrupted even the Battle Pass! (But in a good way.) Bonus Styles for Chapter 2 Season 8 Outfits have been available for players who progress past Level 100. But now: this Season's Super Level Styles have been added! Progress past Level 140 this Season and start unlocking new runic Styles for Charlotte, Kor, Fabio Sparklemane, J.B. Chimpanski, and Torin.

To help you get there, we've made improvements to XP earned through Battle Royale:
XP earned from your Daily Punchcard missions has been greatly increased.
We've added XP to all Shared Quests. (They still reward Bars too.)
All new and future Character Punchcards have substantially increased XP rewards.
Weekly Punchcard XP has been slightly reduced. This was done to lessen the setback of not completing them.
New "Tilted Towers" POI
Players have been asking Epic to add Tilted Towers back to Fortnite for several seasons. Well, the actual Tilted Towers may not be returning, but Epic Games is adding a new large POI that is similar.
According to leaker HYPEX, Fortnite will add a new POI called Cube Town. Its a very large city-style POI with lots of loot chest spawns.
Fortnite v18.10 New Weapons and Items
Epic Games added a few new weapons and items to this update as well. The OG Chug Splashes have returned alongside a new variant called the Chili Chug Splash. The Chili Chug Splash functions the same way as the OG, but it also gives players a speed boost.
As well, the Dual Fiend Crossbows are making their debut. The Fortnite Season 8 trailer showed off these dual-wielded crossbows. However, they are now in-game.
Even more Toona Fish styles
New Toona Fish Quest Styles have been added! Ink up your Toona Fish with new Styles inspired by even more of your favorite Fortnite characters. Complete themed Quests to copy Mancake's drip, resemble regular Fishstick, and more. With 20 new styles to collect immediately (and one we can't talk about just yet), there's a ton more options to color Toona Fish your way!  
The final style is the Cube Queen style which is also this season's secret skin. However, this update did not reveal the secret skin.
Balance Changes and Bug Fixes
As always, the Fortnite v18.10 patch notes include a series of bug fixes, but Epic Games has also made some balance changes. These will make rounds fairer during the late game by disabling slipstreams. Here are all of the balance changes and bug fixes:
Slipstreams will disable at the final Storm circle in core playlists.
Slipstreams will disable at phase 5 of the Storm in competitive playlists.
Chug Cannons are no longer available from Loot Llamas. In the Chug Cannons' place are the spicy Chili Chug Splashes. 
In competitive playlists, Sideways Anomalies will despawn earlier than they did previously.
The Rail Gun has been removed from competitive playlists.
Fixed an issue involving vehicles taking heavy damage when colliding with Mothership wreckage pieces.
Donation Boards displaying items in English even when another language was selected has been fixed.
Fixed an issue involving voice chat on Nintendo Switch not connecting to party chat after the player left and rejoined the party.
Fortnite nerfs the Visualize Sound Effects range in Season 3 update
The most broken feature of Chapter 3 has now finally received a nerf and players couldn't be happier. Here's the latest on that.
After a long wait, Epic finally fixes the most broken feature of Fortnite that sweats were just tired of ever since the beginning of Chapter 3. Visualize Sound Effects was a feature which was recently nerfed in an update where players got to experience it as they jumped into a Battle Royale match.
Fortnite has had a history of broken features and glitches that have been well exploited by the player community over the last few years. From XP Glitch Maps to weapons meta, players have been using these exploits to gain a gameplay advantage that sometimes ends up getting them banned for their actions.
While some actions or exploits get them banned, others are just bugs in the game that is an error from the developer's end that they take it casual enough to fix. One such exploit that was legit in the game was Visualize Sound Effects in sound settings.
When one enables the option, they can see visual cues of chests, gunfire, footsteps, reboot vans or even if someone is healing nearby. This then aids a player in judging the direction where the activity is happening and respond to it.
Ever since Chapter 3, this option was broken as players were able to hear the sound of gunfire, footsteps or even healing from afar which was an advantage to several sweats who always love to rush their opponents and engage in close combat. But in a recent update in Season 3, Epic finally decided to nerf it for good.
Epic nerfs Visualize Audio range as it's not broken anymore
In last week's update of v21.10, Epic nerfed the range of Visualize Sound Effects option as it was one of the most broken features in the game. Players weren't informed nor were aware of this major change that took place in Fortnite until they tried it out themselves.
The update has fixed the distance and the radius of the Visual Audio cues one gets upon going near Chests, hearing footsteps or gunfire. After the update, players will only be able to see visual cues if they are approx. 100m close to the objects or their opponents which is a major relief to casual players or campers.
While casual players or noobs enjoy this news, sweats are surely unhappy and so are players who basically need these hearing aid options in-game to help them orient their gameplay. Moreover, this major change by Epic in one of the oldest Fortnite settings was not announced in any of the patch notes or their official Twitter handle, which it should have, according to the player-base.
However, players think that this fix might be a random update as Visual Audio has always been messy in-game ever since it was added. From reboot vans sounding from miles away to footsteps being heard from a long distance, Epic still needs to put in some work to fix those audio issues.
Fortnite landmark Butter Barn now has three forms, thanks to Reality Tree
The map changes in Fortnite have been consistent lately. After Logjam Lumberyard, the Reality Tree has now affected Butter Barn.
Butter 'Bloom' is the newest location in Fortnite to be affected by the infamous Reality Tree. The landmark will now have three themes based on OG POIs like Coral Castle.
The mysterious Reality Tree in Fortnite Chapter 3 Season 3 is controlling the island in a manner that we've never seen before. Locations like Logjam Lotus and Butter Bloom now magically change themes, and it is hard to claim if this phenomenon is worth celebrating (from the storyline's perspective).
Here's everything players need to know about the latest map changes in Fortnite.
New Butter Bloom themes released in Fortnite Chapter 3
Butter Barn is now called Butter Bloom, and it will switch between the following themes:
Roman theme- Coliseum
Atlantis- Coral Castle
Neo Tilted
In its Neo Tilted form, Butter Barn will feature buildings like Peely's Banana Stand, the Pump Gym, and gas stations.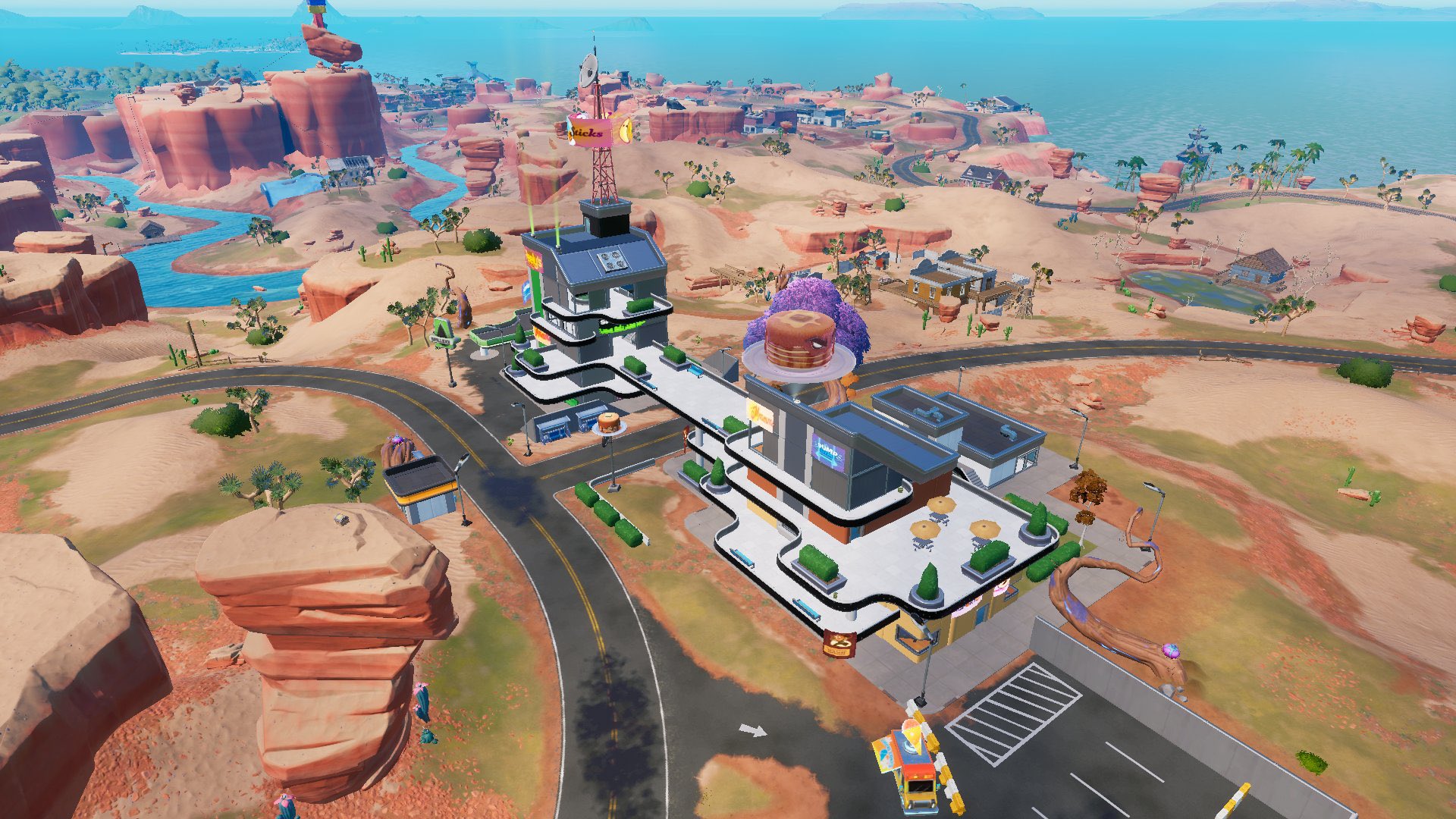 The Coliseum theme is similar to the one in Logjam Lotus.
The landmark gets fortified and the buildings represent Roman Architecture.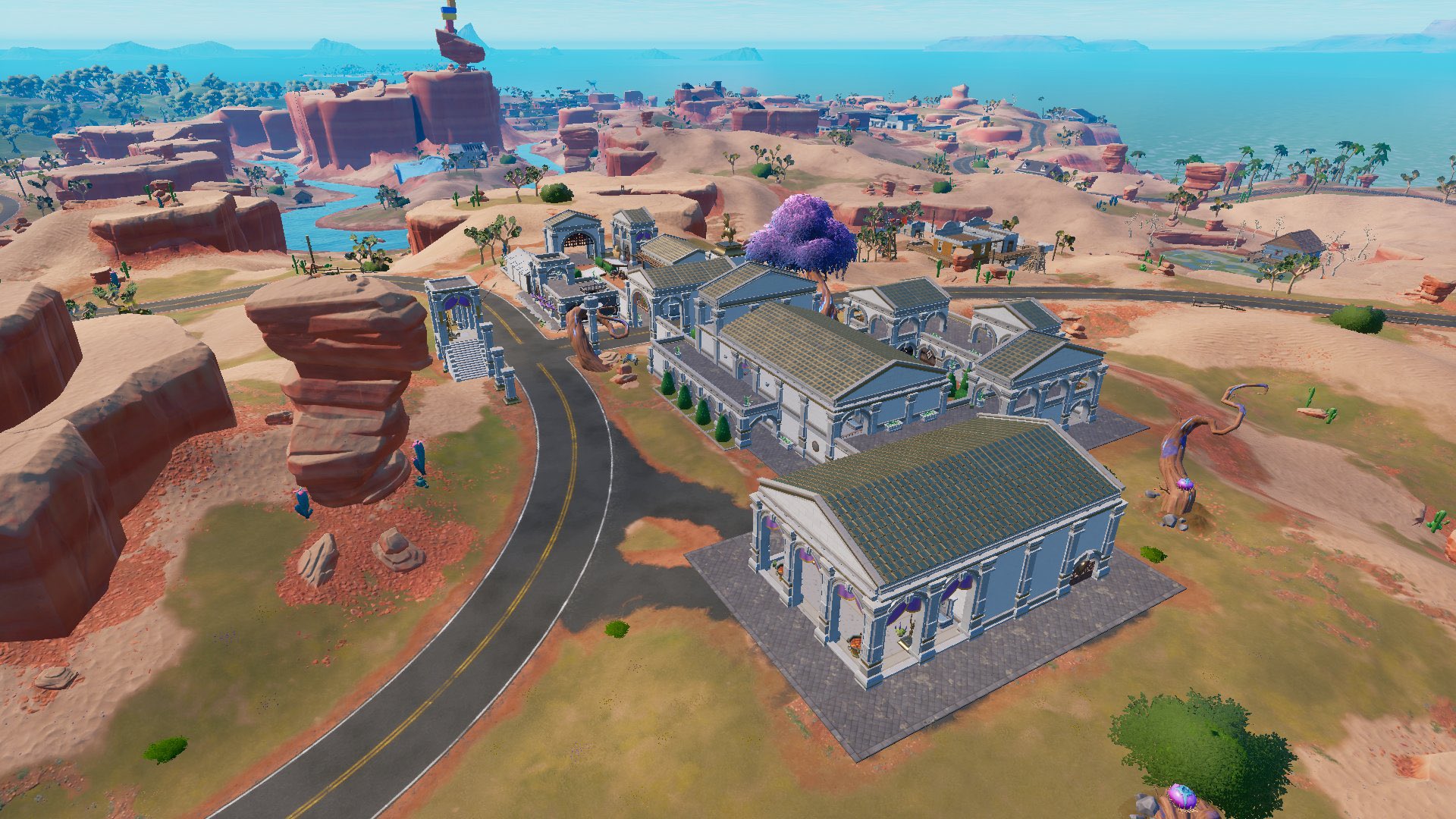 The final theme is Atlantis with which Butter Bloom turns into a miniature Coral Castle. Vintage dome-shaped buildings surround the region and there's a small pool as well.
Will Coral Castle finally become relevant in Fortnite?
The indirect return of Coral Castle has received a mixed response from the community. While some believe that Epic Games should have picked a more prevalent POI for Butter Bloom's Atlantis theme, others are elated that Coral Castle is now located in a much better position strategically.
Back in Chapter 2, it was the most despised location on the map (like Daily Bugle in Chapter 3). Even though there was good loot, players were ignorant due to its location which affected rotations, and the unusual landscape.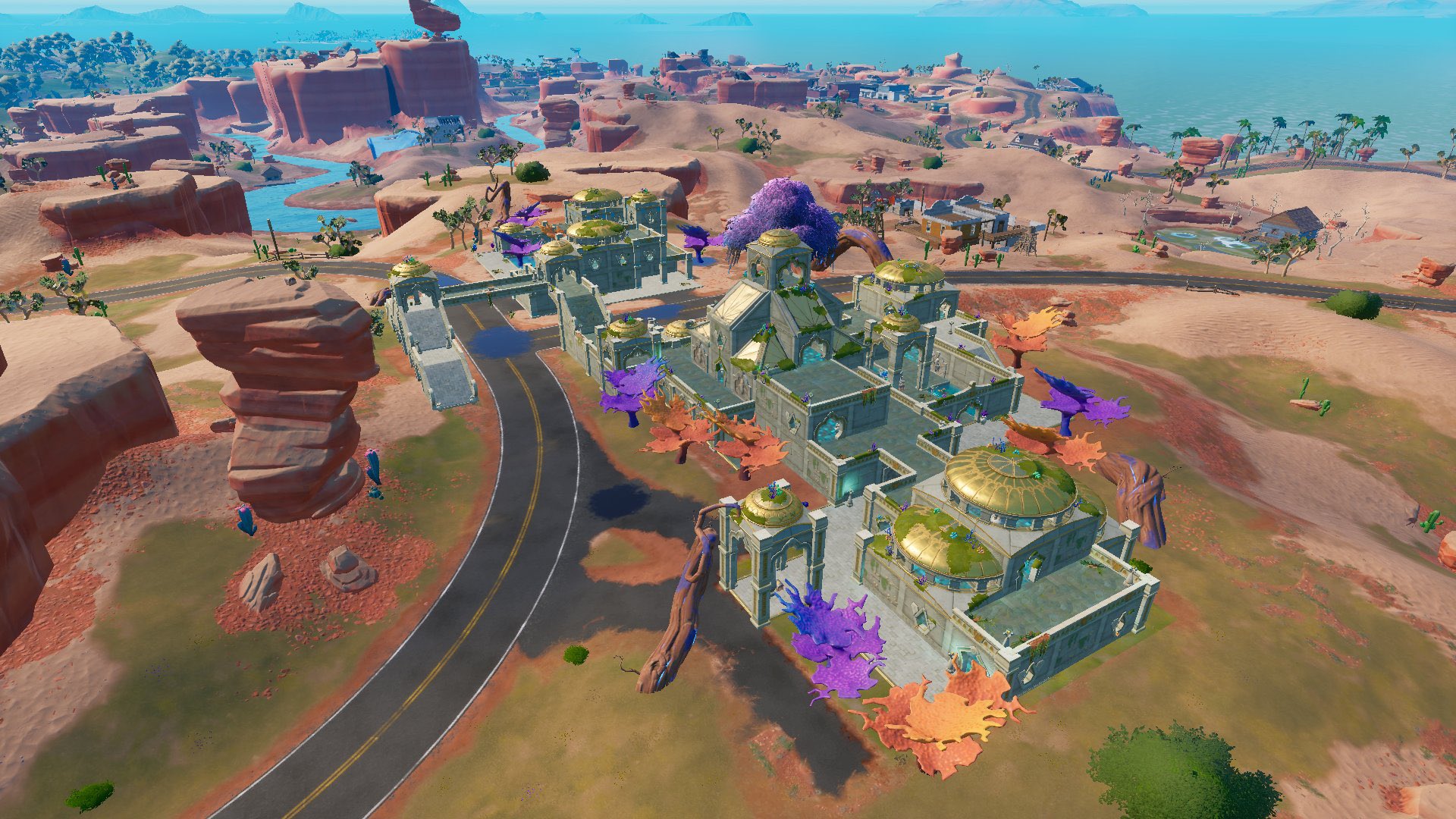 In contrast, Butter Bloom is a great spot in Chapter 3 and the Coral theme should not prevent players from landing here. To be fair, Coral Castle is one of the most beautiful locations in Fortnite history but loopers neglected it owing to its position on the map.
Hence, Coral Castle might get its well-deserved credit in Chapter 3.
It is worth noting that after turning Butter Barn into Butter Bloom, the Reality Tree's roots have already reached Temple Bloom. The landmark is located south of The Sanctuary, and we might witness similar map changes there as well.
Fortnite v21.10 update brings back classic POIs: Coral Castle, Tilted Town, more
Logjam Lumberyard in Fortnite Chapter 3 Season 3 will constantly change themes and feature Coral Castle, Lazy Lagoon, and other POIs.
With Fortnite v21.10, the Reality Tree has fully affected Logjam Lumberyard. It will now choose a random POI theme for every game which includes Tilted Town, Coral Castle, and others.
Fortnite players expect Epic Games to add map changes with every update. The developers have tried doing so in Chapter 3 and accordingly, the response towards the new chapter has been overwhelmingly positive.
Here's how the first major update for Fortnite Chapter 3 Season 3 has brought back OG POIs from Chapter 1 and Chapter 2 in the most unique way possible.
Everything to know about the updated Logjam Lumberyard in Fortnite v21.10
For the first time in history, we now have a location on the map that changes every game. As it turns out, Logjam Lumberyard will include elements from a wide range of locations from Chapter 1 and Chapter 2.
The community has discovered the following themes so far:
Neo Tilted/ Tilted Town (Wild West theme)
Coral Castle (Atlantis theme)
Colossal Coliseum (Roman theme)
Lazy Lagoon (Pirates theme)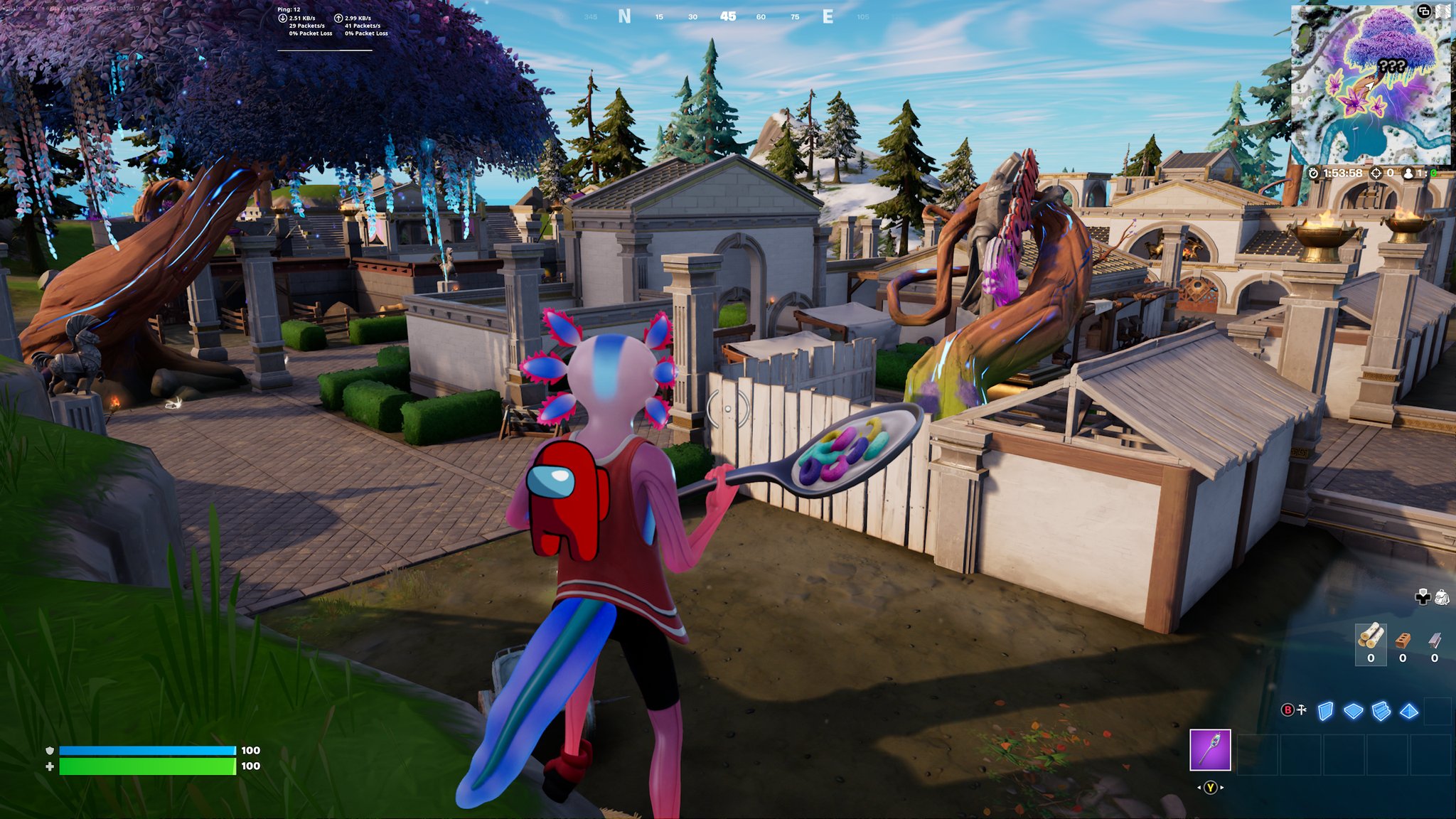 It wouldn't be an overstatement to say that with the 21.10 update, Logjam Lumberyard has become one of the best locations in Fortnite. While new players can finally explore the most prominent regions of Chapter 1 and Chapter 2 islands, veterans can recreate their memories.
Other map changes in Fortnite v21.10 explained
The popular Butter Barn landmark will now turn into a POI. With the latest patch, the developers have added buildings from Neo Tilted to Butter Barn and the landmark looks bigger and better than ever.
Last but not least, Darth Vader is now a boss and he spawns in random locations. Apparently, the Zero Point brought a Star Wars relic to the island which is why Vader is here. He can travel in his Lambda-Class shuttle and there's no definite location where players can find him.
It is no surprise that Darth Vader is a terrifying boss. He has a Mythic lightsaber and players will get 2,000 XP every team they defeat him.
All in all, Fortnite v21.10 is certainly brilliant in terms of map changes and gameplay. However, the same cannot be said for the No Sweat Summer event and the Nindo challenges.